As the leaves change color and the air turns crisp, there's a certain magic that makes this season perfect for crafting.
As part of our extensive collection of tissue paper crafts for kids, this tissue paper apple craft stands out for its simplicity and charm. What makes it even more appealing is the free printable craft template that accompanies it.
This activity is perfect for preschool and fits well into letter of the week activities or an apple-themed unit.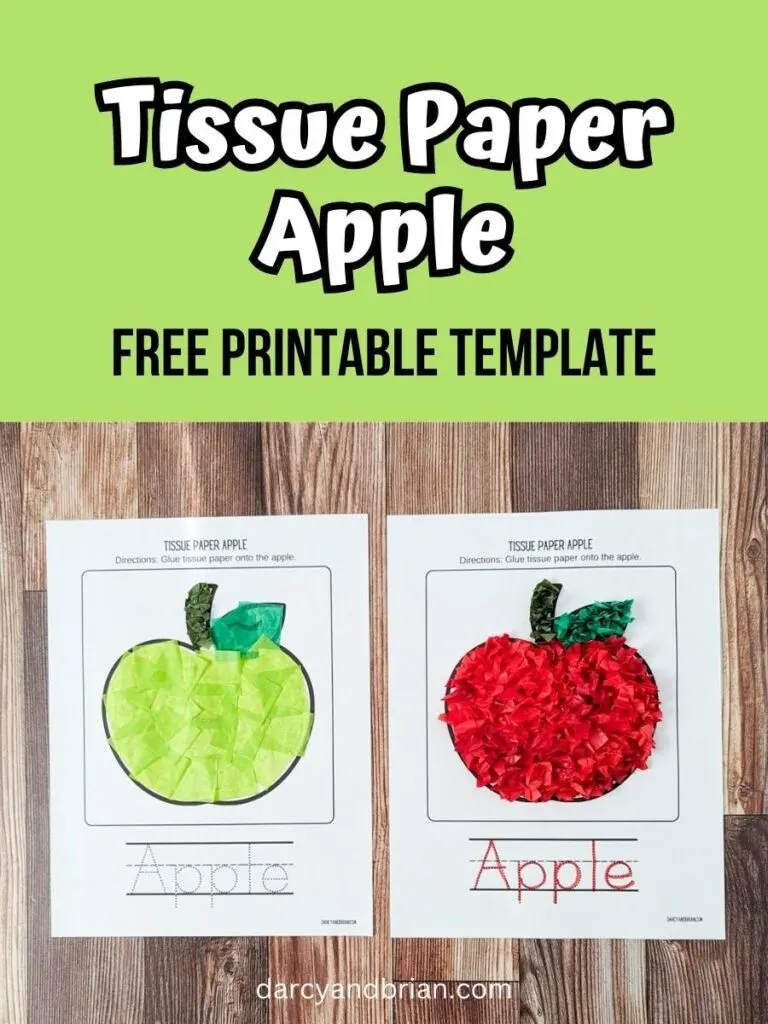 Using our apple craft, you can discuss the life cycle of an apple, its importance to wildlife and humans, and even the concept of seasons.
It's a simple yet effective way to introduce these topics in a way that's enjoyable and memorable.
More Tissue Paper Crafts
I love the simplicity and affordability of tissue paper crafts. Plus, they are a great way to keep kids entertained while helping them practice their fine motor skills. Here are some other projects you can create with them:
Why Should Preschoolers Make Crafts?
Making crafts with preschoolers and kindergartners is a fantastic way to foster creativity while helping them develop essential skills.
This apple craft provides kids an opportunity to practice fine motor skills as well as encourages their imagination and connection to other subjects they are learning about.
Cutting or ripping tissue paper squares and gluing them onto the template helps strengthen their fine motor abilities, which are important for tasks like writing and dressing themselves.
Additionally, tracing the word "apple" at the bottom of the template can reinforce word recognition, handwriting, and spelling.
Let their creativity blossom as they engage in this fun and educational activity!
Tissue Paper Apple Craft Supplies
Our Tissue Paper Apple Craft uses materials that are easy to find and you likely already have at home, making it convenient as well as fun. Here's a list of what you'll need: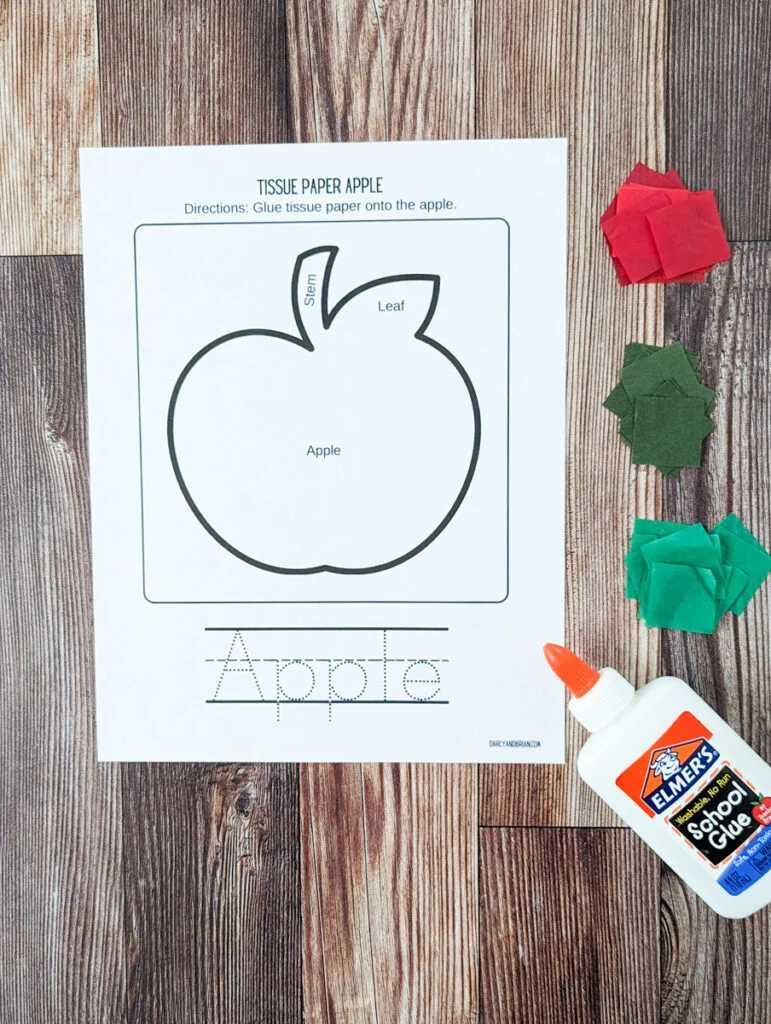 This post contains affiliate links. As an Amazon Associate and a participant in other affiliate programs, we earn a commission on qualifying purchases.
Tissue Paper Apple Craft Printable Template: This is a free template that you can easily print off. It is available using the form at the end of this post. Having a template to follow makes the craft more manageable for little hands.
Red and Green Tissue Paper: These colors give a realistic touch to your apple craft. If you don't have tissue paper, you could substitute it with construction paper or even old magazines.
Glue Stick or Liquid Glue: Either one will work for this project. Glue sticks are less messy which can be a plus with younger children.
Pencil or Marker: This is for tracing the word 'apple' at the bottom of the craft. It's a great way to combine art with language learning.
Remember, this craft is all about creativity and learning, so if you don't have one or two items on this list, feel free to improvise with what you do have!
How to Make the Tissue Paper Apple Craft
Get started on this exciting preschool craft with our free apple template – all you need to do is print it out!
Once that's done, kids can get creative by cutting or ripping up different colored pieces of tissue paper and gluing them onto the shape.
For extra convenience, you can purchase pre-cut tissue paper squares.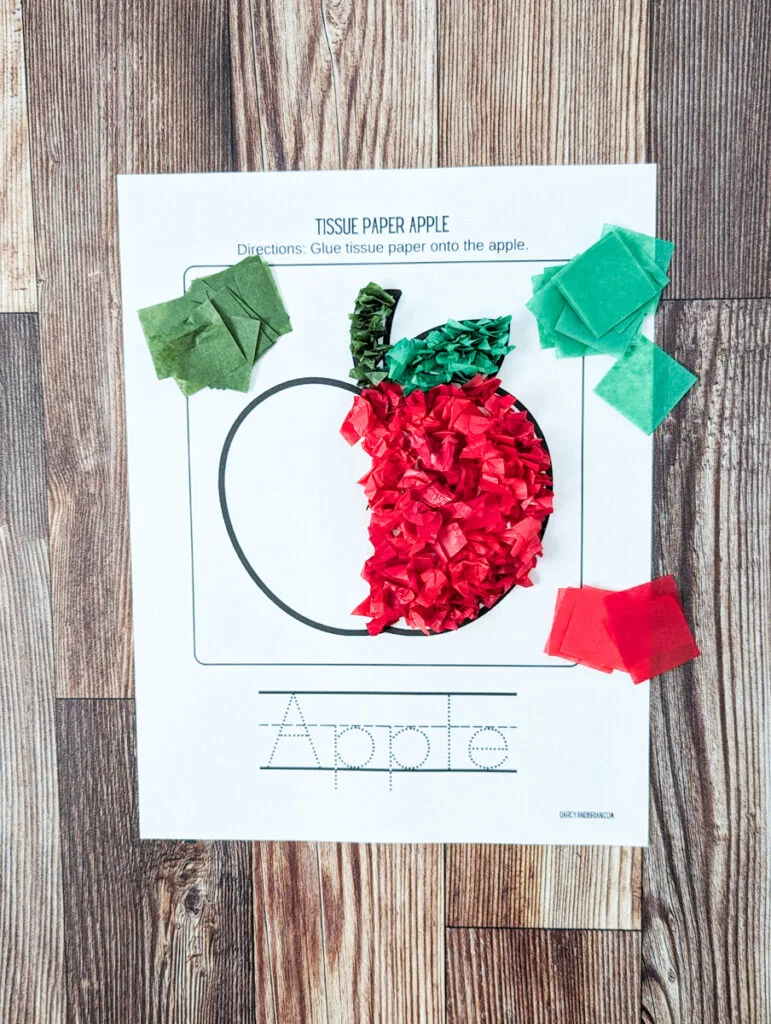 There are a few different ways little crafters can approach their tissue paper apples.
They can scrunch up the tissue paper before gluing it down, giving the apple more texture with the various pieces sticking up.
Or, the tissue paper can be glued down flat in a mosaic style, covering the template.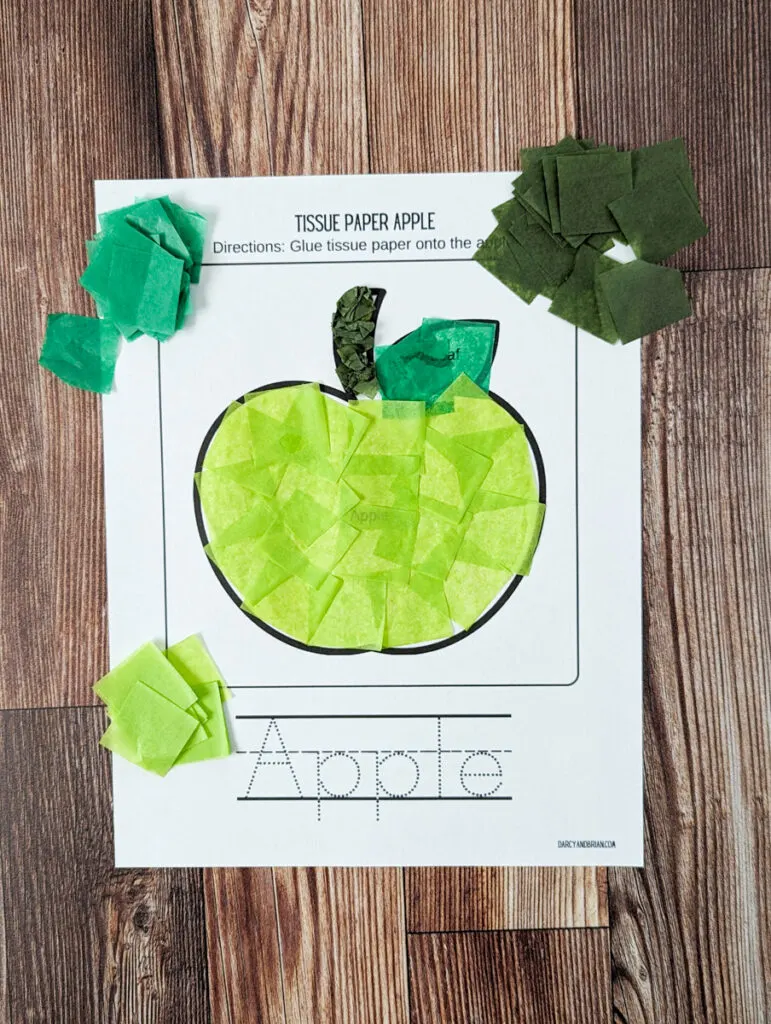 Finally, don't forget to practice tracing the word 'apple' at the bottom for handwriting and spelling practice.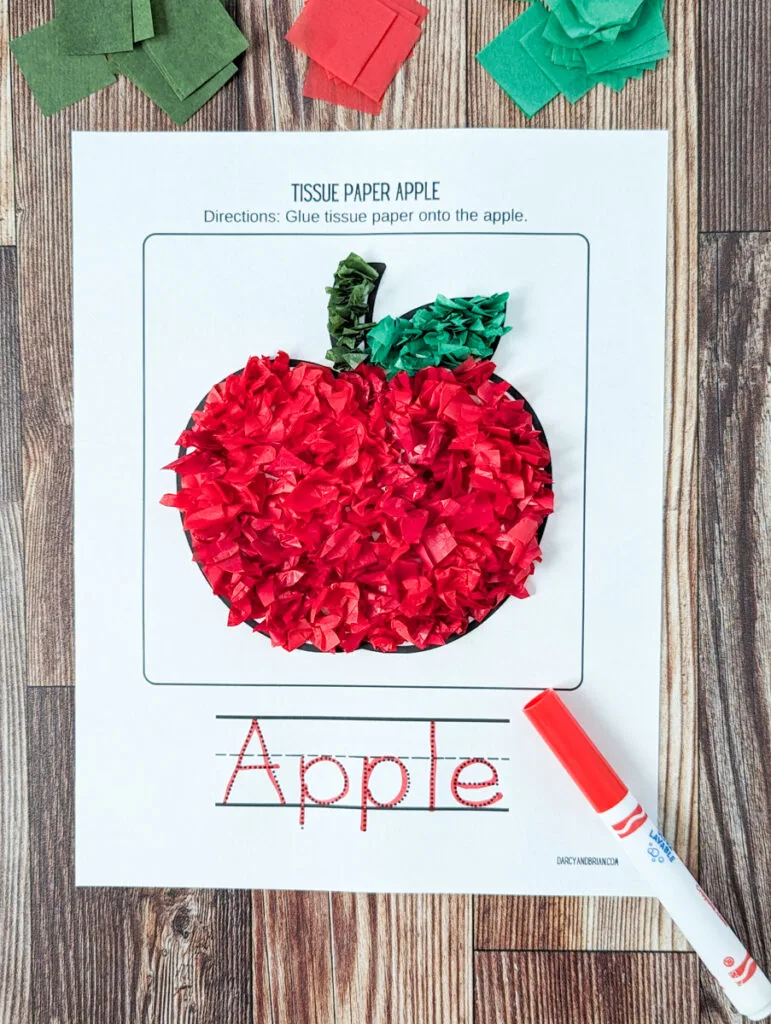 After the apple completely dries, you can cut it out and hang it up!
Additional Apple Learning Activities
This tissue paper apple craft forms an excellent centerpiece for any fall-themed or apple unit, providing an engaging, hands-on approach to learning.
Whether you're exploring the changing seasons, studying the life cycle of an apple tree, or focusing on the letter 'A', this craft fits seamlessly into your curriculum.
In addition to the apple craft, we offer a range of other activities that are perfect for an apple unit. For instance, our Parts of an Apple printable activity is a fantastic resource. This tool not only reinforces the concept of parts of a whole but also introduces children to scientific vocabulary relating to plants.
Children have the opportunity to learn while enjoying a calming activity with these apple life cycle coloring pages from Living Life and Learning.
Incorporate math with a fun apple taste test using this apple graphing activity from Fun-A-Day.
Creating an apple unit can be as simple as picking and choosing from these activities!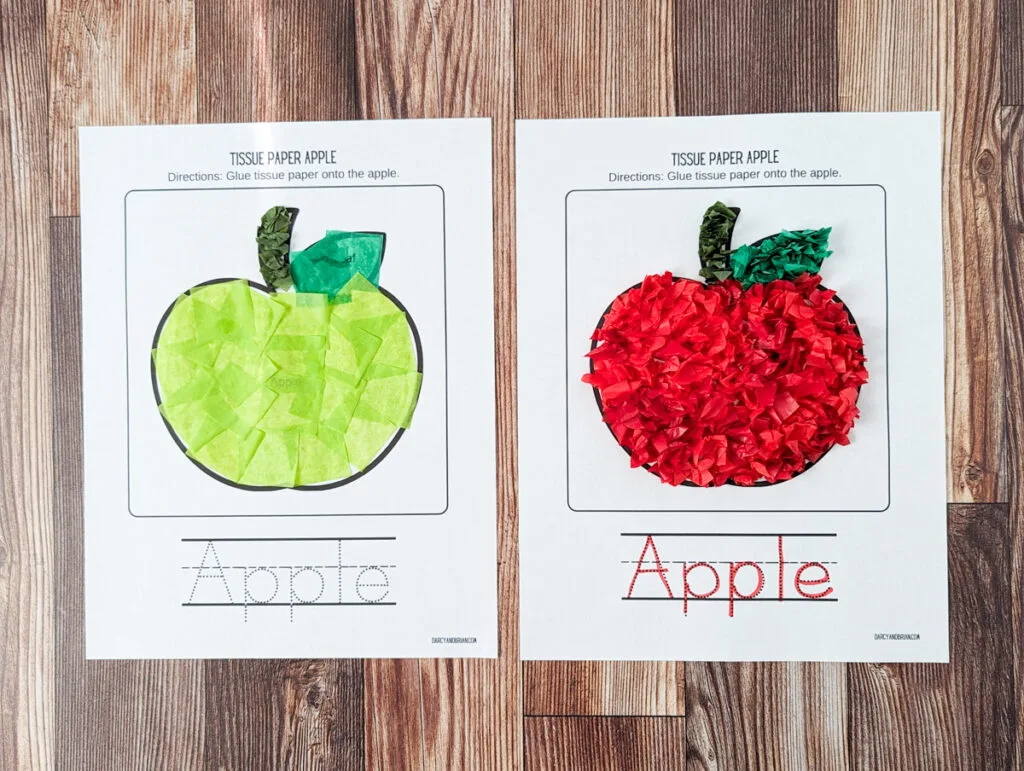 With each activity designed to stimulate creativity and promote learning, the kids will have a blast while gaining a well-rounded understanding of the theme.
Remember, the purpose of these activities is to provide a fun, engaging learning experience – feel free to adapt and modify them to suit your specific needs and objectives.
Apple Books for Kids
To complement the hands-on learning and further immerse your students in the apple theme, we have curated a list of delightful apple-themed books.
These engaging reads will surely cultivate a love for literature in your young learners while reinforcing their knowledge about apples.
Ten Apples Up On Top!
Apple Picking Day! (Step into Reading)
Pete the Cat Falling for Autumn
Eating the Alphabet
Hello, World! How Do Apples Grow?
Apples (New & Updated Edition)
Pinkalicious: Apples, Apples, Apples!
Applesauce Day
More Apple Crafts for Kids
If you're looking for even more fun, hands-on activities to engage your young learners, look no further.
Here's an exciting list of additional apple crafts that kids can create, fostering their creativity and keeping the apple fun going. Each craft is easy to make and perfect for little hands – let's jump right in!
In wrapping up, remember that every activity, be it a simple craft or an adventurous taste test, is an opportunity for young minds to explore, learn, and grow.
The apple-themed activities and crafts compiled here not only spark creativity but also lay a sound foundation for educational concepts.
So whether you're teaching the alphabet with an apple unit, or engaging little hands in crafting, the aim is to make learning fun and engaging. Happy apple learning!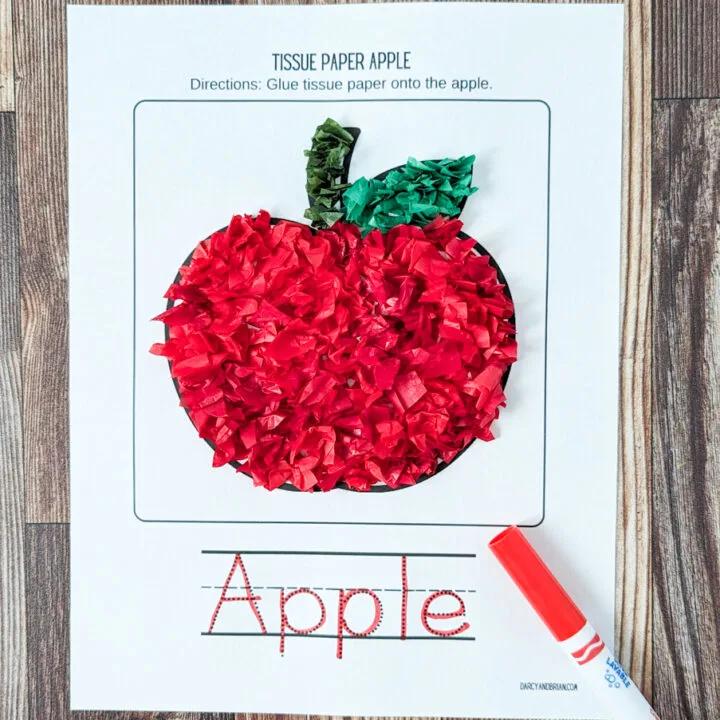 Tissue Paper Apple Craft
Estimated Cost:
$5 or less
Make this easy tissue paper apple craft for a fun fall preschool activity!
Materials
Craft Template (use form at bottom of post)
Tissue paper
Glue
Instructions
Print out the apple template.
Rip or cut up pieces of tissue paper.
Glue tissue paper onto the template.
Trace the word "apple."
Recommended Products
As an Amazon Associate and member of other affiliate programs, I earn from qualifying purchases.