If you're searching for an easy shape activity for your young ones, our Tissue Paper Heart Craft is just what you need.
Ideal for use at home or in the classroom, this craft provides a fun and educational way to enhance their shape recognition skills, all while cultivating their creativity.
What's more, you can get the printable template for free at the end of this post!
And if you're looking for more ideas, don't forget to check out our extensive collection of tissue paper crafts for kids of all ages.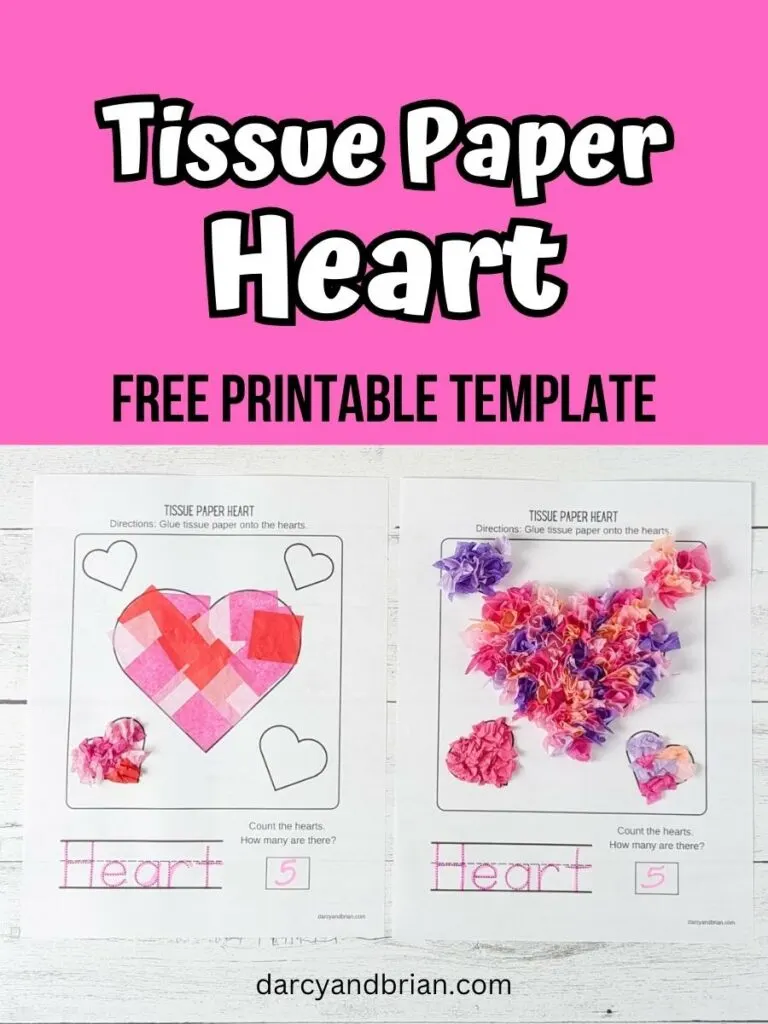 This Tissue Paper Heart Craft truly stands out as an easy craftivity that can be enjoyed by kids, particularly those in preschool and kindergarten.
With minimal materials required, it offers a straightforward, hands-on experience that children can easily follow.
The versatile and user-friendly nature of this heart craft makes it both an entertaining pastime and a powerful tool in nurturing critical early developmental skills.
So, whether you're a teacher looking for a fun small group activity or a parent seeking engaging home projects, this craft is the perfect choice!
More Heart Crafts for Kids
We believe in providing ample opportunities for kids to get creative and express themselves through different arts and crafts projects. So, here are a few suggestions for additional heart-themed crafts your little ones will love!
Free printable available at the end of this post.
Why Should Preschoolers Make Crafts?
Crafting plays a vital role in the development of preschoolers, stimulating their creativity and imagination while also cultivating a range of foundational skills.
By engaging in hands-on projects, children not only learn to express their thoughts and emotions in unique ways, but they also reinforce their understanding of colors, shapes, and patterns.
Crafting can be a soothing and relaxing activity, offering children a respite from more structured learning.
Perhaps most importantly, the sense of accomplishment that comes from creating something from start to finish instills a sense of pride and self-confidence.
Crafting, therefore, is not just a fun pastime – it's a critical component of early childhood education.
This post contains affiliate links. As an Amazon Associate and a participant in other affiliate programs, we earn a commission on qualifying purchases.
Apple Barrel Acrylic Paint Set, 16 Piece (2-Ounce), Best Colors Count
Bassion Pack of 2 Kids Art Smocks, Children Waterproof Artist Painting Aprons Long Sleeve with 3 Pockets for Age 2-6 Years
AdTech Ultra Low-Temp Cool Tool | Mini Hot Glue Gun for Safe Crafting | Children and Kids | Item #05690 , White
Aleene's Turbo Tacky Glue, 4 FL OZ – 3 Pack, Multi
Benefits of This Tissue Paper Heart Craft
This Tissue Paper Heart Craft offers a multitude of educational benefits for children.
Cutting or tearing tissue paper and gluing it onto the paper is a fantastic way to strengthen fine motor skills.
This activity also promotes word recognition and handwriting skills as children practice tracing the word 'heart' at the bottom of the worksheet.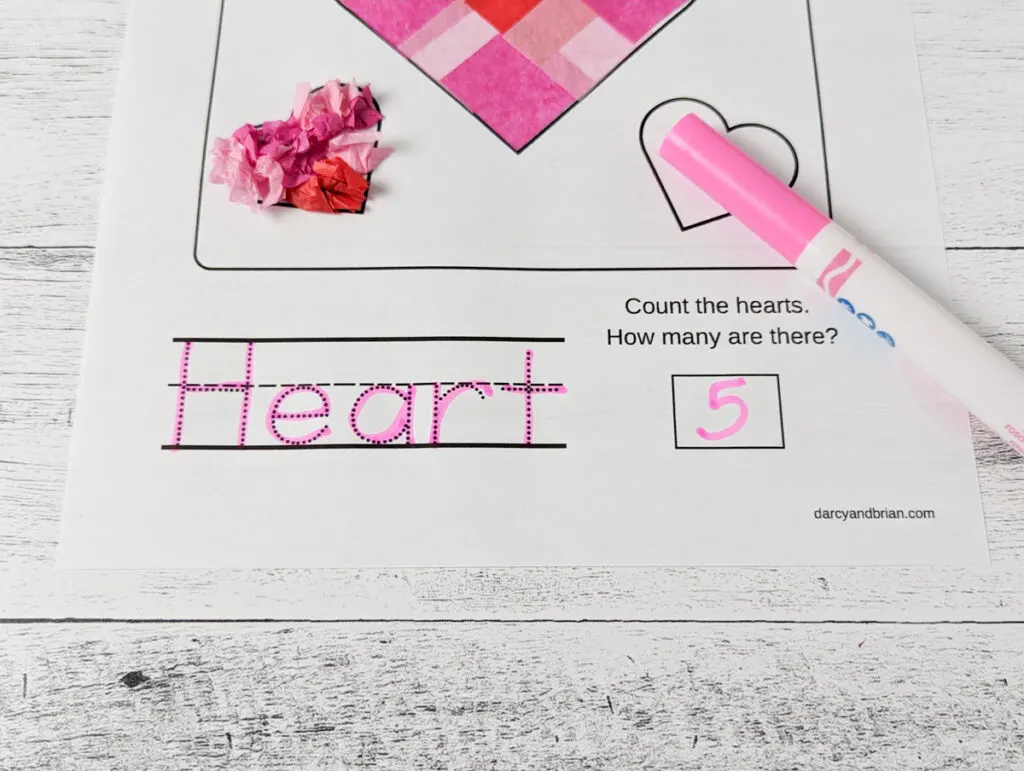 By gluing tissue paper within the heart shape outlines, children improve their understanding of shape recognition, enhancing visual-spatial awareness.
Lastly, this craft offers a fun way to practice counting and number writing, as children are prompted to count the number of hearts on the page and write the number five.
All in all, this easy-to-make craft is not only a fun activity but also a fantastic educational tool that can be used both in the classroom and for homeschooling.
Are Fine Motor Skill Activities Important for Preschool?
Fine motor skill activities such as using scissors, crumpling tissue paper, and squeezing glue play a vital role in the development of preschoolers.
These activities help enhance hand-eye coordination, finger strength, and dexterity, which are essential for performing everyday tasks like buttoning clothes and holding a pencil.
Engaging in these activities promotes the development of fine motor skills, enabling preschoolers to gain better control and precision in their movements.
Tissue Paper Heart Craft Supplies
This Tissue Paper Heart Craft is an incredibly cost-effective and low-preparation activity, making it ideal for homes or classrooms on a budget.
Tissue Paper Heart Craft Template: The craft template is absolutely free! Simply fill out the form located near the bottom of this post and the template is yours to use.
Printer: For printing, we highly recommend the Epson EcoTank printer. It's reliable, cost-effective and delivers excellent quality prints which are perfect for our craft templates.
Tissue Paper: Full sheets of tissue paper in assorted colors are readily available at your local craft store and on Amazon, but you can also reuse tissue paper from gifts or purchase pre-cut tissue paper squares for added convenience.
Glue: Both liquid glue and glue sticks work well for this activity – choose whichever you prefer or have on hand.
Writing Utensil: Finally, for writing, we're big fans of Ticonderoga pencils for their quality and comfort but a marker will do the trick too. These beginner Ticonderoga pencils are a great option.
Ultimately, the goal is to create an enjoyable, educational, and creative experience with minimal cost and preparation.
How to Make This Tissue Paper Heart Craft
Start off by printing out the free template. Have the children tear or cut pieces of tissue paper.
Pre-cutting the tissue paper can also be done if you prefer to prepare the activity beforehand.
However, cutting and ripping the paper is a good fine motor exercise for kids. Next, stick the pieces of tissue paper onto the paper, filling out the outlines of the hearts.
The tissue paper can be crumpled or wrapped around the end of a pencil before being glued down, if you desire a textured look with the pieces sticking out from the paper.
Alternatively, you can also glue the pieces flat, with some overlapping, for a different aesthetic effect.
While waiting for the glue to dry, encourage the children to trace the word 'heart' at the bottom of the page.
They can also practice their counting skills by determining how many hearts are on the paper and writing the number in the provided box.
Once the glue has completely dried, you can cut out the tissue paper hearts.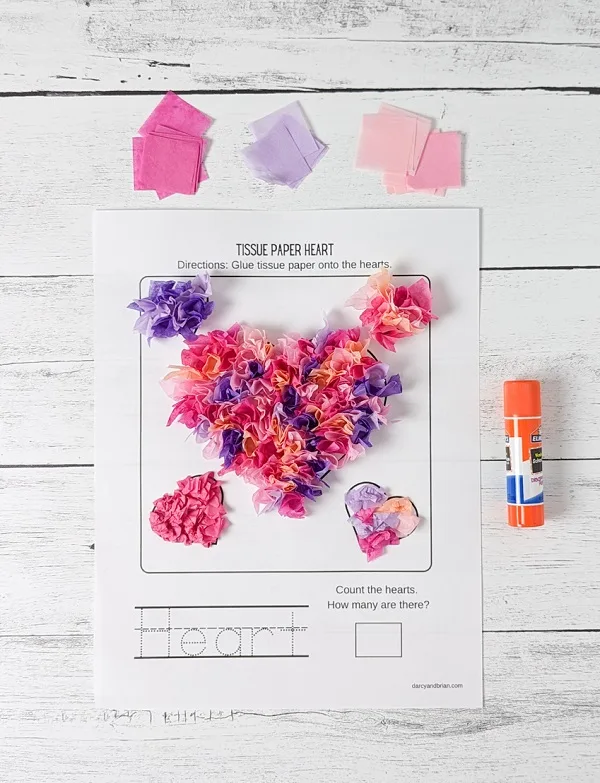 These can be hung as decorations, used as suncatchers, or even glued onto the front of a card.
This can add a personal touch to your Valentine's Day celebrations!
Why Shape Recognition is Important for Kids to Learn
Shape recognition is an important skill for children to acquire.
The ability to recognize shapes helps them understand the world and how things work together.
This tissue paper heart craft is a great way for children to get familiarized with the heart shape while having fun in the process!
Besides that, this activity encourages creativity and exploration of different materials and textures.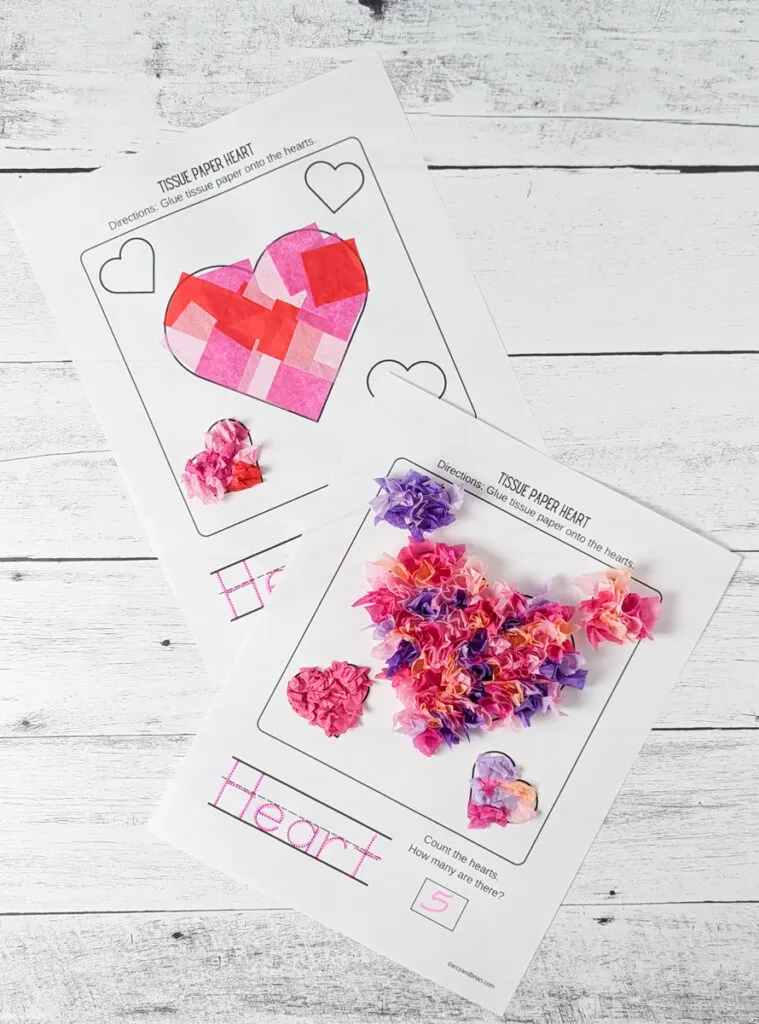 The children can experiment with different colors and textures of tissue paper to create their own unique design.
It is a great way for kids to express themselves through art, while honing their shape recognition skills at the same time.
Heart Unit Lesson Ideas
Incorporating this craft into other heart-themed lessons can provide a more comprehensive learning experience.
For instance, during shape lessons, this activity serves as a hands-on experience in understanding the formation of the heart shape.
Walk the children through the process of creating a heart, emphasizing the symmetrical structure and discussing other objects that are similarly shaped.
In a unit focused on emotions or social relationships, children can create tissue paper hearts to represent different feelings.
The color of the tissue paper can serve as a symbol — red for love, blue for sadness, yellow for happiness, and so on.
This offers them an opportunity to visually express their emotions and encourages open discussion about feelings.
For Valentine's Day, this can be a delightful group activity. Children can give away their crafted hearts to classmates, fostering a sense of sharing and promoting a positive classroom environment.
It's an easy way to add a personal touch, making Valentine's Day an event of expressiveness, creativity, and camaraderie.
Heart Books for Kids
In addition to a craft activity, it is helpful to pair this project with books about hearts. Picture books are particularly effective in teaching children about emotions, relationships, as well as anatomically correct hearts.
Day It Rained Hearts
In My Heart: A Book of Feelings (Growing Hearts)
Harvey The Heart Had Too Many Farts: A Rhyming Read Aloud Story Book For Kids And Adults About Farting and Friendship
Listening with My Heart: A story of kindness and self-compassion
Pinkalicious: Pink of Hearts
Cardiology for Kids …and Adults Too! (Super Smart Science)
More Educational Printables for Kids
There are many other printables available to supplement the tissue paper heart craft. Practice tracing and counting worksheets can help young learners hone their fine motor, number recognition, and counting skills.
We also have printable matching games and other fun printable activities you may like.
In conclusion, the tissue paper heart craft is a multifaceted learning tool that is as enjoyable as it is educational.
It's a perfect fit for both the homeschool or classroom environment, particularly around Valentine's Day.
It serves as a creative outlet for children, as well as aids in the development of critical skills such as shape recognition, fine motor abilities, tracing, and counting.
Paired with heart-themed books and supplemented by other educational printables, this craft makes learning an engaging and fun-filled experience.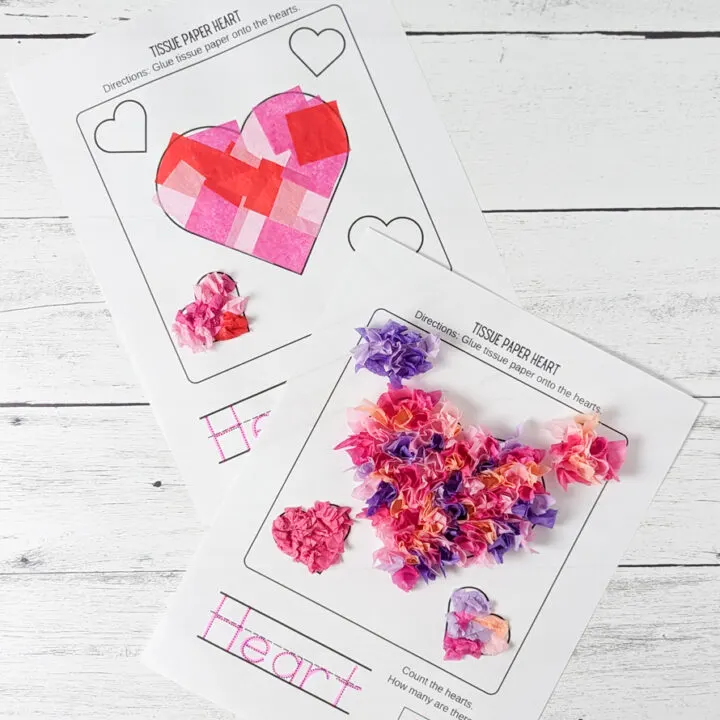 Tissue Paper Heart Craft
Estimated Cost:
$5 or less
Grab the template and make this tissue paper heart craft for an easy preschool activity!
Materials
Craft Template
Tissue Paper
Glue
Pencil or Marker
Instructions
Print out the tissue paper heart craft template.
Rip or cut pieces of tissue paper in assorted colors.
Glue tissue paper down and fill in the heart shapes.
Trace the word heart to practice handwriting and spelling.
Count the hearts and write the number in the box.
Recommended Products
As an Amazon Associate and member of other affiliate programs, I earn from qualifying purchases.