Add a splash of creativity to your child's summer learning with our easy popsicle tissue paper craft. Like all of our tissue paper crafts for kids, this activity is fun, educational, and can be completed at home or school.
It is designed to enhance fine motor skills as well as color recognition and counting practice. Plus, it promotes handwriting practice and can be incorporated in lessons about summer.
Don't forget, the printable craft template is available for free at the end of the post!
Crafting is a fantastic activity for kids, offering fun, entertainment, and a unique way to learn and develop skills.
Children can let their creativity soar, turning simple materials into extraordinary creations they can be proud of.
Tissue paper crafts are a wonderful choice – affordable, accessible, and ideal for families and classrooms on a budget.
They're also easy for young children to work with, improving their fine motor skills as they handle delicate tissue paper and create beautiful artwork.
From colorful popsicles to incredible collages, the possibilities are endless. Crafting with tissue paper is a world of fun and learning, fostering growth and development while kids play.
What Are the Learning Benefits of This Popsicle Tissue Paper Craft?
The Popsicle Tissue Paper Craft is an exceptional activity that offers numerous learning benefits.
Primarily, it allows children to enhance their fine motor skills as they engage in intricate tasks such as cutting, tearing, and gluing tissue paper.
This hands-on approach enables children to develop control and precision in their movements, laying a solid foundation for future activities like writing and buttoning clothes.
The craft promotes creative expression as children design their own popsicles, making choices about colors and placement.
This element of choice nurtures decision-making skills and encourages independent and innovative thinking.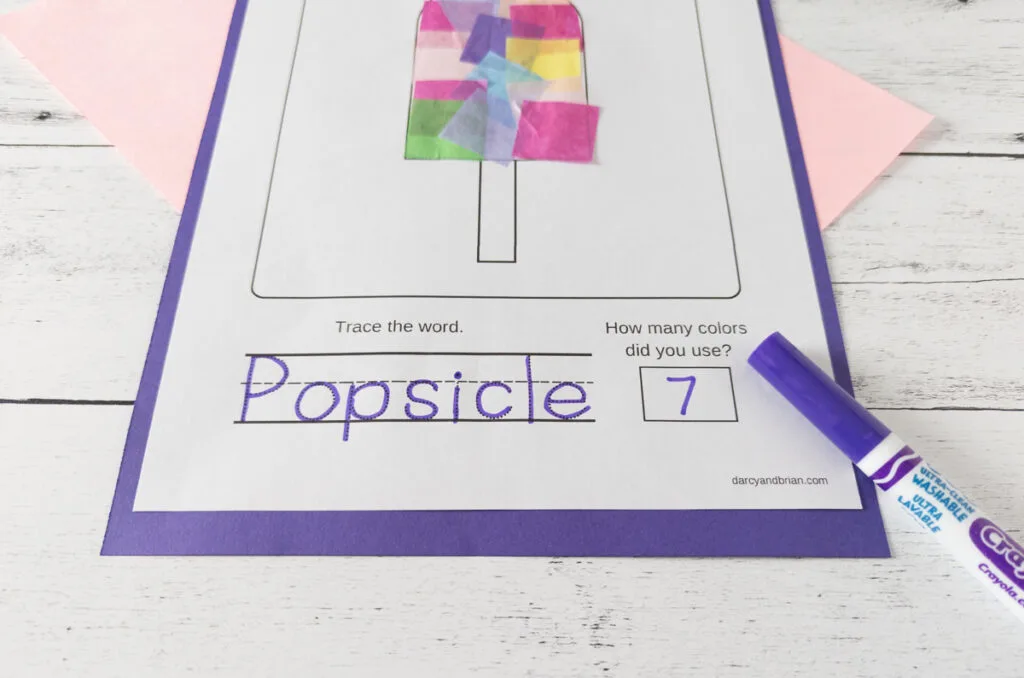 In addition, the activity includes a counting task, encouraging children to identify and count the various colors used in their artwork, thereby strengthening their early mathematical abilities.
Lastly, let's not forget the handwriting practice included at the bottom of the activity sheet, as children trace the word 'popsicle', reinforcing letter recognition and handwriting skills in an engaging and enjoyable manner.
This post contains affiliate links. As an Amazon Associate and a participant in other affiliate programs, we earn a commission on qualifying purchases.
Ticonderoga My First Short Triangular Wood-Cased Pencils
JuneLsy Pencil Grips for Kids Handwriting Pencil gripper Pencil Holder Posture Correction Training
The Pencil Grip Original Pencil Gripper, Universal Ergonomic Writing Aid For Righties And Lefties
Fiskars Training Scissors for Kids 3+ with Easy Grip
Scissor Skills Preschool cut & paste cats activity pad for kids: Cat Coloring Book & Scissor Activity Book
Ticonderoga Wood-Cased Pencils, Pre-Sharpened, 2 HB Soft, Yellow, 12 Count
Fine Motor Activities for Preschool
Engaging preschoolers in a variety of fine motor activities is crucial for strengthening their hands and fingers, thereby preparing them for more complex tasks down the line.
These activities not only enhance their motor skills, but also contribute to their cognitive development.
As children manipulate small objects, tear pieces of paper, or trace shapes and letters, they are unknowingly building their hand-eye coordination, precision, and control.
This paves the way for essential life skills, including writing, using utensils, and tying shoelaces.
Therefore, it is crucial to include a diverse range of fine motor activities in a preschooler's daily routine to support their holistic development.
Popsicle Tissue Paper Craft Supplies
The beauty of the Popsicle Tissue Paper Craft lies in its simplicity, using common craft supplies that you likely already have on hand.
This makes it an ideal activity for a classroom setting or even a summer day camp, as it is easy to supply for a small group of children.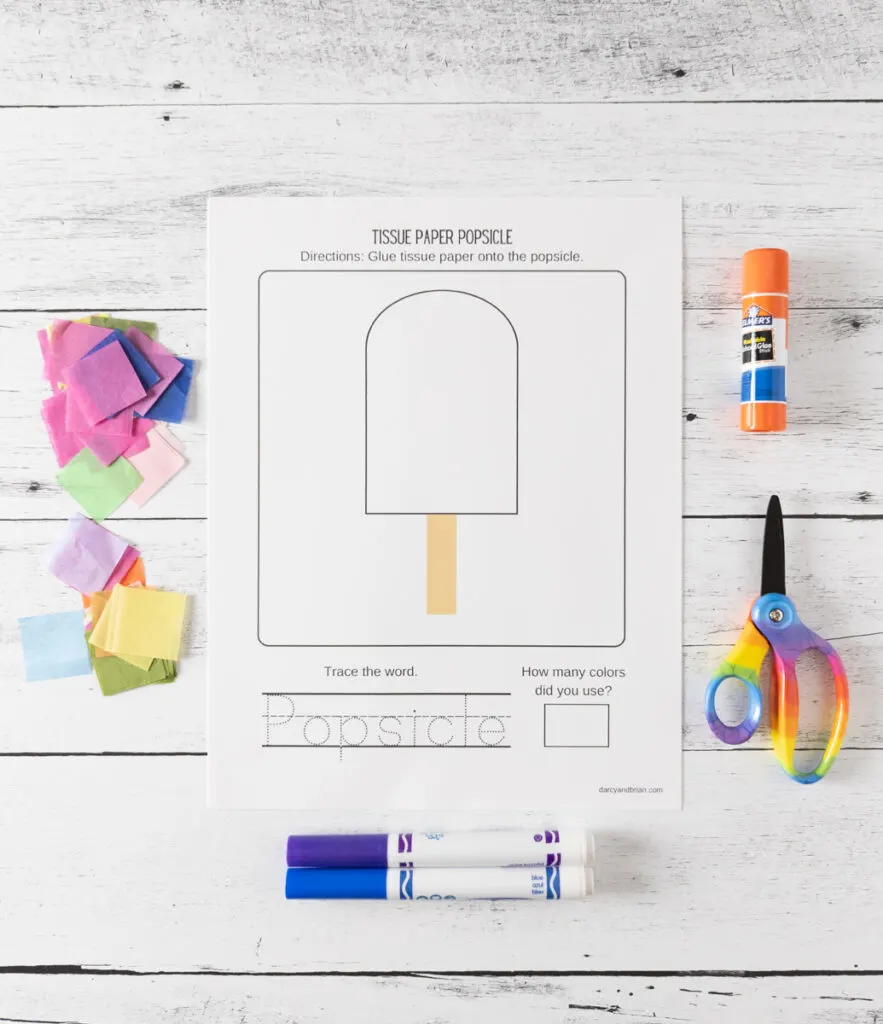 The items needed for this craftivity are straightforward. First and foremost, you need the printable popsicle tissue paper craft template.
Next, gather a variety of tissue paper, either in full sheets or pre-cut squares, allowing for a range of color choices.
Glue is essential for attaching the tissue paper pieces to the template. Both liquid glue and glue sticks work well, but if you're looking to keep things tidy, glue sticks are the less messy option.
Scissors are required as well, especially if you're using full sheets of tissue paper that need to be cut down.
Lastly, a writing utensil, such as a pencil, marker, or crayon, is necessary for tracing the word 'popsicle'.
With these basic supplies, children can create their own colorful popsicle artwork, making the activity a fun and engaging learning experience.
How to Make This Popsicle Tissue Paper Craft
To create this popsicle tissue paper craft, begin by printing the craft template. You can obtain the free printable by completing the form at the end of the post.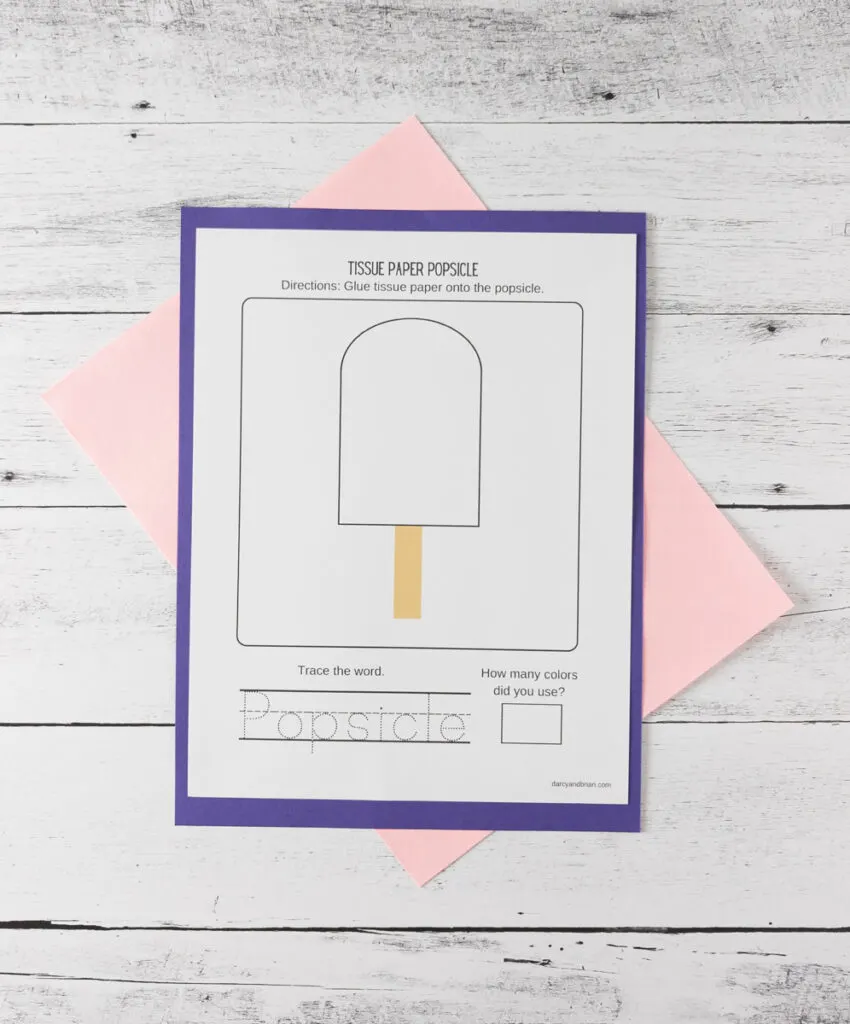 Next, choose the colors of tissue paper you'd like to use for decorating your popsicle. You can either select specific colors or opt for a random assortment.
To save time, you can cut or rip the tissue paper into smaller pieces, or consider purchasing pre-cut tissue paper squares.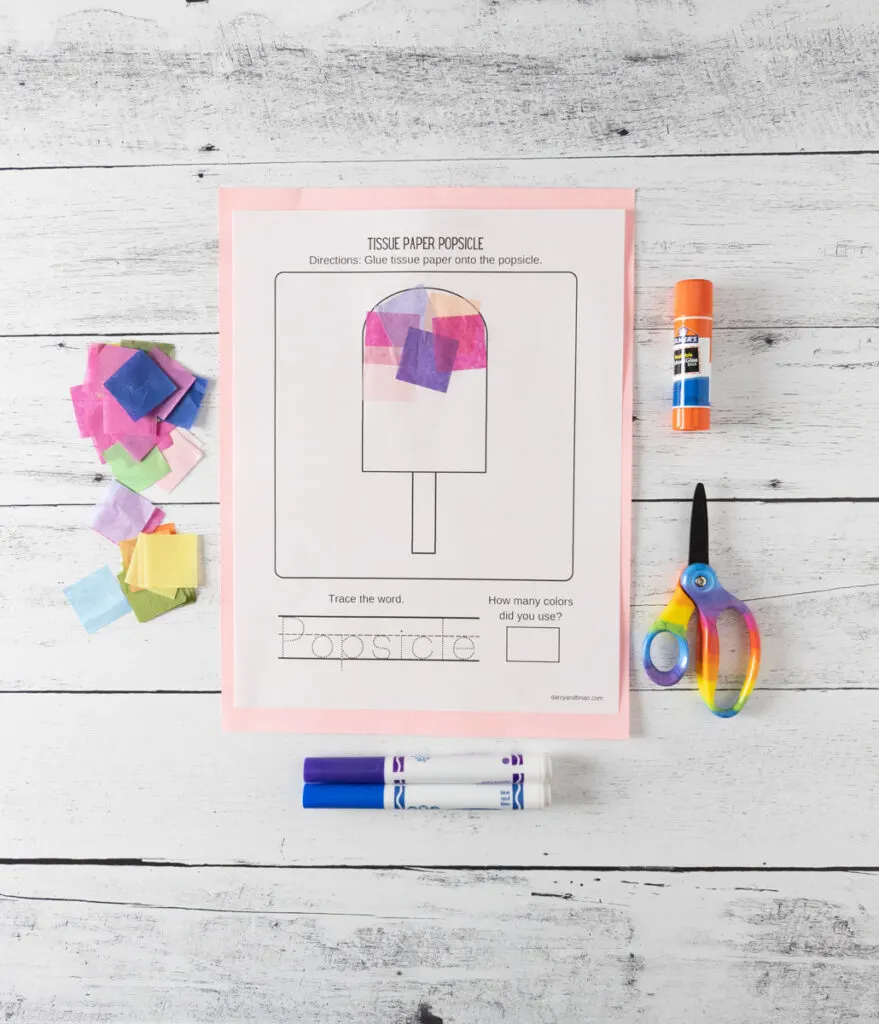 Using glue, adhere the tissue paper pieces to the paper, filling in the shape of the popsicle. You can either glue the tissue paper down flat and overlapping, creating a mosaic-style effect, or scrunch it up before gluing to add texture.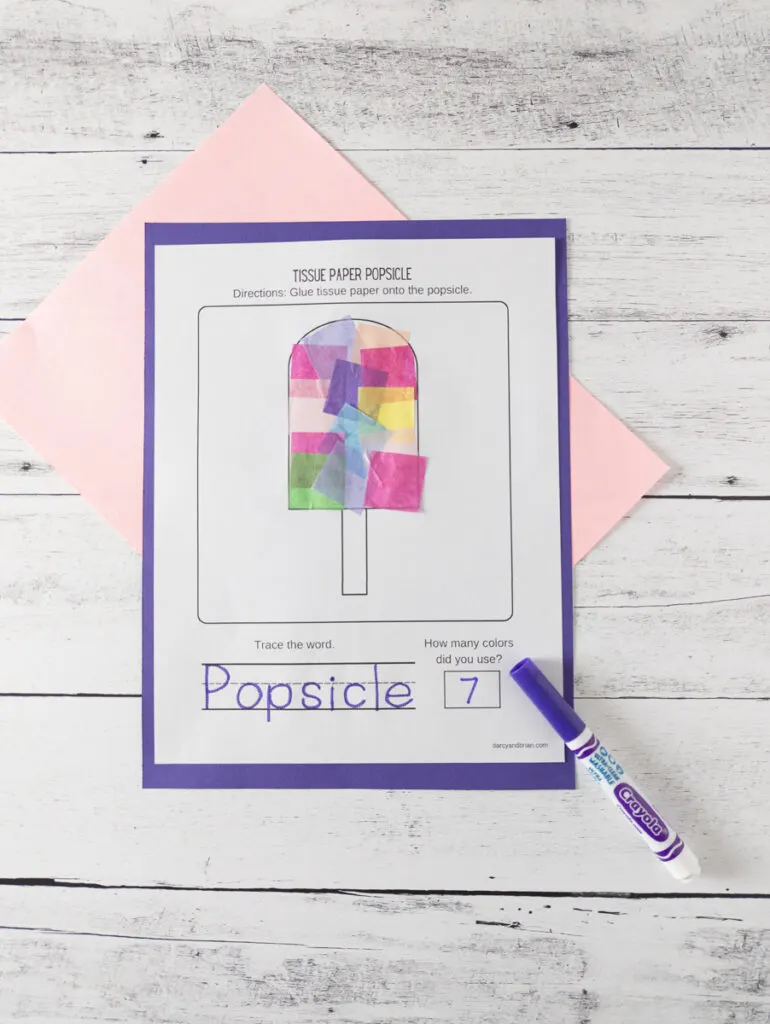 For an opportunity to improve fine motor skills, try wrapping each tissue paper square around the eraser end of a pencil before gluing it down. This technique was used with the red, white, and blue popsicle in the example below.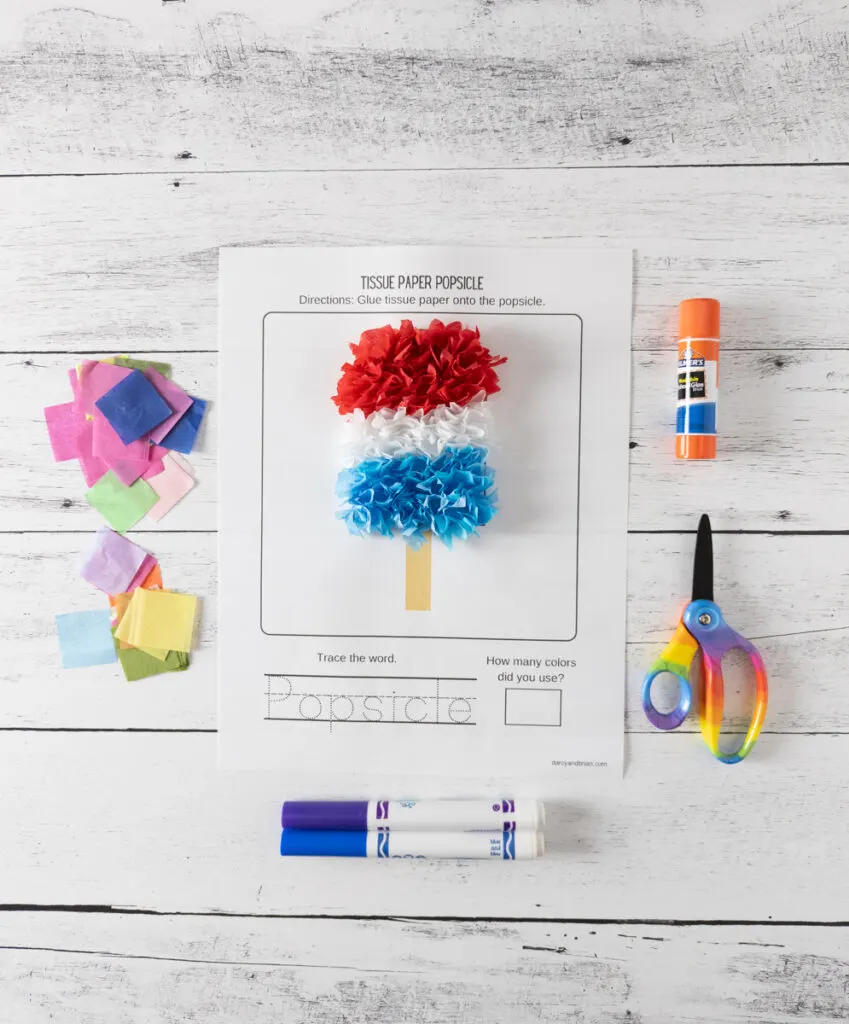 Once you've filled in the popsicle outline, take note of the number of different colors you used and write that number in the box located at the lower right.
Finally, practice letter formation and handwriting by tracing the word "popsicle" along the dashed lines.
Enjoy crafting and let your creativity shine!
How Does a Craft Worksheet Encourage Creativity?
This printable craft template stimulates children's creativity by providing a structured yet flexible platform for artistic expression. Starting with a blank canvas can often be intimidating, especially for young learners.
However, the popsicle outline offers a solid starting point, sparking imaginative ideas to design and decorate a unique popsicle.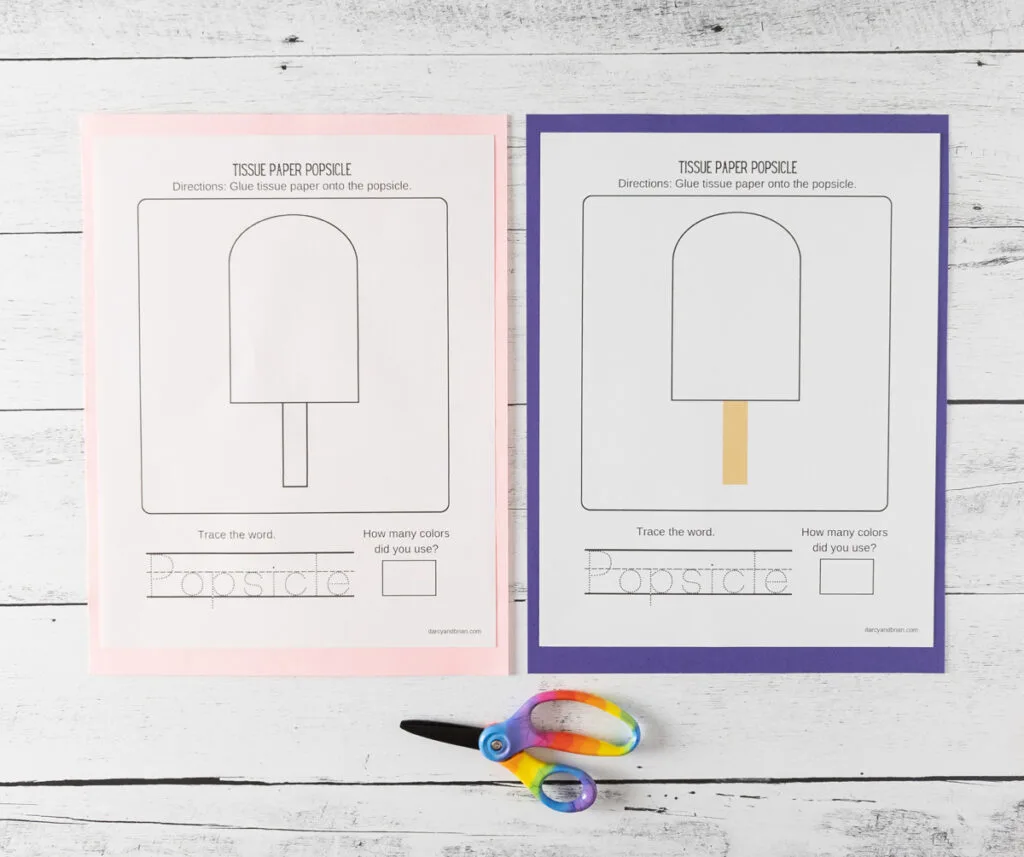 Children can choose different colors of their liking, arrange paper pieces in varying patterns, and create textures by scrunching or layering.
Essentially, this template helps channel their creativity into a guided project, making the entire process enjoyable and rewarding.
Furthermore, the added elements of counting colors and tracing words transform this craft into a multidimensional activity that encourages cognitive development alongside creativity.
Popsicle Recipes for Kids: Easy and Delicious
The Boy Who Invented the Popsicle: The Cool Science Behind Frank Epperson's Famous Frozen Treat
Popsicle Cookbook: Healthy and Easy Ice Pop Recipes for Kids and Adults
More Popsicle Learning Activities for Preschoolers
Incorporating additional popsicle-themed activities can further enrich this unit, creating a comprehensive learning experience around a fun, familiar concept. Here are a few ideas to get you started:
Storytelling Activity: After designing their own tissue paper popsicle, encourage children to create a story around it. They can share the flavor of the popsicle they designed, its name, and any imaginative details they come up with. This activity fosters creativity, storytelling skills, and imagination.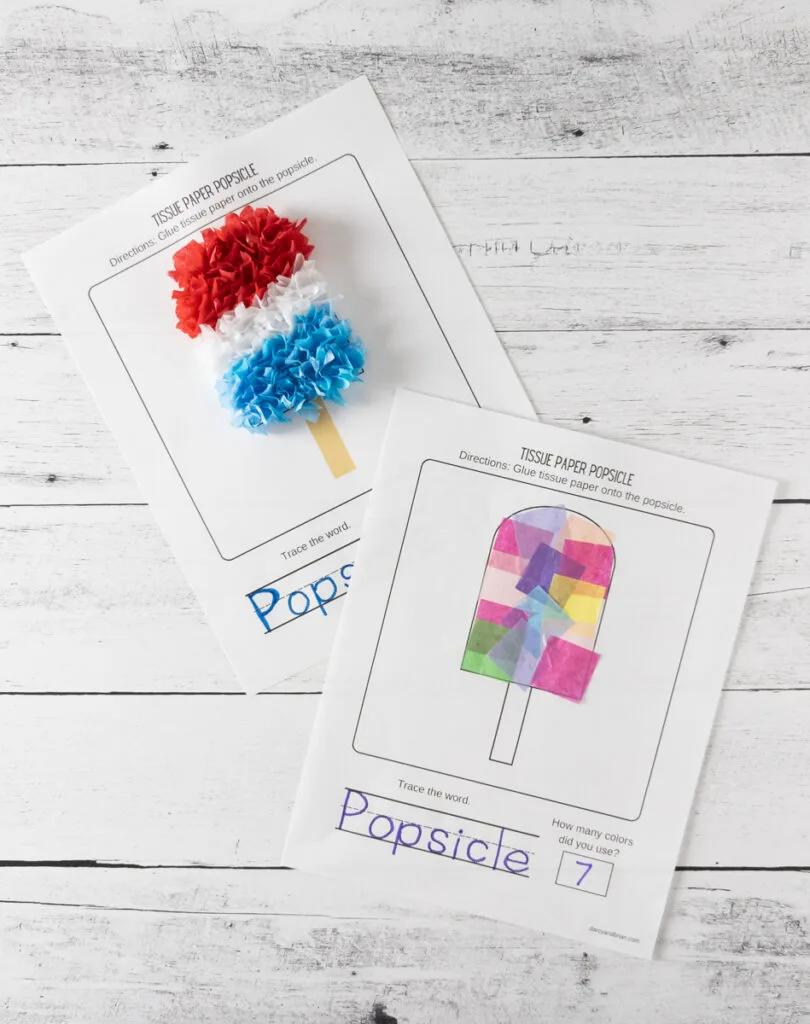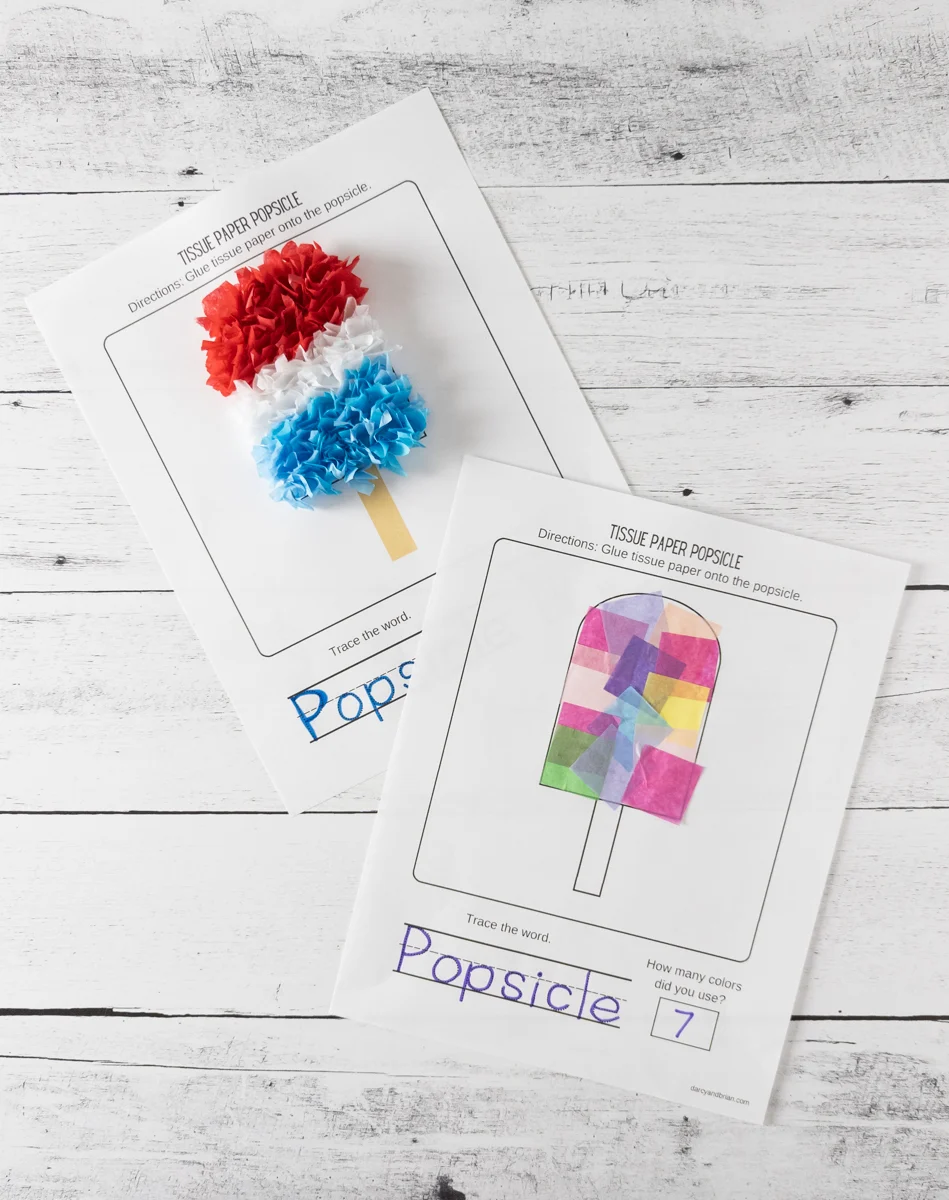 Popsicle Matching Game: Play our printable Popsicle Memory Matching Game and see how many matches of color popsicles you can make. Great activity for working on memory, concentration, and visual discrimination skills.
Popsicle Counting Activity: Use these colorful Popsicle Counting Clip Cards to practice numbers one through ten. This activity strengthens number recognition and counting skills.
Popsicle Pattern Construction: Using multi-colored popsicle sticks, teach children about patterns. Start with simple patterns, like color alternating, and gradually introduce more complex patterns. Encourage children to create their own patterns to promote creativity and critical thinking.
Popsicle Initial Sounds Printable Puzzles: These popsicle puzzles have letters and pictures that start with that letter. This activity enhances letter recognition and phonetic awareness.
Introducing a collection of unique, engaging, and educational activities with a popsicle theme. These activities are crafted to foster creativity, critical thinking, and literacy skills in children.
With our complimentary printable popsicle tissue paper craft template, not only will your little ones have a blast, but they will also enhance their fine motor skills and color recognition.
Additionally, this activity offers the added benefit of handwriting practice, making it a well-rounded experience.
Remember, learning doesn't have to be boring – with these popsicle activities, it can be as vibrant and delightful as a summer day!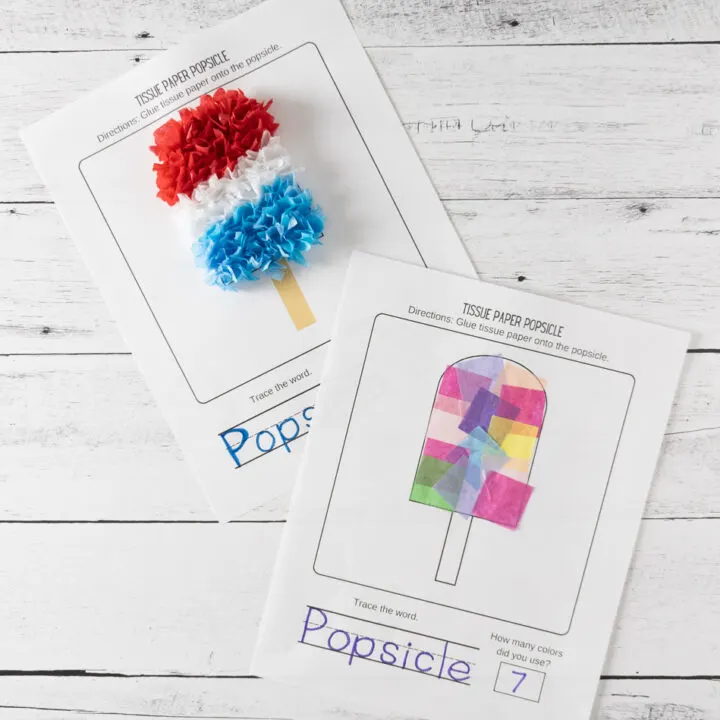 Popsicle Tissue Paper Craft
Estimated Cost:
$5 or less
Make a fun and easy popsicle tissue paper craft. Great fine motor skills activity for preschoolers.
Materials
Popsicle Tissue Paper Craft Printable Template
Tissue Paper in Assorted Colors
Glue
Tools
Pencil or Marker
Scissors
Instructions
To make this popsicle tissue paper craft, start by printing out the craft template. (Get the free printable by filling out the form at the bottom of the post.)
Select tissue paper colors to use to decorate your popsicle or use a random variety. Cut or rip tissue paper into smaller pieces or purchase pre-cut tissue paper squares to save on prep time.
Glue tissue paper pieces onto the paper filling in the popsicle shape. The tissue paper can be glued down flat and overlapping in a mosaic-style. Or, scrunch it up before gluing to give it more texture.
A great way to work on fine motor skills is to wrap each tissue paper square around the eraser end of a pencil then glue it down. (See the red, white, and blue popsicle in the photos for an example.)
After filling in the popsicle outline, count how many different colors were used and write that number in the box on the lower right.
Then trace the dashed word "popsicle" to practice letter formation and handwriting.
Recommended Products
As an Amazon Associate and member of other affiliate programs, I earn from qualifying purchases.