Come one, come all and grab these free preschool circus theme printables! These circus worksheets for preschooler include line tracing and cutting line pages.
They are perfect for practicing and developing fine motor skills which are important for learning how to write, using scissors, and more. Fill out the form at the bottom of this post and use them for quiet time at home, as part of homeschooling, or for classroom centers.
Looking for more printable learning activities for preschoolers? You may also like our fairy tale workbook.
Are you looking for some fun worksheets for your preschooler to work on? My little guy loved tracing pages and he loved working on these circus line tracing pages while home from school.
At the time I put this pack together, he was attending preschool. I enjoyed planning supplemental learning activities for him and now I do it all the time since we started homeschooling!
Some days involve more hands-on activities, other days he's learning through play, and sometimes we use printables.
More Preschool Activities:
There are lots of fun learning ideas that you can do with preschool age children! They are so curious and eager to learn about the world around them. We gathered a few math and science activities you might want to try!
What the Preschool Circus Theme Printables Include
This packet has 8 pages in total. It includes several line tracing pages, a page to practice scissor skills by cutting along the dotted lines, tracing shapes, and a circus coloring page.
The line tracing pages feature dotted lines as well as solid ones to carefully draw a line in between (similar to a maze). There are straight lines to trace as well as more complex line paths to follow. These help preschoolers work on early writing skills and how to hold a pencil.
This post contains affiliate links. As an Amazon Associate and a participant in other affiliate programs, we earn a commission on qualifying purchases.
How to Use Free Circus Printables for Preschool
Preschool children's hands are still developing and they may not always want to complete tracing or cutting worksheets. Offering a variety of writing utensils can help make the work more enticing.
Feel free to provide crayons, colored pencils, markers and regular pencils. (These beginner Ticonderoga pencils are a great choice.)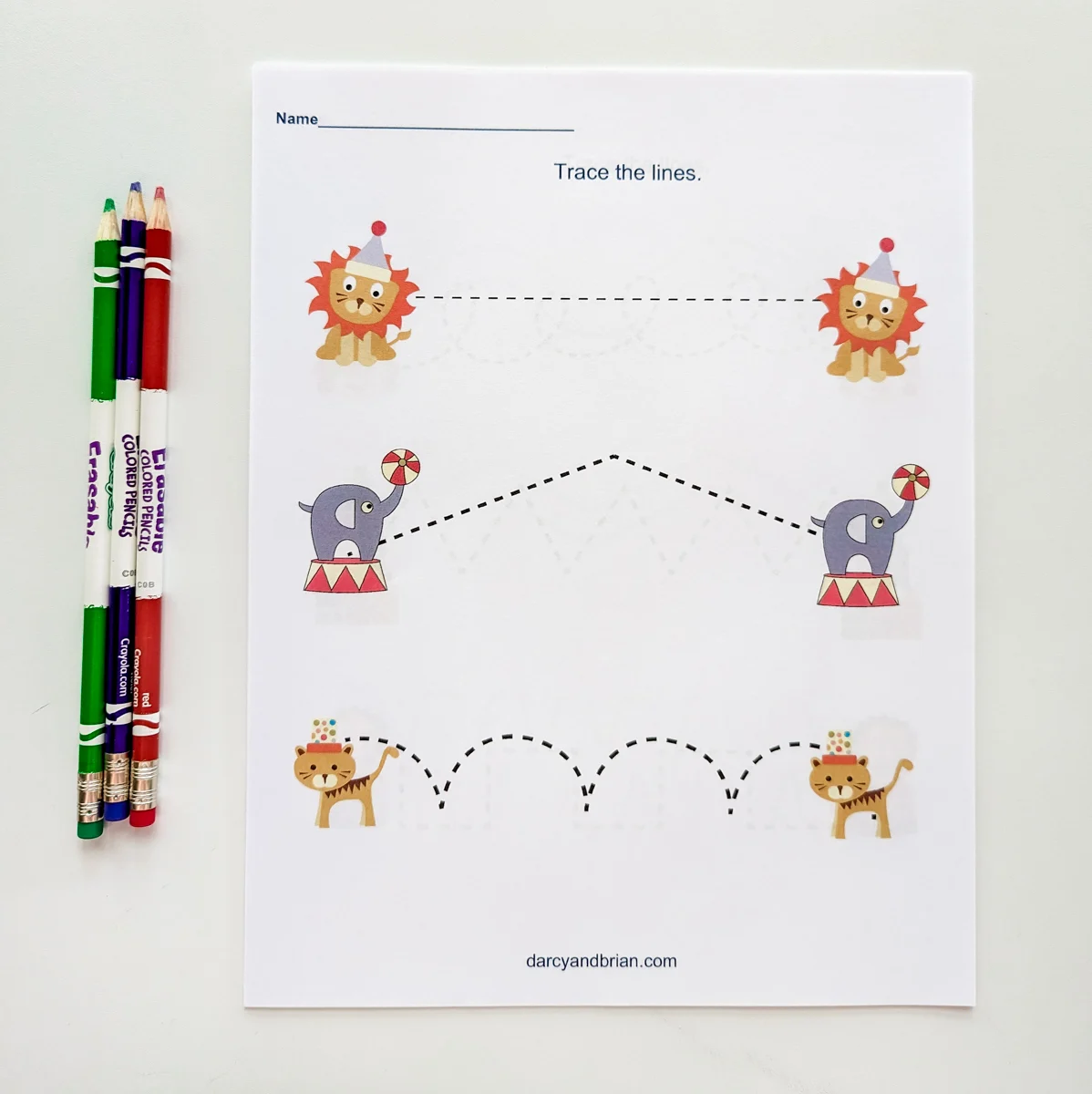 When my son worked on these preschool circus theme printables, he chose a combination of pencils and markers and selected a different color for each line.
I loved listening to his imagination as he told little stories about helping each elephant, lion, clown, etc. get from one side of the dotted lines to the other.
While tracing shapes, we identified each shape and counted the sides. We also spent time learning how to properly hold a pair of scissors as well as how to hold the paper while doing cutting lines.
I like these preschool training scissors because they are blunt and cut paper but protect little hands as they learn.
You can easily add additional learning throughout this packet or use it as a quick quiet time activity. We also listened to the soundtrack from the movie "The Greatest Showman" while working on these activities!
Ticonderoga My First Wood-Cased Pencils, #2 HB Soft, With Eraser
Preschool Training Scissors
Fiskars Children's Animal Scissors with Panda Motif, From 4 Years, For Right and Left Handers
Crayola Long Colored Pencils, 12-Count
Crayola Broad Line Markers 12ct
Why Are Fine Motor Skills Important?
Fine motor skills are the small, precise movements of the hands and fingers. Preschoolers are still developing and building the muscles in their hands. This is why it is important for them to practice fine motor activities.
They are needed for a variety of everyday life skills, such as eating and getting dressed. Fine motor is also essential for writing and drawing. They are essential for a variety of tasks, including eating, dressing, writing, and drawing.
There are many ways to help preschoolers develop their fine motor skills. One simple activity is line tracing. This helps children develop both fine motor and cognitive skills. Here are a few examples:
Hand-eye coordination: Tracing lines requires children to use their eyes to follow the line and their hands to move the pencil or crayon in the same direction. (Same with cutting lines with scissors.)
Precision: Tracing helps children learn to control the small muscles in their hands and fingers.
Planning and execution: Line tracing requires children to plan their movements and then execute them. This helps them develop their cognitive skills.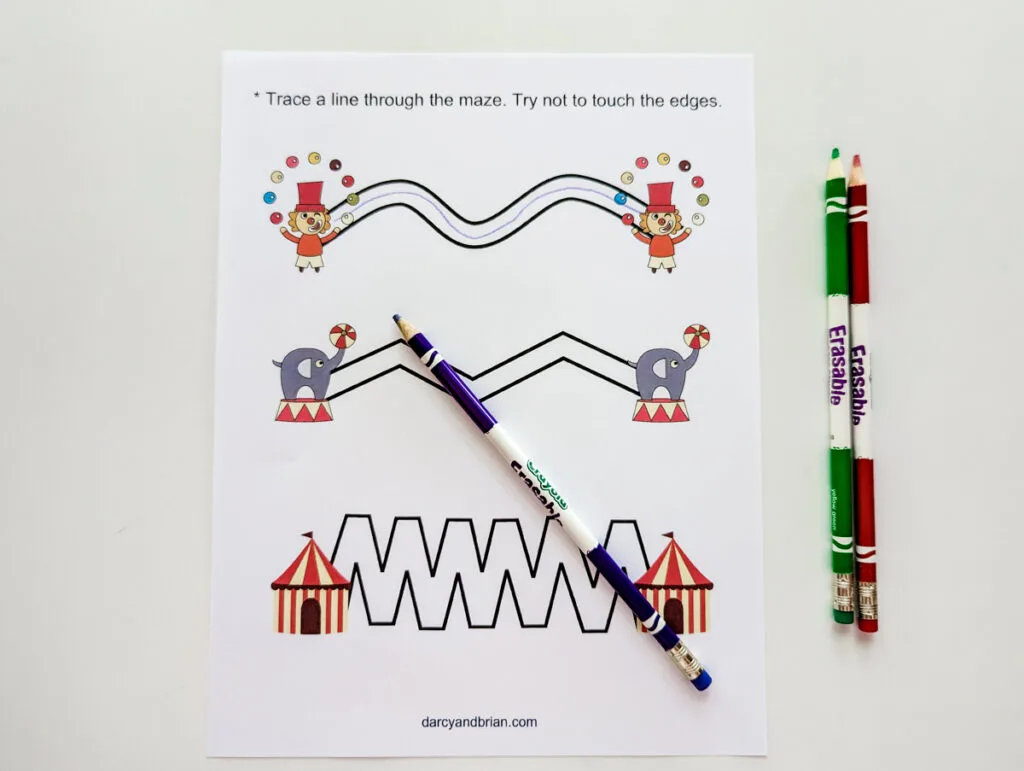 In addition to tracing and cutting worksheets, there are many other activities that can help preschoolers develop their fine motor skills. These activities include:
Playing with puzzles
Building with blocks
Using playdough
Manipulating small objects
Dressing and undressing themselves
Writing and drawing
Circus Crafts for Preschoolers
Young children find the circus entertaining and exciting, so why not plan additional circus theme activities to keep them engaged? Here are a few adorable circus craft projects we found.
Popcorn is a popular snack at the circus! Make this easy popcorn preschool craft from Preschool Play and Learn.
Make lots of silly faces as you create your own paper plate clowns from Kids Activities Blog!
Please share this post with someone you know who would like to use this printable packet too!