Looking for a fun and easy fruit craft for your preschooler or kindergartner? This watermelon craft is one of our simple yet delightful tissue paper crafts for kids. Not only is it a great way to keep your children entertained, but it is also an opportunity to introduce them to various educational concepts.
Creating a tissue paper watermelon is as easy as pie. All you need are some basic craft materials. I've also included a printable template you can use. But remember, it's not just about the end product, it's the process that counts! So, let's make it fun and informative.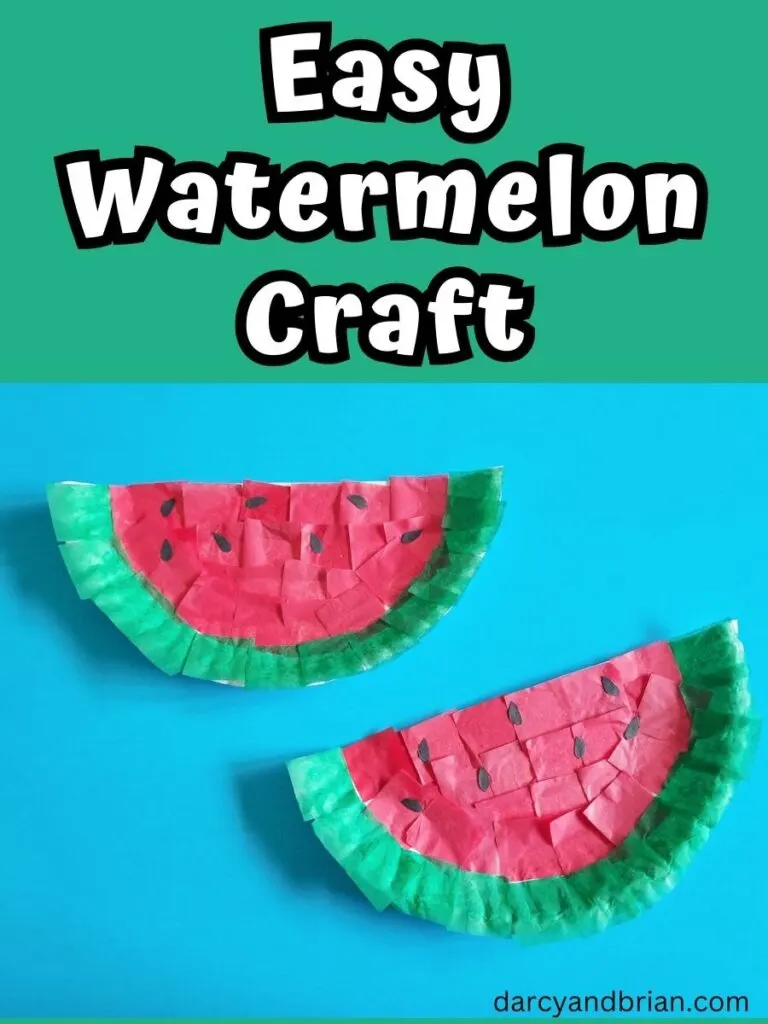 Young children will have fun creating their own slice of summer with this tissue paper watermelon craft. It's a simple project utilizes readily available craft materials, making it suitable for creating at home or in a school setting. Additionally, it seamlessly complements a watermelon or fruit-themed unit study.
More Tissue Paper Crafts
Free printable available at the end of this post.
Educational Benefits of This Watermelon Craft
Besides being a fun activity, this craft has several educational benefits. It aids in developing fine motor skills as children handle small pieces of tissue paper and glue them onto the plate or craft template.
It introduces color recognition and the concept of fractions (half, quarter). Also, it's a great way to kickstart a lesson on fruit or other summer-related themes.
Watermelon Tissue Paper Craft Supplies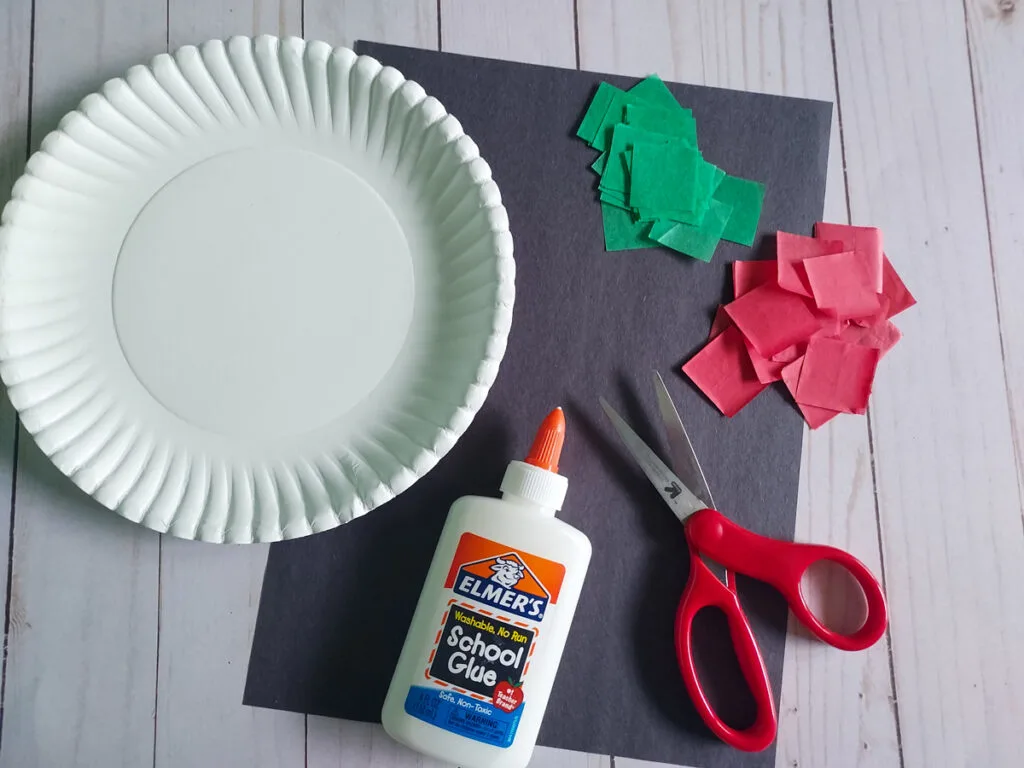 This post contains affiliate links. As an Amazon Associate and a participant in other affiliate programs, we earn a commission on qualifying purchases.
Let's gather up the materials needed to bring our delightful watermelon craft to life. Here are the supplies you'll need:
1 Plain White Paper Plate – I recommend crafting your watermelon with a full size (9-10 inch) plate, but you could also create mini watermelons with smaller plates.
Red and Green Tissue Paper – You can purchase pre-cut tissue paper squares to make this even easier. Otherwise have kids tear or cut sheets of tissue paper into smaller pieces.
Liquid school glue or a glue stick
Scissors
While not required, it is helpful to cover your workspace – especially at home – to craft without the mess. We like to use craft mats when possible, but spreading out old newspaper or even parchment paper can help make clean up easier.
How to Make a Tissue Paper Watermelon Craft
Start by cutting a standard 9-10 inch paper plate in half. Cut in a straight line, to form the top of your watermelon slice. If you want to create smaller pieces, you can also cut the plate into quarters. (A great way to demonstrate fractions!)
Sort your tissue paper squares into piles of red and green. You could also use pink.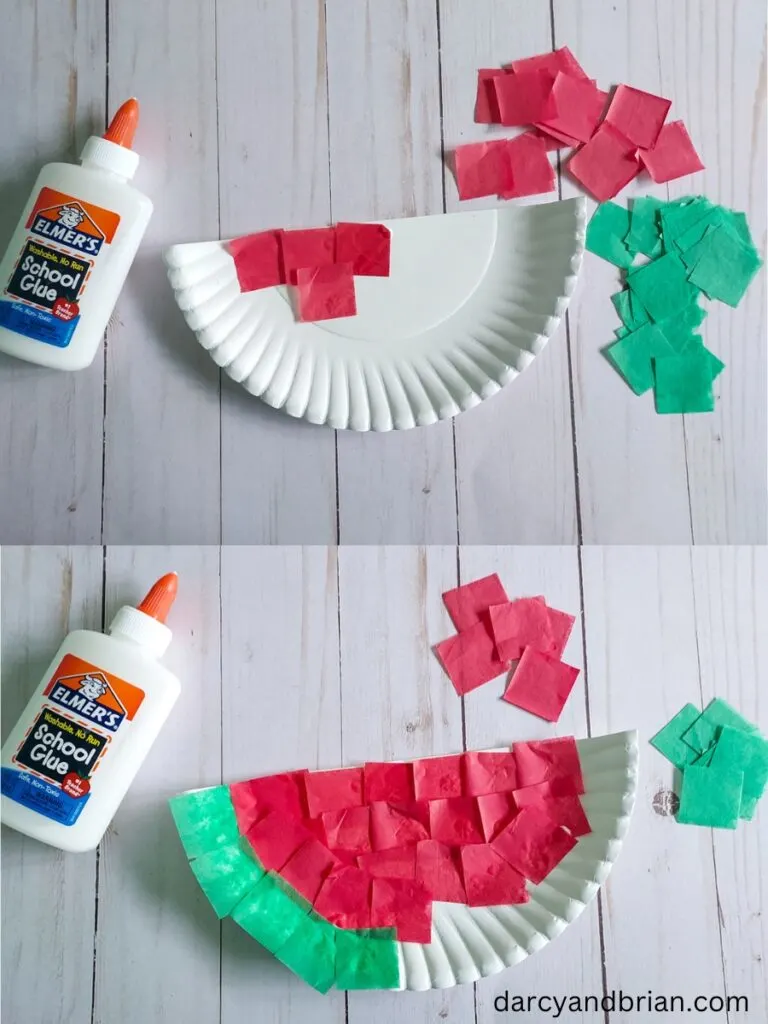 Starting with the red pieces, glue your tissue paper onto most of the inner flat surface of the plate, overlapping them slightly.
Leave about 1" of the outer C shape of the plate for the green in the next step.
Next, glue the green tissue paper along the curved edge, also overlapping slightly, so the plate doesn't show through.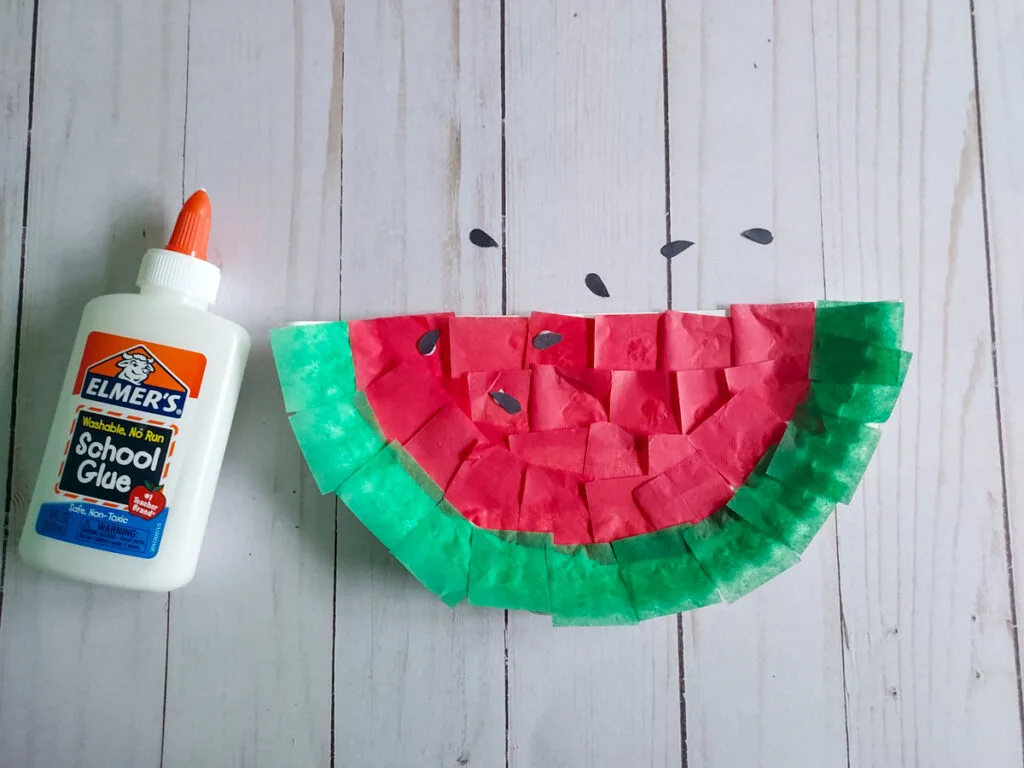 Then cut out several raindrop-shaped seeds from black construction paper and glue them on. Another option is to use a black marker to draw on the seeds. Set aside to dry completely.
If your tissue paper goes over the edges of the plate, fold them in or trim them once your watermelon is dry. Drying time will vary depending on the amount of glue used.
If using our printable craft template, follow the instructions using the paper template in place of the paper plate.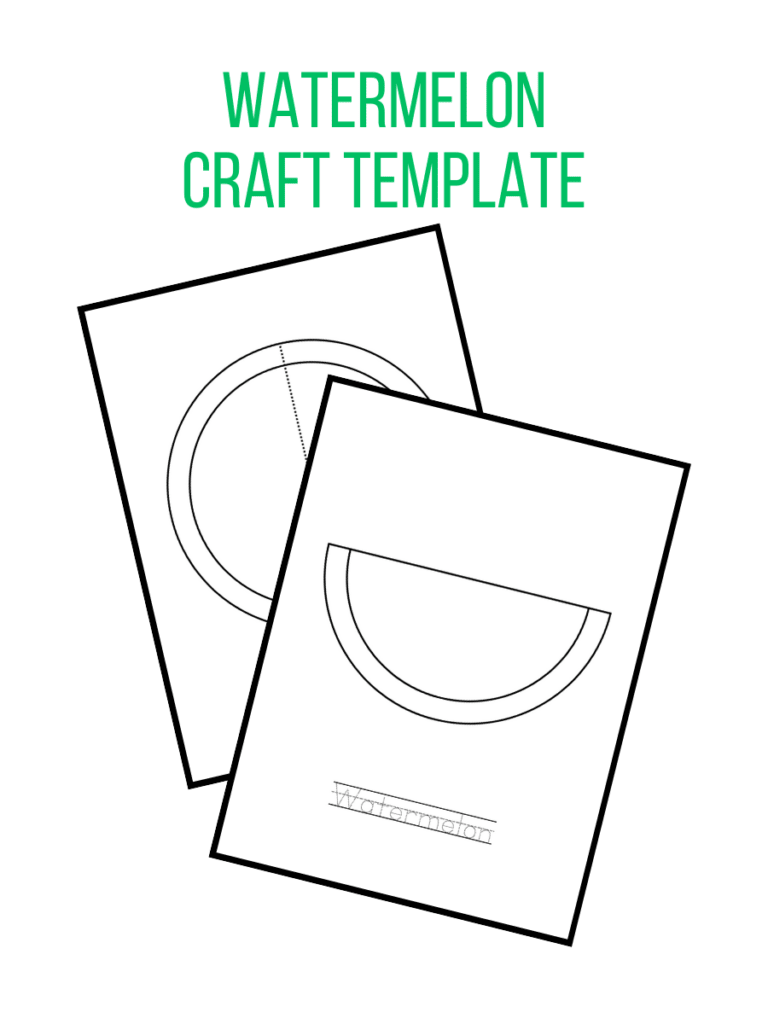 Watermelon Discussion Questions
Now, what happens when the craft is complete? Well, the learning doesn't stop there! You can engage your child in a discussion about watermelons. Here are a few questions you can ask:
What does a watermelon taste like?
What color is the inside of a watermelon?
Why do you think watermelons are mostly eaten in the summer?
Why do you think some watermelons have white or yellow spots on the outside?
Are there any other fruits that look, taste, or feel like watermelons?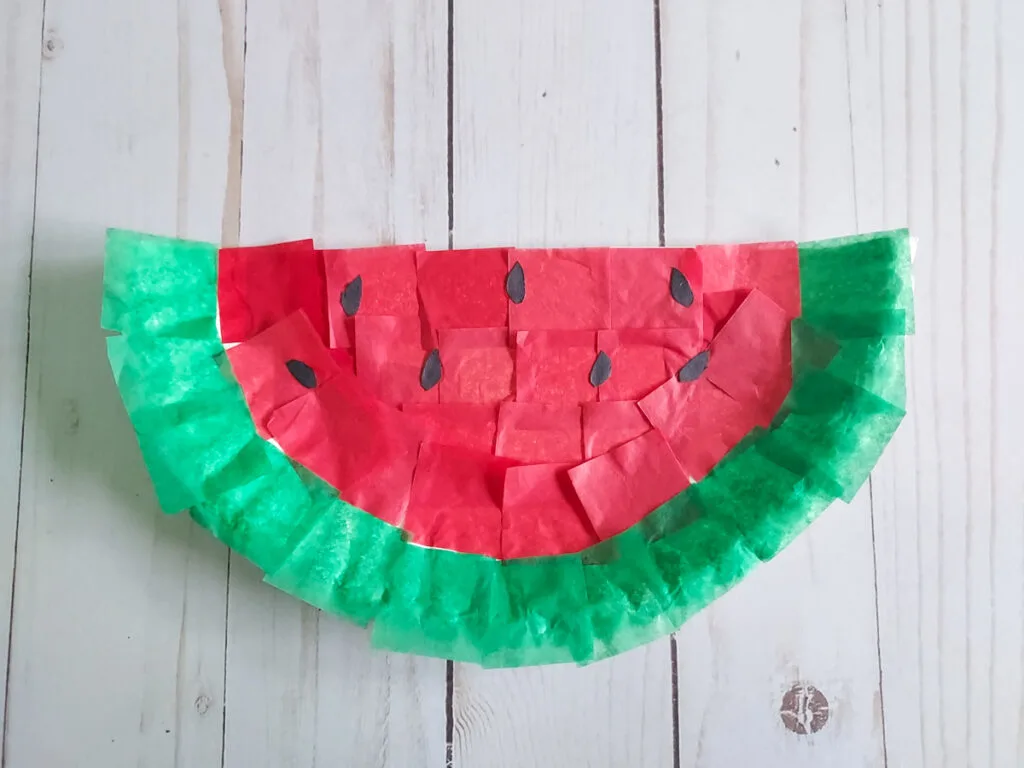 These discussion prompts will encourage kids to observe, think, and express their thoughts about watermelons.
Books About Watermelons for Preschoolers
After reading one of these stories, use our watermelon craft as a fun extension activity. Reading together is an excellent way to engage children in learning new concepts, especially when they are interested in the book topic.
This Watermelon Is Not Round: A fun and cute book about kindness, self-love and anti-bullying for kids aged 3 to 6 (I Love Being Different)
The Watermelon Seed
Watermelon Party
Mouse's First Summer (Classic Board Books)
Additional Watermelon Learning Activities
Use these printable watermelon seed alphabet tracing cards to work on literacy and fine motor skills.
Enjoy a juicy slice of watermelon, then head outside to do some math! Have a watermelon seed spitting measurement contest. Kids will practice measuring and see who could spit their seeds the furthest.
Use a real watermelon to create a watermelon geoboard for a unique hands-on approach to math lessons.
Easy Watermelon Crafts
Using different types of materials and tools to create allows kids to dive into their artistic side and learn a range of skills along the way. Here are a variety of watermelon craft ideas you can try:
In conclusion, our easy and engaging tissue paper watermelon craft is more than just an amusing pastime. It serves as a valuable learning tool, helping your children enhance their fine motor skills, introduce them to the concept of fractions, and spark their natural curiosity.
Remember, every craft is a fun-filled journey, not just a destination. So, celebrate each moment of creativity, exploration, and discovery with your little ones. Happy crafting and learning!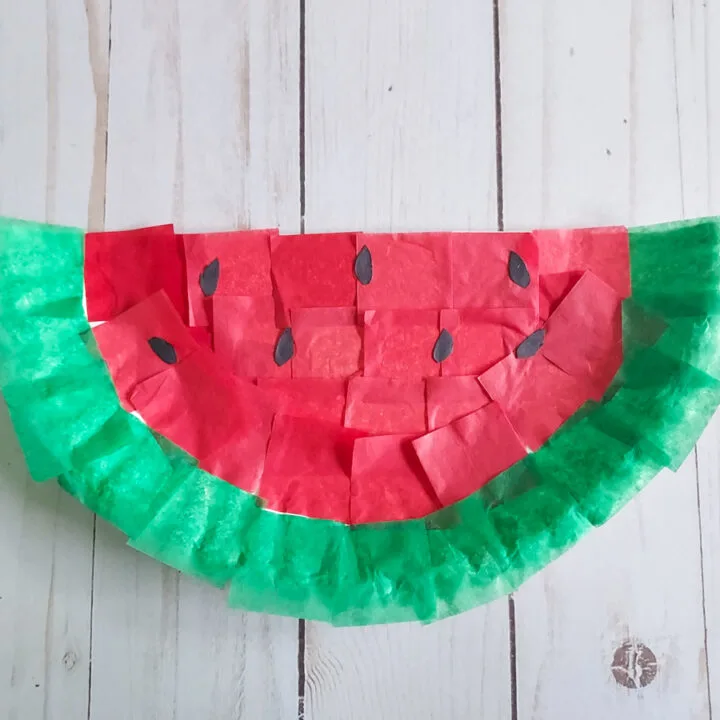 Watermelon Craft
Estimated Cost:
$5 or less
This easy watermelon craft is perfect for preschoolers to make during the summer months.
Materials
Red Tissue Paper
Green Tissue Paper
Paper Plate or Watermelon Craft Template
Glue
Instructions
Cut a paper plate in half.
Glue red or pink tissue paper pieces on the inner part of the plate.
Glue green tissue paper to the outer edge of the plate.
Cut out seeds from black paper and glue to watermelon or draw them with a marker.
Trim any excess tissue paper over the edge of the plate.
Drying time will vary depending on the amount of glue used.
If using our printable craft template, glue on tissue paper inside the watermelon shapes. One page can be cut out and cut the watermelon slice in half. The other page has a half slice and a place to practice tracing the word "watermelon."