Looking for fun tissue paper crafts for kids to create for Halloween? Then say hello to our easy tissue paper bat!
This fun and engaging activity can be done at home or in school and is perfect for preschoolers and kindergartners.
Using just tissue paper and paper plates, your little ones can create their very own adorable bats to hang within your home this Halloween.
It's not just an entertaining craft; it also aids in strengthening their fine motor skills. With such a simple setup and plenty of room for creativity, this Halloween craft is sure to be a hit!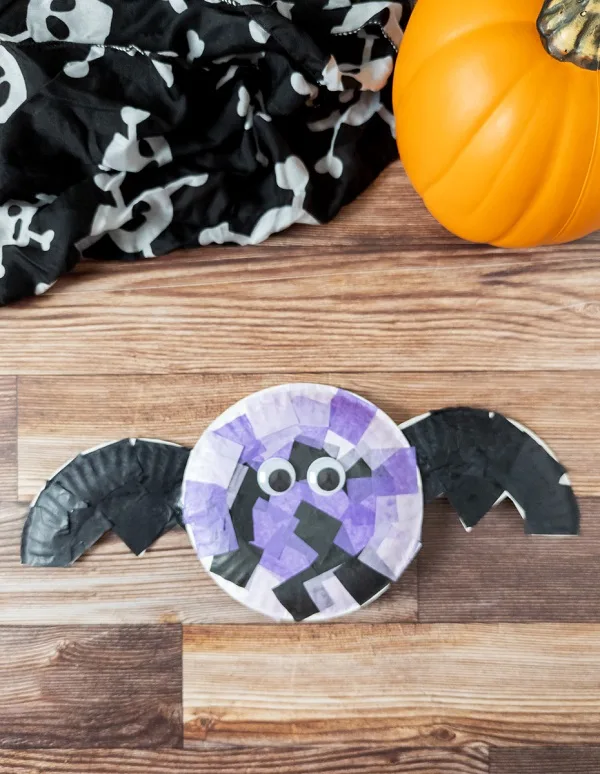 Children absolutely adore crafting, especially when it's tied to exciting holidays like Halloween.
The thrill of creating something unique, coupled with the anticipation of the upcoming celebration, transforms every craft session into an adventure of its own!
This tissue paper bat craft is a fantastic addition to any Halloween-themed art center, making it an instant hit among the little ones. It can also be incorporated into a bat unit study.
The simplicity of the craft allows children to focus on the fun, while their little hands diligently work, unknowingly enhancing their fine motor skills.
It's more than just a craft; it's a memorable experience enveloped in fun and learning.
Fun Bat Crafts for Kids
Bats truly capture the spooky spirit of the season, making them a fantastic subject for Halloween crafts for kids.
There's a whole world of exciting materials your children can use to craft their very own Halloween bats; let's explore a few creative ideas:
This post contains affiliate links. As an Amazon Associate and a participant in other affiliate programs, we earn a commission on qualifying purchases.
Fun Express Rubber Bat Necklace Craft Kit
Fennoral 12 Pack Bat Crafts for Kids
Maziky Beginners Bats Crochet Kit
Unfinished Flying Bats Wood Bats
Benefits of Making a Tissue Paper Bat
Creating the tissue paper bat craft is not just a fun activity; it is also beneficial in numerous ways.
As children engage in cutting out the bat wings and selecting what color tissue paper to use, they exercise their creativity. This sparks their imagination and fosters artistic expression.
The fine motor skills are strongly enhanced as their little hands handle the scissors, cut the tissue paper pieces, and assemble the parts together.
This kind of activity helps improve hand-eye coordination, precision, and patience.
Additionally, by creating bat crafts, children naturally develop a curiosity and interest in these nocturnal creatures.
This paves the way for meaningful learning experiences about bats, their habitats, and their role in the ecosystem, making the craft activity an effective educational tool.
How Does Cutting and Gluing Help Fine Motor Skills?
Cutting and gluing are indeed excellent exercises to develop and strengthen fine motor skills in children.
When kids squeeze a pair of scissors to cut paper or squeeze a glue bottle, they're not just creating art; they're also exercising the muscles in their hands.
This physical development is crucial as these muscles are used in everyday activities like eating, dressing, and writing.
Picking up small pieces of tissue paper to glue them onto their bat can be quite a task for tiny hands.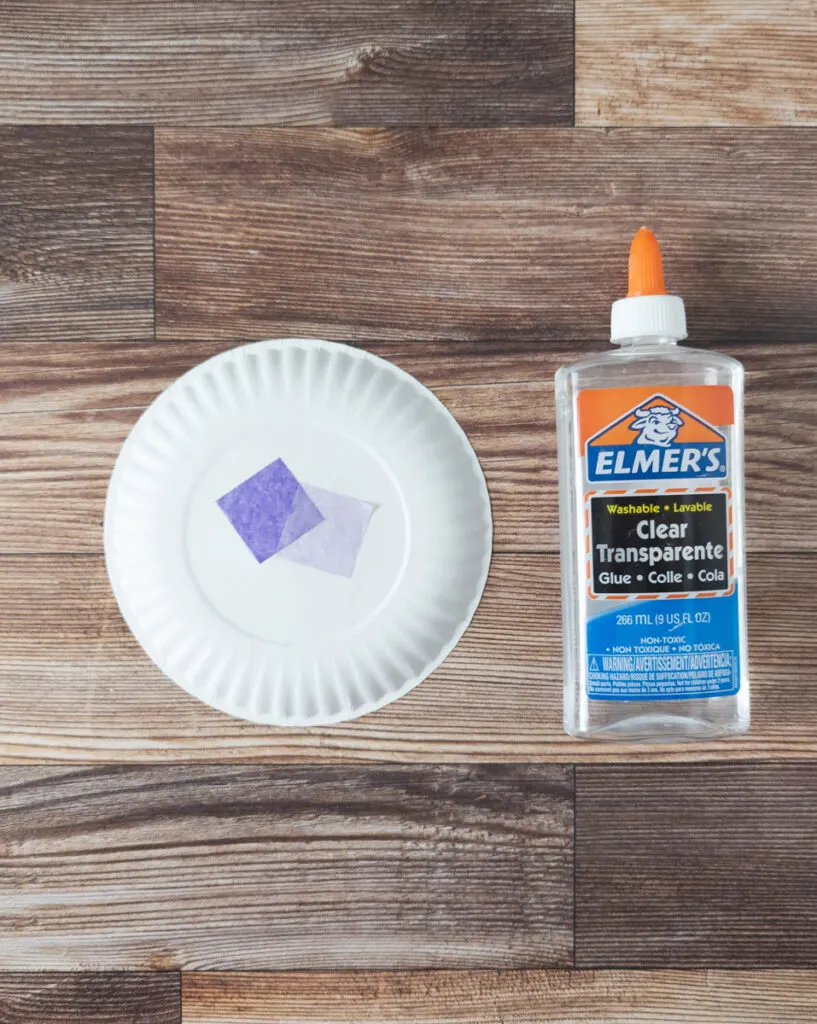 However, this challenging task improves their dexterity and hand-eye coordination, as they have to carefully align the pieces and ensure they stick to the right area.
These fine motor skills are also vital for handwriting – a primary tool for communication in both formal education and daily life.
Seemingly simple activities like cutting and gluing hold incredible value in child development, setting the foundation for essential life skills.
Interesting Bat Facts
Bats sure are fascinating creatures! Did you know that they are the only mammals that can fly? Unlike birds, their wings are made of thin skin stretched over long, finger-like bones. Imagine your hands being stretched out like wings!
And here's another cool fact about bats – they aren't blind as the old saying goes. In fact, their eyesight is quite good.
They also use a special skill called echolocation to find their way around in the dark. This means they make sounds that bounce off objects in their path, so they can avoid bumping into things.
Did you know baby bats are called pups? Kids can learn more about their life stages with our printable bat life cycle activities.
Books About Bats
Reading both fiction and non-fiction books about bats can enhance this crafting experience.
Fiction books can stimulate children's imaginations, allowing them to create unique stories about their bat crafts.
Non-fiction books, on the other hand, can provide educational insights about bats, reinforcing what they've learned through the craft and our bat facts.
So, let's explore the mysterious world of bats through books and crafts together!
It's a Good Thing There Are Bats (Rookie Read-About Science: It's a Good Thing…)
All Things Bats For Kids: Filled With Plenty of Facts, Photos, and Fun to Learn all About Bats
Bats at the Library (A Bat Book)
Fiona the Fruit Bat
There Was an Old Lady Who Swallowed a Bat!
National Geographic Readers: Bats
Tissue Paper Bat Craft Supplies
This tissue paper bat craft is easy to make and does not require too much setup. It uses common craft materials, making it convenient for crafting with a small group of children.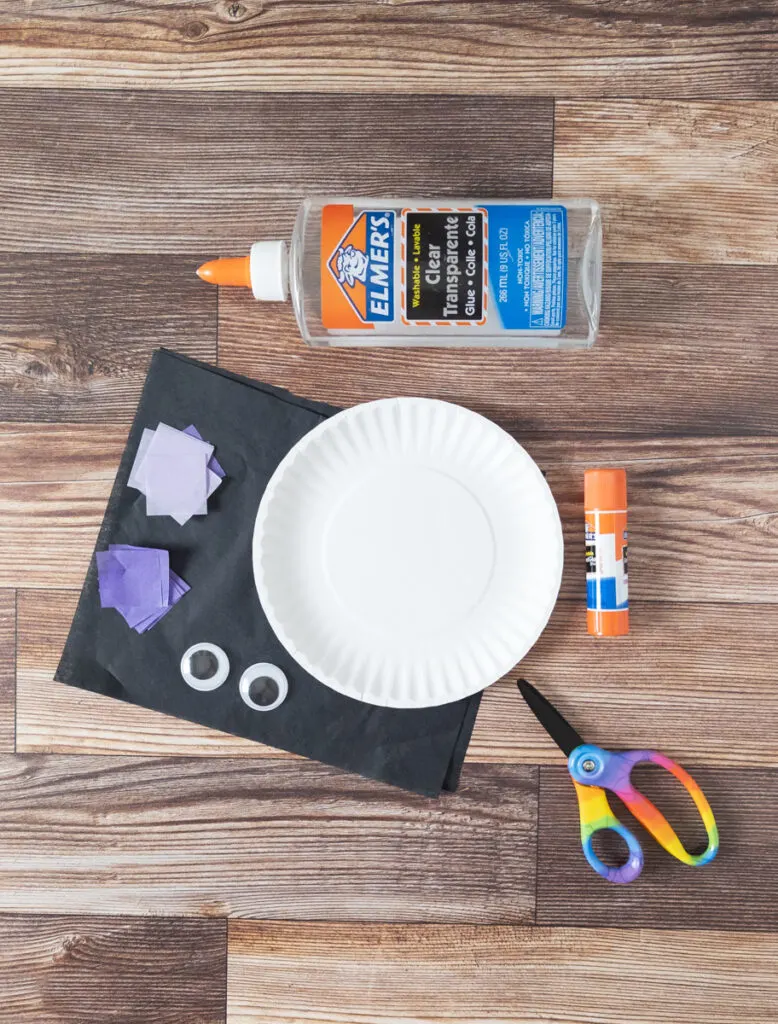 Paper Plates – Small paper plates are ideal for this craft, but you can use any size available.
Tissue Paper – Kids can rip or cut the tissue paper into small pieces to stick onto the plates. You can also opt for pre-cut tissue paper squares for convenience. Feel free to use an assortment of colors or stick to Halloween-themed colors like orange, purple, and black. For a more realistic look, stick to black and brown shades.
Googly Eyes – These will add character to your bats, making them more expressive and adorable.
Glue – You can either use liquid glue or glue sticks, whichever one you find easier to handle. Both do a great job of sticking the tissue paper onto the plates.
Scissors – Kid-safe scissors are recommended for cutting the tissue paper and making any necessary adjustments to the craft.
How to Make a Tissue Paper Bat
Start by gathering all of your supplies. Cut one small paper plate in half to create the wings.
Then cut out two small triangles along the straight edge. You could also cut a scalloped design.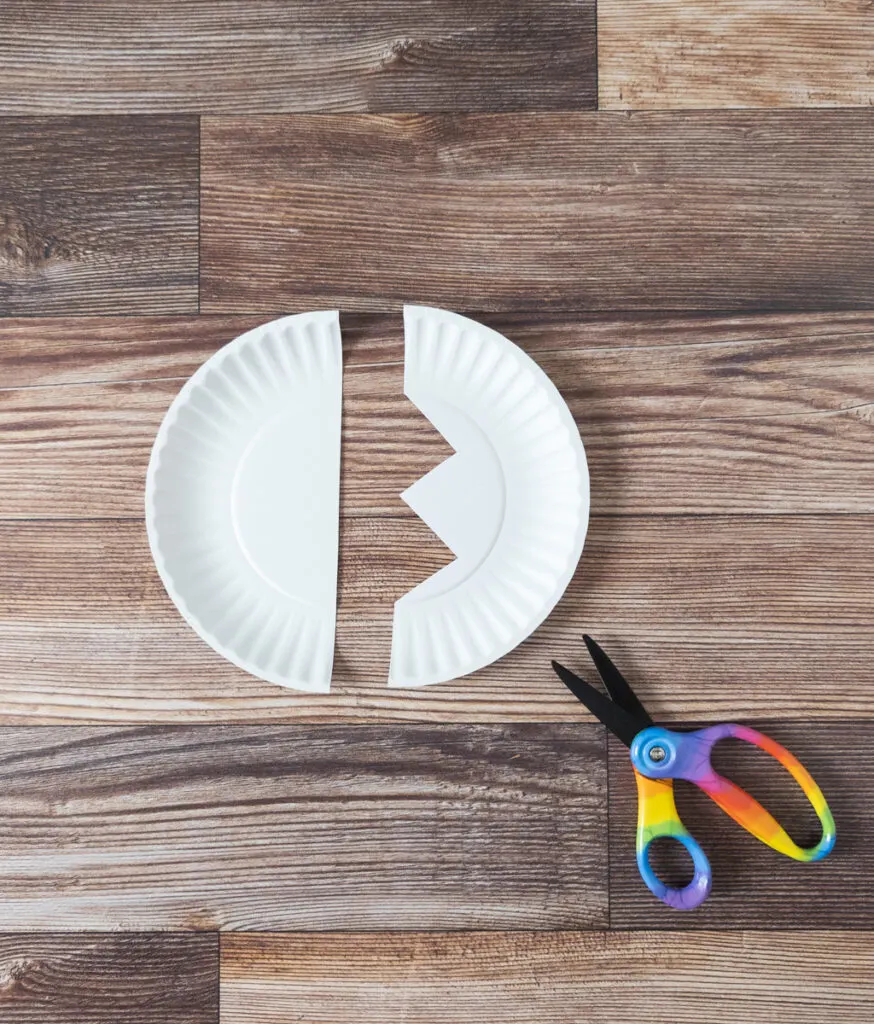 Flip the other small plate upside down, this will be the bat's body.
Cut or rip tissue paper into smaller pieces. Then glue them onto the back of the paper plates. Cover them the best you can.
You can use all black tissue paper or a variety of other colors. We chose to use a mix of black and purples.
After completely covering the body and wings, allow time to dry before continuing.
Glue two googly eyes near the center of the round body. Use two different sized eyes to give your bat a silly yet adorable look.
Next, flip the body over and use a generous amount of glue to attach a wing to each side. Set aside to dry completely.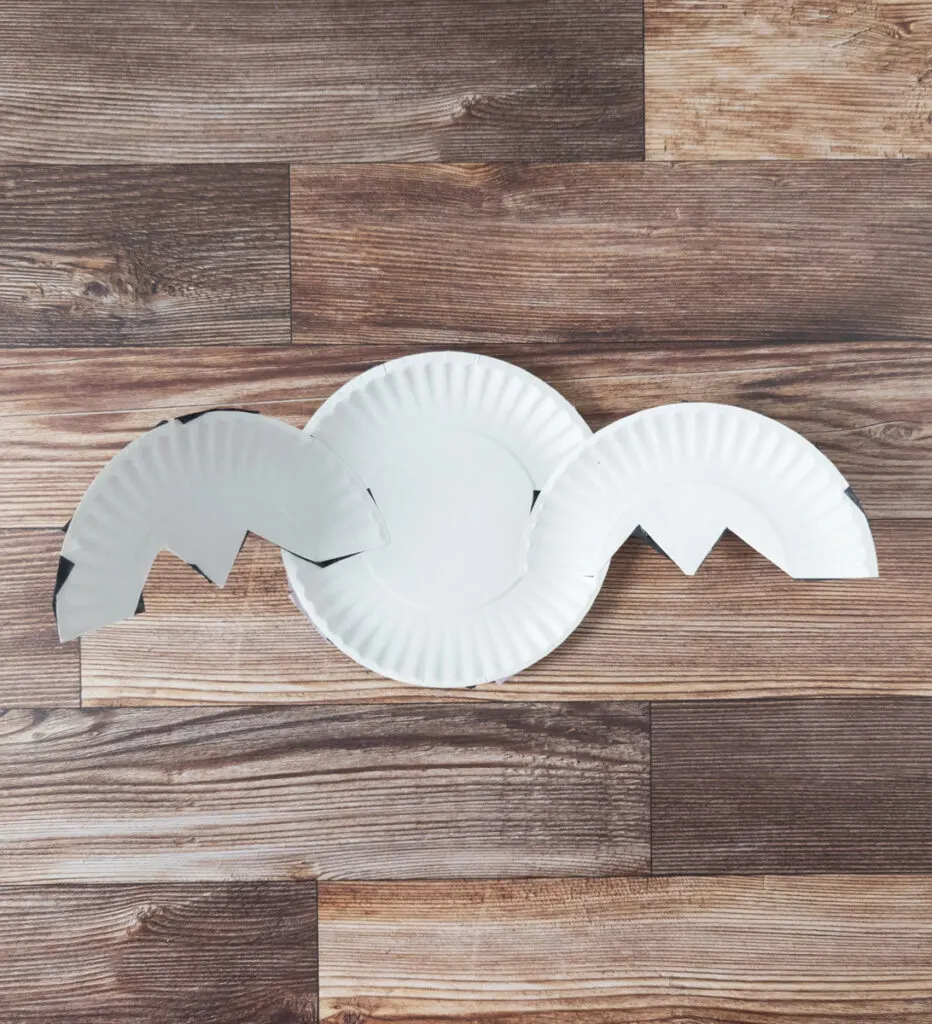 Now you can display your cute bat! Add a mouth and ears if you want.
To hang it up, use a hole punch near the top of the paper plate and loop string or ribbon through it.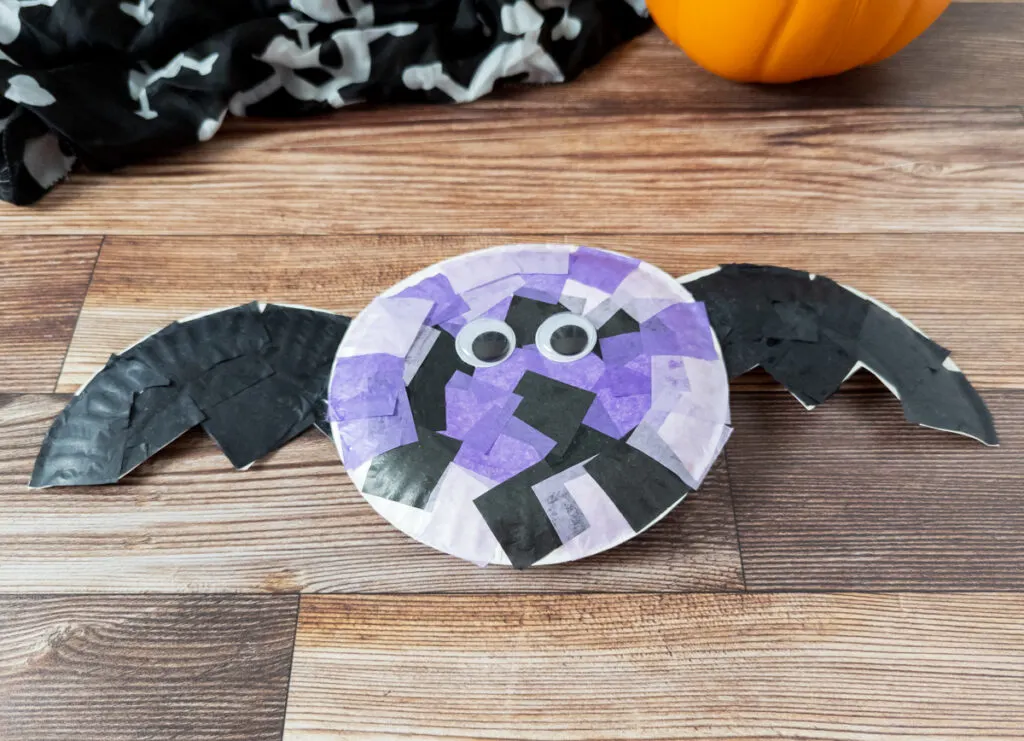 Easy Halloween Crafts for Kids
Halloween is a fun-filled time of the year for kids, sparking their creativity and offering endless opportunities for crafts.
The mystical appeal, vibrant colors, and spooky themes of the season provide a unique canvas for kids to express their imagination.
While our tissue paper bat craft is a fantastic craft to start with, there are endless possibilities! Here are a few more fun ideas to try:
More Halloween Learning Activities
Incorporating our tissue paper bat craft into your Halloween-themed lesson plans for preschool or kindergarten is a fun and engaging way to keep learning fun.
You can discuss bats and their habitats, introducing a touch of science into the mix.
These Halloween dot to dot printables help little learners work on number recognition and pencil control. Plus they can color them in!
For more experiential learning, our Halloween Spaghetti offers a fantastic sensory play activity. Children can feel and explore the texture, boosting their tactile awareness.
Need some fun Halloween math ideas? Preschoolers can practice counting and graphing up to five with these Halloween graphing worksheets.
Don't forget to include our printable Halloween sorting activity. It's a simple, yet effective way to practice number recognition and sorting for numbers 0-10, all wrapped up in an engaging Halloween theme.
Learning can be fun and festive with these Halloween-themed activities!
In conclusion, Halloween provides a perfect backdrop for kids to explore their creativity with crafts like our tissue paper bat.
It's not just a fun activity, but also a fantastic way to strengthen fine motor skills and foster a love for learning.
By incorporating these crafts and learning activities into your Halloween festivities, you're sure to create memorable experiences for your little ones.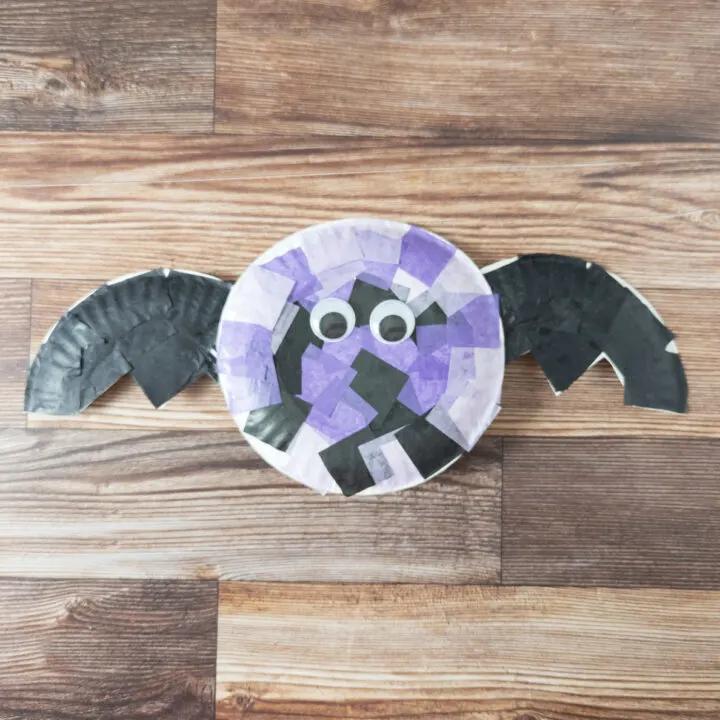 Tissue Paper Bat Craft
Estimated Cost:
$5 or less
Make this cute tissue paper bat for a fun and easy Halloween craft for kids. Perfect for preschool and kindergarten aged children!
Materials
2 Small Paper Plates
Tissue Paper in assorted colors or just black
2 Googly Eyes
Glue
Tools
Scissors
Hole Punch (optional)
Instructions
Gather the necessary supplies.
Take a small paper plate and cut it in half to make the wings.
Along the straight edge of each wing, cut out two small triangles or create a scalloped design.
Flip another small plate upside down to serve as the body of the bat.
Cut or tear tissue paper into smaller pieces and glue them onto the back of the paper plates, covering them as best as you can.
You can use all black tissue paper or mix in other colors. We opted for a mix of black and purples.
Allow the body and wings to dry completely before proceeding.
Use glue to attach two googly eyes near the center of the round body. For a playful touch, use eyes of different sizes.
Flip the body over and generously apply glue to attach a wing to each side. Set aside to dry completely.
Your adorable bat is now ready to be displayed! If desired, you can add a mouth and ears. To hang it up, use a hole punch near the top of the paper plate and loop string or ribbon through it. Enjoy creating and showcasing your cute bat craft!
Notes
Find tips and additional activity ideas in the blog post!
Recommended Products
As an Amazon Associate and member of other affiliate programs, I earn from qualifying purchases.