Are you looking for a fun-filled activity that is perfect for rainy days or a science-themed party? This educational Science Pictionary game is designed to make learning science vocabulary engaging for kids.
With 45 unique word cards, it's a draw and guess game that will have your little scientists laughing, thinking, and most importantly, learning. So, put down the screens, pick up those pencils, and prepare for loads of fun with another one of our exciting printable games for kids!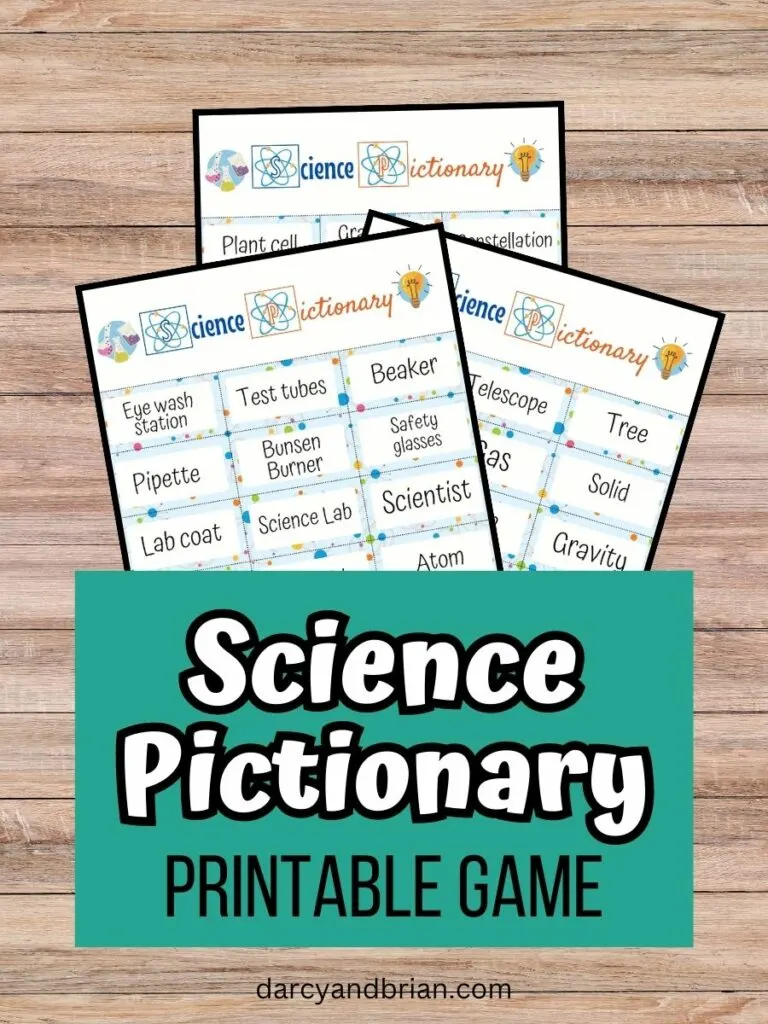 It's important to find ways to get kids interested in science. This becomes even more crucial when it comes to encouraging girls in science. We need to provide opportunities as well as actively encourage them to participate in science-related activities.
One effective approach is to cultivate and nurture their innate curiosity, providing them with ample opportunities to delve into and explore a wide range of captivating scientific topics.
Activities such as playing Science Pictionary sparks a young learner's interest in knowing more about the pieces of lab equipment as well as other terms used. By doing so, we can empower young minds to develop a lifelong passion for science and pave the way for future innovation and discovery.
Fun Science Crafts
For a complete STEM experience, why not pair this exciting game with some awesome science craft projects for kids? Let's explore the possibilities:
Free printable available at the end of this post.
The Benefits of Playing Science Pictionary
Play is a crucial aspect of child development and learning. It's not just about fun and games, playtime is a vital playground where children can experiment, problem solve, and develop critical thinking skills. When children play, they're actively engaging with the world around them, absorbing new information, and making sense of it in their own unique ways.
Drawing games like Pictionary take this a step further. They transform abstract concepts into tangible visuals which can be more easily understood by young minds. In the context of science education, a game like Science Pictionary can be an absolute game-changer.
Complex scientific concepts that may seem daunting in textbooks become simplified and engaging. By drawing and guessing scientific terms, children are not only learning new words but also gaining a deeper understanding of their meanings and how they apply to the world around them.
What's Included in the Science Pictionary Printable?
When you download the Science Pictionary printable, you'll receive a set of 45 word cards. Each card features an example of scientific vocabulary such as 'microscope', 'hypothesis' and 'molecule'.
All words included in this game are age-appropriate for 6-12 year olds. There are also a few blank cards that you can fill in with your own words or phrases.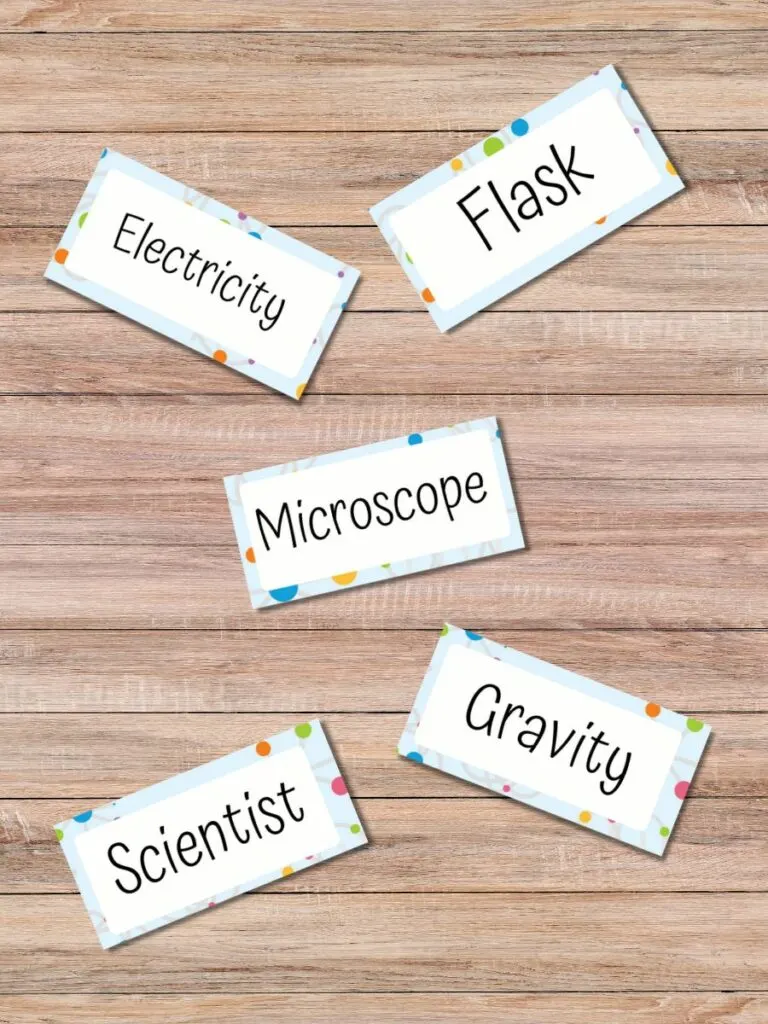 This post contains affiliate links. As an Amazon Associate and a participant in other affiliate programs, we earn a commission on qualifying purchases.
Recommended Items for Playing Pictionary
You don't need a lot of items in order to play, but we find these things to be helpful!
How to Play Science Pictionary
To play Science Pictionary, all you need is the printable card set plus a few pens and paper. Have the players take turns picking a card, then draw what's written on it. The other players have to guess what you've drawn before the time runs out.
You can split players up into teams or keep the game more casual by having everyone take a turn drawing while the rest try to guess.
This game is sure to be a hit with both kids and adults alike! It'll provide hours of fun while also helping young minds develop an understanding of scientific concepts in a more engaging and meaningful way. The best part is that it's an all-screen free activity, so you can be sure that your kids are getting quality time away from digital devices.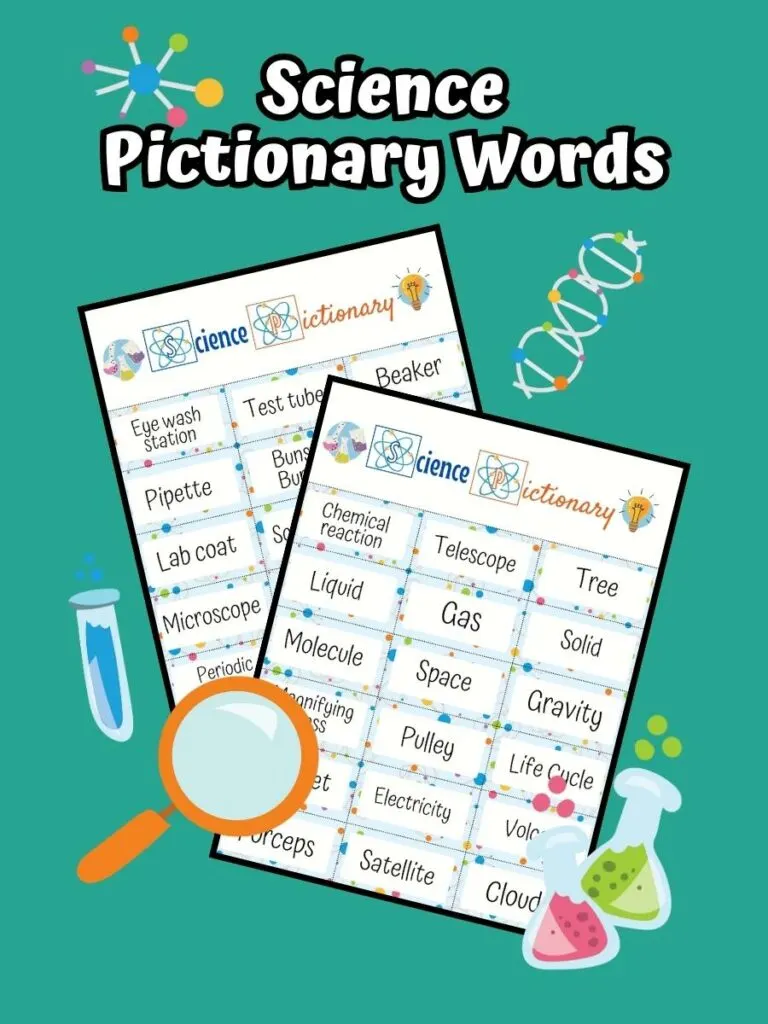 Not only are these cards perfect for use in the game of Pictionary, they can also be used as educational flashcards. For a more interactive experience, you could set up a 'guess the word' quiz or a science scavenger hunt where children have to search around the house or classroom for items related to each card.
Tips to Incorporate Science Pictionary into Homeschool Lessons
Using our science pictionary cards in your homeschool curriculum can be both fun and educational. It's a perfect fit for different scientific themes.
For instance, when studying ecosystems, you can use the game to reinforce key terms like life cycle or photosynthesis. Similarly, for a unit on space, the game can help your child remember and visualize concepts like gravity, solar system, and constellations.
The game can be creatively used as a supplement to unit studies, offering a hands-on and visual way to reinforce new vocabulary and ideas. It can also serve as a fun, low-stress break between lessons, keeping the learning atmosphere lively and engaging.
Additionally, these cards can be used as an interactive review tool! By incorporating the science pictionary game into your homeschool routine, you're not just teaching science, but also promoting creativity, critical thinking, and a love for learning.
Tips for Using Science Pictionary in the Classroom
Incorporating games can be a fantastic tool for bringing excitement and engagement into your classroom. It's not just fun; it also introduces new vocabulary in a memorable way.
You can use all of the cards or only select ones that align the most with the current science topic your class is studying. Or perhaps, during science fair week, you could set up a Science Pictionary station where students take turns illustrating concepts they've learned about in their projects.
The game is adaptable too. For younger students or those just starting their science journey, use simpler terms and concepts. As students advance, introduce more complex terms.
You could even challenge older students to create their own Science Pictionary cards based on what they're learning. This way, every student gets to participate at their own level and everyone learns while having fun!
Science Games for Kids
A fantastic way to expand any unit study is to play games related to science topics. Look for board games, puzzles, or online resources designed to teach science through play.
For example, kids can learn to identify internal organs with our human body printable bingo cards. Or find a way to teach kids about clouds, tornadoes, etc. with this list of weather games for kids.
Ecosystem – A Family Card Game about Animals, their Habitats, and Biodiversity
Looney Labs Chemistry Fluxx Card Game
Subatomic: an Atom Building Game (2nd Edition) | A Chemistry Game About Elements, Protons, Neutrons, and Electrons
Human Heart Anatomy Floor Puzzle
Additional Science Activities for Kids
Science Pictionary is just one tool that can be used to get your kids excited about science. Here are some other ideas for teaching science and getting kids involved in the process:
Take a nature walk – Show the kids how to start a nature journal and help them observe their environment, identify plants, birds, insects, etc.
Have an experiment day – set up a variety of experiments using household ingredients and let kids explore. Grab our free 30 day science activity planner for kids for ideas.
Host a virtual science club – have students research topics, create projects, or watch instructional videos together. Here's a list of several educational websites for online science learning that you can utilize.
Participate in citizen science activities – there are lots of free projects online that need participants to help them collect data.
Read books on science topics – find interesting books for different age levels and discuss the content.
Visit museums – look for virtual and in-person activities that will help kids explore science topics. Keep the kids engaged by taking this printable museum scavenger hunt along.
Make art projects – use craft materials to create representations of scientific concepts and ideas. For example, this butterfly life cycle craft helps kids visualize the process in a unique way.
These are just some of the ways you can get your kids excited about science! There are lots of other creative activities and resources that you can use to engage children and help them learn. Have fun exploring!