Looking for a fun, fall educational activity for your preschoolers? Kids will enjoy creating this Tissue Paper Sunflower Craft!
Not only is it an easy art project, it also aids in enhancing their fine motor skills, word recognition, and spelling. The method is simple and materials are easily available, making it an ideal craft for young learners.
You know what's even more exciting? This sunflower craft is just the start! We have a bunch of other tissue paper crafts for kids that we think you'll like making too!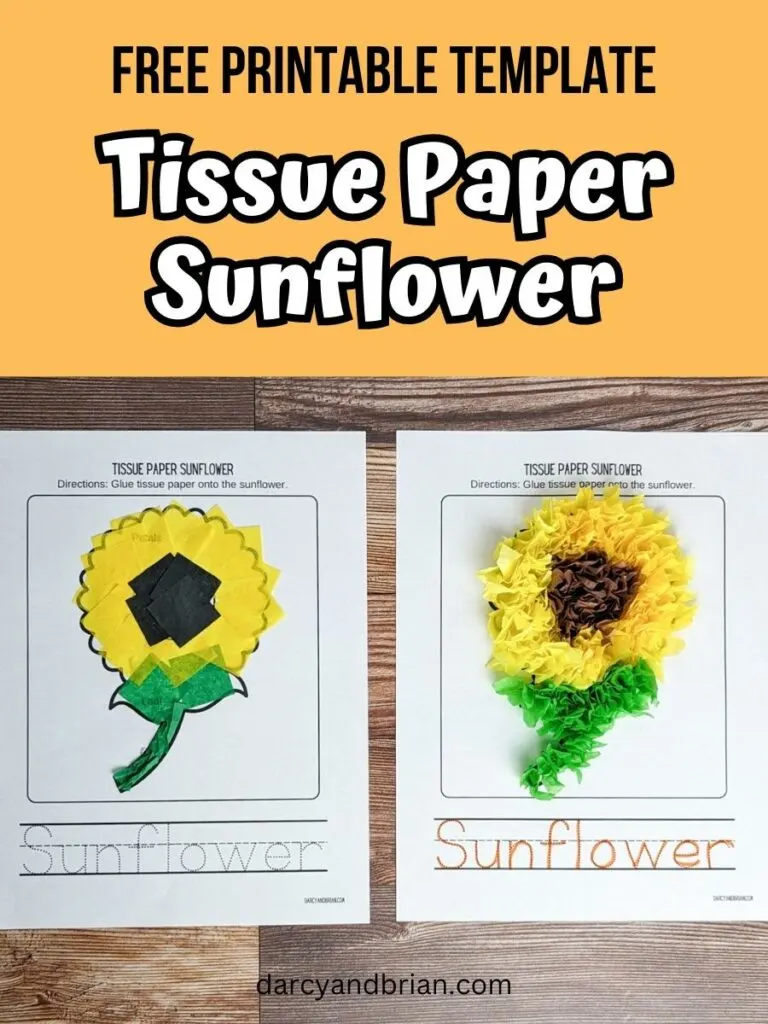 Preschoolers are naturally curious and creative, and crafts are a favorite way for them to express their creativity.
They find joy in making things with their own hands, no matter how simple. This Tissue Paper Sunflower Craft is perfect for them – it's simple yet engaging.
Whether you're homeschooling or looking for classroom crafts, this activity can enhance important skills like fine motor development, word recognition, and spelling while keeping children entertained.
More Flower Crafts for Kids
Gear up for some blooming creativity! Here is a list of enchanting flower crafts to spark your child's imagination and nurture their crafty skills.
Are Sunflowers a Fall Flower?
Yes, sunflowers are a fall flower. Sunflower season begins in July and stretches through the rest of the summer months before peaking around September.
As cooler temperatures arrive, sunflowers will remain in bloom until the first frost. So if you're looking for a fun activity to kick off fall, try out this tissue paper sunflower craft!
You can also experiment with different materials, such as making a coffee filter sunflower craft. Or, if your child loves painting, they can create this paper plate sunflower craft.
Benefits of Making This Tissue Paper Sunflower Craft
This Tissue Paper Sunflower Craft is not just a fun and engaging activity, but it's also a clever tool for enhancing some essential skills in your child.
For instance, by cutting, ripping, and gluing pieces of tissue paper, children get to exercise their fine motor skills, which are crucial for tasks like writing and buttoning clothes as they grow older.
Additionally, tracing the word 'sunflower' at the bottom of the craft template provides an excellent opportunity to practice handwriting, spelling, and word recognition.
This combination of art and learning serves to create a more holistic educational experience, making this craft an excellent choice for both entertainment and development.
Tissue Paper Sunflower Craft Supplies
Now that we know the benefits of this delightful sunflower craft, let's gather the necessary supplies. The beauty of this activity is that it requires simple, easy-to-find, and affordable materials.
This ensures that the craft is accessible to everyone, and can be a spontaneous, fun-filled activity at any time. Here's what you'll need:
This post contains affiliate links. As an Amazon Associate and a participant in other affiliate programs, we earn a commission on qualifying purchases.
Sunflower Craft Template (available near the bottom of this post)
Tissue Paper – You can purchase sheets or pre-cut tissue paper squares in assorted colors.
Glue – I recommend using a glue stick as it is less messy, but liquid school glue works fine too.
Pencil or Marker – Your little learner will need a writing utensil for tracing the word 'sunflower.'
How to Make a Tissue Paper Sunflower Craft
To start this versatile and fun-filled craft, first, print out the free Sunflower Craft Template available at the bottom of this page. The template is incredibly easy to use – just download and print it out.
Next, prepare your tissue paper. Encourage your children to rip, tear, or cut the tissue paper into small pieces. You could also opt for pre-cut tissue paper squares.
Traditionally, sunflowers come in colors of green (for the stem and leaves), yellow (for the petals), and brown (for the center).
But, remember, sunflowers in nature can also be orange and red. So, don't hesitate to let your children explore their creativity by incorporating different hues.
Once your tissue paper is ready, it's time to start sticking! Glue the pieces of tissue paper onto the template.
Kids can crumple the paper and glue it down for a more textured look and feel, or they can glue pieces down flat to create a beautiful mosaic effect.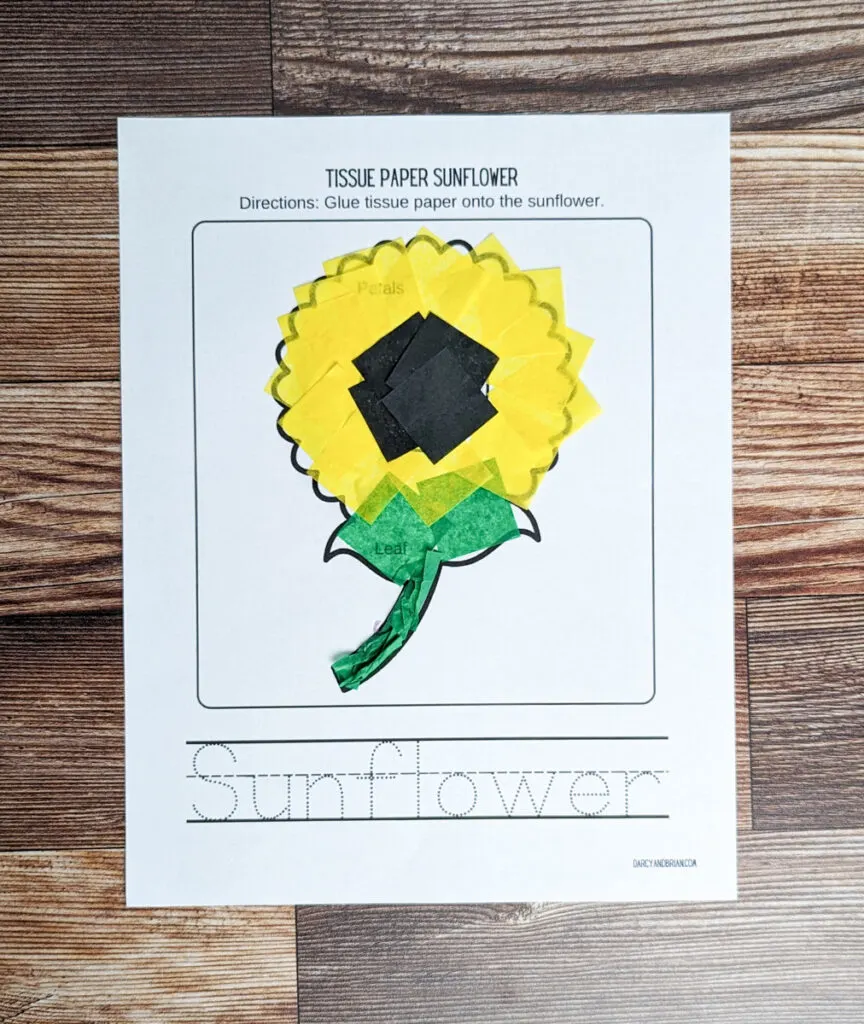 Another option is to try wrapping a piece of tissue paper around the end of a pencil eraser then pressing it onto the paper. (I recommend using a new, unsharpened pencil for this.)
I love how it looked when I applied all of the pieces this way!
Remember, the goal is not perfection, but fun and learning. This easy craft is a wonderful way for your little ones to express their creativity while also building crucial skills!
Ways to Use This Sunflower Craft Template
This sunflower craft can also be used as part of a Sunflower Unit, where students learn about the sunflower life cycle and explore the fascinating journey from seed to flower.
This project can easily be incorporated into a letter of the week activity for the letter Ss. You can introduce letter recognition and phonics by focusing on the sound of the letter S and incorporating it into the sunflower-related activities.
There's even an area at the bottom of the template for children to practice tracing the word "sunflower" for extra practice with word recognition, handwriting, and spelling.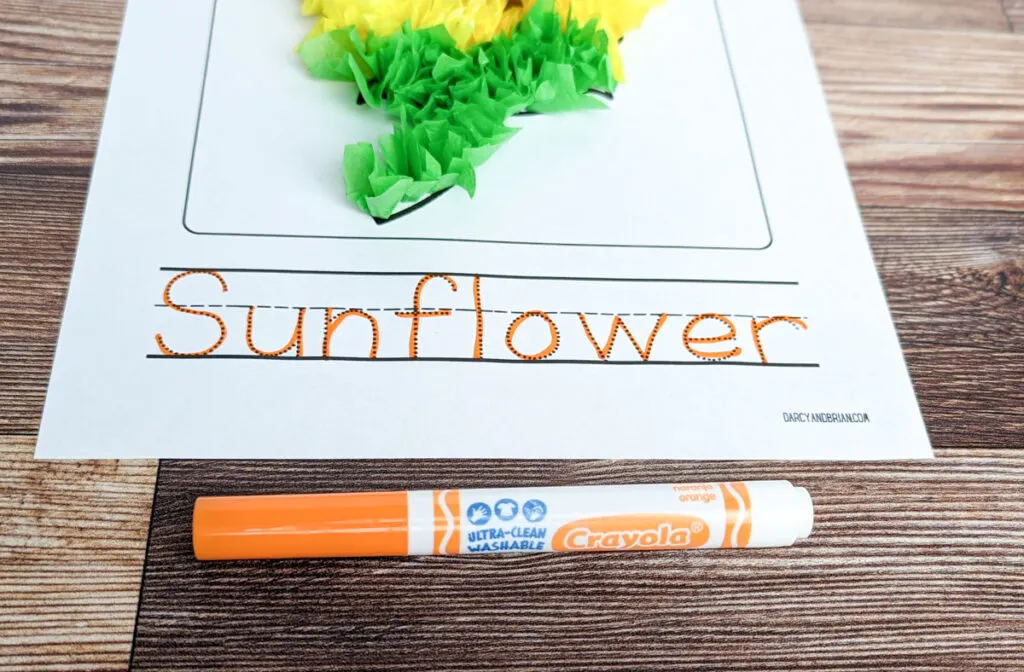 Additionally, the sunflower craft template doubles as a coloring page, serving as a calm, quiet activity for early morning work. Children can practice their coloring skills, focusing on staying within lines and selecting appropriate color shades.
This dual-purpose template offers an exciting, flexible art tool that can adapt to various learning scenarios and individual preferences.
After your kids finish their sunflower creations, you can cut them out and hang them as cheerful decorations. These vibrant sunflower crafts will remind you of their creativity and hard work, adding a touch of autumnal beauty to your living space.
Fun Fall Learning Activities
As the weather cools and leaves begin to change color, it's the perfect time to introduce fun fall learning activities to your preschool curriculum. Here are three engaging ideas:
Leaf Sorting: Collect different types of leaves during a nature walk then have the children sort them by size, shape, or color. Next, have kids create leaf rubbings of their findings. This activity is not only fun but also promotes observation skills and introduces the concept of classification.
Pumpkin Exploration: Bring a pumpkin into the classroom and let the kids explore it using their senses. They can describe how it feels, smells, and sounds when tapped. Cut it open to let them see and feel the inside. Then use the insides to make Pumpkin Goop! This activity stimulates sensory development and sparks curiosity.
Apple Stamping Art: Cut apples in half and let children dip them in paint to make interesting apple stamps on paper. This simple and enjoyable activity encourages creativity while improving fine motor skills.
Books About Sunflowers
Introducing children to literature about nature is an exceptional way to spark their imagination and instill an appreciation for the beauty around us.
Books about sunflowers, for instance, can teach them about plant science, seasons, and the joy of gardening. They often come with vivid illustrations that can captivate young readers.
The Met Vincent van Gogh: He saw the world in vibrant colors (What the Artist Saw)
Sunflower House
Lilla's Sunflowers
National Geographic Readers: Seed to Plant
Along with our sunflower craft, it's a great idea to explore these stories with your little ones. After reading children's books about sunflowers – don't stop there!
We also have a fantastic collection of 30 fall picture books for preschoolers to further immerse your kids in the magic of the season. Check them out and happy reading!
Easy Fall Crafts for Kids
Autumn presents an array of vibrant colors and themes that children can incorporate into their crafts. Here are some easy and creative fall craft ideas that kids will surely enjoy.
As autumn paints the world with its vibrant hues, let your child's creativity blossom with these delightful fall craft ideas. From our engaging tissue paper sunflower craft to a heartwarming handprint tree, these activities offer a blend of fun, learning, and fine motor skills development.
Remember to enjoy every moment of the process, for it's in these shared experiences that precious memories are made. Let's welcome the fall season with enthusiasm and creativity!
Tissue Paper Sunflower Craft
Estimated Cost:
$5 or less
Make this easy tissue paper sunflower craft for a fun fall activity!
Materials
Printable Sunflower Template
Green, Yellow, and Brown or Black Tissue Paper
Glue
Tools
Scissors
Pencil or Marker
Instructions
Download and print out the template.
Cut or tear tissue paper into smaller pieces.
Apply glue to a section of the sunflower template and add tissue paper.
Continue until the entire sunflower is covered.
Practice tracing the word at the bottom.
Recommended Products
As an Amazon Associate and member of other affiliate programs, I earn from qualifying purchases.