This enriching tissue paper fire craft is perfect for preschoolers, igniting their creativity while teaching them about fire safety in a fun, hands-on way. The best part about tissue paper crafts for kids are their simplicity.
For this project, all you need is some construction paper and colorful tissue paper, and you're ready to create! Whether you're at home or in the classroom, this activity serves as a fantastic learning tool, promoting fine motor skills development and enhancing children's understanding of important safety concepts.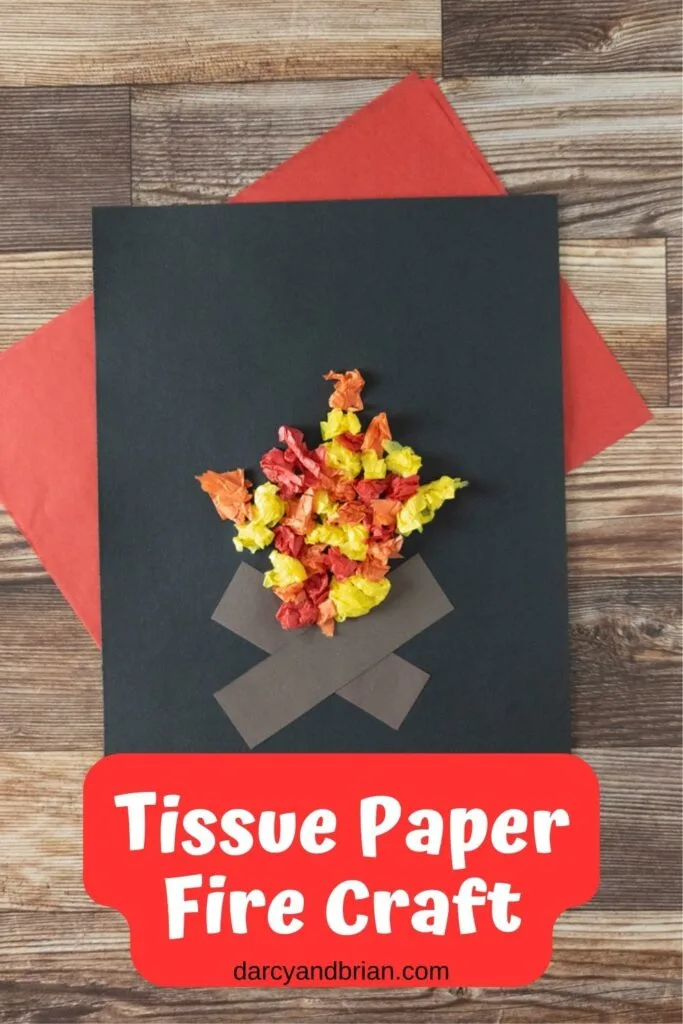 Approaching information and new concepts through various methods helps children understand and retain knowledge.
By incorporating activities like reading, crafts, games, worksheets, and discussions, we cater to different learning styles. This approach keeps learning dynamic, interesting, and reinforces concepts.
For example, a visual learner might grasp a concept through a craft project, while an auditory learner benefits from discussions or videos.
Combining these methods ensures all learners understand and retain information in their preferred way.
Do Crafts Help Kids Learn?
Crafts are a proven educational tool that promotes learning and understanding in children. By engaging in crafts, children can apply what they have learned through visual and tactile means.
It allows them to explore their creativity while developing important fine motor skills such as cutting, coloring, and gluing.
Furthermore, crafting encourages problem-solving abilities by requiring children to follow instructions, adapt when things don't go as planned, and use their imagination to create something new.
In the case of tissue paper fire craft, children can practice cutting small pieces and placing them in specific spots to create the flames, all while learning about the concept of fire safety.
This post contains affiliate links. As an Amazon Associate and a participant in other affiliate programs, we earn a commission on qualifying purchases.
260 Pieces Glitter Foam Stickers Self Adhesive Stars and Mini Heart Shapes
WAU CRAFTS Arts and Crafts Supplies for Kids
JR.WHITE Acrylic Paint Pens Paint Markers
Colorations – SWT16 Simply Washable Tempera Paints
10 Pcs Plastic Art Trays
Tru-Ray Construction Paper, 10 Vibrant Colors, 9
Fun Preschool Crafts
Crafts are an integral part of preschool lessons as they offer a multitude of benefits for learning and skill development.
Not only do they spark creativity, but they also enhance fine motor skills, hand-eye coordination, and cognitive abilities.
Crafts provide a hands-on and interactive approach that engages young children in the learning process, making it more enjoyable and effective.
Moreover, children are naturally drawn to crafts, as they find joy and satisfaction in creating something with their own hands.
Whether it's exploring colors, shapes, or themes, crafts provide endless opportunities for little ones to express themselves and unleash their imagination.
Benefits of Making a Tissue Paper Fire Craft
Creating a tissue paper fire craft is an enriching and exciting activity for preschoolers with numerous benefits.
This multifaceted craft aids in developing fine motor skills as children cut construction paper to make the 'logs' and rip or cut tissue paper to create 'flames'.
The process of gluing these pieces onto their craft further hones their dexterity and hand-eye coordination.
The selection of different colored tissue paper for the flames allows kids to explore and learn about colors, enhancing their cognitive abilities.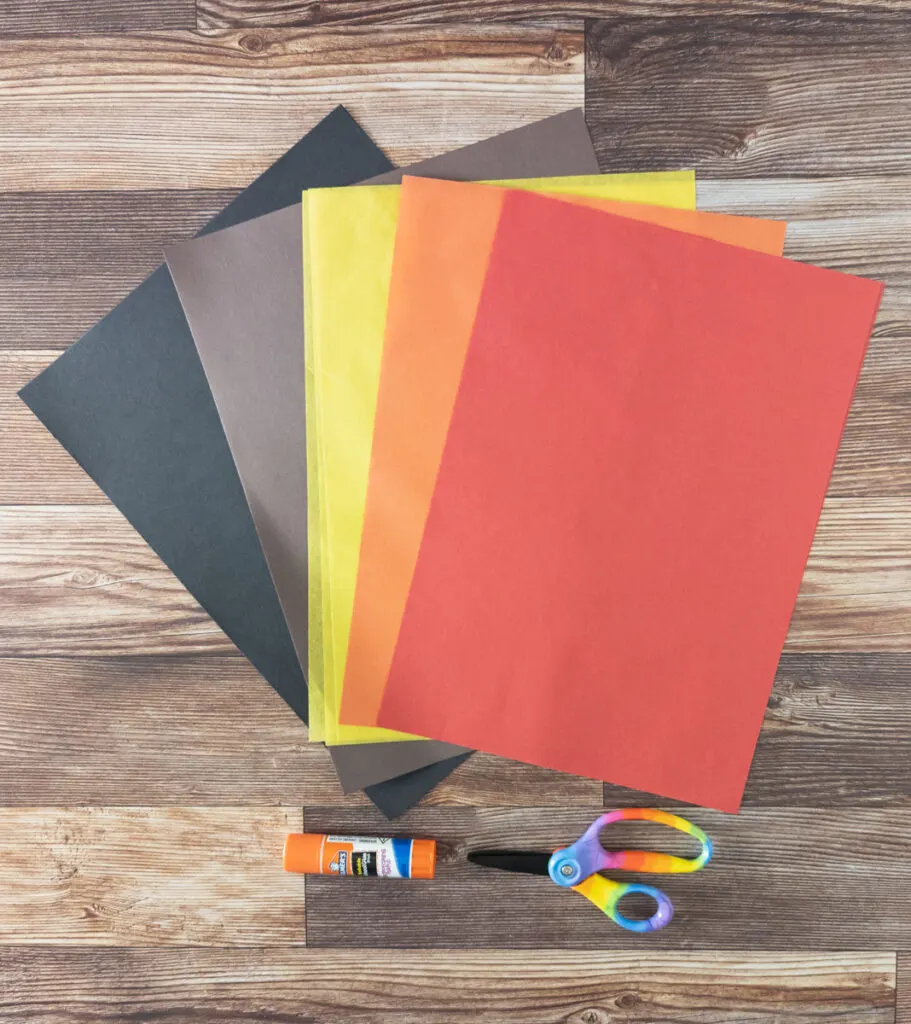 Furthermore, this craft serves as an excellent extension activity for a fire safety unit study, embedding the essential message of fire safety in a fun and tangible way.
Preschoolers not only create a vibrant campfire craft but also gain a deeper understanding of fire safety concepts.
When Should You Teach Children Fire Safety?
It's never too early to start teaching children about fire safety.
Preschoolers are at the perfect age to begin learning about fire safety as they have a growing curiosity and are more receptive to new information.
With proper guidance and age-appropriate materials, children can start understanding the basics of fire safety, such as identifying emergency numbers and How to Create a Family Fire Safety Plan.
Books About Fire Safety for Kids
Introducing books about fire safety is a valuable addition to a child's learning journey, and they also complement our fun tissue paper fire craft.
These books do not just offer enjoyable story times, but they also educate children about crucial safety knowledge in an engaging manner.
From understanding what firefighters do to learning the basic principles of fire safety, these books are carefully curated to suit the learning needs of preschoolers.
Let's Meet a Firefighter (Cloverleaf Books ™ — Community Helpers)
Dial 911! (Fire Safety)
Plan and Prepare! (Fire Safety)
Fire Safety (First Step Nonfiction ― Safety)
Pete the Cat: Firefighter Pete: Includes Over 30 Stickers!
Stop, Drop, and Roll! (Fire Safety)
Fire Safety Tips for Preschoolers
Here are some essential fire safety tips to share with preschoolers:
Know the emergency number: Teaching children the emergency number, such as 911 in the United States, is crucial so they can call for help in case of an emergency.
Practice stop, drop, and roll: Teach kids what to do if their clothes catch fire by practicing stop, drop, and roll.
Never play with matches or lighters: Emphasize that matches and lighters are not toys and should only be used by adults.
Stay low in smoke: Educate children to stay low in case of a fire to avoid inhaling harmful smoke.
Create an escape plan: Work together as a family to create an escape plan and practice it regularly, so everyone knows what to do in case of a fire.
Tissue Paper Fire Craft Supplies
This is a simple and engaging craft project that not only stimulates creativity but also aids in developing fine motor skills in young kids. It can be easily incorporated into a classroom art center and is a great opportunity to discuss fire safety.
Shop some of my favorite craft supplies on Amazon!
To get started, you will need the following materials:
Construction paper (preferably in brown to mimic the look of logs)
Tissue paper (in red, orange, and yellow to create the effect of flames)
Glue
Scissors
With just these few materials, we can create a tissue paper fire craft that's not only fun but also serves as a tangible tool in teaching fire safety. Before starting the craft, take a few moments to review fire safety tips with the children.
How to Make a Tissue Paper Fire Craft
Creating this craft is easy for kids to do on their own, but it may be helpful to create a visual reference for them.
Begin by using black paper as the background. Cut two rectangles out of brown paper to serve as the logs, and glue them in an overlapping 'X' shape onto the paper.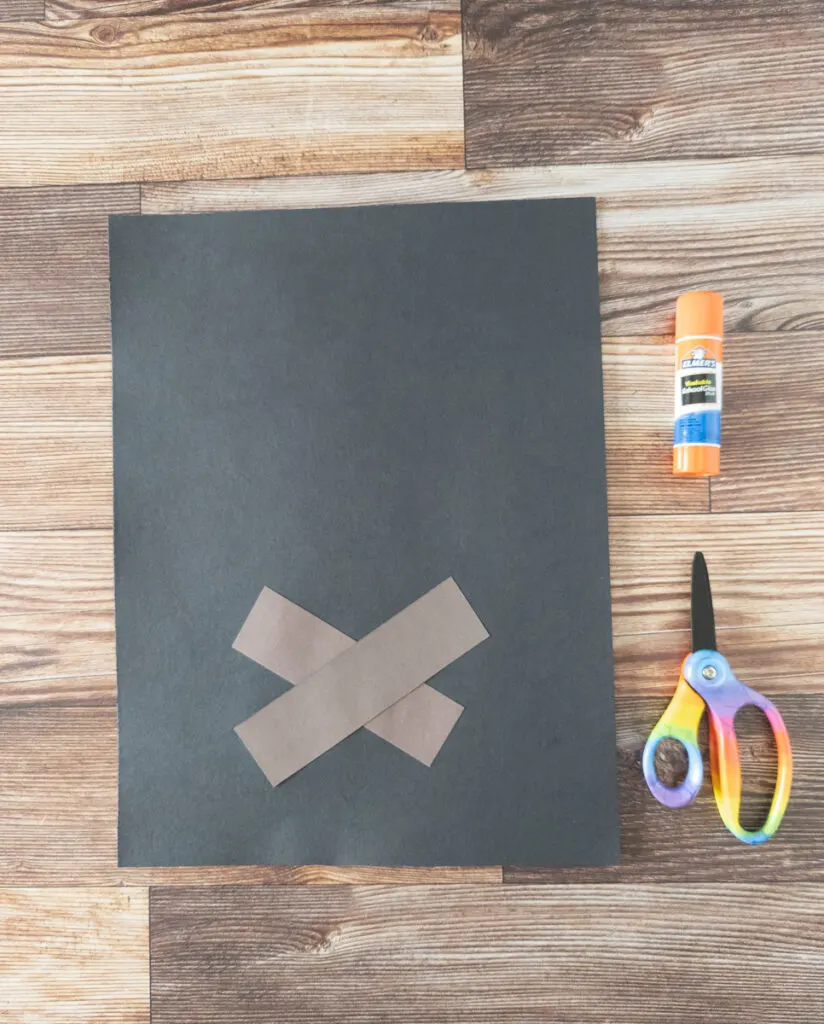 Tear or cut orange, yellow, and red tissue paper into smaller pieces. Alternatively, you can purchase pre-cut tissue paper squares.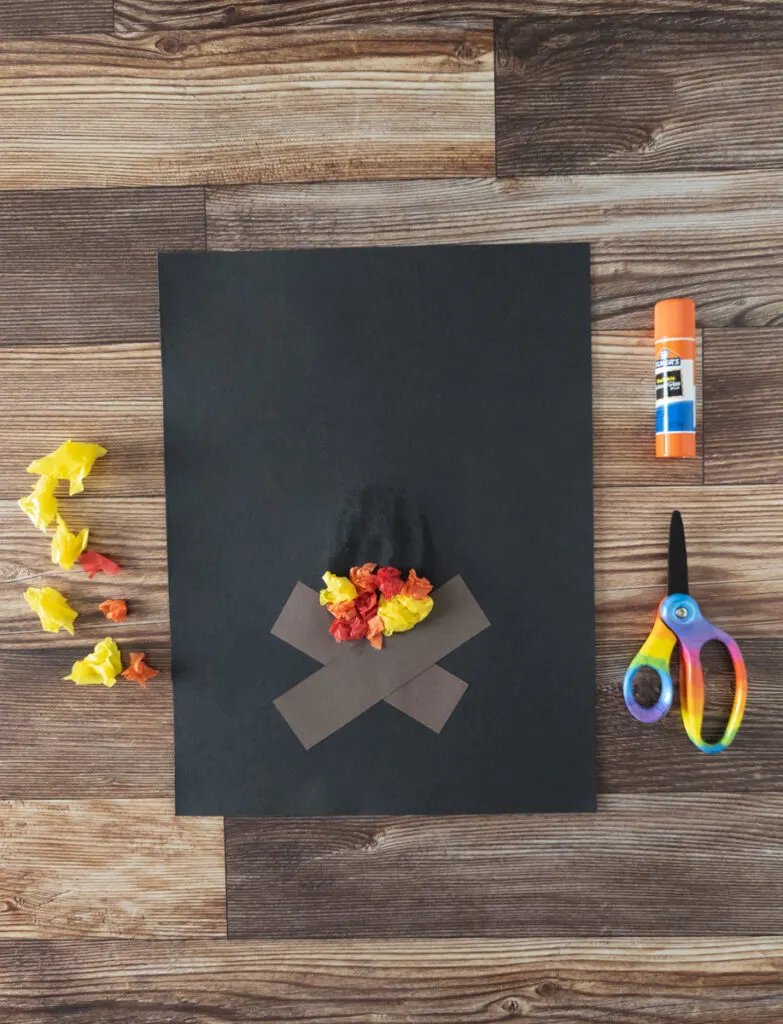 Crumple the tissue paper and glue it above the logs, allowing children to experiment with the design of the fire's flames. If desired, they can also glue torn tissue paper pieces down flat in a mosaic-style.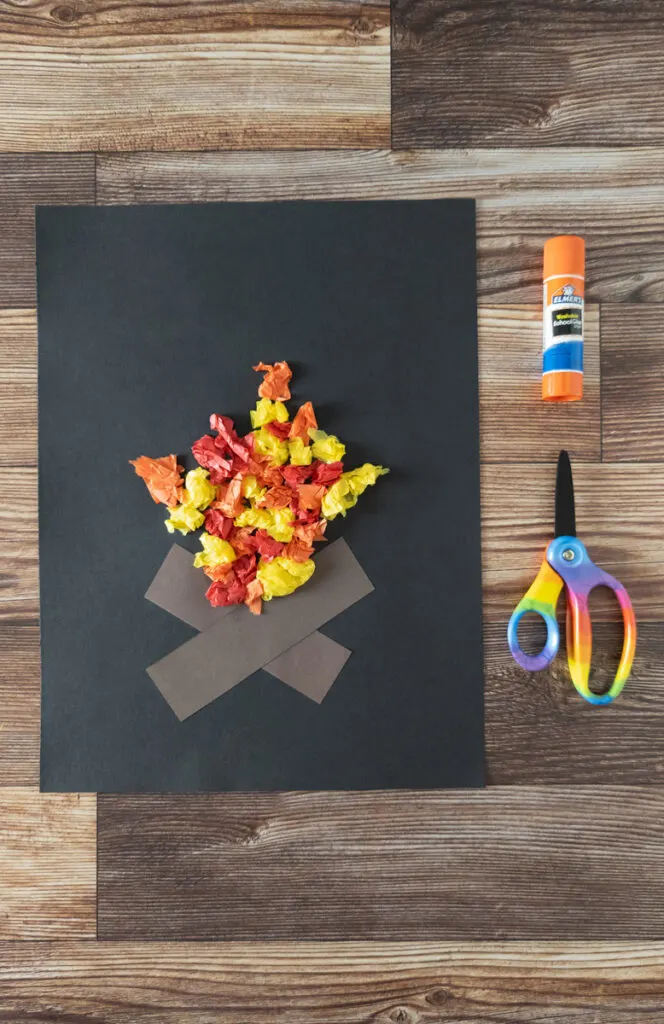 For added detail, they can draw lines on the logs.
For more variations, consider decorating a campsite around the fire, complete with roasting marshmallows, or creating the tissue paper fire inside a fireplace.
Fire Safety Learning Activities and Resources for Preschoolers
Aside from books, there are various learning activities and resources available to help preschoolers learn about fire safety in a fun and engaging way. Here are some examples:
Make Fire Safety Posters: Have children work on these fire safety worksheets, which includes coloring posters with fire safety tips. This allows them to express their creativity while reinforcing valuable lessons.
Online Games: There are many free online games that teach children about fire safety, such as identifying fire hazards and creating a safe escape route. The National Fire Protection Association (NFPA) has a variety of fire safety learning games.
Fire Safety Songs: Songs are a great way to introduce children to important concepts, including fire safety. Look for catchy tunes such as "Get Outside and Stay Outside!" that teach them what to do in case of a fire.
Firefighter Visit: Arrange for a local firefighter to visit the class. They can talk about their job, show their equipment, and give children valuable insight into the role they play in keeping the community safe. You can also plan some of these other fireman activities for preschool.
Role-playing: Pretending to be firefighters or practicing an emergency situation can help children understand what to do in case of a fire while having fun.
Fire Safety Scavenger Hunt: Make a list of common household items that could potentially be fire hazards, such as matches or a stove. Have children go on a scavenger hunt in the classroom (or a controlled environment) to identify these items and explain why they are hazards.
Fire Drills: Regular fire drills are essential in teaching children what to do in the event of a real fire. Ensure that they know the quickest and safest routes out of the building.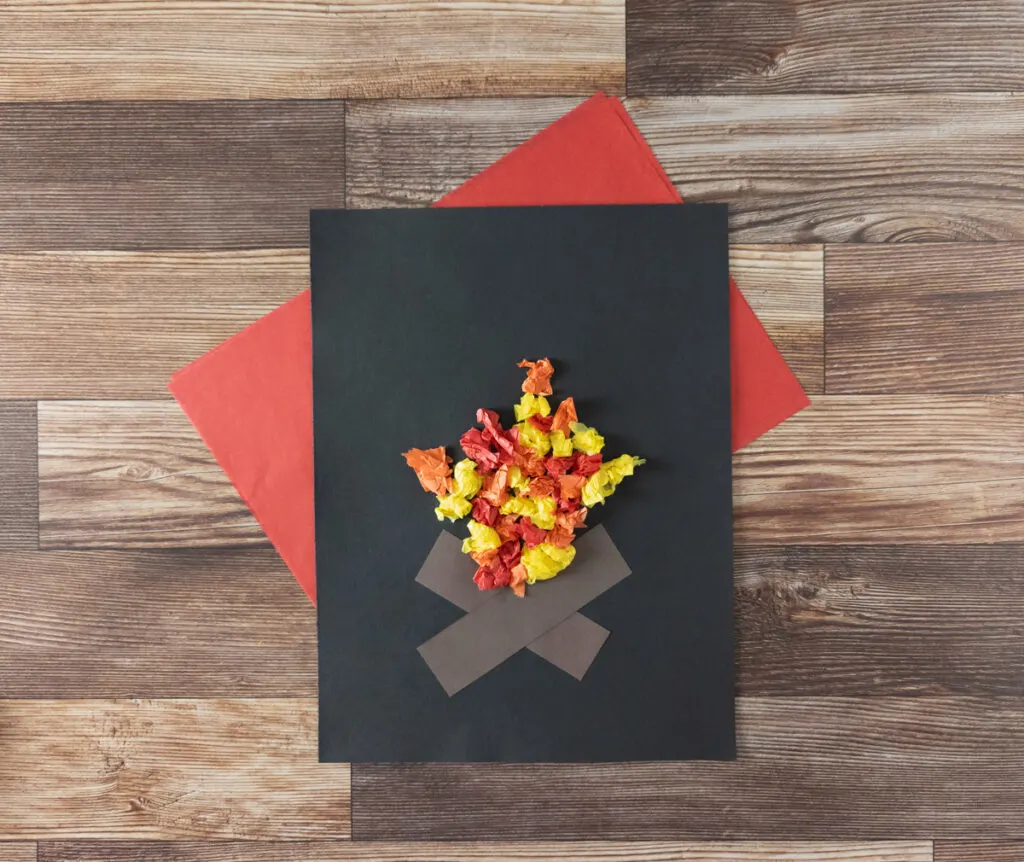 More Fire Crafts for Kids
Let's fuel our creativity with more fire-themed crafts! These activities not only inspire artistic expression but also provide a captivating way to reinforce vital lessons on fire safety.
From popsicle stick campfires to crafting coffee filter flames, these crafts are not only enjoyable but also fantastic for developing fine motor skills.
Fire safety is an important topic that should be taught to young children. By using these tips and resources, you can make learning about fire safety enjoyable for preschoolers while also equipping them with life-saving knowledge.
Remember, it's never too early to teach fire safety, so start incorporating these lessons into your activities and discussions today!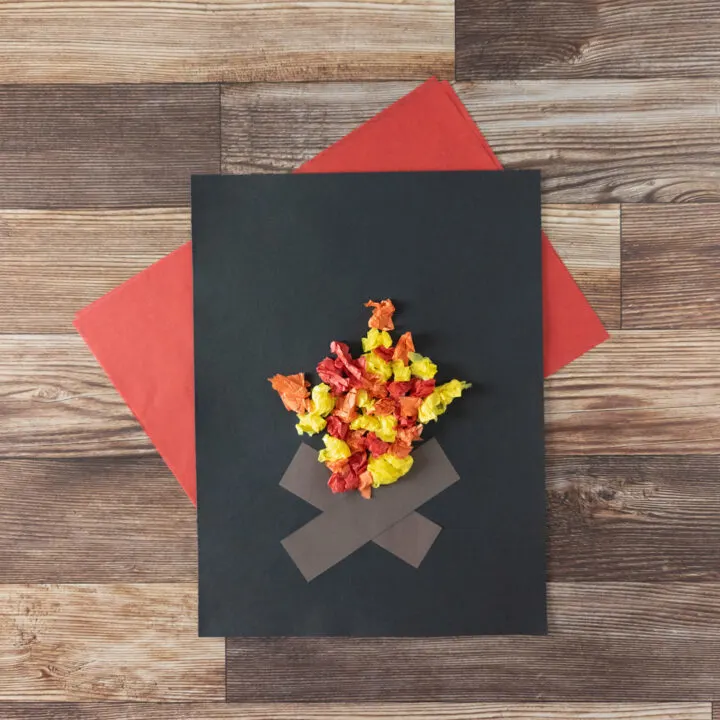 Tissue Paper Fire Craft
Estimated Cost:
$5 or less
Make this easy tissue paper fire craft for preschoolers as part of a fire safety unit!
Materials
Red, Orange, and Yellow Tissue Paper
Black and Brown Construction Paper
Glue
Instructions
Cut two rectangles from brown paper as logs. Arrange them in an overlapping 'X' shape and glue onto a piece of construction paper for the background.
Tear or cut orange, yellow, and red tissue paper into smaller pieces.
Crumple the tissue paper and glue it above the logs to create flames. Let kids experiment with the flame design.
To add variation, consider creating a campsite around the fire with roasting marshmallows or placing the tissue paper fire inside a fireplace.
Recommended Products
As an Amazon Associate and member of other affiliate programs, I earn from qualifying purchases.