Ever been stuck at home and wondered what activity you can do with your toddler? Today we are sharing some of our tried and true, fool-proof activities to do with your toddler to keep their little minds consistently expanding with new-found knowledge.
There will be days when you're stuck indoors with your well-meaning yet rambunctious toddler, who is on an everyday mission to explore everything in your home.
Oh, for the love of a rainy day, when we say everything, we mean everything. I know, because I have two kids that were very active toddlers.
Need more ideas? Check out our list of fall activities for toddlers.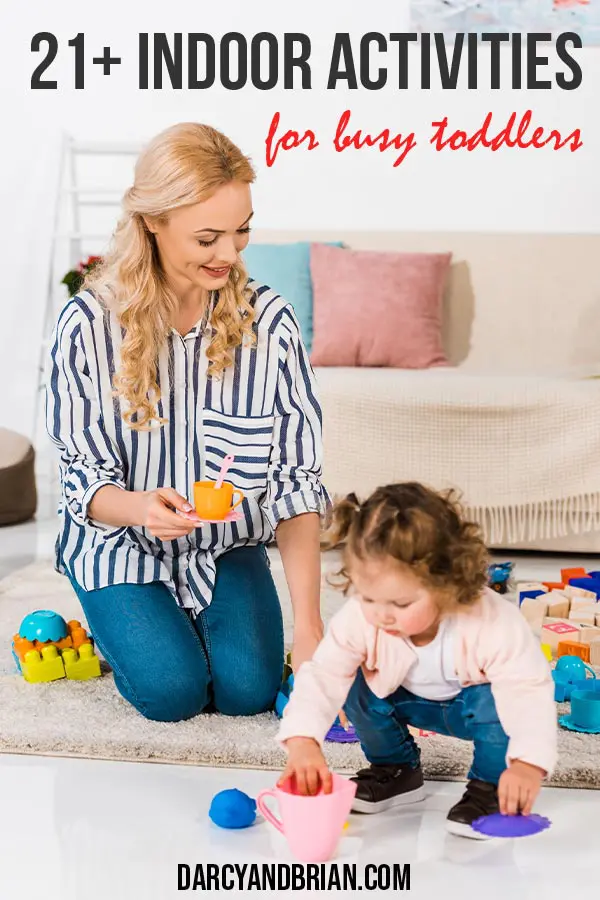 This post contains affiliate links. As an Amazon Associate and a participant in other affiliate programs, we earn a commission on qualifying purchases.
Toddler Activities to Do at Home Indoors
Toddlers are little busy bodies that are constantly on the move. Here are more than 21 indoor activities you can do at home with your 2 year old or 3 year old. Older siblings will enjoy joining in on the fun with most of these as well.
Also, if you don't have any indoor climbing toys for toddlers, we highly recommend investing in some! They do wonders for burning off energy.
SING SONGS
This seems like an obvious one, but there are much more options than our good ol' nursery rhymes.
Involve your children in the music you enjoy and teach them your favorite songs. You'll get a kick out of your "mini-me" learning your style of music.
HAVE A DANCE PARTY
There are many ways to be active indoors while avoiding total destruction. Turn up the music and dance with your child!
Change things up and get silly by calling out different animals to dance like, such as a bear, a dolphin, and a snake.
PLAY BOARD GAMES
Board games are one of our favorite things to do as a family. To me, they are the perfect fun and educational activity. There are so many things kids can learn while playing, including social skills.
Stay with me here, because I don't mean you have to play CandyLand or Connect 4 on repeat.
There are other games designed for toddlers that I highly recommend, such as First Orchard, which is part of the My Very First Games series by HABA.
RELATED: 10 Games You Can Play With Your Kids in 20 Minutes
PLAY I SPY
"I Spy" is a timeless activity that engages your toddler's sense of sight and allows them to practice their awareness of their environment. Toddlers love identifying colors, shapes and animals with this game.
PLAY GUESS THAT EXPRESSION
Your toddler's brain on a fast-track to learning human emotions and is also discovering their own feelings.
Have your toddler practice making sad, angry and happy faces. Then have them guess your surprised, scared and silly faces.
Your child will love the strong expressions and the quality bonding time with you.
PRACTICE COUNTING
What better way to practice numbers than to count familiar objects in the house? If you have apples in the kitchen or colorful plastic cups, these make great materials for counting.
Here are a few counting games to try:
PLAY DRESS UP
Little kids adore playing dress up. They can pretend to be a beloved character from their favorite book, show, or movie. Or they can pretend to be a doctor, a firefighter, or whatever they want.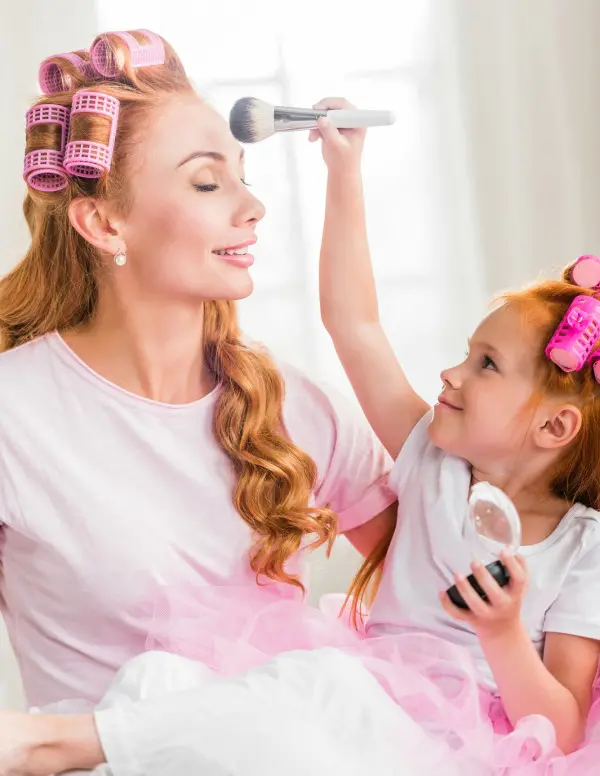 They especially love items from your closet, so look for old shirts, scarves, and hats. Use a belt and that old shirt becomes a dress. You can also make your own dress up clothes or buy some.
ALPHABET AND PHONICS MATCH GAME
"A" is for "Alpaca," "B" is for "Begonia." Practicing the alphabet with your child is not only important, but a very fun activity when you introduce unconventional words to them!
The toddler's mind is a sponge. The more vocabulary you teach, the better your child's communication will become. Ask them to find or point out other items around the house that start with the same letter.
TEACH YOUR TODDLER ASL
Speaking of vocabulary, teaching your toddler Baby Sign Language and how to speak with their hands and body is an excellent way to expand their ways of communication.
American Sign Language is also considered a "second language" to hearing and speaking persons, so they will be on track to learning their second language!
GO ON A SHAPE SCAVENGER HUNT
Take a walk around your home with your child and ask them to identify circles, squares and triangles with common household objects. Be prepared for your toddler to constantly identify shapes after this game.
PLAY A SENSORY GAME (HEAR, FEEL, TASTE)
Ask your child to close their eyes and listen to their environment. What do they hear?
Then, have them hold out their hands and give them an object. What do they feel?
With their eyes still closed, have them open their mouth and give them their favorite treat!
Here are more sensory play ideas for your toddler:
BLOW BUBBLES
You may thinking blowing bubbles is an outdoor activity, but it can be equally as fun inside!
Delight your little one by blowing bubbles for them. Without the wind they may have a better chance at catching a few!
They are sure to giggle and clap excitedly, asking you to blow more. Work on teaching them how to do it too.
RELATED: Fun Sandbox Toys for Toddlers
LOOK THROUGH FAMILY PHOTOS
Toddlers love to recognize their family members at social gatherings. Open a photo album and show them pictures of their family and close friends!
You can easily create your own photo book with Walgreens. My kids still love looking through the ones we made several years ago.
This is a great way to help children learn faces and find a connection with family members they don't see as often.
GET CRAFTY
Set out craft supplies and paint for some artistic (and perhaps messy) fun! We have so many great crafts for kids, here are a few that are perfect to do with toddlers:
Worried about how messy this will be? I used to avoid messy projects too, but then I learned a few tips on how to minimize the mess while crafting with kids.
Make this activity even easier by having projects and supplies delivered to your door each month. My kids love the Green Kid Crafts subscription box and they have one designed for 2-4 year olds!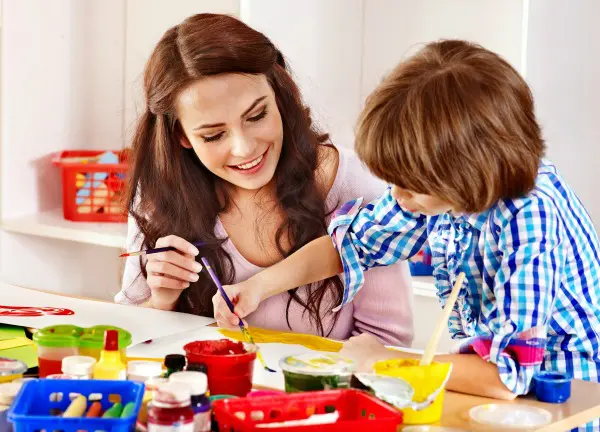 SPEND TIME COLORING
Break out the crayons and colored pencils!
You can give them blank paper to draw whatever they want or offer printable coloring pages like our popular Toy Story 4 coloring sheets, Frozen II coloring pages, and coloring books.
This activity engages the child in learning colors and understanding the basics of color theory.
READ A BOOK
Cuddling up together to read a book is a wonderful way to spend time with your toddler at home. Even if your toddler doesn't sit still through an entire story, that's OK. They are still listening as they wander about and play.
Also, encourage your child to look through books on their own by keeping them accessible. Have a basket or lower shelf filled with durable board books.
Looking through the pages is an important early stage of reading for your little one!
BUILD WITH BLOCKS
Toddlers love building with blocks. My kids absolutely loved stacking things and knocking them down. Classic building blocks as well as magnetic ones provide plenty of fun. There are so many magnatile activities that are entertaining and educational!
A set of chunky wooden building blocks like these (we still have ours!) are fantastic to have as well as LEGO DUPLO sets.
RELATED: How to Keep Kids Busy and Learning With LEGO Activities
HELPING IN THE KITCHEN
Involving your child in the kitchen will help them feel important! Little ones are likely to follow you when you are trying to make dinner anyway, so use it as an opportunity to engage with them.
Let them (safely) observe what you are doing and narrate the process. Be prepared for WHY questions, especially from curious 3 year olds!
You can also give them a job to do, such as handing you the correct utensils. It's a great way for toddlers to learn how to identify common kitchen utensils such as whisks, spatulas and pans.
They also love helping to wash dishes too. Fill the sink or a large bin part way with warm soapy water, give them a washcloth, and let them wash non-breakable cups and bowls.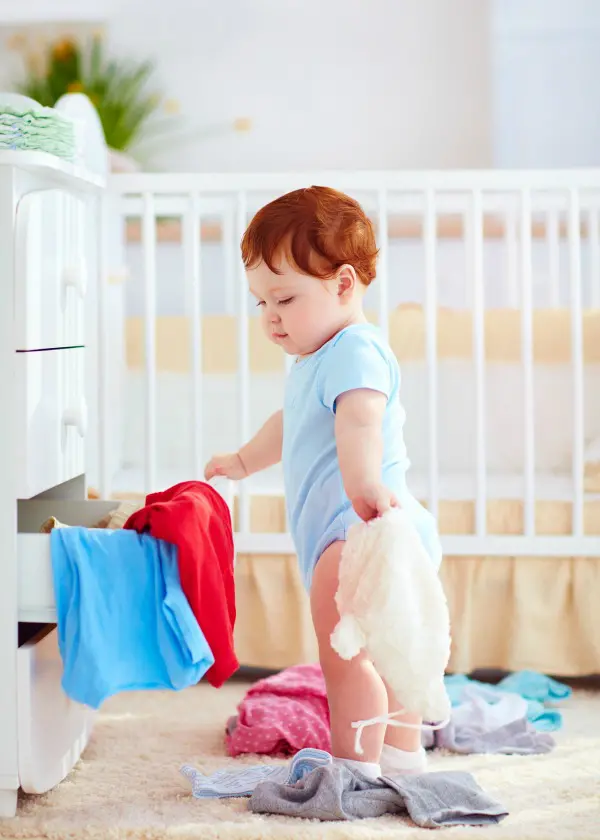 LAUNDRY HELPER
Coming back to the topic of helping your child feel important, asking your toddler to help with laundry teaches them responsibility.
Folding laundry is an excellent task for hand-eye coordination.
If you use our printable drawer labels for kids clothes, they can help with sorting and putting things away.
BUILD A FORT
Who doesn't love snuggling in a fort with a good book or playing make-believe?
Grab some chairs and blankets and create a cave, a castle or a tunnel for some indoor fun!
INDOOR OBSTACLE COURSE
Is your kiddo attempting to climb the walls? Their little toddler bodies are constantly moving, so make an indoor obstacle course for them to do.
It'll help burn off energy, plus they'll be developing gross motor skills and coordination. Find a ton of gross motor activities at Hands On As We Grow.
Keep things simple by using things like hula hoops and painters tape they walk or hop over. With painters tape you can easily mark off lines for them to balance on – walking toe-to-heel – or hopping over.
This is only the beginning of the fun and imagination you and your child will share together when you're stuck inside at home.
I hope this list helps your family when you're looking for indoor activity ideas you can do with 2 year olds and 3 year olds.
Do you have a favorite home activity that you do with your toddler that's not on our list? Tell us in the comments and we'll add it as a resource for other parents.