The rainbow is a favorite with kids because who doesn't like bright, happy colors?
You can make learning more fun by creating this rainbow in a bag writing tray that works for all sorts of early learning activities from math to reading and beyond.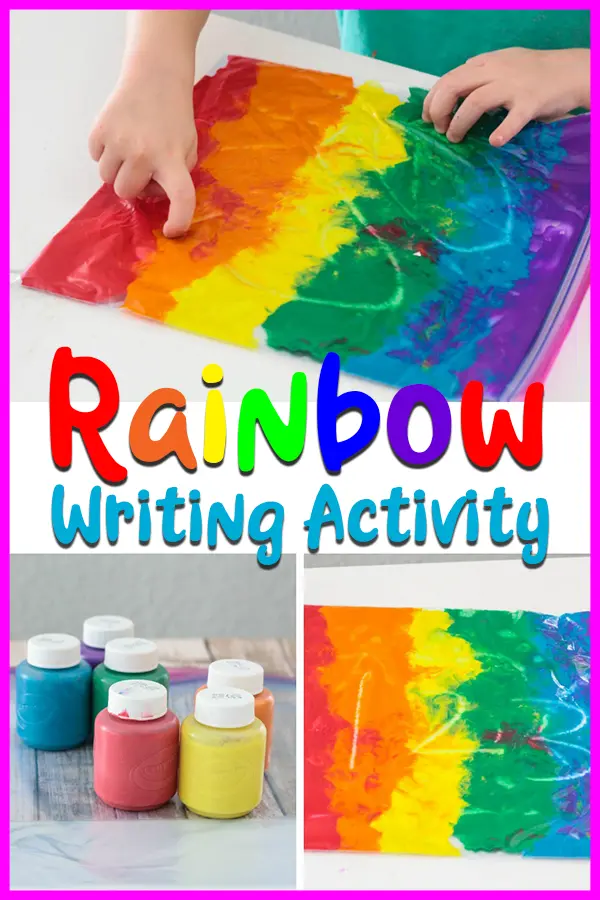 Don't be surprised if kids ask to use this writing tray over and over again!
Related: This rainbow counting activity is great for working on counting, number recognition, and fine motor skills. Kids also love our Melting Rainbow science experiment!
How to Make the Rainbow Bag Writing Tray
This post contains affiliate links. We may earn a commission if you make a purchase.
This project is a colorful and fun way to practice writing by gently scratching your fingers across it.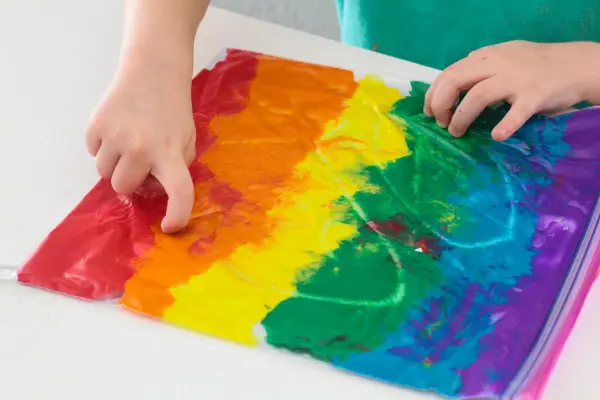 Kids can practice making letters, sight words, numbers, spelling words, and all sorts of shapes and other educational materials.
School is fun when you can write on a rainbow!
Note: It helps to use a name-brand bag for this as the generic brands of baggies don't close as securely.
You want to make sure your bag is completely sealed or else the writing bag can become a disastrous mess.
You may want to secure the zip top with packaging tape, just in case.
Rainbow Bag Supplies: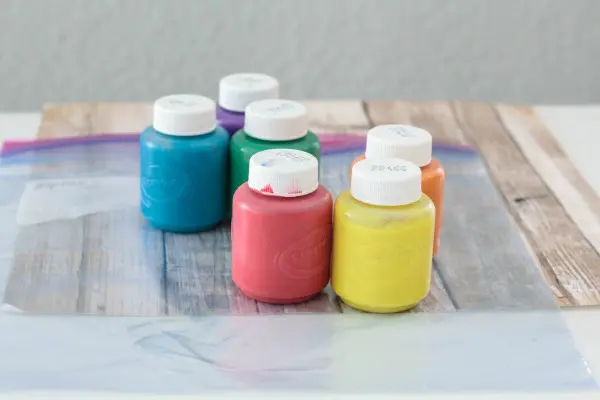 Rainbow Writing Bag Directions:
Open the zipper baggie.
Squeeze out a glob of red paint in the very bottom. Smooth it out so it covers the bottom of the bag in a solid stripe.
Repeat for the other colors.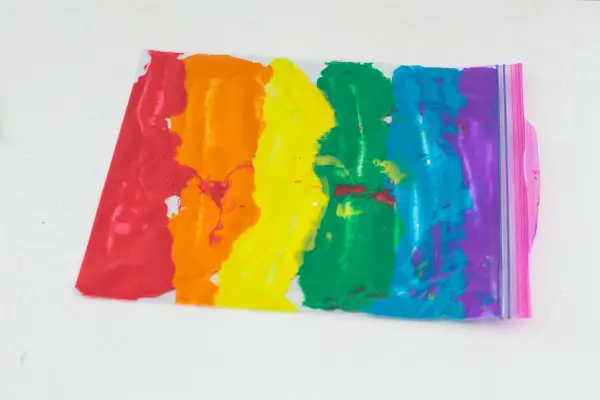 Remove all the air from the bag and close it tightly.
Place the baggie on a table.
Show the kids how to draw letters, numbers, shapes, and anything else you want them to learn on the surface of the bag.
You can also use a cotton swab to draw, which will prevent nails from accidentally scratching the bag and letting the paint out.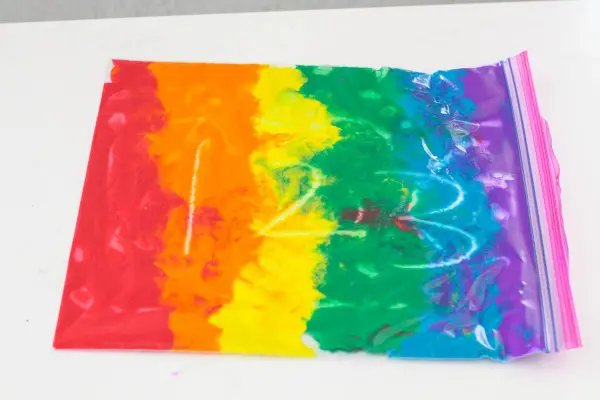 Ways you can use this rainbow writing bag activity:
Spelling words
Letters
Numbers
Math problems
Sentence writing
Name writing
Color writing
Shape practice
Drawing
Kids of all ages will enjoy using this rainbow bag writing tray. It's ideal for engaging preschool and kindergarten children in writing practice.
Add this fun learning activity to your writing and math centers or as part of your study unit on spring, weather, and rainbows.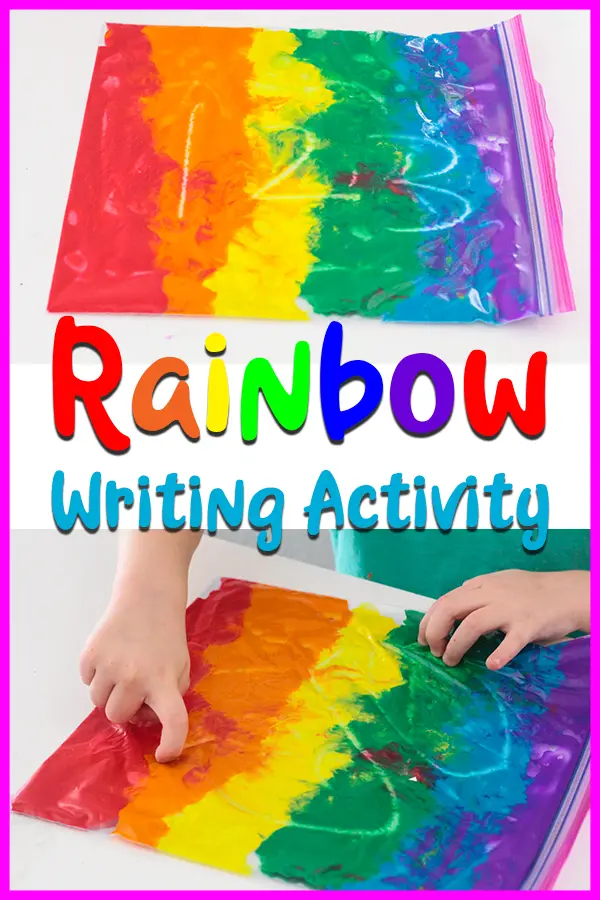 More activities you may enjoy: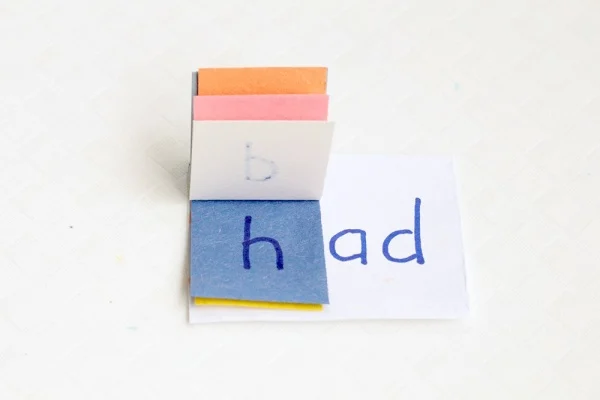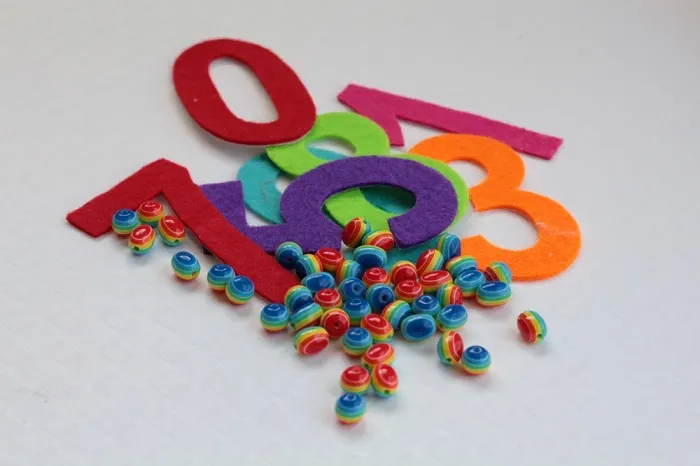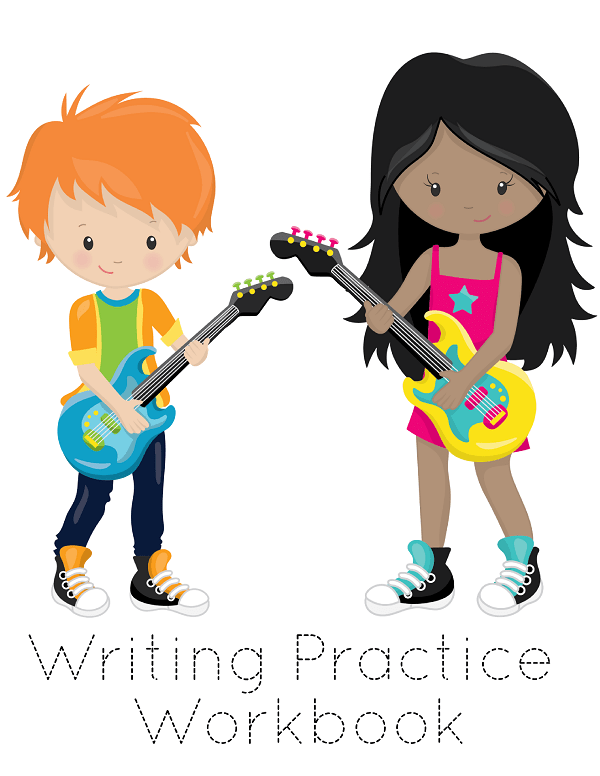 Rock Star Sight Words Workbook