This Unicorn Sensory Bin with Oobleck is a fun hands-on science activity for kids. Learn how to make pink oobleck and put together this easy sensory activity.
Unicorns are having a moment. Go into any store, and you'll find something with a unicorn horn within minutes.
My daughter is crazy about unicorns! If you have unicorn-loving kids in your house too, they will adore this super-fun, and science-themed unicorn sensory bin!
We also have a Unicorn Density Tower Experiment that my daughter did for her school science fair project. If your kids love learning about space, you should check out our Galaxy Oobleck recipe.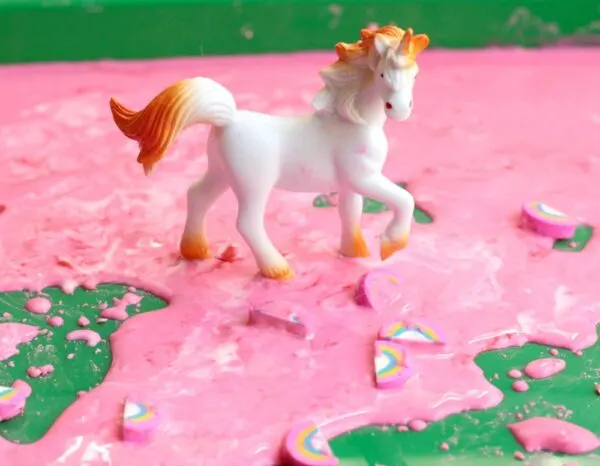 How Does Oobleck Work?
This sensory bin uses cornstarch and water to make oobleck, which is a non-Newtonian liquid.
Non-Newtonian fluids have properties of both a liquid and a solid. When allowed to rest, the molecules relax and act like liquid. But when force is applied, the molecules seize up and the oobleck acts like a solid!
It's an amazing thing to play with, particularly when unicorns and rainbows are involved.
Making a Unicorn Sensory Bin
This post contains affiliate links.
This super-fun unicorn sensory bin is perfect for keeping kids occupied indoors, especially for a playdate. Both little kids and older kids will have a blast, too!
We recommend adult supervision for this activity.
Unicorn Sensory Bin Materials and Oobleck Ingredients:
Rainbow erasers (or any small colorful erasers)
Directions for Making Oobleck and Creating a Unicorn Sensory Bin :
You'll want to make the oobleck before giving this to your kids to play with.
Be warned, oobleck is MESSY. I recommend playing with it on a surface you don't care about messing up, like a kitchen counter or bathtub. Or, spread out a disposable tablecloth or newspapers under the play tray.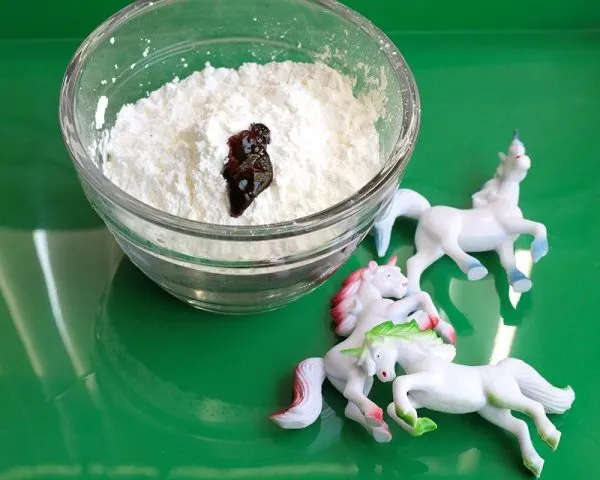 Mix about 2 cups of corn starch with food coloring. We used pink, but you can add any color you want!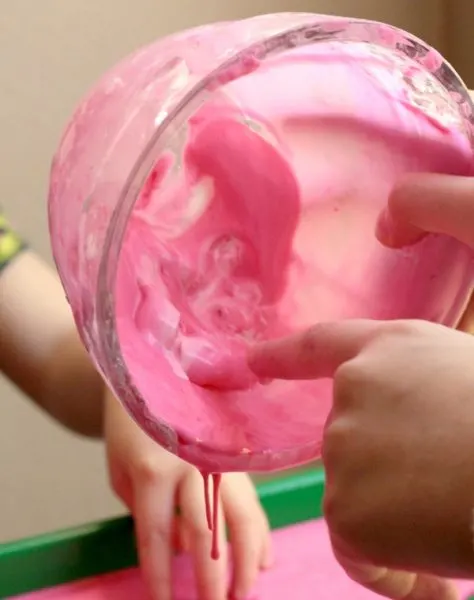 Add water slowly until it forms a slime-like substance.
If you can still pick it up with your hands and form a hard ball, but it starts to ooze out of your hands as soon as you relax, it is ready.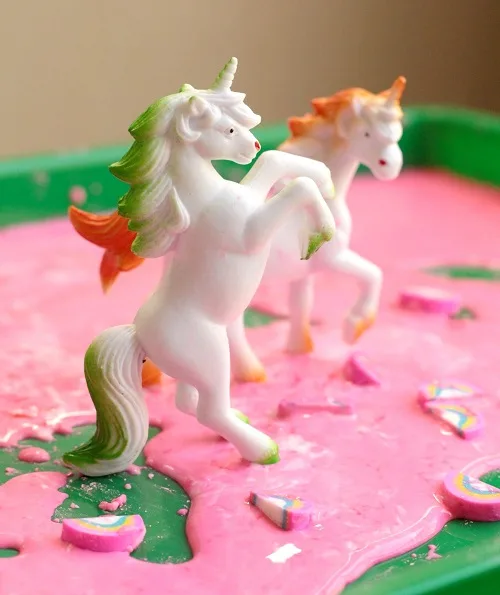 Place the unicorns in the oobleck along with the erasers. The kids will love seeing how they can get the unicorns to rest in the oobleck.
One kid was even able to get the unicorn to stick in her hand upside down, which was pretty cool.
My preschooler insisted on sorting the objects in the sensory bin by type. It was really fun to see how each kid played differently in the sensory bin, but all had fun!
While the kids play, ask them to observe how the oobleck looks, moves, and feels. Introduce them to terms for states of matter, such as liquids, solids, and non-Newtonian fluids.
It's fascinating and a fun way to play with science. We hope you and your family enjoy making your own unicorn sensory bin with oobleck! If your kids prefer slime, check out our Leprechaun Slime Activity.
More kids learning activities: