Who hasn't pretended to be a robot at least once? Robots are such a fun concept for kids. Most kids can't wait for the day when a robot will help them with chores or their homework!
Even little ones love the idea of robots and will squeal with delight whenever they see one. Robot erasers are even more adorable than real-life robots!
This simple robot counting mat helps young kids solidify counting skills using mini robot erasers! These erasers are sold at Target, but any mini eraser will work. If your kids don't care for robots, you can substitute any theme for your erasers. However, this activity does work best with erasers, as their slightly bouncy texture is required for this fun activity.
The best part? It's an easy learning activity to set up that will keep your preschooler or kindergartner entertained.
Mini Eraser Robot Counting Mat Activity
This post contains affiliate links.
This robot counting mat is super simple to make and introduces important math skills and concepts in a fun, hands-on way. This counting mat activity helps kids strengthen counting skills and build a foundation for addition and subtraction skills. Later they can use this foundation to build on when they start to write out addition and subtraction problems in kindergarten and first grade.
Materials:
Directions:
Start by drawing a circle in the center of the paper. It doesn't have to be perfect!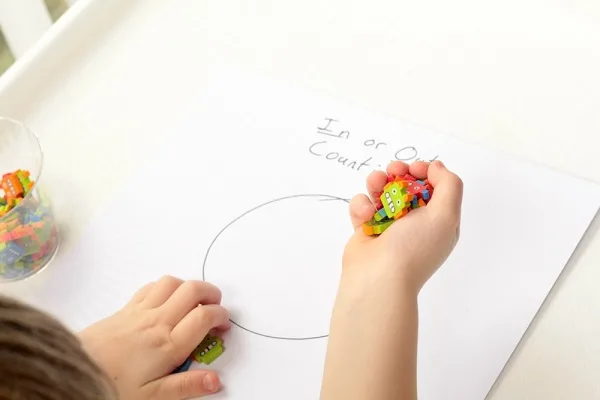 Show your child how to grab a handful of erasers, then drop them over the circle. Because the erasers bounce, some will land inside the circle, and some will land outside the circle.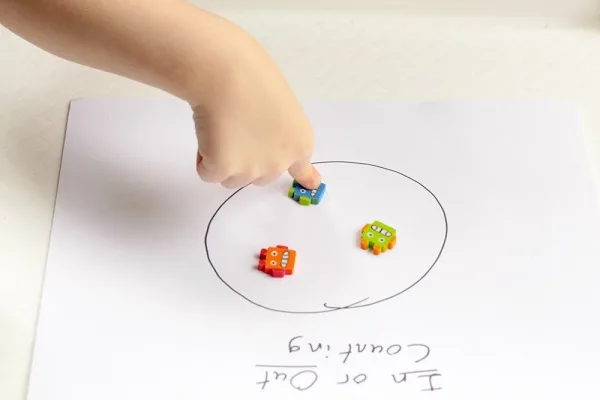 Help your child count how many landed inside the circle and how many landed outside the circle.
Then, count how many robots there are in total.
Next, ask your child how many more (or less) robots there are inside the circle than outside the circle.
This is a fun way to introduce the concept of addition and subtraction and helps kids learn to connect counting with other math skills. You can add a little variety to this activity by drawing a different sized circle on another piece of paper or choose a new shape, such as a square.
Keep repeating the process until your child is tired.
If your preschooler is like mine, they will be happy to repeat this activity over and over again for about half an hour. The mini robot erasers are fun to drop, making this counting practice a game they want to play. Even kindergarten age children will have a blast!
More learning activities for kids: