I love the idea of keeping things orderly, but sometimes I struggle. These super cute Printable Labels For Organizing Kids Clothes are just the motivation I needed to really tackle the kids' things recently.
If you are like me, sometimes it takes having something cute and fun like our Disney themed chore chart printables to get you motivated to make that step!
Along with these printable labels, I am going to share some of my best tips for how to keep your kids clothes in order!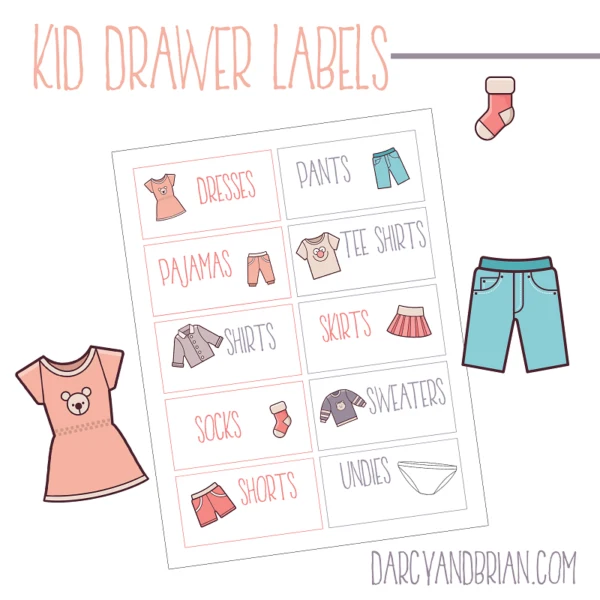 Printable Labels For Organizing Kids Clothes
This post contains affiliate links. As an Amazon Associate and a participant in other affiliate programs, we earn a commission on qualifying purchases.
There is something about using printable labels that make me feel like I have conquered the world. It's like I did something spectacular because they came off my very own printer at home!
I admit, the fact that they are practically free if you don't think about the ink and paper makes them pretty amazing. So, adding these to help keep kids clothing orderly definitely helps keep me sane.
Sort clothing by use.
One thing I like to do is to keep their school clothes separate from the play clothes they wear for more rugged time outdoors and such. This keeps those outfits cleaner and looking nice.
You can also use this to sort things like loungewear, Star Wars Chewbacca pajamas, and even dress clothes.
If you live somewhere with changing seasons like we do here in Wisconsin, you could sort out winter and summer gear and move things around so you have items easy to separate and store between seasons.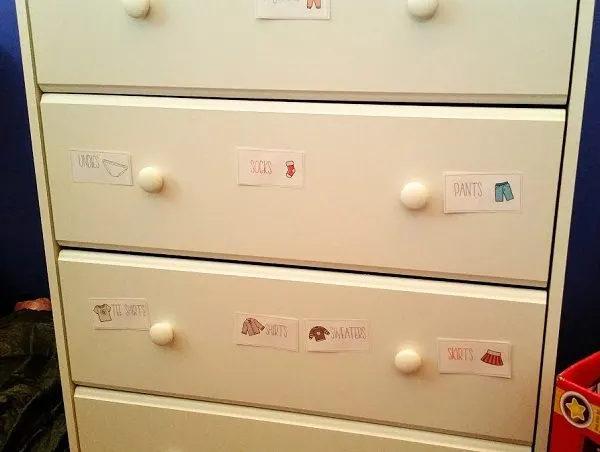 Take time to purge.
This is one activity you might need to do when the kids aren't at home. Purging clothing that has been outgrown is not an easy thing to manage. It's time to purge outgrown, torn, stained, and worn out clothing.
Unless you want to save items specifically to use for dirty playtime outside or paint time, throw it away or use for cleaning rags. If it has been outgrown, you can donate or even sell them to someone else who can use them.
This definitely makes it easier to use the printable labels for organizing your kid's clothes when you have fewer categories to sort!
Sort by type so kids can pick out and put away clothing.
When I set up my daughter's dresser drawers, I wanted to group clothing types together that made sense to her while also staying organized. To utilize the space in each drawer better, I bought a couple sets of adjustable drawer dividers.
These helped a lot so her clothes wouldn't continue being a huge jumbled pile. Putting away laundry is not my daughter's favorite chore, but it goes smoother now that she knows where her clothes go.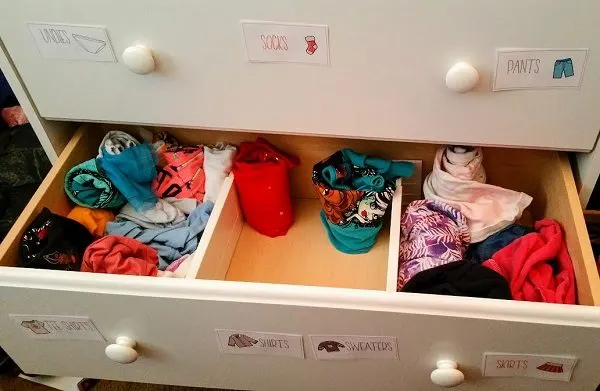 I love the idea of giving my kids the chance to show their own personality. That includes picking out their own outfits.
So, I like using my printable labels to help them know what drawers they can pick from each day.
This gives them some independence and freedom to express themselves and helps free my time up in the mornings.
If getting ready in the morning is difficult, using a weekly hanging organizer for school clothes may help so they can pick things out and sort in advance.
Using fun printable labels for kids clothing organization is a great way to really help you get your day to day struggles down to a minimum.
Not only will your kid's rooms be more organized, but your daily routine getting them up and dressed for the day or out the door to daycare or school will be easier. These just help make it simple to manage.
Print your free printable labels for organizing kids clothes.

Kid Drawer Labels
Subscribe to receive your drawer labels, weekly updates by email, and access to our latest printables.
Use these great Printable Labels for organizing kids clothes to revamp your kid's bedrooms and your daily routine in no time at all.
Consider this a jump start on your household organization plans for the year!
More Household Tips: