Looking for summer fun ideas to keep the kids busy? Grab a few of these outdoor sandbox toys for toddlers and get ready to have some fun!
You know when your toddler is being too quiet you get suspicious? He was right by me as I pulled weeds from the small garden bed next to our house.
It was sorely neglected, and I was determined to get us all outside, digging in the dirt. Except, I didn't expect my son to be covered head to toe in dirt.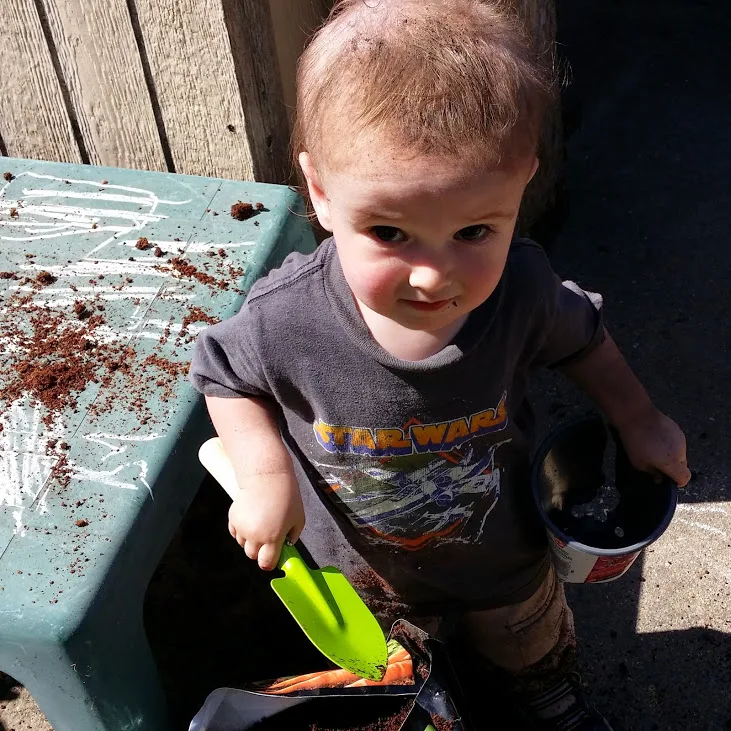 He was having a grand old time. Using the kid gardening trowel I gave him, he found a patch of dirt to claim as his own.
He dug the trowel in, and poured the dirt over his head over and over again.
The dirt cascaded over his head, clinging to his hair, and sticking to the sunscreen slathered on his skin.
The boy (and my yard) was a complete mess, but he was having a blast. Clearly, if he was happy playing in the dirt, then playing in the sand would be just as fun.
Scooping, digging, pouring – all great skills for toddlers and preschoolers to practice.
We didn't have a sandbox, but one of the local parks did. (But you needed to bring your own outdoor sandbox toys along.)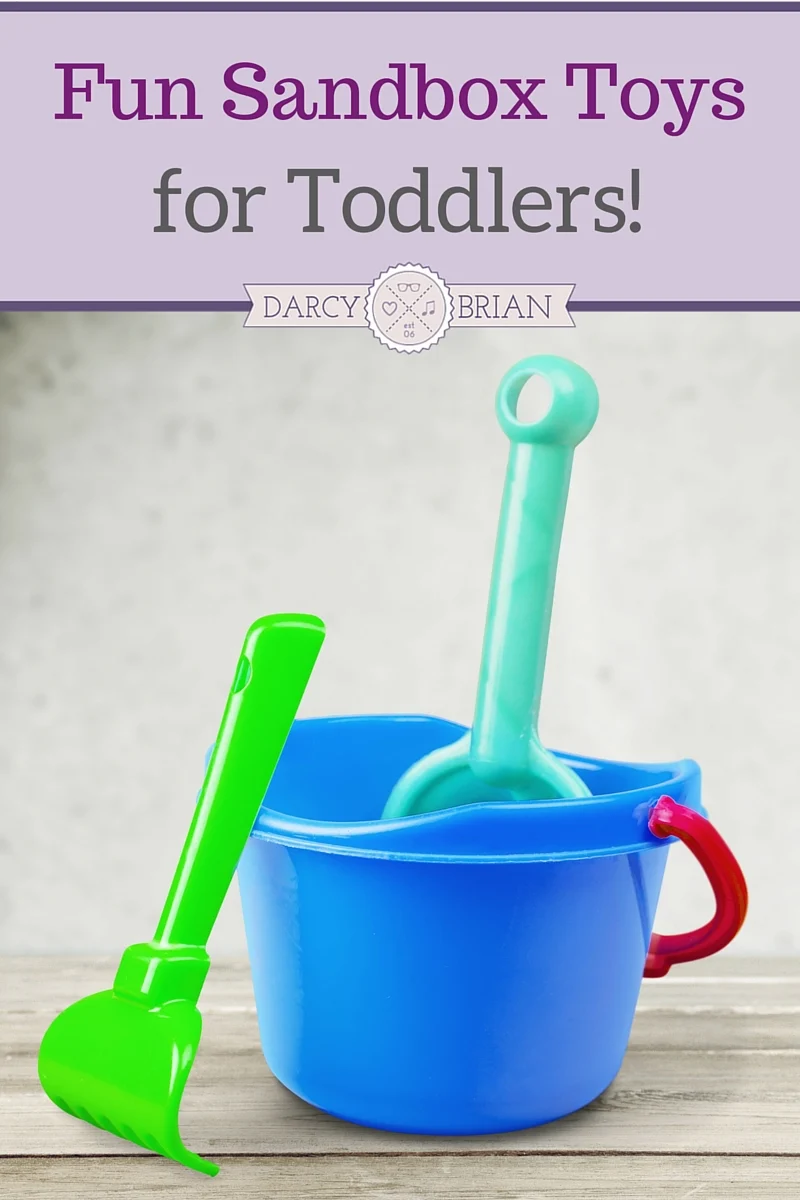 Fun Outdoor Sandbox Toys for Toddlers
Outdoor sandbox toys are excellent toys for toddlers who love to play outside and who are fascinated with how to use tools, how to make things, and how the things they do can change how something else looks or works.
Toddlers learn by playing. They learn about being social and cooperating with others, they develop gross and fine motor skills, they learn language skills and they learn how things work.
Playtime for a toddler is learning time. When you combine playtime with the great outdoors, you have a winning combination that assures that your little one while have so much fun, she'll learn effortlessly.
See how you can incorporate math lessons outside while they play!
Toys like sandboxes and sandboxes on legs, shovels and pails, molds, and sand wheels can keep your children happily busy for hours.
All you need to do is provide some loving encouragement, sunscreen, a snack, and a drink of juice or water, and they'll be good to go.
Some favorite outdoor sandbox toys for toddlers include sand and water tables and the Step 2 Naturally Playful Sandbox. The sand and water tables are on legs, so your little one can stand up to the table to play.
Two sectioned sides, one for sand and one for water, make for a fun mixture of wet and dry play and allow your child to learn about how he can make molded sand creations by adding a bit of water to sand in a mold.
Or he can learn about how water can make things move with the water wheel (also works as a sand wheel). Set it up in a shaded area or get one that includes an umbrella to shield him and his little friends from the sun's rays.
The Step 2 Naturally Playful Sandbox looks just like a real sand sculpture. Its sand colored and textured exterior features a removable cover that protects the play sand when it's not in use.
Up to 200 pounds of play sand can be held by this sturdy sandbox, which looks natural in a backyard and will delightfully fit any child up to about 5 years of age.
Don't forget the sandbox toy accessories!
These can be used in any sandbox, or combination sand and water table, and can also be taken to the beach for a sunny and fun afternoon.
You can buy a complete sand and water beach play set that includes all the tools and toys your little one will love playing with at home or on vacation. You get a shovel, sifter, pail, molds, sand rake and more!
One of the nicest and smartest things you can do for your toddler is provide her with outdoor sandbox toys.
These toys promote learning and skill development. They even help her learn to use her imagination as she builds sand castles, excavates for buried treasure, and uses simple tools to create sand towns and cities.
Also, sand toys work in the snow and vice versa too!
We also play with some inside with our play kitchen set or in a sensory bin filled with rice or pasta. (Check out some more indoor toddler activities to do too!)
This makes our investment in outdoor sandbox toys worthwhile because we can use them year round. Just make sure to clean them off really well so you aren't getting sand all over your house.
More Fun Outdoor Toys for Toddlers: