Looking for quick family board games? These game suggestions are perfect for playing with your kids when you are short on time.
Do you love to play board games with your family, but find the kids lose focus if the game is too long? Or you struggle to find kid-friendly games that are also fun for adults?
We play a lot of games at our house, some are longer and some are super quick. The best part about fast games is being able to play again immediately.
Since I know what it's like to need quick, fun games, I wanted to share some of our favorite board games that are perfect for family game night or any night!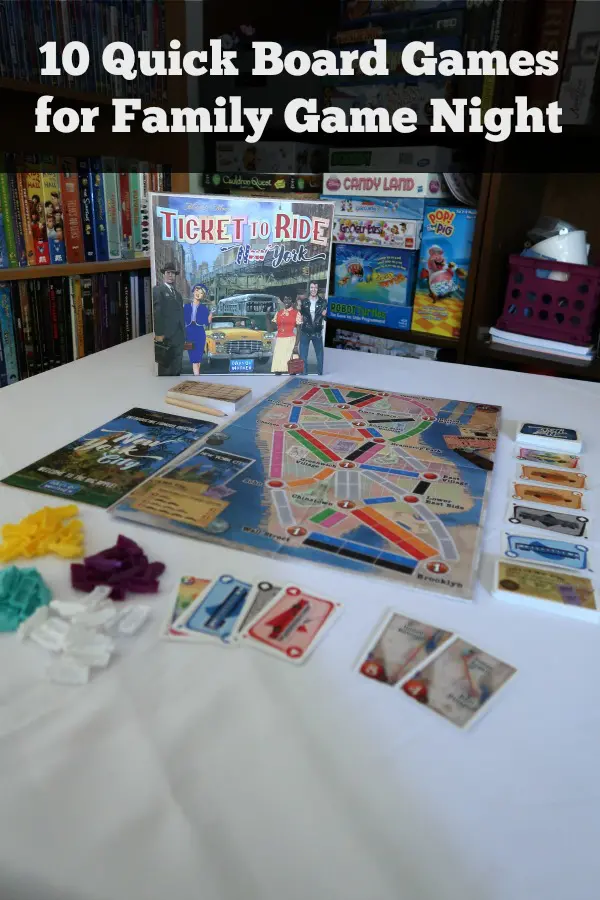 Most of these games were purchased by us. A couple of the games were won at a gaming convention.
We received El Capitan and an advanced copy of Ticket to Ride New York to review. This post also contains affiliate links for shopping, which means we may earn a commission if you make a purchase.
10 Family Board Games Played in 20 Minutes
My criteria for these games:
They are easy to teach.
They have quick to minimal set up.
They can be played in 20 minutes or less.
They are fun for kids and adults.
1. Zombie Dice
Zombie Dice is a dice rolling game where you are the zombie!
Each die represents humans who attack back, run away, or become lunch if you roll brains.
The suggested age is 10+; however, we started playing this with our kids when they were 5 and 7 year olds.
The first zombie to collect 13 brains wins! (Or whoever has the highest number after the last turn)
2. El Capitan
El Capitan is a fun memory game by Gigamic Games for 2-6 players. We find it is more fun with at least 3 players.
You each have your own set of cards to memorize before laying them face down in front of you.
When the card from the deck is flipped, place your pirate ship on top of the card in your set. Did you get a match?
Be the quickest at remembering correctly to collect more gold coins!
3. Robits
Robits is a card game for 2-7 players. Everyone is working to assemble their own Robit.
Draw from the row of face up robot parts or blind draw from the next assembly line.
After all of the cards are gone, put together your Robit and count the number of points to see who wins.
4. Sticky Chameleons
Sticky Chameleons by Iello is a silly game for 2-6 players that is sure to make everyone giggle.
Everyone holds one end of a sticky tongue and tries to "catch" the insect from the dice roll. Watch out for wasps and don't tangle your tongues!
5. Conex
Conex is a strategic game for kids made by HABA for 2-4 players. With abstract thinking and a bit of luck, find the best places to play your cards.
Aim for the most valuable color matching corners and try to plan ahead! Will you be the next Conex master?
6. MemoARRR
Memoarrr by Stronghold games is a memory game for 2-4 players. Everyone is trying to escape back to the pirate ship with treasure, but who remembers the way?
Take turns revealing location cards, but if they don't match up you are eliminated until the next round. The locations remain the same for a total of 7 rounds, so pay attention!
7. Dragonwood
Dragonwood by Gamewright is a game of dice and probability for 2-4 players.
Draw cards and use them to determine if you will strike, scream, or stomp creatures in the forest. Will you defeat one of the dragons?
8. Ticket to Ride New York
Ticket to Ride New York is a Days of Wonder board game that is available exclusively at Target. It is a 2-4 player game that can be taught in a couple of minutes.
You collect cards and try to claim taxi routes to popular tourist destinations in New York City to complete your destination tickets.
Check out our Ticket to Ride New York game review.
9. Cauldron Quest
Cauldron Quest is a cooperative board game by Peaceable Kingdom for 2-4 players. It is ideal for preschool age children, but is still fun for adults.
The needed ingredients are randomly drawn each game, which adds to the replayability. Try to get all three ingredients into the cauldron before the wizard blocks you!
10. Echidna Shuffle
Echidna Shuffle is an interesting game for 2-6 players. Game pieces are placed randomly on the board each time which enhances replayability.
Be the first to have your three bugs ride on the backs of echidnas and be delivered to the tree stumps of the same color.
Echidnas don't push each other out of the way or hop over one another.
You have to pay attention to the direction of the arrows on the board and figure out how to get your echidna to shuffle along to where you need it to go!
We hope you found something new to play on our list of quick family board games that you can play in 20 minutes or less.
These are fun board games to play with kids and adults on family game night. If your kids like to play the same game over and over again, then you'll love these fast options for that too!
More family game night ideas: