We received a copy of the book "The Undeniable Power of Play" to review. This post also contains affiliate links.
"Just go play!" I tell the kids for the umpteenth time. It's not even lunch time yet and they don't seem to know what to do with themselves.
Being 5 and 3 years old, they don't exactly complain that they are bored, but I can tell they are restless. They ask to watch television, play video games, etc. but they fidget too much. They can't sit without rolling, jumping, and flopping around. This always results in one of them getting in the other's personal space – or worse… mine.
Even if they do go off and play with their toys together (or parallel play), it doesn't take long before one is annoying the other. Because siblings.
I know my daughter misses school. She loved making a gazillion projects each week, exploring, and learning. She thrives being around a group. When school is out, it's easy for me to feel guilty about working from home. However, I know the solution isn't for me to entertain her all day long. I know how important free, unstructured play time is for kids.
But I also know my kids.
My son tends to enjoy more independent play. He finds it easy to get lost in his own little world and do his thing. Although, he's increased his sweet requests of, "Please play with me," to his sister.
My daughter is smart, creative, and has a lot of interests. If I simply tell her to go play, eventually she can and will find something to do; however, I can speed the process along and keep all of us happier if I suggest an activity. She responds well to prompts and invitations to play. Once I get her started, she is on a roll!
And if I get out a bunch of stuff for her to experiment with, little brother almost always wants to join in as well. So, I try to give them crafts and projects that both of them can do. Bonus points when it keeps them busy while I work and doesn't require close supervision the entire time.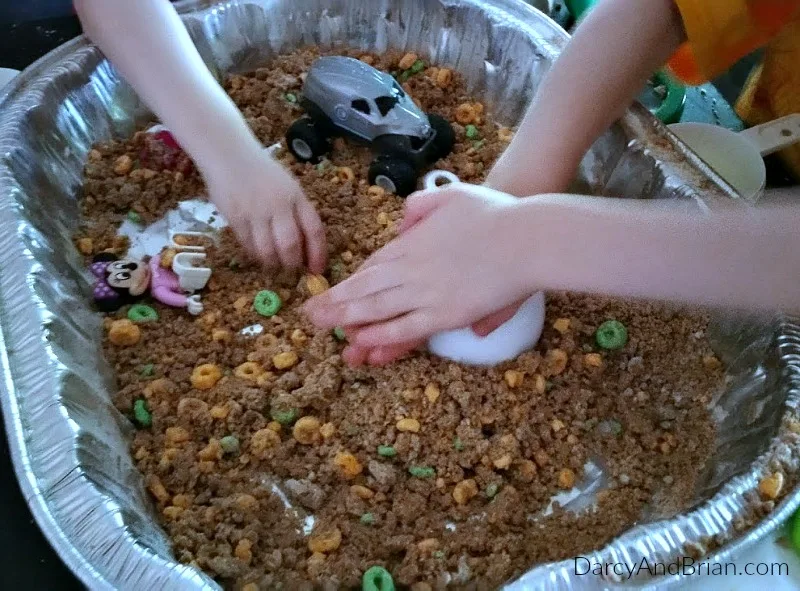 After receiving a copy of The Undeniable Power of Play for review and looking through it, I decided play dirt was what they needed to engage with and I knew I had everything I needed to make it. We mostly followed the directions from The Undeniable Power of Play. All the ingredients are edible: flour, baking soda, salt, hot chocolate mix, water, and olive oil.
Side note. If you accidentally grab a teaspoon instead of a tablespoon, it's still possible to wing the olive oil measurements. This play dirt recipe seems forgiving!
I let the kids take turns measuring and pouring ingredients into a disposable roasting pan. I knew I'd want something with high walls to help contain the play dirt. (They still managed to get a bunch on the table and some on the floor, which the dog attempted to clean up for me.) My daughter touched each ingredient, commenting on how it felt. After mixing together our edible play dirt, we added crushed Apple Jacks to add more color variety.
While I love involving my kids in chores and think digging in the dirt is good for them, sometimes it's nice to change things up. I found this to be a great idea for a rainy day or snow day activity. I also liked the consistency it had for packing and molding, but it wasn't too sticky or tough.
Plus, when your kids like to stick things in their mouths (mine are finally outgrowing this!), it's nice to know it's safe for them to eat. I mean, I personally would not want to sample the play dirt after driving cars through it and digging in it, but little kids aren't as grossed out by all the handling.
They did get a real kick out of it when we decided to add gummy worms to the dirt!
Want to make your own edible play dirt? The full instructions are in The Undeniable Power of Play along with 100 other tips and ideas for play-based learning. I love the variety of activities and how easy most of them are to set up (and some we've done before). I think my favorite thing about this book (besides lots of great ideas to get you playing together) is the added information beyond how to set it up. There are tips on how to modify and adapt the activity for different age groups, sample questions to ask to get them thinking, take aways, and even more ideas to help build upon your child's play. I think it's a fantastic resource!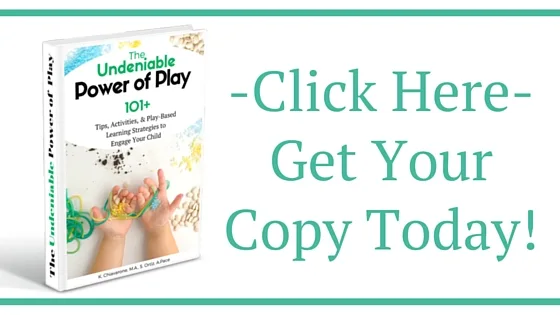 The Undeniable Power of Play is available on Kindle as well as an ebook PDF. Personally, I like the ebook PDF because there are handy printables included as well.
Next time, we might get out the blender to make cookie dust and swap that for the hot cocoa mix. Aaaand I might measure the olive oil correctly. We'll see.
Are you ready to dig into play? Have you ever made your own edible play dirt with the kids before? Share your favorite play-based learning activity with us!
Don't miss these other fun kids activities!
Superhero Water Learning Activity
Truffula Trees Fork Painting
Fairy Wand Kids Craft