"No! Don't take the recycling out. I….need some of it." A sheepish grin spreads across my face as my husband tries to get his weekend chores done.
Lately fewer plastic items (bottles, jugs, etc) have been making it outside to our recycling bin. Since being bitten by the craft bug again, I keep seeing endless craft ideas for kids every time we finish off a container of some sort.
If I'm not careful, we might end up with an entire bird sanctuary in the backyard. I'm 95% most of the bottles I'm saving will turn into bird feeders and houses.
The kids don't mind though! It wasn't too long ago where we had lots of ideas but materials were scarce. Now, my recycling is overflowing, but I know we'll be putting most of it to use in future craft projects. And let me tell you, I love to save on craft supplies. Art and craft projects that are easy to make while using common household items are my favorite.
So what can you do with a bunch of empty plastic bottles? One fun idea was trying them out as DIY stampers. The kids loved doing this with cut vegetables and driving toy cars through the paint. You never quite know what it will look like. Sometimes they even resemble something, like flower blossoms!
Soda Bottle Blossoms Flower Print Craft
This post contains affiliate links.
Materials:
White paper
Craft paint
Twigs
Plastic soda bottle (or another bottle with a similar shape)
Tacky Glue
Paper plate
Scissors
Directions: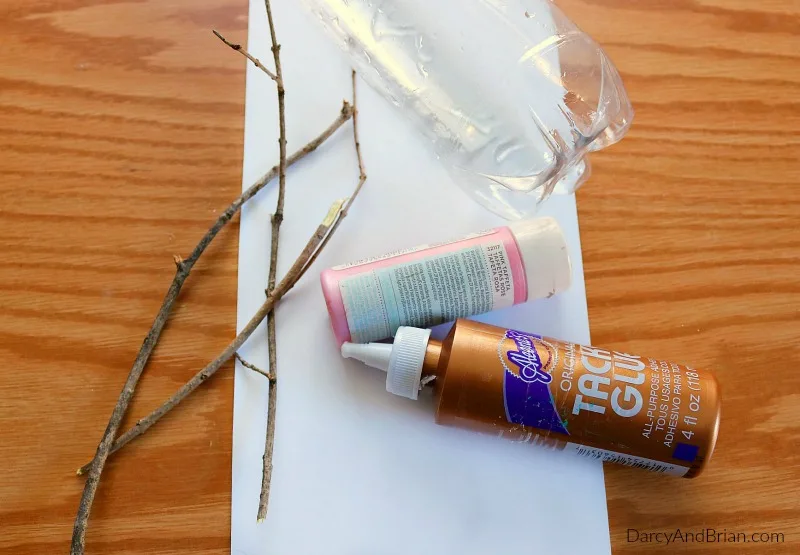 Find a few sticks good from your backyard or task the kids with gathering twigs. You can cut or break the twigs into various sizes. If you can't use twigs, you can also use craft popsicle sticks or pipe cleaners.
Arrange the twigs on the paper, then glue them into place.
Choose the paint color you want to use for your flowers and squeeze a small amount of paint in the middle of the paper plate.
Dip the bottom of the plastic soda bottle into the paint and press it down at the end of each twig. This will make an impression similar to a flower blossom.
Repeat for as many flowers as you want to make. You can also wipe off the bottom of the bottle and use other colors if you wish.
When you're finished this could be matted and made into a beautiful homemade gift too!
So, the next time you finish a bottle of juice, water, or soda, think about how you can turn that bottle into a fun craft for the kids. Use it in paint like we did with these soda bottle blossoms or turn it into a fairy house. Don't take the recycling out just yet, your craft supplies might be waiting in there!
Don't miss these other fun kids craft activities: