You are going to love these easy to make Rainbow Unicorn Poop Rice Krispie Treats!
I've included instructions for making these rice crispy treats with the microwave or stove top. Plus a few tips on how to keep your rice krispie treats from getting hard, how to store them, and how long they last.
Want even more birthday treat ideas? Check out these Rainbow Recipes for Kids Birthday Parties
Rice krispie treats have been one of my favorite sweet snacks since I was a kid.
They are easy to make and the best part? Even if they don't turn out perfectly, they still taste great.
How to Make Rainbow Unicorn Poop Rice Krispie Treats Recipe
This post contains affiliate links. As an Amazon Associate and a participant in other affiliate programs, we earn a commission on qualifying purchases.
Kids love unicorns and think poop emojis are hilarious, so why not combine them for a fun variation on the classic rice crispy cereal treat?
These Rainbow Unicorn Poop cereal treats are perfect for a unicorn themed birthday party or a fun family game night or movie night.
Serve them as is or put them on a popsicle stick to turn them into Unicorn Poop Crispy Treat Pops!
You could also wrap them individually for a yummy birthday party favor.
Ingredients for Unicorn Rice Crispy Treats
Homemade Unicorn Rice Krispie Cereal Treat Directions
Printable recipe instructions are available at the bottom of this post.
I've always made rice crispy treats using the stove, but you can also make them using the microwave.
Do you prefer soft rice crispy treats or the extra crispy ones? You know the ones that scratch the roof of your mouth when taking a bite?
If you want to keep your rice crispy treats from getting hard, you'll want to use low heat to melt the butter and marshmallows.
Using high heat may seem quicker, but they may not turn out as soft after cooling.
How to make them in a microwave:
Place the mini marshmallows in a large, microwave-safe bowl (I love these bowls).
Microwave the marshmallows in 45 second bursts, stirring well in between, and heating more as needed.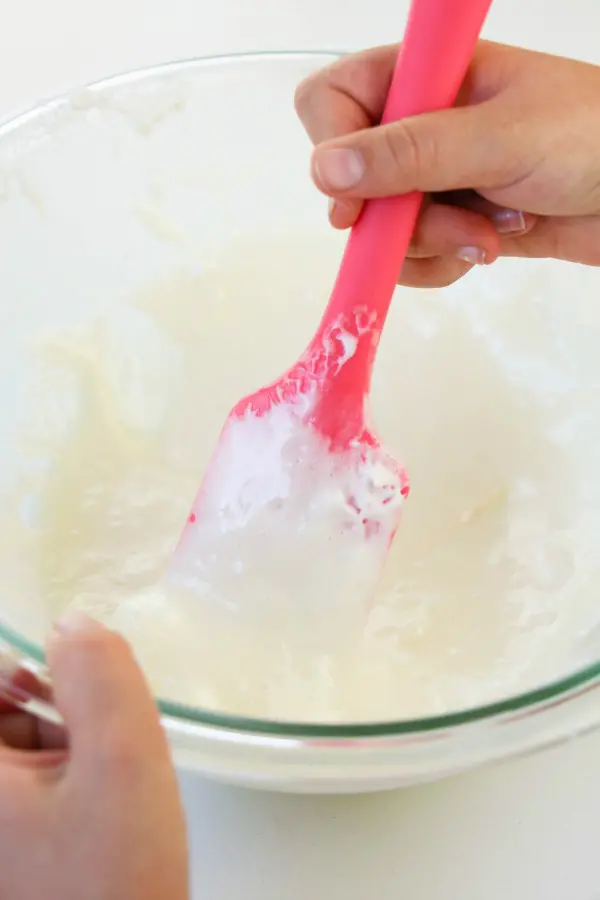 Add the butter and stir until melted.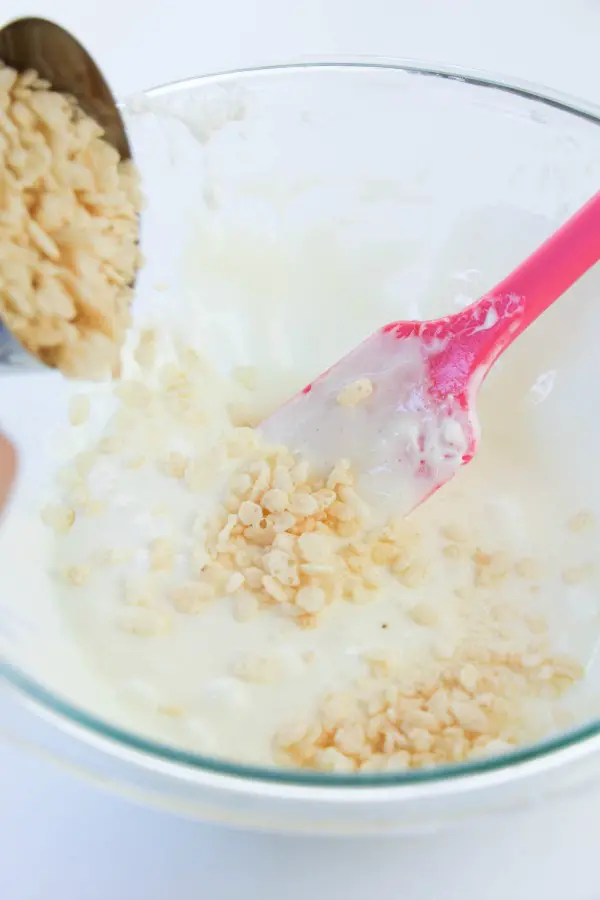 Add 1 cup of Rice Krispies cereal at a time to mix in the melted marshmallows and butter.
How to make them on the stove:
Melt butter on low heat in a large saucepan on the stove.
Once the butter is melted, add the marshmallows. Keep stirring until the marshmallows melt into the butter.
Remove the saucepan from the heat and mix in the cereal.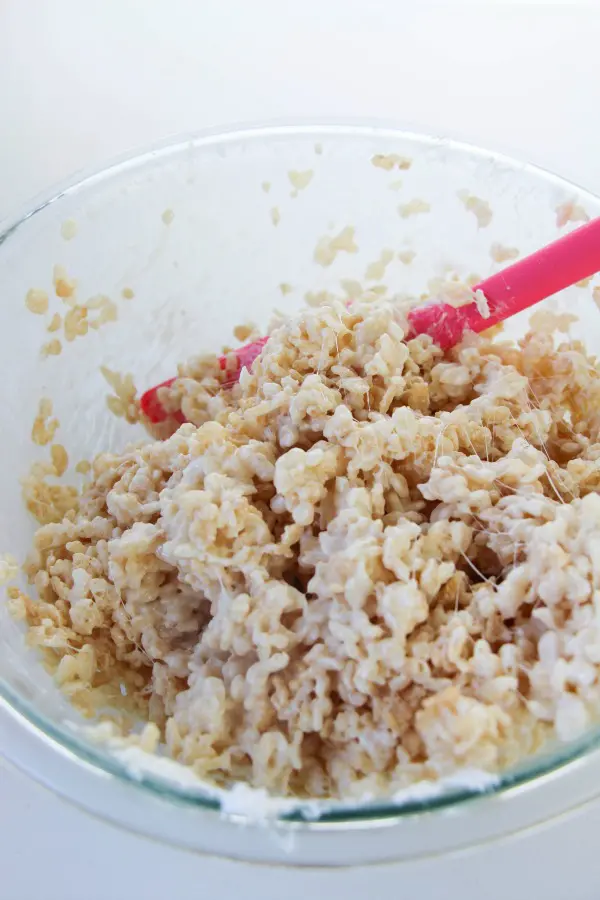 Whether you used the microwave or the stove, it's time to put your mixture into a pan.
Grease or butter an 8″ x 8″ casserole dish. You can also line it with parchment paper and give that a quick spray with no stick cooking spray.
Press the cereal mixture into the dish using a lightly buttered spatula.
Then press down on the rice crispy mixture using clean, wet hands to prevent sticking.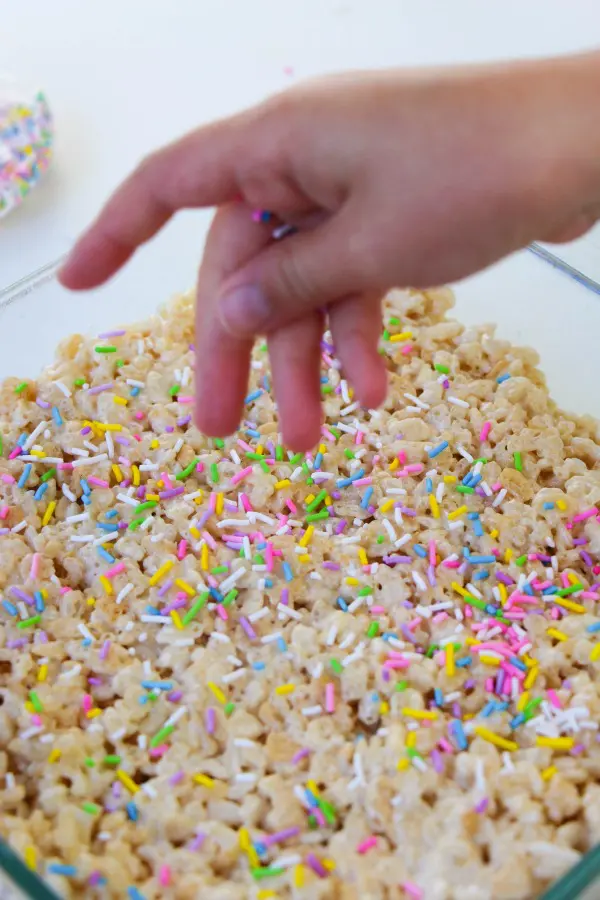 Sprinkle rainbow sprinkles or jimmies over the top and press in the chocolate chips.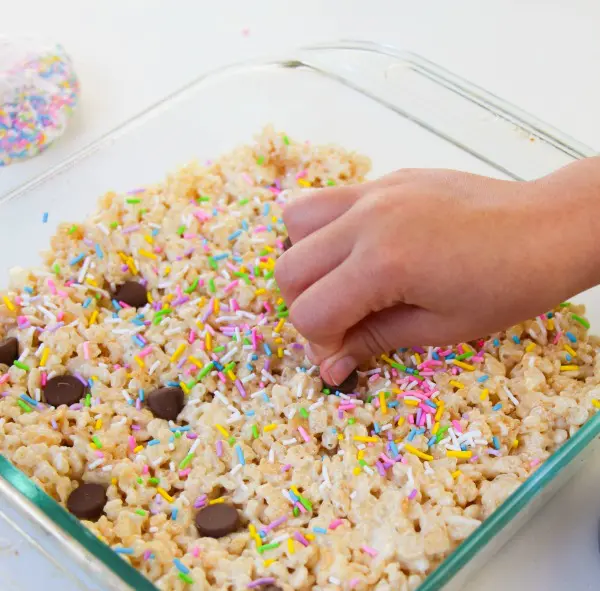 Let it set for about two hours, then slice and serve. Makes 9.
More Rice Crispy Treat Recipes:
How long to wait before cutting unicorn rice krispie treats?
It's tempting to immediately sample your delicious unicorn rice crispy treats, but you'll want to let your crispy cereal treats to set first.
Trust me, it's worth the wait.
I recommend refrigerating them for two hours (or overnight) before slicing. At the very least, let them set for 30 minutes to an hour.
How to store unicorn rice krispie treats?
You'll want to store your homemade rice crispy treats properly if you actually have some left over, or you made this unicorn poop rice crispy variation for a birthday party.
After slicing the rice krispie treats, place them in an airtight food storage container. Put wax paper between the layers so they do not stick together.
This will make it easier to hand them out at a birthday party too.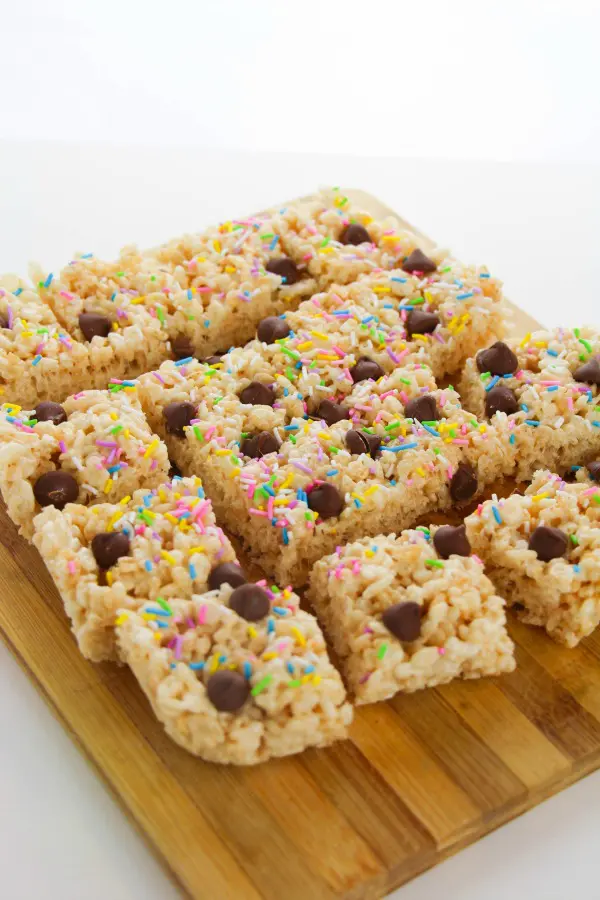 How long do unicorn rice krispie treats last?
In our house? Not long… maybe a few hours.
I'm kidding! (Sort of)
If you are storing leftover unicorn poop rice crispy cereal treats or making them ahead for a party, they are good for about three days in an airtight container at room temperature.
Did you know you can freeze rice krispie treats? This is great if you like making and baking sweets in batches. Freeze these treats for up to six weeks.
RELATED: Tips for Holiday Baking in Batches
I hope you enjoy making these Rainbow Unicorn Poop Rice Krispie Treats. Make them as a magical surprise for your kids or make them with your children.
They will love helping – and eating – these delightful sweets.
More Birthday Treat Ideas for Kids:
Love Rainbows and Unicorns? Here Are Rainbow and Unicorn Activities for Kids:
Printable Rainbow Unicorn Poop Rice Krispie Treats Recipe
Total Time:
1 hour
10 minutes
Easy bright and colorful marshmallow crispy cereal treat perfect for children's birthday parties.
Ingredients
4 cups mini marshmallows
2 Tablespoons butter
6 cups Rice Krispies cereal
4 Tablespoons rainbow sprinkles
1/4 cup chocolate chips
Instructions
In microwave: Place the mini marshmallows in a large, microwave-safe bowl. Microwave the marshmallows 45 seconds at a time, stirring in between. Add the butter and stir until melted. Add in the Rice Krispies cereal 1 cup at a time, and continue mixing until you reach your desired marshmallow to cereal ratio.

On stove top: Melt butter over low heat in saucepan. Add marshmallows and stir until completely melted into the butter. Remove from heat and mix in Rice Krispies cereal.

Grease or butter a 8" x 8" casserole dish and press the cereal mixture into the dish using a buttered spatula.

Press down using clean, wet hands to prevent sticking.

Sprinkle on your choice of sprinkles or jimmies and press in the chocolate chips.

Refrigerate for 1-2 hours or overnight before slicing and serving.
Nutrition Information:
Yield:

9
Serving Size:

1
Amount Per Serving:
Calories:

214
Total Fat:

6g
Saturated Fat:

3g
Trans Fat:

0g
Unsaturated Fat:

3g
Cholesterol:

7mg
Sodium:

136mg
Carbohydrates:

40g
Fiber:

0g
Sugar:

20g
Protein:

2g
Nutrition information isn't always accurate and may vary based on ingredients and measurements used.