Simple Craft Ideas for Kids are a must for any time you have the kids underfoot while you are home working or trying to stay busy.
We've been creating amazing craft ideas for you for years now, and finally compiled them into one easy to read location.
This list includes crafts that are ideal for everyday fun, as well as great holiday themes.
Check out the list and find the simple craft ideas that fit your needs today!
Simple Craft Ideas for Kids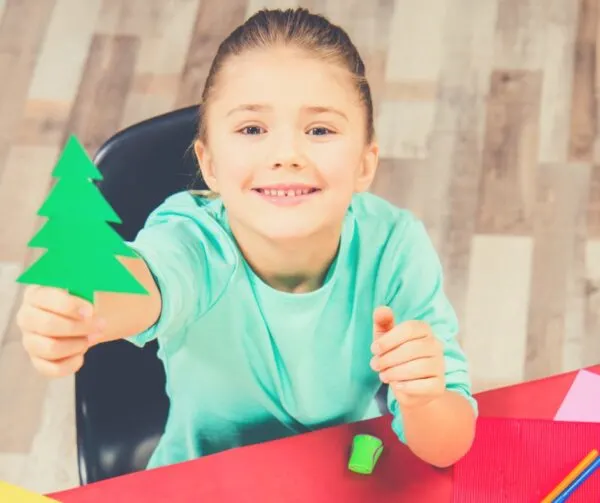 Spring Themed Simple Craft Ideas
This list starts with the fun spring holidays like St. Patrick's Day crafts, Easter ideas, and even something for Earth Day.
We've also included other similar Spring themed subjects in this list of crafts, along with Mother's Day which falls toward the end of Spring and early summer.
You'll love this list of crafts as a fun way to spend a few hours in the Spring.
20 Easy Easter Crafts For Kids
Handprint Chicken Paper Plate Craft
Fun Spring Crafts For Kids: Hatching Chick
Heart Transfer Mother's Day Card Craft
Summer Themed Simple Craft Ideas
Summertime brings about a ton of free time for kids to create these simple craft ideas. From the first on our list being a special treat for Father's Day to the summer themed seashell crafts and superhero activities for kids, you'll love this list as a great place to start.
Keep kids busy on long summer days with amazing craft ideas they will love!
My Dad Rocks Keepsake Father's Day Box
Fun DIY Kaleidoscope Kids Craft
Fun & Easy Sun Paper Plate Preschool Craft
How To Make A Seashell Bird Feeder
How To Make Soda Bottle Blossoms
Double Sided Star Wand 4th Of July Kids Craft
Superhero Water Learning Activity
20 Superhero Activities For Kids
15 Disney Themed Kids Craft Ideas
Fall Themed Simple Craft Ideas
Fall is one of my favorite times of the year and is perfect for getting creative with decorations your kids can make. We'll be adding more to this list in the Fall, but for now, take a look and explore what we already have to share!
Halloween Spaghetti For Sensory Play
Thanksgiving Craft Cute Turkey Box
20 Easy Fun Turkey Crafts For Kids
Winter Themed Simple Craft Ideas
Simple craft ideas for the colder months include things for Christmas, Valentine's Day, and even Dr. Seuss's birthday! This is where some of our favorite crafts are, and we are sure you will love these ideas with your kids!
Dr. Seuss Truffula Trees Fork Painting
Home Is Where The Heart Is Popsicle Stick Craft
15 Fun Toddler Valentine Crafts
Disney's Frozen Theme Paper Roll Bracelet Craft
Easy 3D Edible Marshmallow Polar Bear Craft
Edible Christmas Craft: Christmas Tree Cones
20 Beautiful DIY Christmas Ornaments
Whether you are looking for something to keep your kids busy on a day they are home from school, or you are looking for a holiday craft to make, this list is a great place to begin.
Making a simple craft is a great way to connect with your children while having fun in the process!