Are you looking for simple Thanksgiving crafts for kids? Our cute printable turkey craft is the perfect option! This easy, no-mess activity is great for little ones to make at home or school, making it ideal for preschool and kindergarten.
Kids can color the turkey's body, wings, and tail feathers, then cut and paste them together on a piece of construction paper. Not only is it a fun and simple turkey craft for preschoolers, but it also helps them develop their fine motor skills.
Plus, each printable includes the turkey cut out craft and a page to color and disguise a turkey, adding a touch of creativity and excitement to their craft time!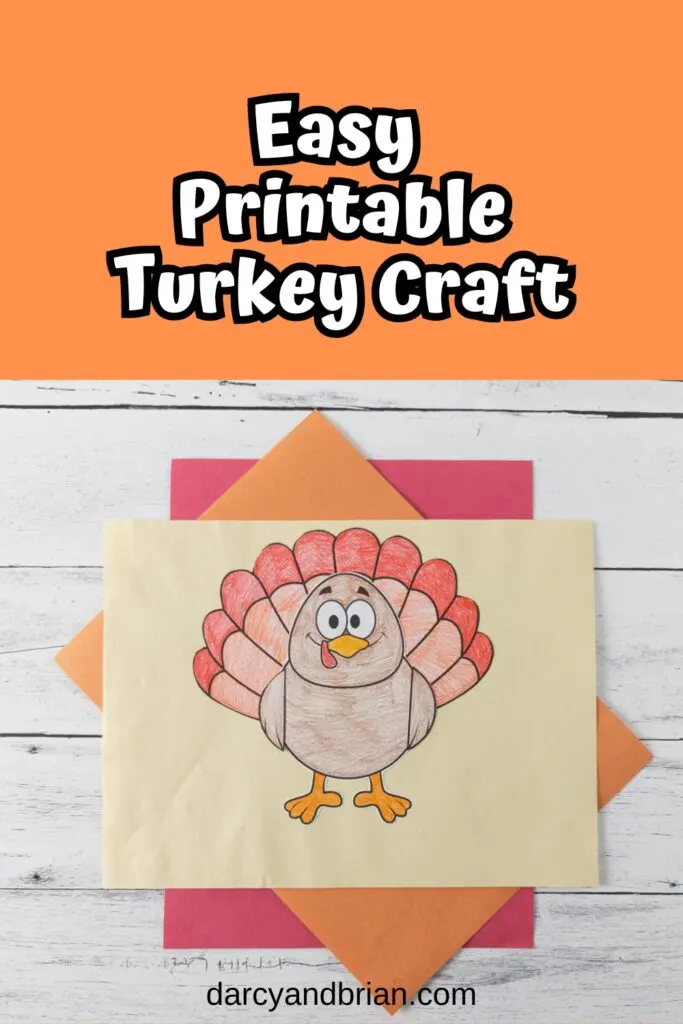 Fall is a fantastic time of year for kids to create turkey crafts and learn all about these fantastic birds. These crafts not only provide a fun-filled activity, but also serve as an educational tool.
Plus, the act of making the craft, coloring it, and bringing their turkey to life, can stimulate their imagination.
It also reinforces their understanding of the fall season and its associations, while keeping them happily occupied.
Benefits of Making a Turkey Cut Out Craft
Working on this cut and paste printable turkey craft offers numerous benefits for children.
Engaging in such hands-on activities can greatly enhance their fine motor skills, which are essential for everyday tasks like writing, cutting, buttoning, and typing.
As kids color, cut, and assemble their turkeys, they're not just making art—they're learning to manipulate tools and materials with increasing precision.
Additionally, this craft can help kids improve their understanding of colors, shapes, and spatial relationships, offering an engaging way to learn these fundamental concepts.
It also encourages creativity, as children can take pride in creating their own unique turkey designs.
Lastly, completing the project gives children a sense of achievement and boosts their confidence, making art an enjoyable and fulfilling experience.
This post contains affiliate links. As an Amazon Associate and a participant in other affiliate programs, we earn a commission on qualifying purchases.
Ticonderoga My First Short Triangular Wood-Cased Pencils
JuneLsy Pencil Grips for Kids Handwriting Pencil gripper Pencil Holder Posture Correction Training
The Pencil Grip Original Pencil Gripper, Universal Ergonomic Writing Aid For Righties And Lefties
Fiskars Training Scissors for Kids 3+ with Easy Grip
Scissor Skills Preschool cut & paste cats activity pad for kids: Cat Coloring Book & Scissor Activity Book
Ticonderoga Wood-Cased Pencils, Pre-Sharpened, 2 HB Soft, Yellow, 12 Count
Are Scissor Skills Important for Preschoolers to Practice?
Yes, developing scissor skills at a young age is incredibly beneficial. The act of cutting requires a child to manipulate an object with precision, which can substantially improve their fine motor skills.
When a preschooler holds a pair of scissors, they're not just making a physical action; they're also learning to coordinate their hand movements with their visual perceptions—an essential skill known as hand-eye coordination.
As they manipulate the scissors around a shape, they are learning how to command their fingers to move in the way their eyes are directing.
This skill is important not just for future art projects, but for a range of everyday tasks, like tying shoelaces, using a computer mouse, or writing with a pencil.
In other words, practicing with scissors can lay the foundation for a number of essential abilities that children will need throughout their lives.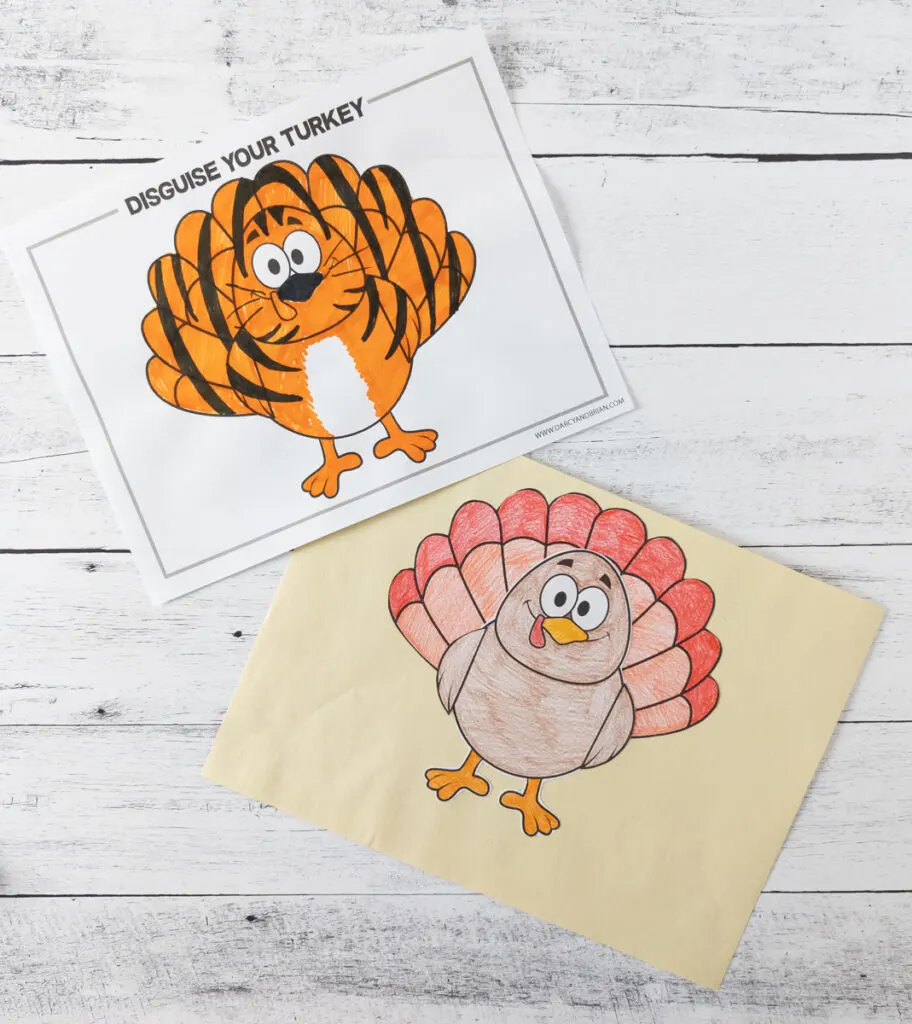 More Printable Crafts for Preschoolers
We have an exciting range of other printable crafts for children to explore and enjoy, all designed to promote creativity, learning, and of course, fun!
Our collection includes simple yet delightful projects like cute animals and holiday-themed crafts. Each printable craft provides children with an opportunity to practice their scissor skills in a fun, hands-on manner.
As they cut out their craft pieces, children aren't just creating—they're also refining their fine motor skills and hand-eye coordination, making them essential tools for their developmental journey.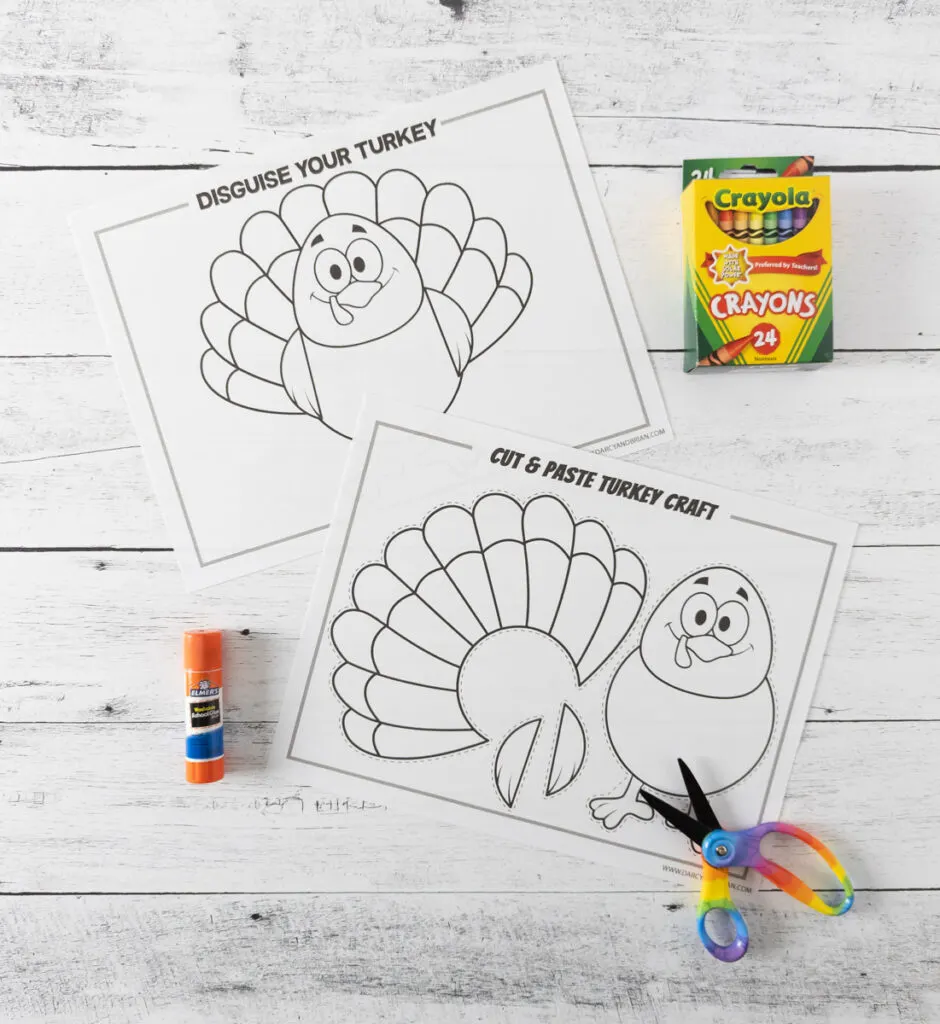 Printable Turkey Craft Supplies
This printable turkey craft is a low-prep and low-mess activity, making it easy to set up, particularly for a group setting like a classroom.
All you need are the free turkey cut-out craft printables provided at the end of this post, alongside crayons, colored pencils, or markers for the kids to bring their turkeys to life.
For assembling, you'll need construction paper to mount the turkey and either a glue stick or liquid school glue for sticking the pieces together.
And let's not forget the kid scissors, a key tool in this activity!
Apple Barrel Acrylic Paint Set, 16 Piece (2-Ounce), Best Colors Count
Bassion Pack of 2 Kids Art Smocks, Children Waterproof Artist Painting Aprons Long Sleeve with 3 Pockets for Age 2-6 Years
AdTech Ultra Low-Temp Cool Tool | Mini Hot Glue Gun for Safe Crafting | Children and Kids | Item #05690 , White
Aleene's Turbo Tacky Glue, 4 FL OZ – 3 Pack, Multi
How to Make a Printable Turkey Craft
To begin, print out the printable turkey craft page. Proceed by coloring each piece using crayons, colored pencils, or markers.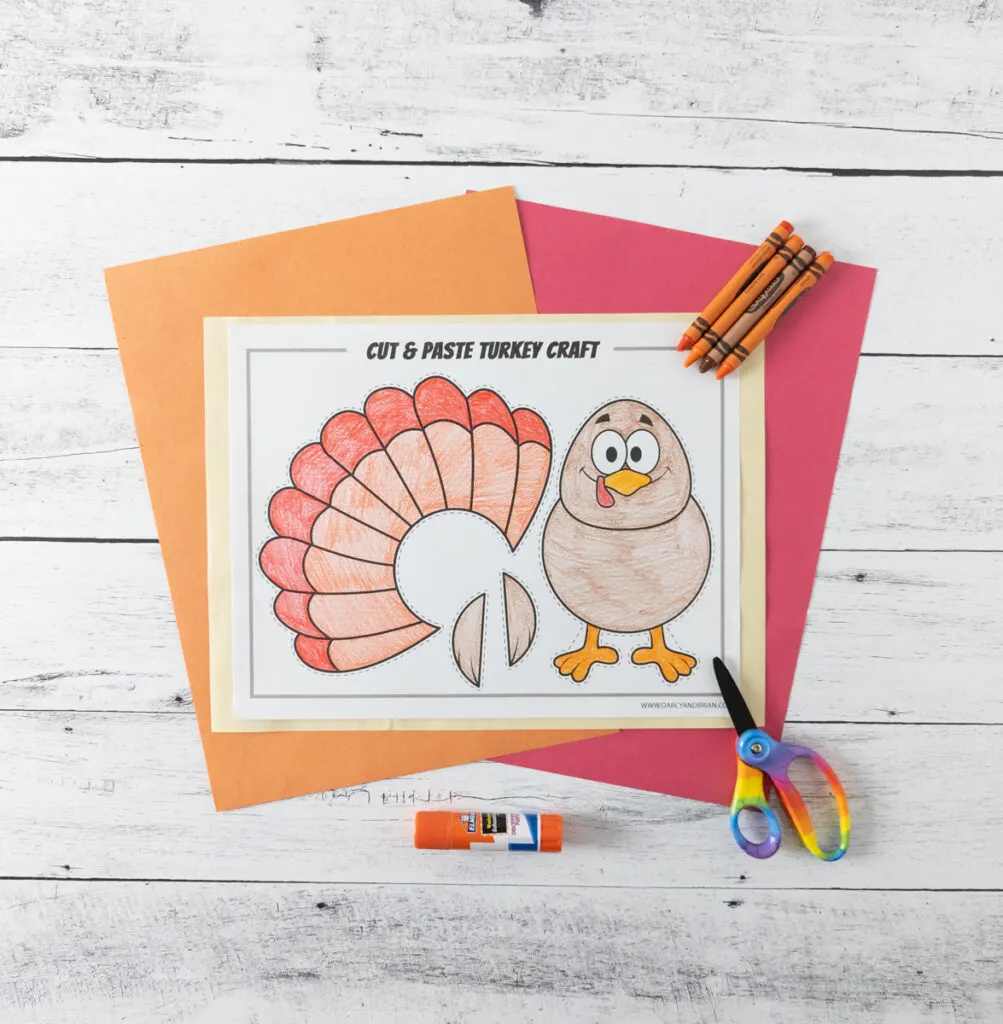 Once all the pieces are colored, carefully cut them out. Choose a piece of construction paper and arrange the pieces to get an idea of how they will look and fit together.
Start by gluing down the feathers, followed by overlapping the body with the feathers and gluing it in place. Lastly, attach the wings with glue. Allow the turkey to dry before hanging it up.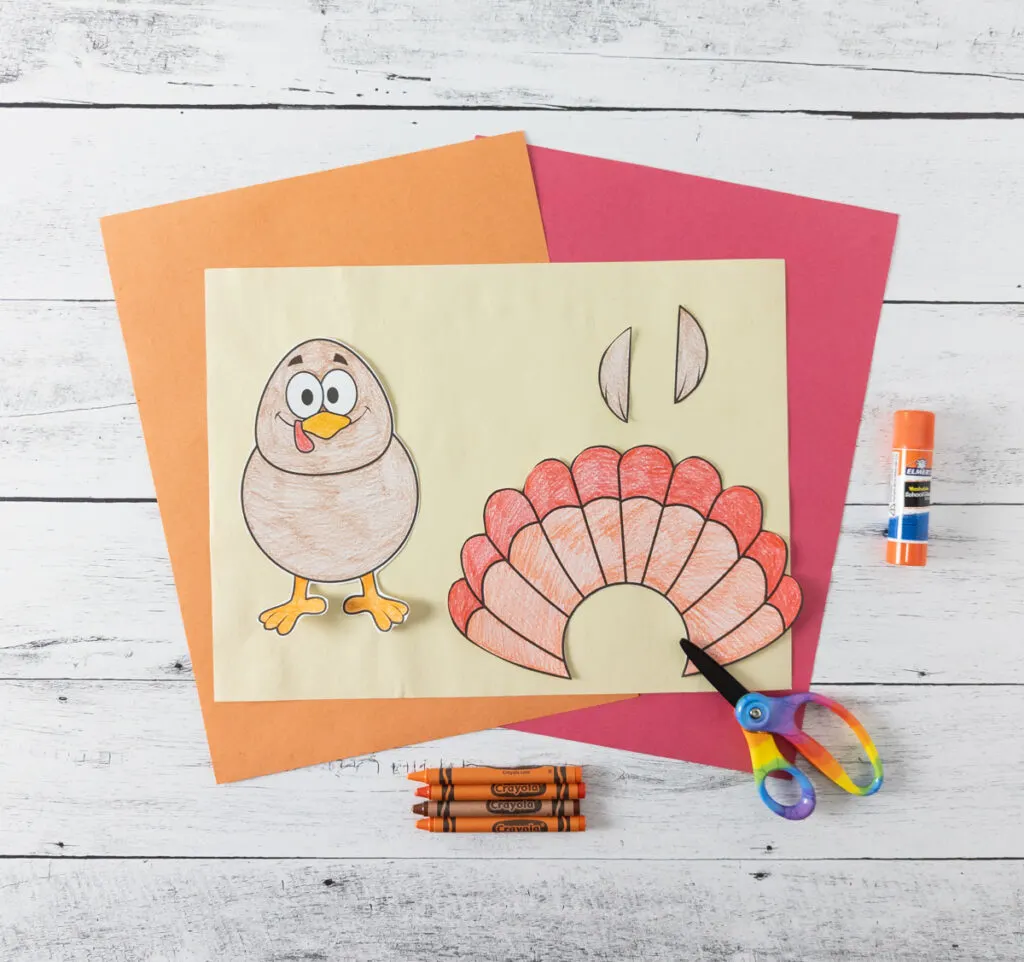 For the disguise a turkey page, get creative in coloring the turkey so it doesn't look like a turkey! You can cut it out after you are done or use it to plan out a disguise for your cut and paste turkey craft.
Ways to Use This Make a Turkey Craft
This versatile turkey craft can be used in lots of ways, both at home and in school. For example, it could be a cool activity after reading a related book, sparking fun discussions and reinforcing concepts.
At Thanksgiving dinner, the craft could be a fun thing to do at the kids' table, keeping the little ones entertained. You could even have a 'Disguise a Turkey' contest to make it more exciting.
While making the turkey, teachers can also talk about the turkey's anatomy. Kids can also use this parts of a turkey worksheet, making it educational and fun.
A scavenger hunt using the turkeys hidden around the room could be a super fun game.
Kids can also make multiple turkeys and write something they're thankful for on each one, which is a nice way to foster gratitude.
The turkey craft can also be used to decorate the front of a card, perfect for giving to family and friends. And of course, it's a great addition to a Thanksgiving-themed art center.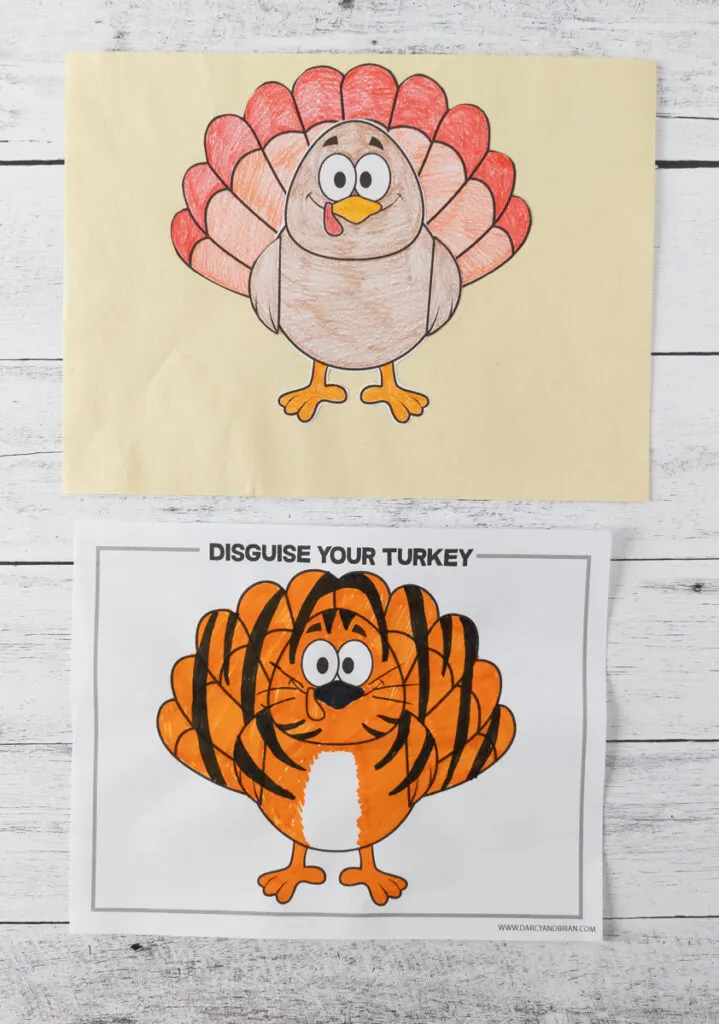 Turkey Books for Kids
Including books about turkeys along with this craft project is a fantastic way to engage young children and foster a love of reading.
Reading aloud to preschoolers not only helps them develop language skills but also stimulates imagination and expands their understanding of the world.
In 'How to Catch a Turkey,' follow the hilarious adventure of kids trying to catch a clever turkey. 'There Was an Old Lady Who Swallowed a Turkey' tells the silly tale of an old lady gobbling up a turkey and more.
'A Turkey for Thanksgiving' follows the heartwarming story of a turkey invited to Thanksgiving dinner. In 'Run, Turkey, Run!' join a turkey's thrilling escape from becoming a Thanksgiving feast.
Don't forget to check out 'Turkey Trouble' by Wendi Silvano, where a turkey disguises himself to avoid being on the Thanksgiving menu!"
Stories like these are all excellent choices that could beautifully supplement this turkey craft project.
There Was an Old Lady Who Swallowed a Turkey!
A Turkey for Thanksgiving
Run, Turkey, Run!
Turkey Trouble
How to Catch a Turkey
Turkey Goes to School (Turkey Trouble)
More Turkey Crafts for Preschoolers
For more turkey-themed fun, consider trying out some additional craft ideas with your little ones.
Kids can create colorful coffee filter turkeys using colored coffee filters and clothespins, or make a turkey suncatcher craft with tissue paper and our printable craft template.
Another option is to fashion a turkey out of a pinecone for a touch of nature. A simple popsicle turkey craft that they paint and glue together makes a cherished keepsake, while a paper bag turkey puppet can provide hours of imaginative play.
Exploring these different craft projects not only cultivates creativity, but also helps children improve their fine motor skills in an engaging and entertaining way.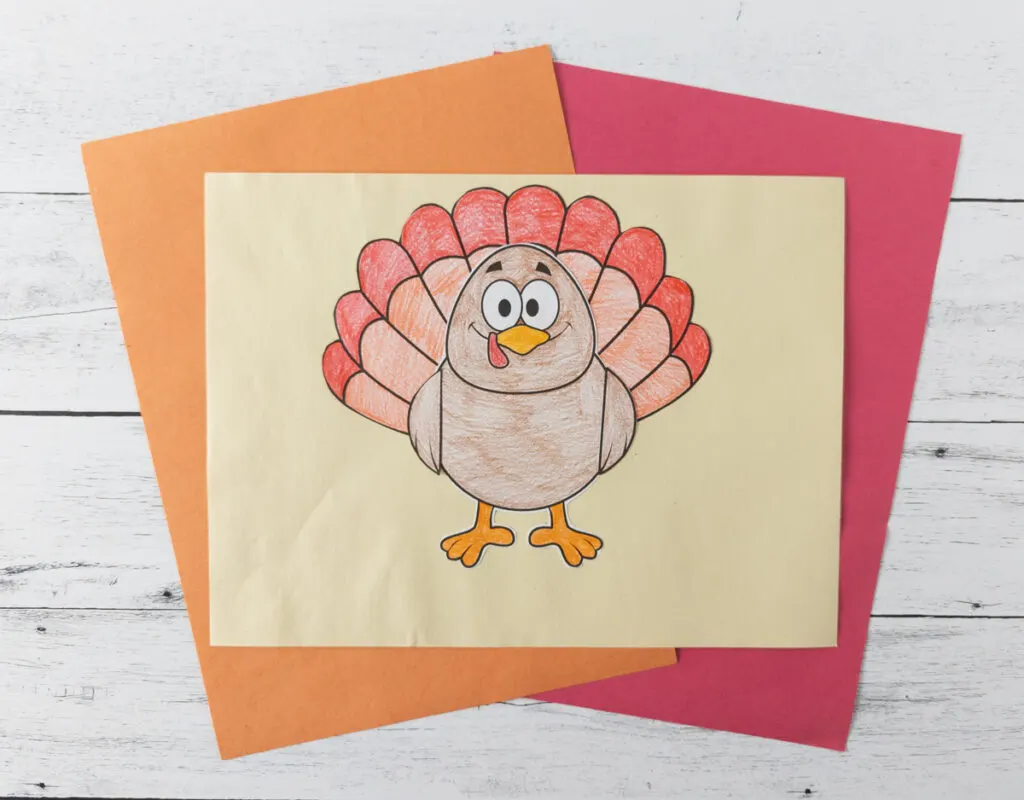 Fun Fall Learning Activities for Kids
As the season turns and the leaves start to fall, make the most of these autumnal months with creative and dynamic fall-themed learning activities.
Our I Spy Thanksgiving printables are perfect for honing observation and critical thinking skills. Kids will have a blast finding all the Thanksgiving-themed items, making learning exciting.
This Turkey Counting Printable Book is an excellent tool for enhancing counting abilities. Young learners will also practice tracing number words on each page.
The Pumpkin Size Sorting activity is an excellent way to introduce the concept of size and measurement to your little ones. It's hands-on, interactive, and a whole lot of fun.
In addition, our worksheet featuring Thanksgiving This or That questions for kids encourages decision-making and critical thinking in an enjoyable, holiday-inspired context.
Each of these activities provides a unique, engaging way for kids to continue learning throughout the fall season.
Indulge your little ones this fall season with this delightful printable turkey craft activity. It is designed to encourage creativity as well as further enhance fine motor skills and cognitive abilities.
There's no better way to celebrate the season than by creating colorful turkey crafts and engaging in fun-filled learning activities. So go ahead, print out these crafts and let your child's creativity take flight this Thanksgiving!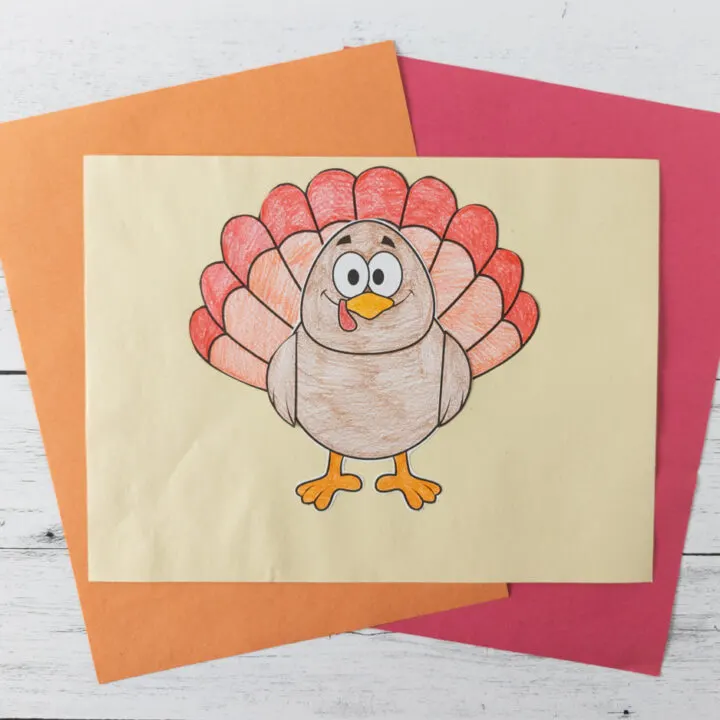 Printable Turkey Craft
Estimated Cost:
$5 or less
This printable turkey craft is the perfect Thanksgiving activity that can be done at home or in the classroom! Your kids will have so much fun coloring, cutting, and pasting this turkey together.
Materials
Printable Turkey Craft (available for free using the form at the end of this post)
Markers or Crayons
Construction Paper
Instructions
Start by printing out the printable turkey craft page.
Then color in all of the pieces. You can use crayons, colored pencils, or markers.
Once everything is colored in, carefully cut out each piece.
Select a piece of construction paper and arrange the pieces so you know how it will look and fit.
Then glue down the feathers first.
Next glue the body so it overlaps with the feathers.
Lastly, glue on the wings. Allow the turkey to dry before hanging it up.
Recommended Products
As an Amazon Associate and member of other affiliate programs, I earn from qualifying purchases.