Our turkey name craft is a wonderful way to celebrate the fall season with your little ones, either at home or in the classroom. As part of our collection of Thanksgiving crafts for kids, it's designed to be both fun and educational.
The free printable templates available at the bottom of this post make it easy to get started – simply cut, paste, and enjoy! This activity not only helps children recognize and spell their own name, but it also hones their fine motor skills.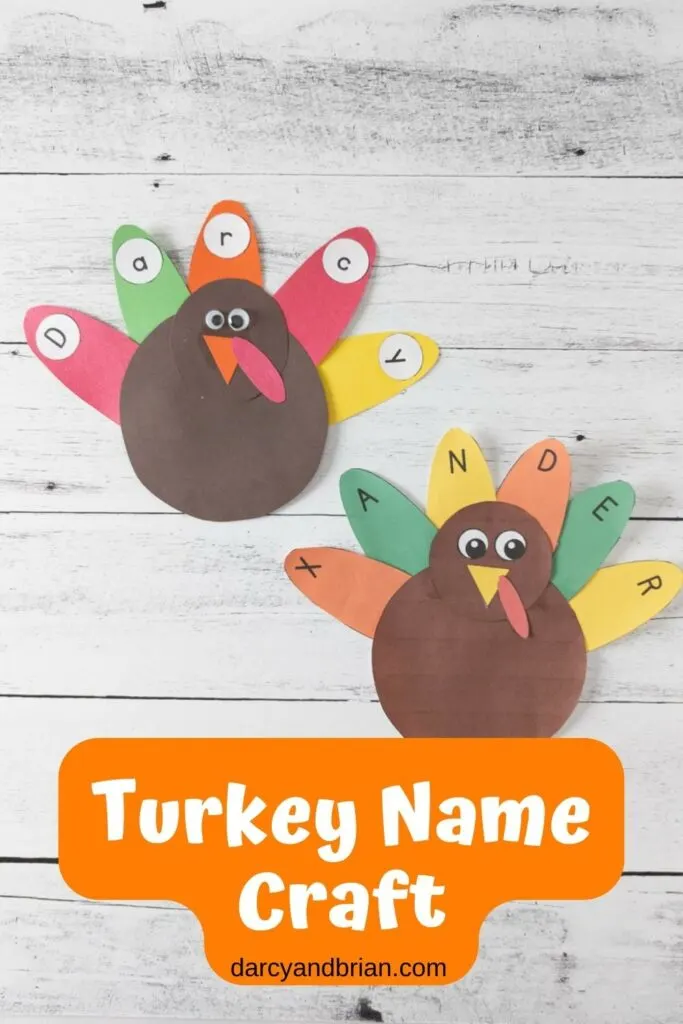 Integrating seasonal themes and craft projects into education adds an element of fun and relatability for young children.
By doing so, they can connect what they learn with their surroundings, creating a more immersive and enjoyable learning experience.
For example, turkeys are synonymous with fall and Thanksgiving, making it the perfect motif for this craft.
The familiarity of the turkey image, combined with the interactive and hands-on nature of the activity, ensures an engaging, enjoyable, and memorable learning experience for your little ones.
This post contains affiliate links. As an Amazon Associate and a participant in other affiliate programs, we earn a commission on qualifying purchases.
Winlyn 24 Sets Foam Owl Decorations DIY Owl Fall Craft Kit
12 Pack Wind Chime Kits for Kids
Winlyn 33 Sets Fall Leaf Pumpkin Acorn Sunflower Suncatchers
WATINC 123pcs Fall Craft Kits for Kids
Kepeel 30 Packs Fall DIY Picture Frames Craft Kit for Kids
Preschool Turkey Crafts
Preschool turkey crafts are a beloved autumn activity that stirs excitement among young children. Their popularity stems from the limitless creativity they offer – there's no one way to create a turkey craft!
Regardless of the method, these easy and fun turkey crafts for kids always result in a colorful, festive keepsake that children can be proud of.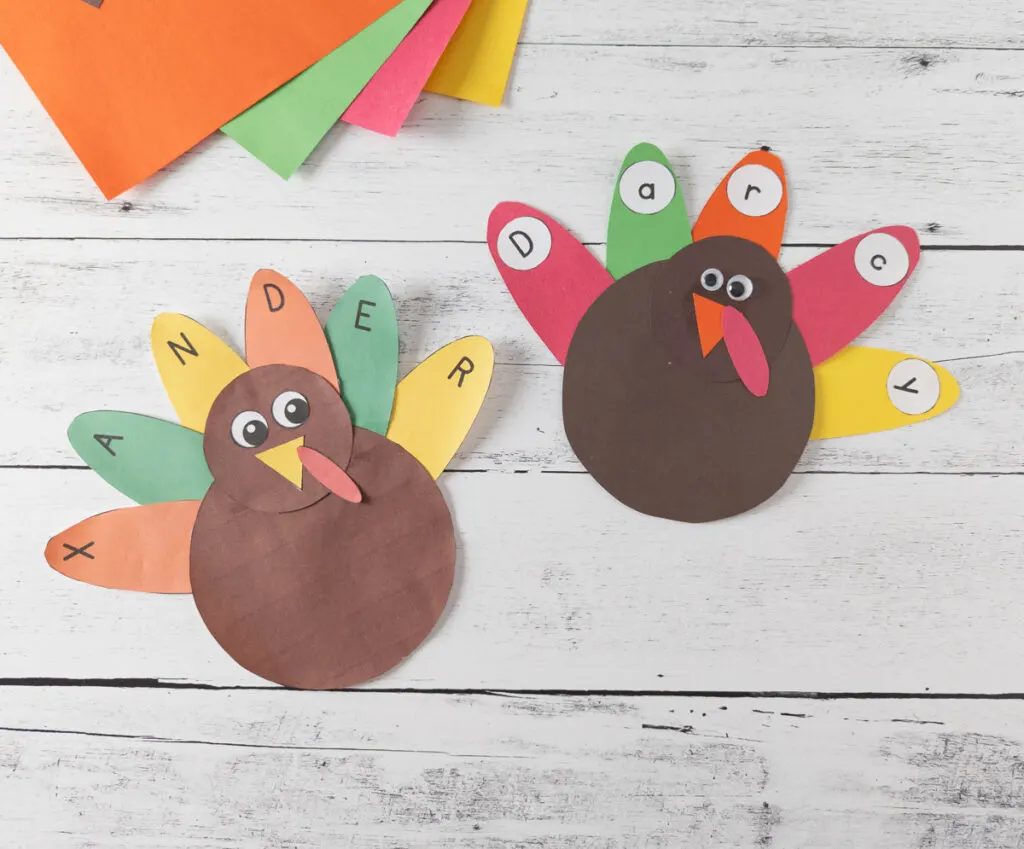 Benefits of a Turkey Name Craft for Preschoolers
Creating a Turkey Name Craft offers numerous benefits for preschoolers. Beyond the delight of creating a festive piece of art, this craft enhances key developmental skills including letter recognition and fine motor abilities.
As children cut, color, and paste the turkey and its feathers, they are refining their motor skills – an essential aspect of early child development.
Additionally, with each feather representing a letter of their name, children also improve their letter recognition and spelling skills.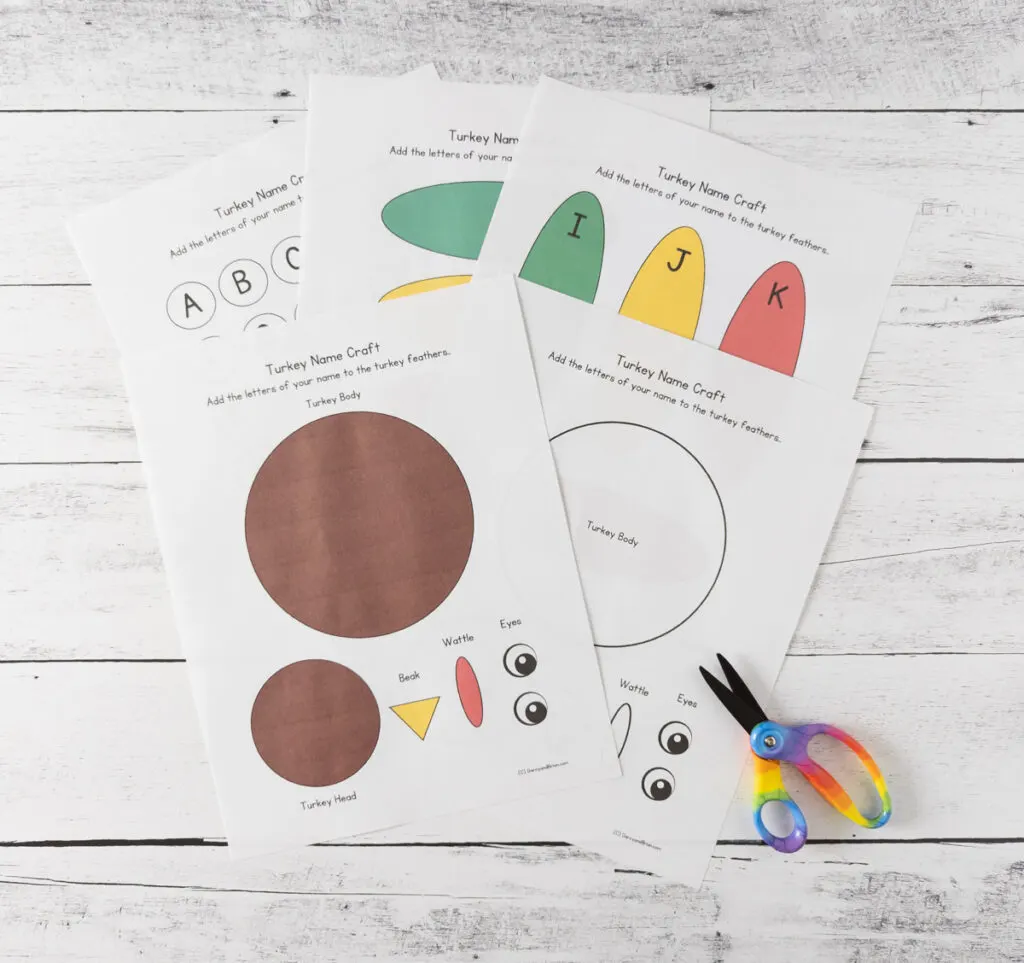 The availability of both colored and black and white versions encourages creativity and individual expression.
This simple yet effective Thanksgiving craft is truly an enriching activity that combines learning and fun, making it an ideal choice for this season.
Turkey Name Craft Supplies
This activity is a delightful and straightforward name craft for young children. To get started, you'll need the turkey name craft printables.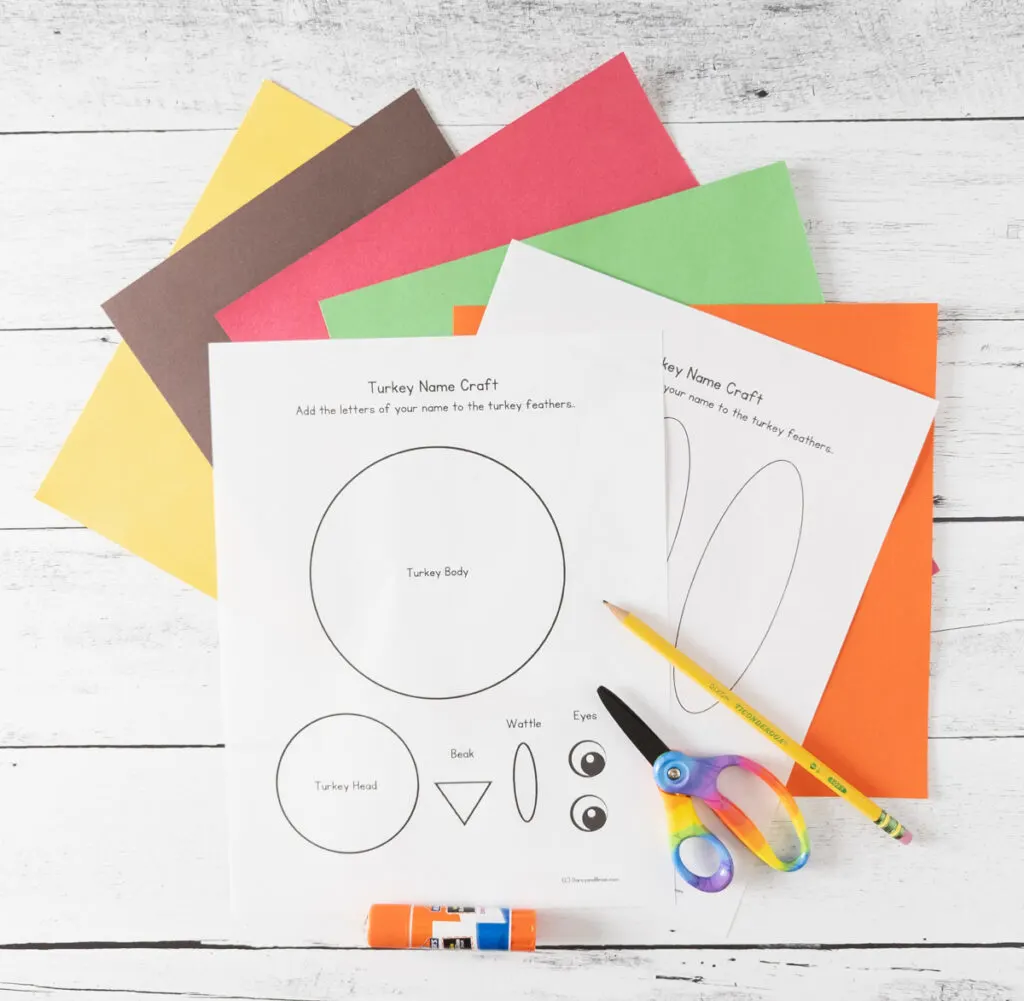 Printable Turkey Name Craft: These printables (available for free at the end of the post) come in a variety of options, including full-color versions of the turkey body and feathers, a black and white version, and feathers with or without letters of the alphabet.
Construction Paper: Gather construction paper in various colors, allowing children to choose their preferred tail feather colors if they wish to trace and cut out each piece.
Glue and Scissors: Additionally, you'll need glue, either liquid glue or a glue stick, and kid-safe scissors for all the cutting.
Googly Eyes: While printable eyes are provided, you can also opt to use googly eyes for added fun and creativity. Enjoy this engaging activity with the little ones!
100 Pack EVA Foam Sheets, 5.5 x 8.5 Inch, Assorted Colors (20 Colors), 2mm Thick, by Better Office Products, for Arts and Crafts, 100 Sheets
Tru-Ray® Heavyweight Construction Paper Pad, 10 Assorted Colors, 9
Crayons, 64 Crayons Per Box, Classic Colors, Built In Sharpener, Crayons For Kids, School Crayons, Assorted Colors – 1 Box
Elmer's Washable Dissappearing Purple School Glue Sticks, 3 Pack, 6 grams Each (E520)
Fiskars® Training Scissors, Turquoise
Fiskars 5
How to Make a Turkey Name Craft
To create a turkey that spells out your name on its feathers, start by printing the necessary pages from the turkey name craft template pack.
For a simpler activity, kids can cut out the full-color version of the turkey and glue the pieces together.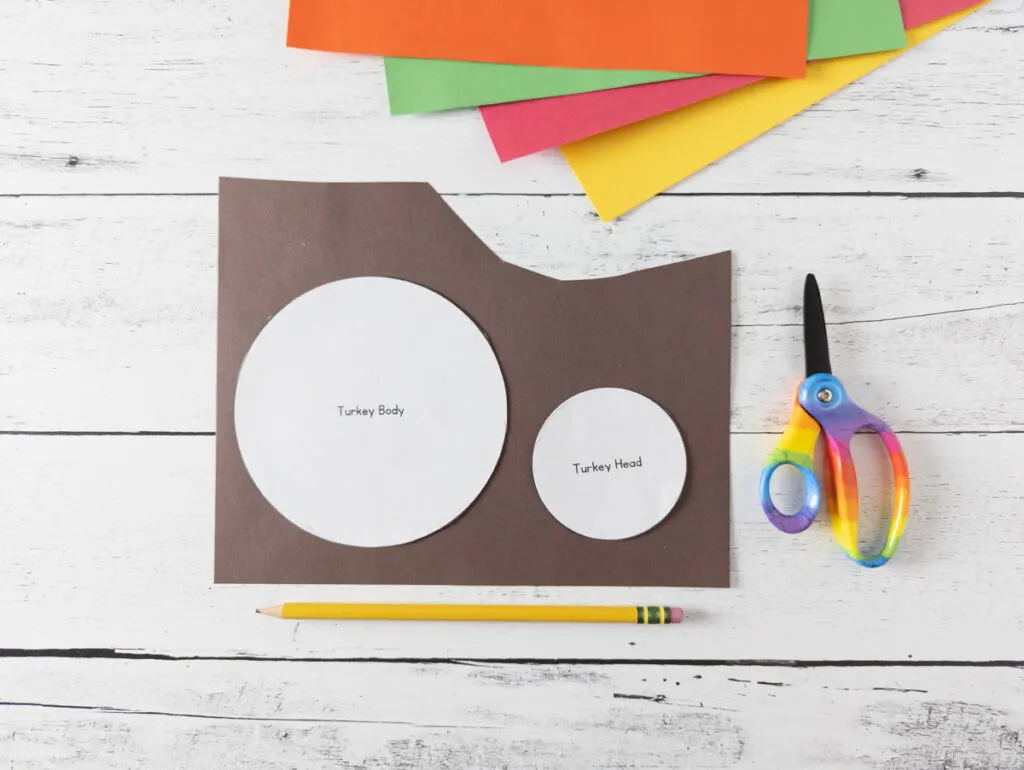 To further develop fine motor skills, children can trace the black and white versions onto construction paper.
Then, cut out all the pieces. An alternative option is to use the black and white version for coloring.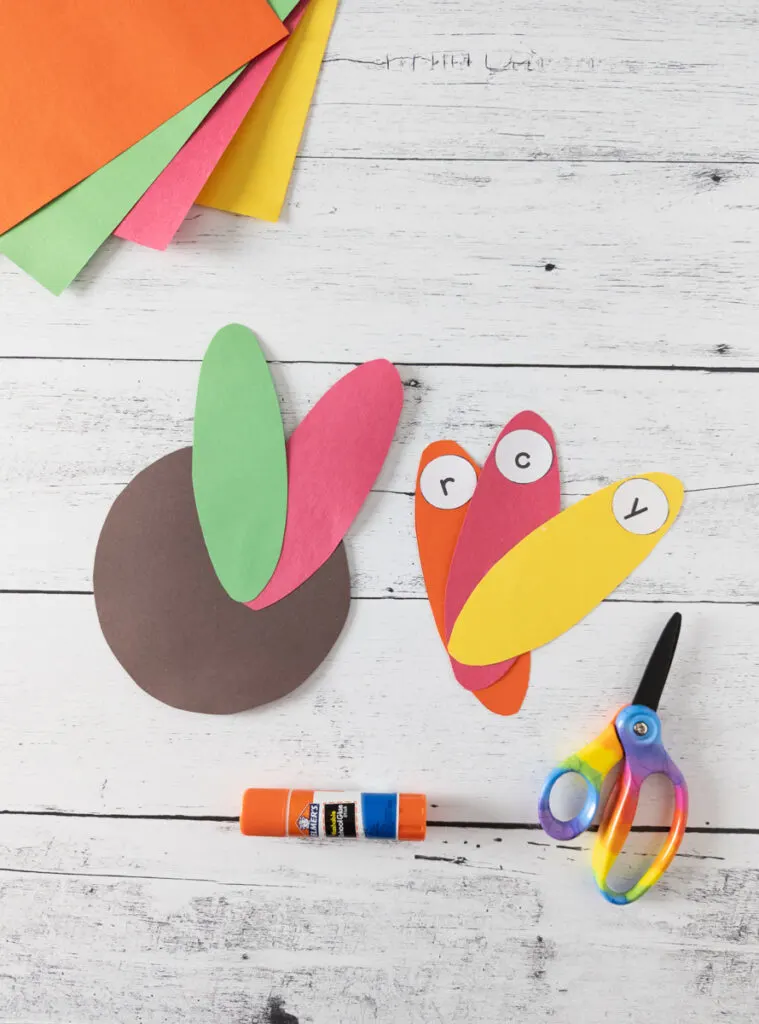 The template includes color feathers, both with and without letters on them. Additionally, there is a set of upper and lowercase letters that can be cut out and glued to the feathers. You can print as many letters as you need.
Glue the feathers onto the back of the larger circle, arranging them to spell your name.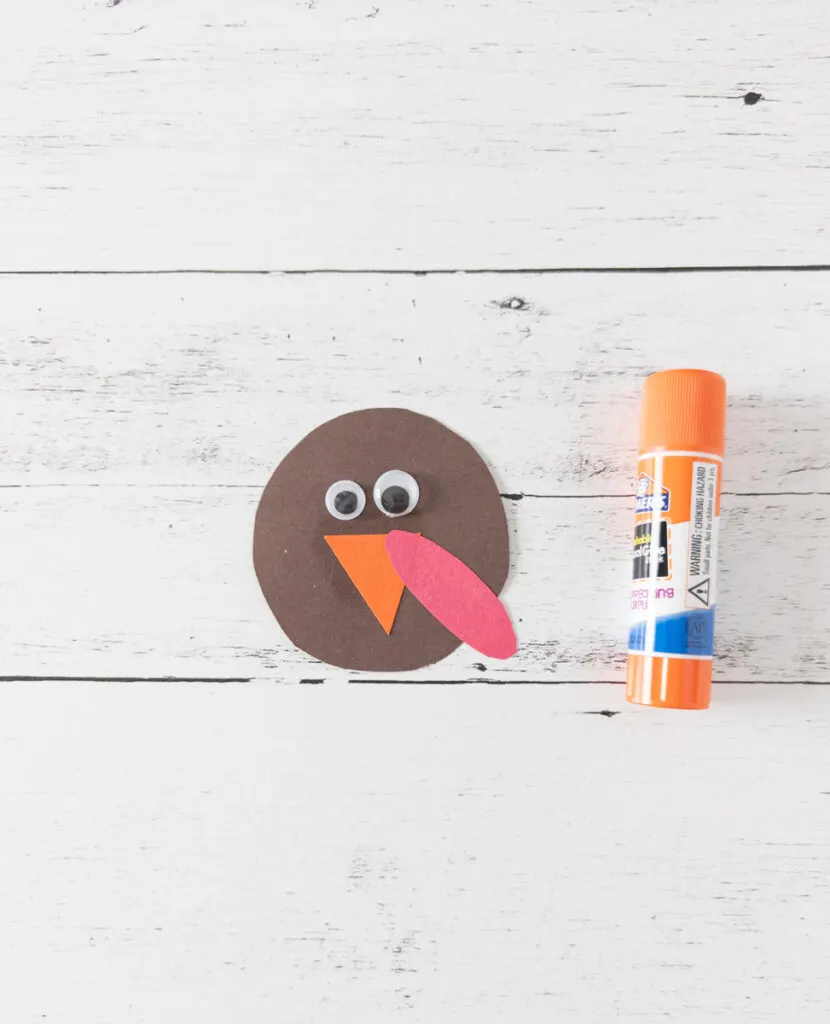 Attach all of the turkey's facial features and then glue the head onto the body. Allow it to dry completely before displaying.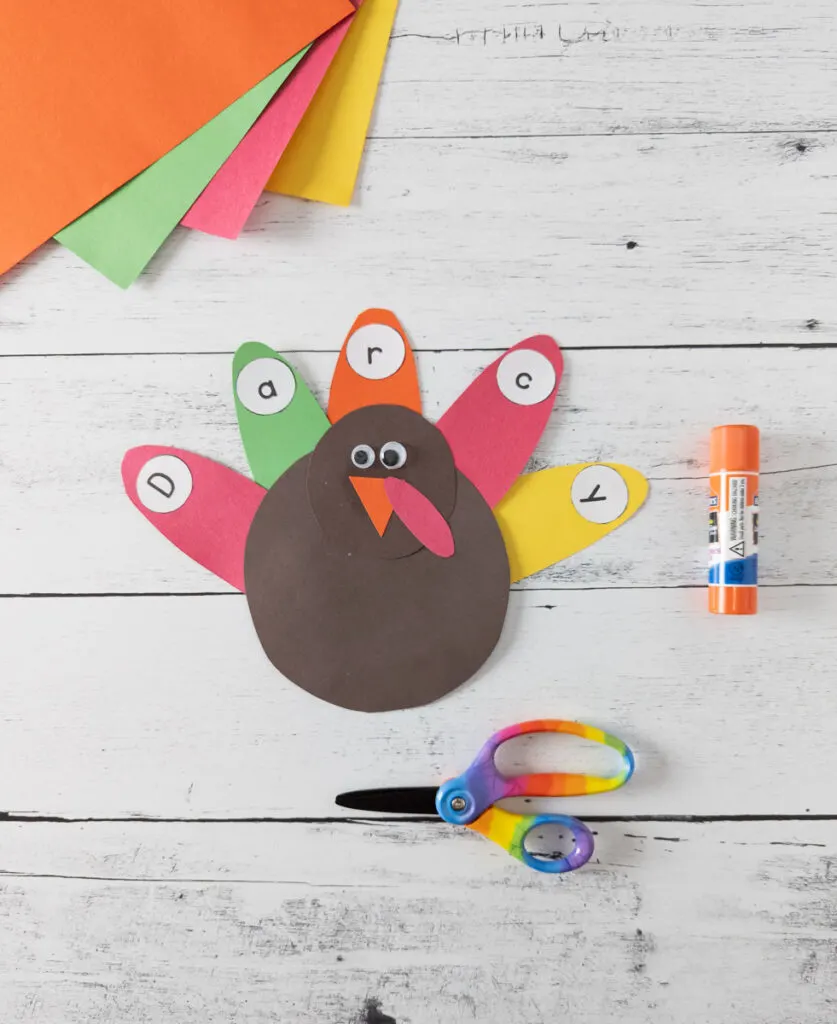 Other Ways to Use the Turkey Name Craft Printables
These printables are versatile and can be utilized for additional learning activities beyond making a name craft in the classroom. Here are a few inspiring ideas to get you started:
Alphabet Learning Game: Print out multiple sets of feathers, mix them up, and encourage children to find matching pairs of upper and lowercase letters. This fun game not only teaches kids to recognize letters but also helps them understand the difference between upper and lowercase versions.
Feather Letter Sequencing: Encourage children to put the feathers in sequential order, from A to Z. This activity helps reinforce letter recognition and alphabetical order while making it a fun and hands-on experience for young learners.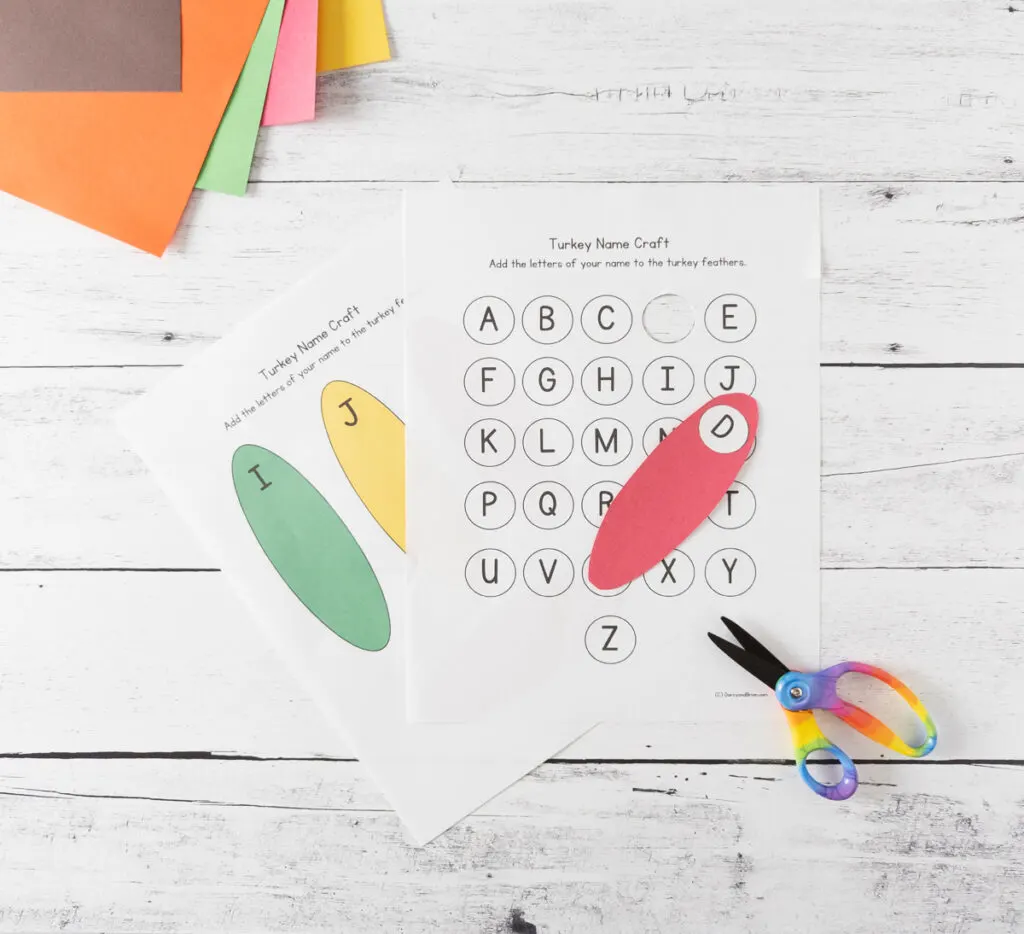 Thanksgiving Storytelling: Encourage creativity and spark imagination by using the turkey craft as a prop for Thanksgiving storytelling. Children can create different characters by naming the turkeys and assigning them different roles. This storytelling exercise can be a fantastic way to improve their communication skills and stimulate their imagination.
Coloring Activity: The black and white version of the turkey printable can serve as a great coloring activity. Allow children to experiment with different colors for the feathers, encouraging them to express their creativity. This can help keep them engaged while you prepare Thanksgiving dinner.
Sight Word & CVC Feather Spelling: Utilize the feathers to spell out sight words or simple CVC (consonant-vowel-consonant) words like cat or dog. Write individual letters on the feathers and challenge children to arrange them in the correct order to form words. This activity promotes word recognition and phonics skills in an interactive and engaging manner.
Turkey Books for Kids
Crafting is an excellent extension activity for books, stimulating both creativity and cognitive skill development. A carefully chosen book can set the stage for the craft, providing context and sparking ideas.
By incorporating books into a turkey-themed unit, children can deepen their understanding of the subject, while honing their literacy skills.
For instance, "Run, Turkey, Run!" by Diane Mayr is a fun and engaging book that can be followed by our cut-and-paste turkey craft.
"A Plump and Perky Turkey" by Teresa Bateman is another delightful read, which encourages imagination and can inspire some feather sequencing activities.
Additionally, "10 Fat Turkeys" by Tony Johnston brings counting and turkey fun together in one book, perfectly coupling with a feather counting craft.
Remember, aligning crafts with literacy activities leads to a more comprehensive, engaging, and enjoyable learning experience.
Run, Turkey, Run!
10 Fat Turkeys
How to Catch a Turkey
There Was an Old Lady Who Swallowed a Turkey!
Never EVER Tickle a Turkey: A Funny Rhyming, Read Aloud Picture Book
A Plump and Perky Turkey
More Fall Activities for Kids
As the leaves change colors and the air grows crisp, it's the perfect time to explore more fall activities for kids. From the comforts of home, you can create an autumn wonderland with simple, fun, and educational activities.
Create a Fall Sensory Bottle kids can use as a calming activity as they turn and look at all the items within. Or have them try to find and count how many of each item are hiding inside.
Why not try making leaf rubbings, where children can learn about different leaf shapes and create beautiful art pieces? Or, experiment with these fun fall science activities for preschoolers.
To get moving and try some silly challenges, consider playing Fall Minute to Win It Games – a delightful way to stir the competitive spirit and create lasting memories.
Fun Fall Crafts for Kids
Looking for some fun and creative fall crafts for kids to make? These activities provide a great opportunity for children to express their creativity while learning about the fall season. They also promote fine motor skills and are perfect for Thanksgiving or any fall-themed unit or art center.
So, with the autumn season upon us and Thanksgiving just around the corner, it's time to stir up some creativity and learning with these delightful turkey name crafts.
Easy to make, with printable templates included, these crafts not only encourage artistic expression but also help enhance your little ones' letter recognition and fine motor skills.
A wonderful way to spend quality time together, celebrate the season, and foster learning in a fun, engaging manner.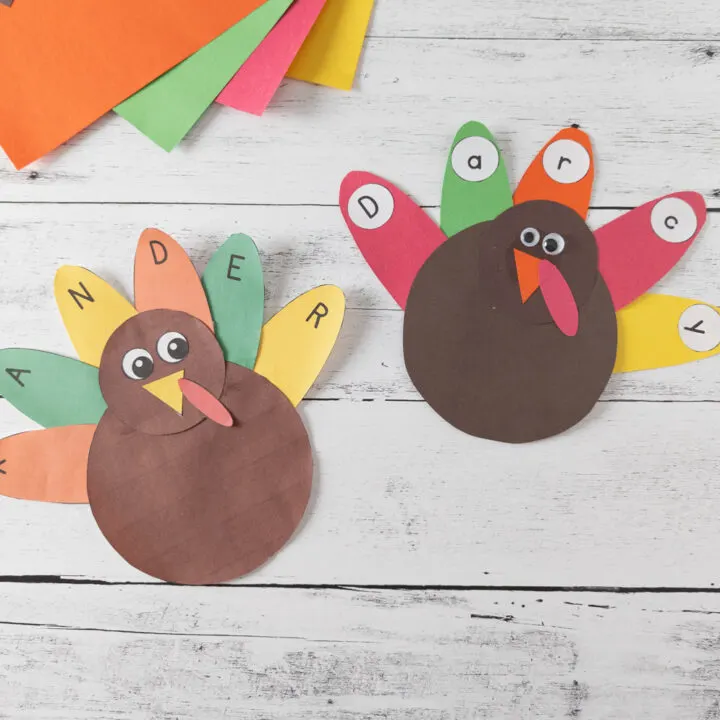 Turkey Name Craft
Additional Time:
5 minutes
Estimated Cost:
$5 or less
Make this fun paper turkey name craft for preschoolers! It's an easy Thanksgiving craft for kids.
Materials
Turkey Name Craft Printable Template Pack
Construction Paper
Glue
Instructions
Start by printing out the turkey name craft printables.
For a cut and paste activity, use the full color versions. Or, use the black and white templates to trace and cut out pieces from construction paper.
Cut out the number of feathers needed for your name (either with the letters already on them, glue the letters on, or write them on).
Glue the feathers to the back of the large circle (turkey body).
Glue the small circle (turkey head) onto the larger circle.
Add the beak, wattle, and eyes to the turkey's head.
Let it dry completely before hanging up the turkeys for display.
Recommended Products
As an Amazon Associate and member of other affiliate programs, I earn from qualifying purchases.