Are you in search of fun Thanksgiving crafts for kids? Our coffee filter pumpkin craft might be just what you're looking for!
This delightful DIY activity is not only easy enough for preschoolers but engaging for kids of all ages. It's perfect to do at home or at school, providing a great opportunity for your little ones to display their artistic skills while working on fine motor development.
Not only is it a fun project that keeps children entertained, but it also results in a charming fall decoration perfect for Thanksgiving and Halloween.
Our coffee filter pumpkin craft is super simple, yet incredibly enjoyable to make. Even with its simplicity, it offers a chance for your children to fully engage their creativity and have a blast while doing so.
The craft revolves around pumpkins, a classic symbol of the fall season that everyone loves. These amazing gourds perfectly complement the festive decorations of both Halloween and Thanksgiving, adding homemade charm to your home.
More Pumpkin Activities for Preschoolers
If you are looking for more playful pumpkin-themed activities to keep your preschoolers busy this fall, you're in the right place! Here are more pumpkin activities that are equally fun, engaging, and beneficial for your kids' development.
Pumpkin Picture Books
Nourish your child's fascination with pumpkins even further with our curated list of pumpkin picture books for kids! These enchanting reads are packed with vibrant illustrations and captivating stories that not only entertain, but also educate children about this iconic fall fruit.
Perfect for cozy autumn afternoons or bedtime reading, these books are a splendid way to introduce little ones to the magic and wonder of the pumpkin season. Dive into the world of pumpkins through the pages of these delightful books!
This post contains affiliate links. As an Amazon Associate and a participant in other affiliate programs, we earn a commission on qualifying purchases.
It's Pumpkin Day, Mouse! (If You Give…)
You're My Little Pumpkin Pie
Pumpkin Day! (Step into Reading)
Big Pumpkin
The Biggest Pumpkin Ever
Too Many Pumpkins
Benefits of Making a Coffee Filter Pumpkin Craft
Coffee filter crafts for kids are not only a fun to make, but they also offer developmental benefits for children.
As kids color the coffee filters with markers, they are developing and refining their fine motor skills. The act of manipulating the markers helps to strengthen the small muscles in their hands that are vital for tasks such as writing and buttoning clothes.
Also, spraying water to blend the colors stimulates their hand-eye coordination, while cutting and gluing construction paper fosters their dexterity and precision.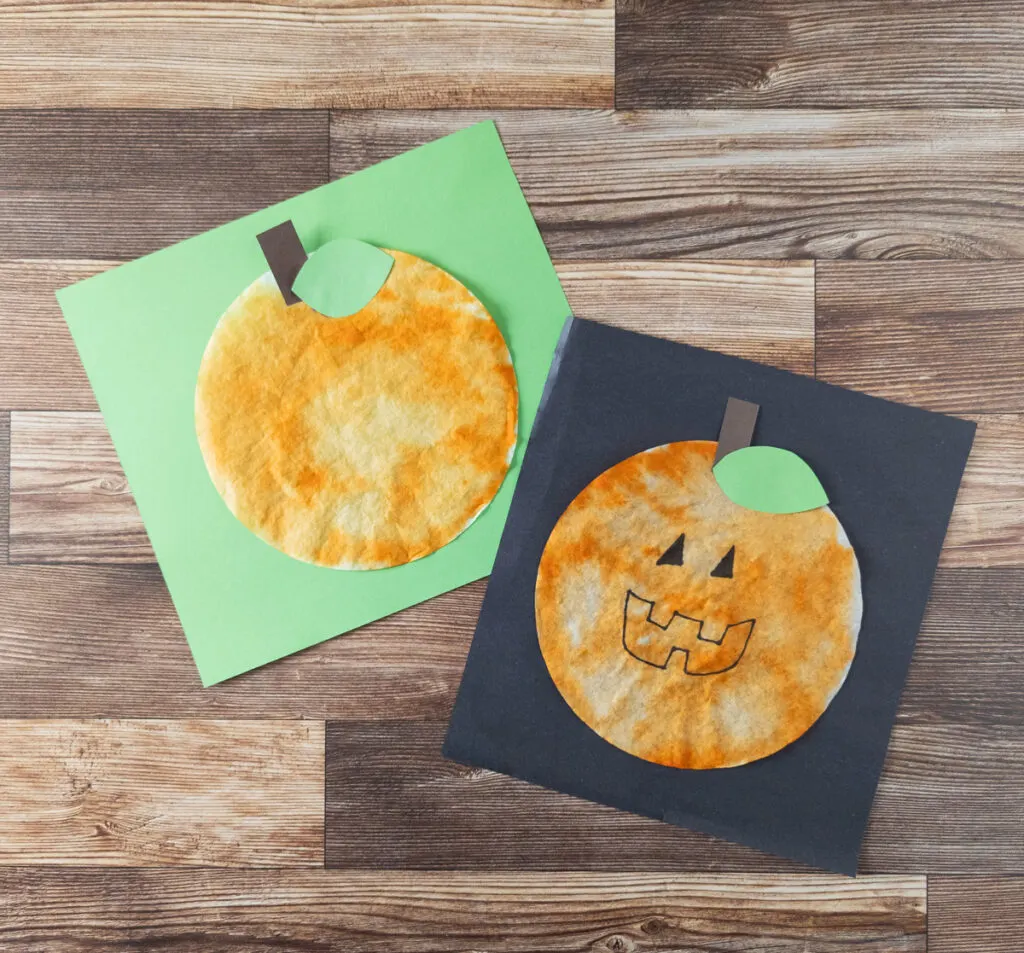 Beyond these benefits, this craft also serves as a great extension activity for a pumpkin unit. It allows children to apply their newly learned knowledge about pumpkins in a tangible way, cementing their understanding and making the learning experience more memorable.
Are Fine Motor Activities Important for Preschool Children?
The early years are a crucial time for developing fine motor skills. These skills involve the use of small muscles, such as those in the hands and fingers, to perform tasks like holding a pencil to write and draw or cutting with a pair of scissors.
Fine motor skills are essential for everyday activities such as getting dressed, eating with utensils, and tying shoelaces.
In preschool-aged children specifically, fine motor activities help to prepare them for kindergarten and beyond.
As children refine their fine motor skills, they also improve their hand-eye coordination, concentration, and ability to follow instructions – all vital skills for school readiness.
Coffee Filter Pumpkin Craft Supplies
This project is perfect for a group activity! It's not only affordable and simple to set up, but it also encourages creativity and exploration among children. Here's what you'll need: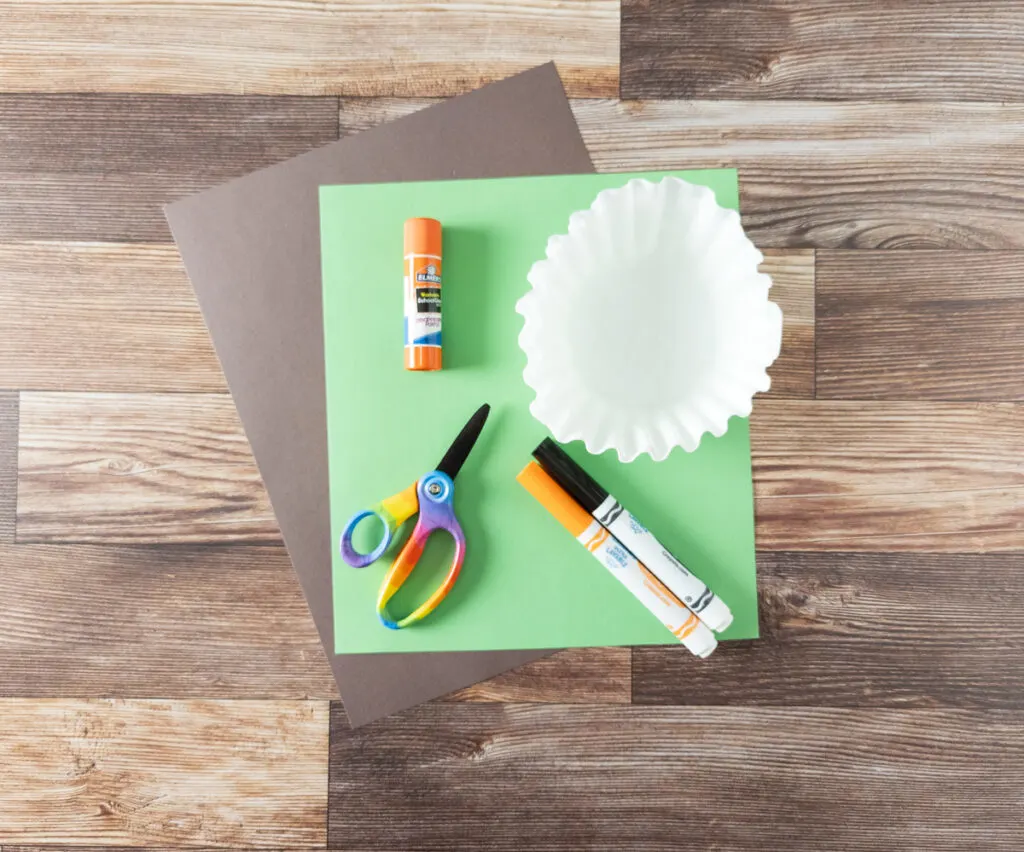 Remember, this is not just a craft, but a hands-on learning experience – so feel free to let the kids experiment with the supplies and make their pumpkin unique!
Apple Barrel Acrylic Paint Set, 16 Piece (2-Ounce), Best Colors Count
Bassion Pack of 2 Kids Art Smocks, Children Waterproof Artist Painting Aprons Long Sleeve with 3 Pockets for Age 2-6 Years
AdTech Ultra Low-Temp Cool Tool | Mini Hot Glue Gun for Safe Crafting | Children and Kids | Item #05690 , White
Aleene's Turbo Tacky Glue, 4 FL OZ – 3 Pack, Multi
How to Make Coffee Filter Pumpkins
Start by flattening the coffee filters. Color the coffee filter using washable markers. If you want to add details like a face, you can use a permanent marker before spritzing.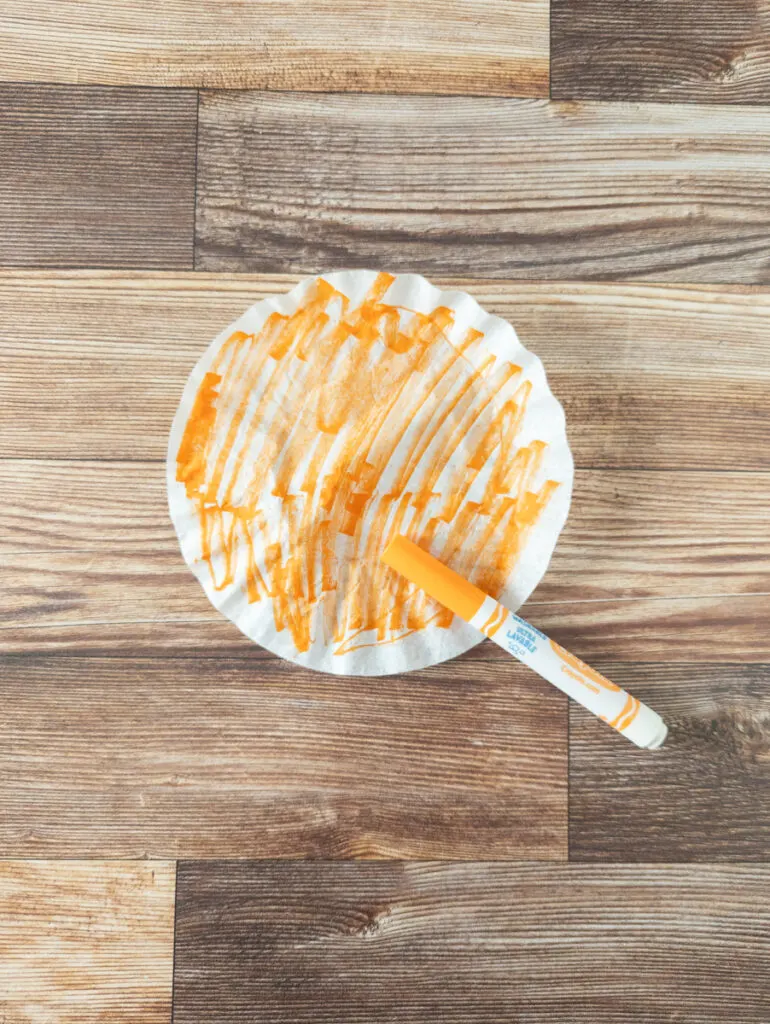 The ink from the permanent marker won't blend. Alternatively, you can add details using washable markers after the filter has dried completely.
Gently mist the filter with water and observe the colors blending together.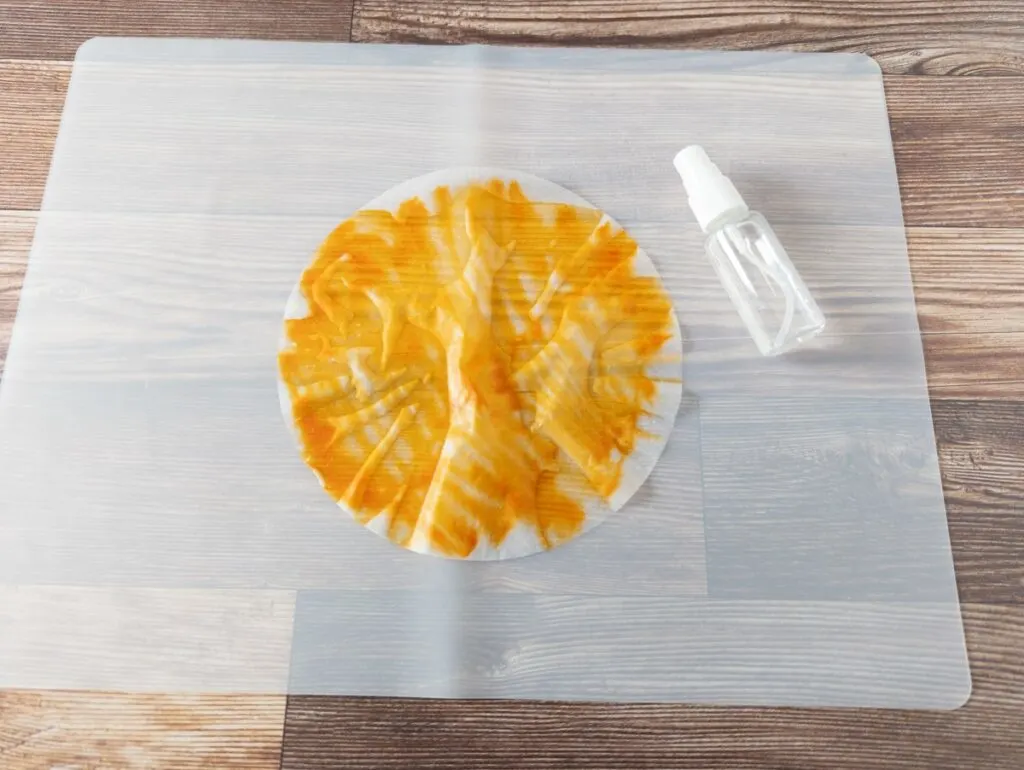 Allow it to dry. The drying time may vary, but it could take approximately an hour or two.
To create the stem, cut out a small rectangle from brown construction paper.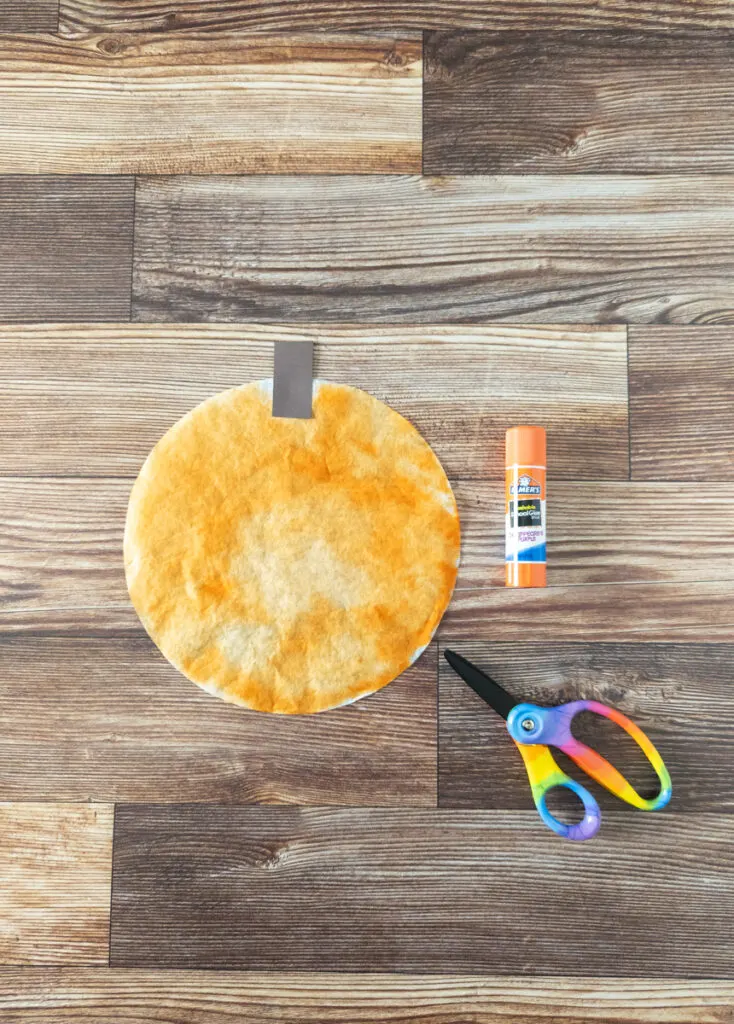 Cut out a small oval or football shape from the green paper to make a leaf. Glue them onto the top of the coffee filter pumpkin.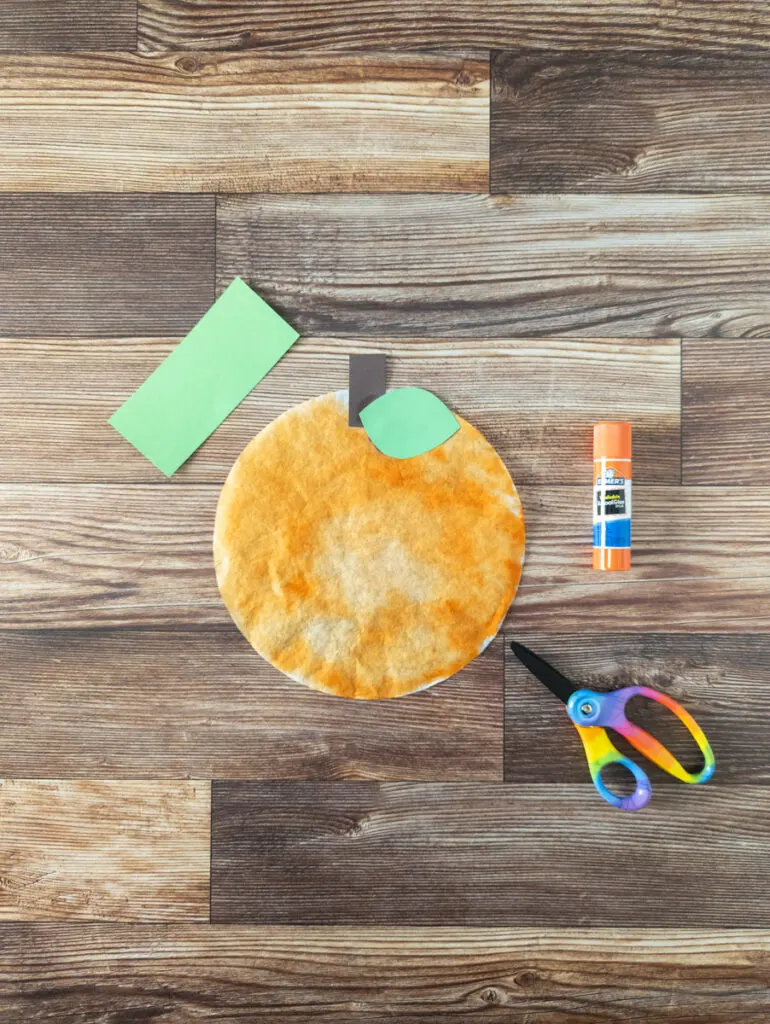 You can now hang it in the window as an adorable suncatcher or glue it onto a full-sized piece of construction paper or colored cardstock.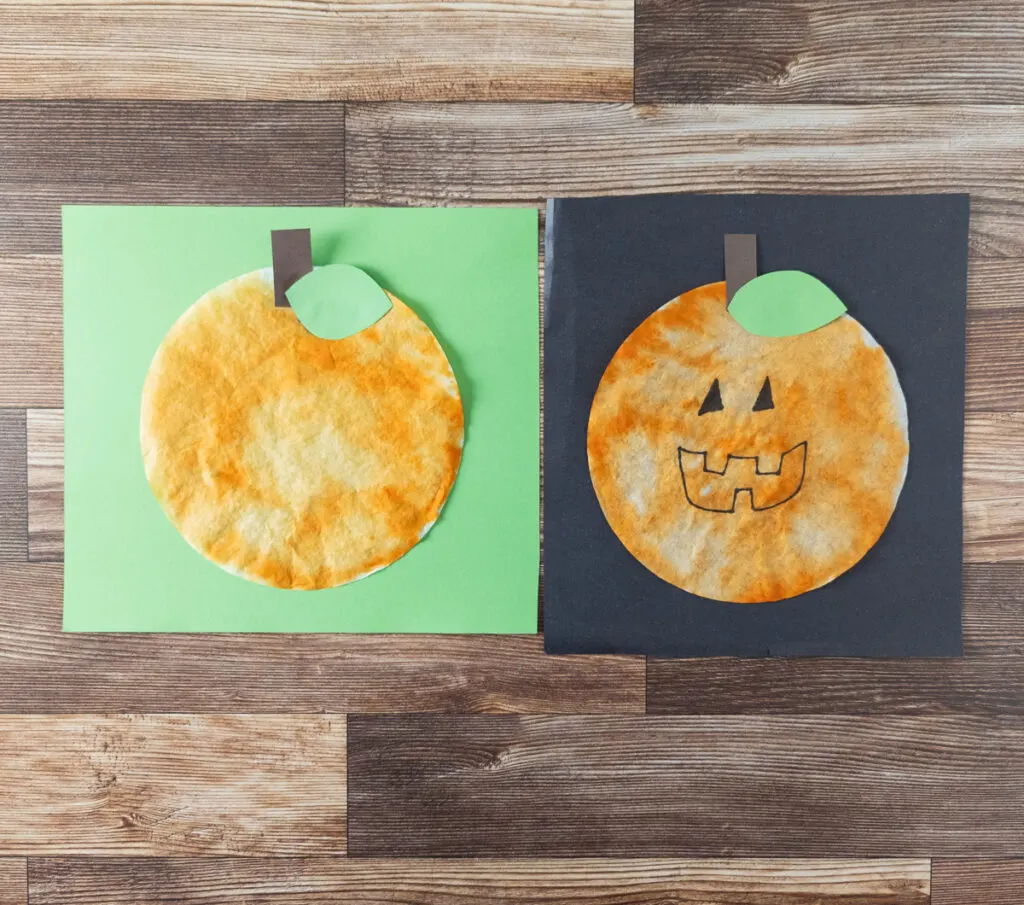 Let your creativity shine in how you display your artwork!
Incorporating Art into Early Childhood Education
Art is a valuable tool in early childhood education as it not only allows children to express themselves creatively but also promotes cognitive, social, and emotional development.
Incorporating art into a child's daily routine helps to reinforce fine motor skills while providing opportunities for self-expression and exploration.
The coffee filter pumpkin craft is an excellent example of an easy art project that works on strengthening fine motor skills in preschool children while also incorporating seasonal themes such as Halloween or Thanksgiving.
By using markers and water children can create a festive pumpkin out of a coffee filter. This activity promotes creativity, fine motor skill development, and seasonal learning all in one.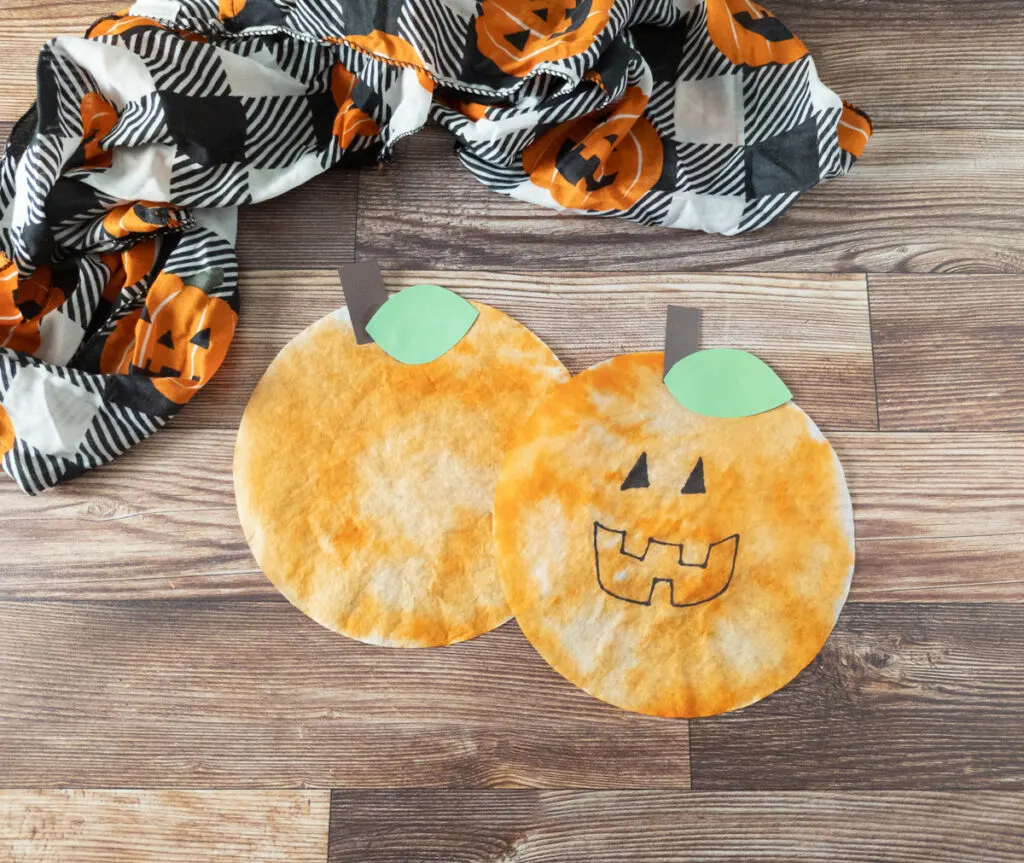 More Fall Activities for Kids
As the leaves turn to hues of red, orange, and yellow, fall ushers in a plethora of opportunities for fun and educational activities for kids. Our coffee filter pumpkin craft is just the tip of the iceberg!
There are several other activities that can engage young minds, stimulate their creativity, further develop their motor skills, and foster an appreciation for this vibrant season.
In the following section, we'll explore more fall activities that are not only enjoyable but also serve as fantastic learning experiences for children.
Fun Fall Crafts for Kids
Fall is a season filled with a splash of colors and the excitement of upcoming holidays. This time of the year provides a wonderful opportunity for children to participate in fun crafts inspired by the beauty of autumn.
These fall craft ideas are perfect for both Halloween and Thanksgiving celebrations. These activities not only keep children entertained but also help enhance their creativity, fine motor skills, and understanding of the seasonal changes.
This coffee filter pumpkin craft is an exceptional endeavor to engage kids in a fun, productive, and educational activity.
It encourages creativity, bolsters fine motor skills and imparts invaluable knowledge related to seasonal changes. It's a great example of how we can turn everyday items into stimulating learning tools.
Whether it's for Halloween or Thanksgiving, or just to celebrate the beauty of fall, this craft is sure to bring a dash of color and excitement to your child's day!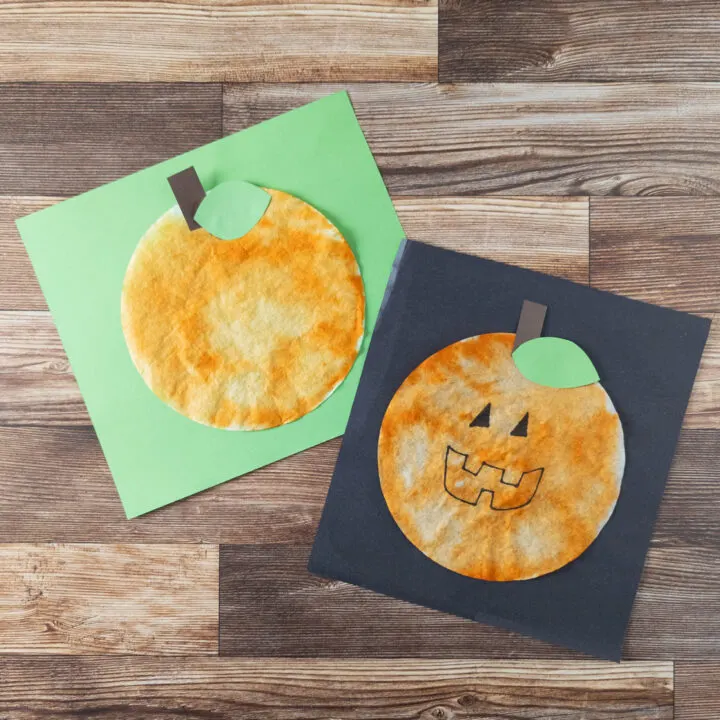 Coffee Filter Pumpkin Craft
Total Time:
1 hour
20 minutes
Estimated Cost:
$5 or less
Make this easy coffee filter pumpkin craft for Thanksgiving or even Halloween. Great preschool art project!
Materials
1 White Round Coffee Filter
Green and Brown Construction Paper
Washable Markers
Glue
Tools
Scissors
Spray Bottle
Craft Mat
Instructions
To begin, flatten the coffee filters.
Next, use washable markers to color the coffee filter. We recommend trying different color combinations, although we used orange for this particular project.
Once colored, lightly mist the coffee filter with water to blend the colors together.
Allow the filter to dry, which may take approximately one to two hours.
For the stem, cut a small rectangle from brown construction paper.
Additionally, cut a small football shape from green paper to create a leaf.
Finally, glue the stem and leaf to the top of the coffee filter to complete the pumpkin.
Recommended Products
As an Amazon Associate and member of other affiliate programs, I earn from qualifying purchases.