Whether you are looking for letter of the week activities or Thanksgiving crafts for kids, this printable t is for turkey craft is an excellent option.
Ideal for preschool or kindergarten children to make at home or school, this simple educational craft project is perfect for fall.
It provides a fun way to teach kids about the letter "T" while engaging their creativity.
Make sure to scroll to the end of the post to get the free printable craft and start creating some turkey-themed fun with your little learners!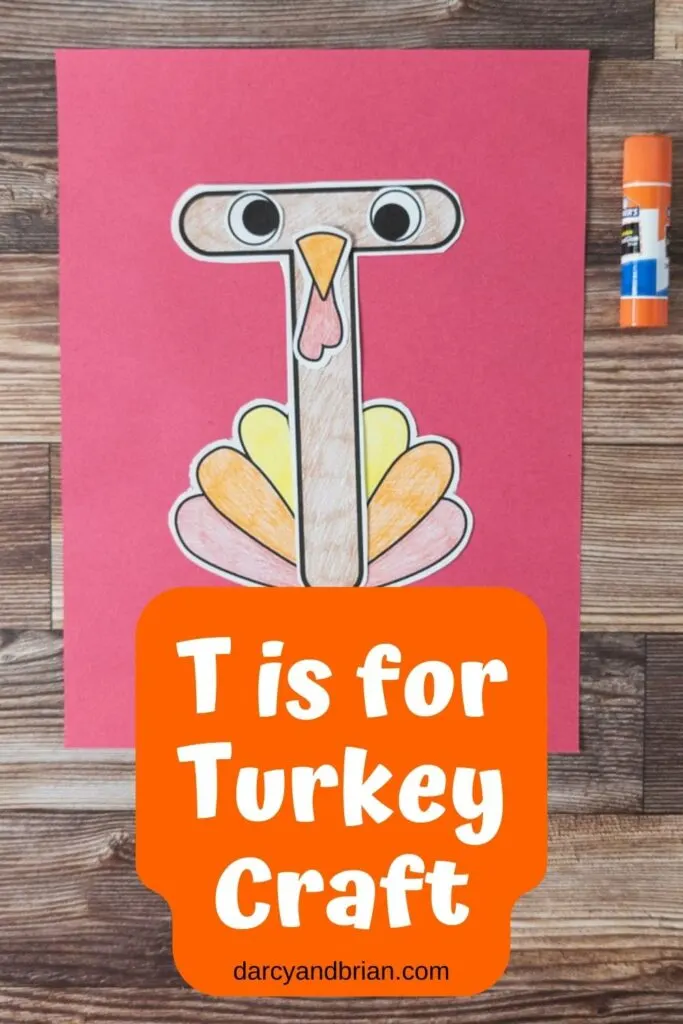 Keeping learning the alphabet fun for young kiddos is all about variety and engaging their senses.
From alphabet puzzles and letter tracing activities to cute letter crafts like this 'T is for Turkey' craft, there are endless opportunities.
Fall is the perfect time of year to teach kids about turkeys and make turkey crafts for Thanksgiving!
Scroll down for the free printable
What Are the Benefits of T is for Turkey Craft?
The T is for Turkey craft presents an excellent learning opportunity for preschool and kindergarten children, both in a school classroom setting and for homeschooling.
As they color, cut, and glue together the different parts of the craft, they're not only creating a fun Thanksgiving-themed project, but also working on several important developmental skills.
The activity aids in letter recognition by reinforcing the shape and sound of the capital letter "T," as it's tied to an exciting object – a turkey.
This association helps children connect the beginning sound of the word 'turkey' with the letter 'T'.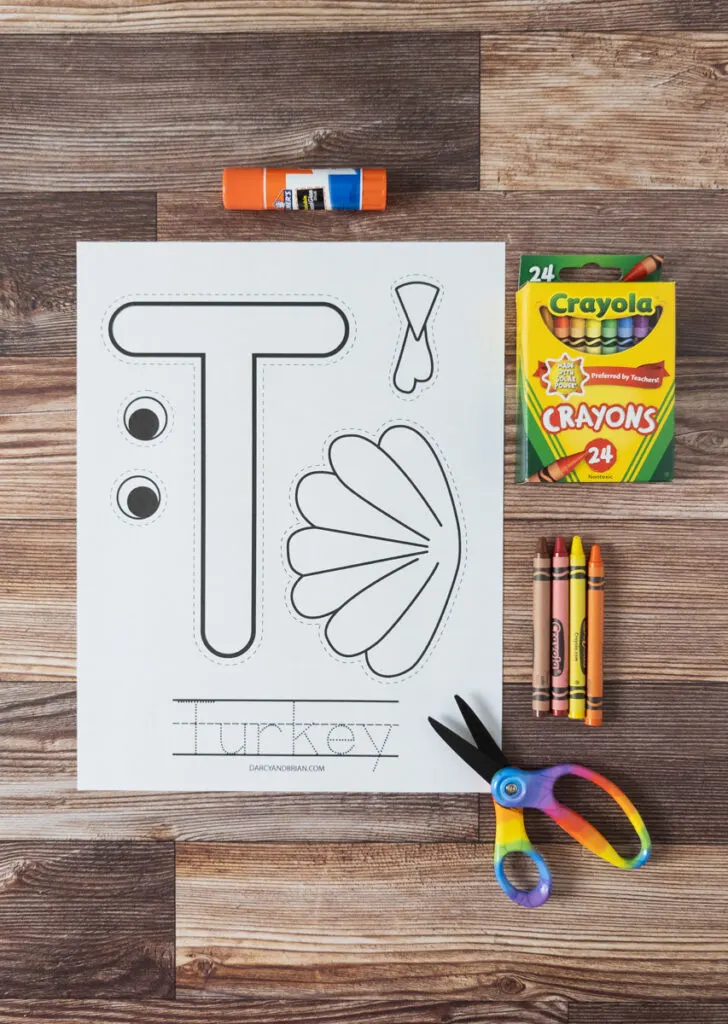 Additionally, the physical act of coloring, cutting, and gluing enhances fine motor skill development, critical for many school activities.
Lastly, the craft includes an element of literacy development; children are given an opportunity to recognize and trace the word 'turkey', providing them with both word recognition and handwriting practice.
This post contains affiliate links. As an Amazon Associate and a participant in other affiliate programs, we earn a commission on qualifying purchases.
Apple Barrel Acrylic Paint Set, 16 Piece (2-Ounce), Best Colors Count
Bassion Pack of 2 Kids Art Smocks, Children Waterproof Artist Painting Aprons Long Sleeve with 3 Pockets for Age 2-6 Years
AdTech Ultra Low-Temp Cool Tool | Mini Hot Glue Gun for Safe Crafting | Children and Kids | Item #05690 , White
Aleene's Turbo Tacky Glue, 4 FL OZ – 3 Pack, Multi
Why is Letter Recognition Important for Preschoolers?
Letter recognition is an essential part of preliteracy development. It lays the foundation for children to better understand how language works and sets them up for success in the classroom.
By introducing letter shapes and sounds, it further prepares kids for things like reading comprehension, writing their own stories, spelling words, and much more!
With interactive activities, children are given a fun way to learn about letters and other language basics.
Through creative projects like this, they can explore and experiment with the alphabet in a supportive environment, and gradually build up their understanding of how language works.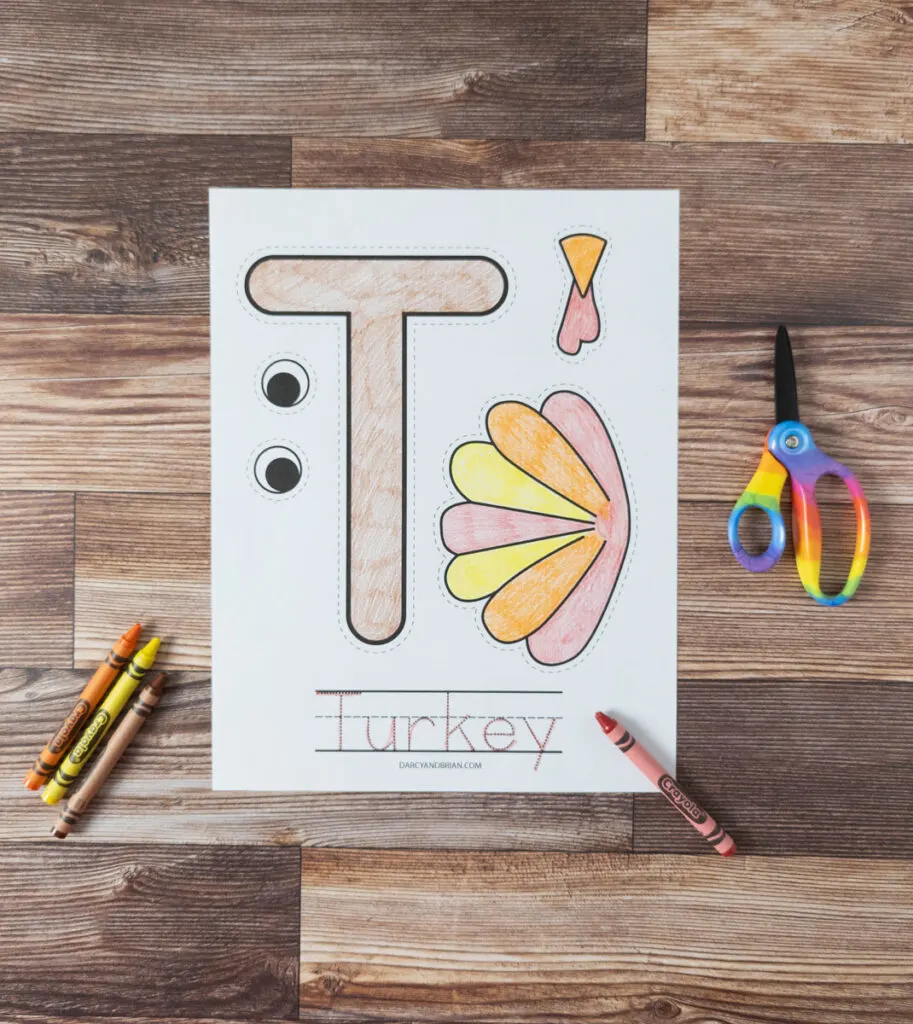 Fun Alphabet Activities for Children
Making learning the alphabet enjoyable through a variety of activities is crucial in maintaining a child's interest and encouraging active participation.
Engaging activities can transform the learning experience, turning it from a potential source of stress into a source of joy and discovery.
Furthermore, diverse activities cater to different learning styles, ensuring all children can grasp and remember the alphabet in ways that resonate with them.
If you're on the lookout for some ideas, consider incorporating activities like alphabet bingo, letter scavenger hunts, and more of our alphabet-themed crafts.
Peaceable Kingdom Alphabet Bingo!
Alphabet Slap Jack® | Play 4 Alphabet Games
CozyBomB Toddler Fine Motor Skill Toy – Clamp Bee to Hive Matching Game
Peaceable Kingdom Alphabet Go Fish Letter Matching Card Game
T is for Turkey Craft Supplies
The 'T is for Turkey' craft is an easy activity that doesn't require a lot of materials.
Most items needed for this craft are likely already available in your home or classroom, making it a hassle-free and accessible project for both parents and educators alike.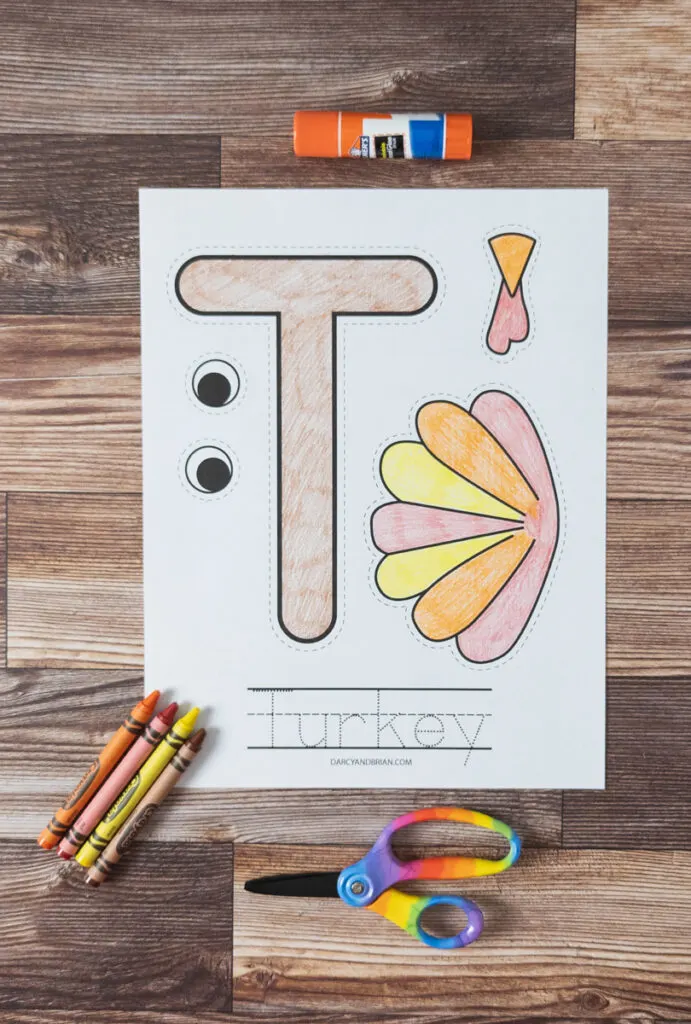 T is for Turkey Craft Printable: You can get this printable for free! Simply fill out the form at the bottom of this post.
Coloring Supplies: Let the kids' creativity shine with various coloring tools. Use crayons, markers, or colored pencils.
Glue: Liquid school glue or glue sticks will do the trick for assembling your turkey.
Kid Safe Scissors: Ensuring safety is essential, so make sure to have scissors that are safe for kids to use.
Construction Paper: Finally, you'll need some construction paper. This is what you'll glue your turkey onto, creating a beautiful and colorful backdrop.
Shop some of my favorite craft supplies on Amazon!
How to Make a T is for Turkey Craft
Start by downloading and printing our free craft printable. Although some crafters may desire to cut out all of the pieces freehand, using our printable makes this project much easier for children to work on independently.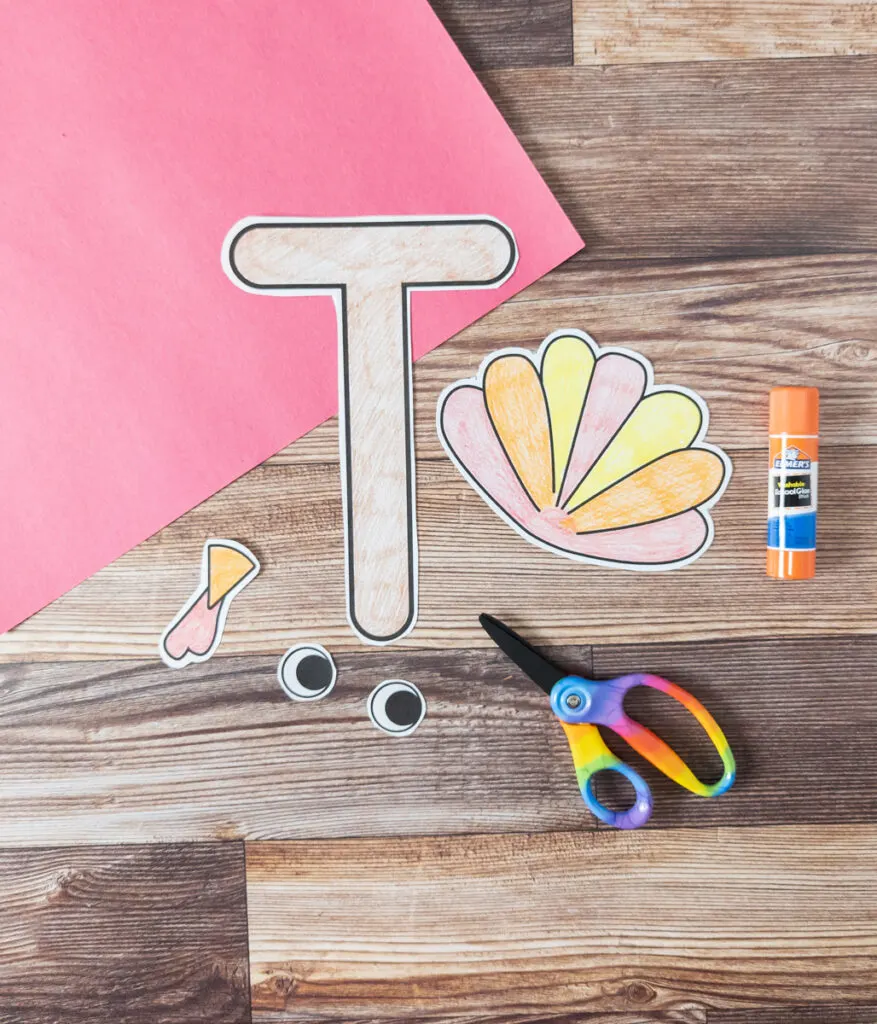 Have the kids color in all the pieces using their preferred coloring tools. Carefully cut out all the components along the dotted lines. This helps build their fine motor skills.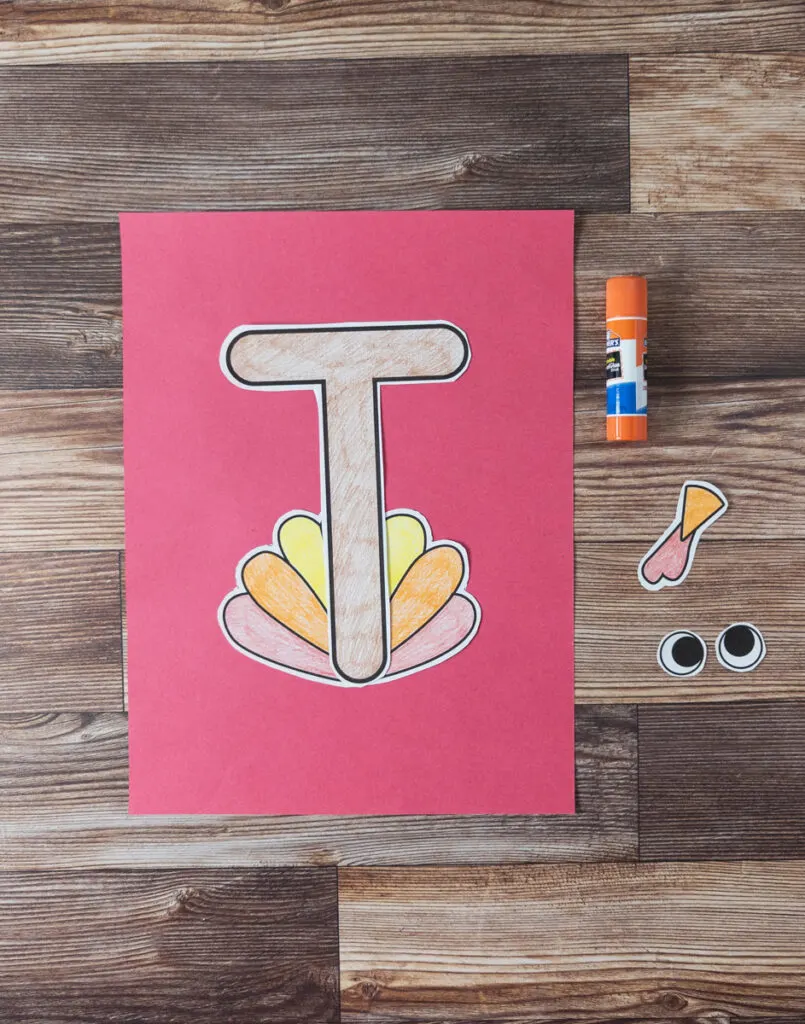 Next, arrange all the cut-out pieces on a piece of colored cardstock or construction paper. This step allows the children to decide where all the parts should go before they start gluing them down.
At the bottom of the page, have the kids practice their handwriting by tracing the word 'turkey'.
Begin by gluing the turkey feathers to your paper, followed by the capital letter 'T' on top of the feathers. Add the eyes, beak, and the wattle onto the 'T' to bring your turkey to life.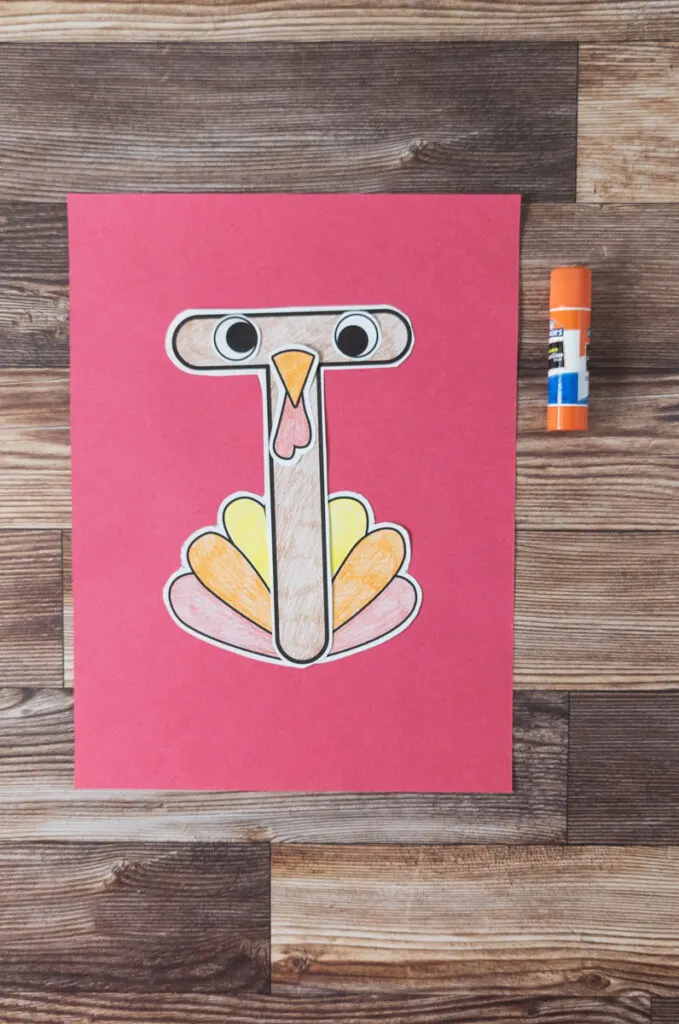 Once they're satisfied with their tracing, it can be cut out and pasted at the bottom of the artwork. And voila! Your child's 'T is for Turkey' craft is complete.
We hope you and your students enjoy making this craft as part of your letter of the week or as a special holiday project!
Turkey Activity Ideas for Kids
Incorporating the 'T is for Turkey' craft into a turkey-themed unit or a Thanksgiving art center can offer an engaging and hands-on learning approach.
The craft can serve as a fun way to introduce the concept of Thanksgiving, the significance of turkeys during this holiday, and even the alphabet, particularly the letter 'T'.
To enrich this thematic unit, consider adding additional turkey-themed learning activities.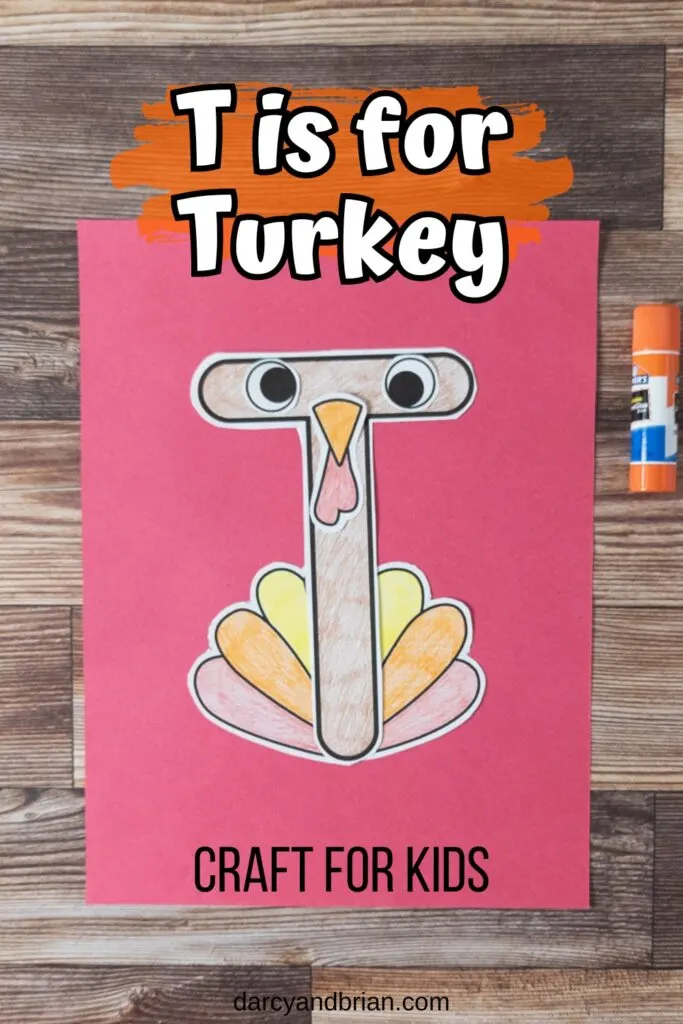 For instance, a set of turkey-themed book companion worksheets, such as There Was an Old Lady Who Swallowed a Turkey printables. It includes sequencing, line tracing, and a letter find activity.
Make learning letters a joy with our delightful turkey name craft – it's the perfect blend of creativity and education that your preschooler will absolutely gobble up!
Learn about more about how turkeys are born and grow with this life cycle of a turkey worksheet.
Using manipulatives provide a tactile experience to learning. Include a feather addition math game as an activity to help improve children's number recognition, counting, and addition skills.
Books about turkeys and Thanksgiving can also foster their reading skills and understanding of the holiday's history and traditions.
Inclusion of such diverse activities will ensure a holistic, fun-filled learning experience.
Turkey Books for Kids
Reading is a crucial component in the developmental journey of children. It sparks their imagination, helps them fall in love with literature, and paves the way for an enriched vocabulary.
Storybooks can serve as wonderful tools to demonstrate various concepts and lifelong lessons, such as the importance of friendship, understanding emotions, and more.
Non-fiction books offer a wealth of information and visuals as well, expanding children's learning and satisfying their natural curiosity about the world around them.
Turkey's Sandtastic Beach Day (Turkey Trouble)
There Was an Old Lady Who Swallowed a Turkey!
How to Catch a Turkey
Turkeys (Bullfrog Books: Animals on the Farm)
A Plump and Perky Turkey
A Turkey for Thanksgiving
By incorporating reading into your child's routine, you nurture their cognitive development while fostering a lifelong pursuit of knowledge.
Turkey Craft Kits
Turkey craft kits readily available on Amazon offer a fantastic way to extend this fun-filled turkey-themed learning activity.
They come packed with a variety of materials and instructions which can engage children in an immersive DIY crafting experience, further fostering their creativity and fine motor skills.
amscan Paper Turkey Craft Kit
Craft Kits Thanksgiving & Autumn
KINREX Thanksgiving Crafts for Kids
Turkey Coaster Craft Kit
Turkey Craft Kits Thanksgiving & Autumn
Make a Turkey Stickers 24PCS
More Thanksgiving Crafts for Kids
While turkeys certainly take center stage during this season, there's a whole range of other fall-themed crafts that can add extra excitement to your little ones' learning journey.
Here are a few of our favorite fall and Thanksgiving craft suggestions to inspire creativity and fun.
As you continue to navigate through the alphabet with your students, remember that crafting is much more than just a fun activity.
It's a hands-on way for children to learn about letters, practice their fine motor skills, and express their creativity.
Our 'T is for Turkey' craft is a perfect addition to your classroom activities, especially with Thanksgiving around the corner. We can't wait to see what you and your students create – happy crafting and learning!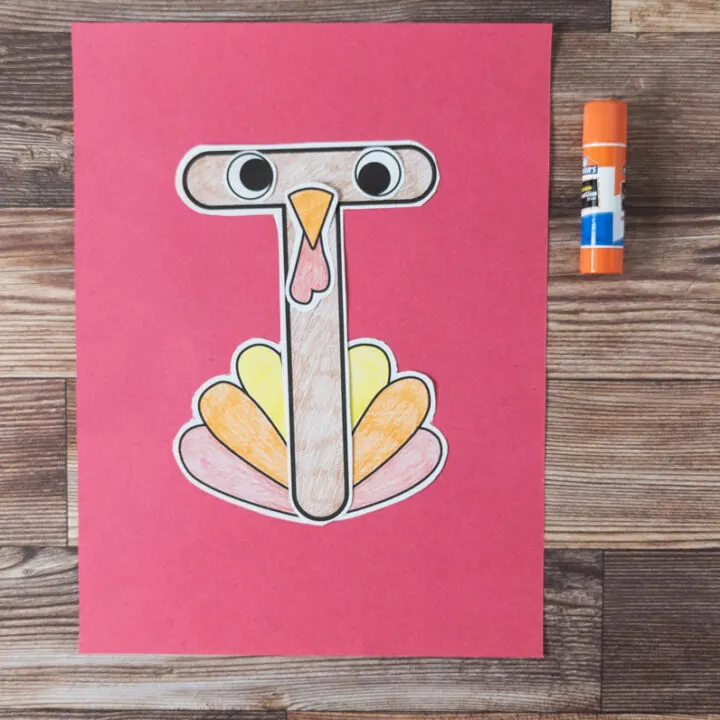 T is for Turkey Craft
Estimated Cost:
$5 or less
Make this cute T is for Turkey craft for an easy Thanksgiving preschool craft.
Materials
T is for Turkey Craft Printable
Crayons, Markers, Colored Pencils
Glue
Construction Paper
Instructions
Download and print the free T is for Turkey craft printable.
Color in all the pieces.
Carefully cut out all the components along the dotted lines to build fine motor skills.
Arrange the cut-out pieces on colored cardstock or construction paper.
Glue the turkey feathers to the paper.
Place the capital letter 'T' on top of the feathers and glue it down.
Then glue the eyes, beak and wattle to the letter 'T' body.
Practice handwriting by tracing the word 'turkey' at the bottom of the page.
Notes
Find suggestions for other activities to do along with this one in the blog post.
Recommended Products
As an Amazon Associate and member of other affiliate programs, I earn from qualifying purchases.