Need easy Halloween crafts for kids to make at home or school? Our coffee filter ghost craft is perfect for preschool and kindergarten children! Not all Halloween crafts have to be spooky, and this one is super cute!
To make it even easier, we provide a free printable craft template that can be used to trace and cut out the ghost shape. This eliminates the need for freehand drawing and cutting.
It's a fantastic project to engage children's creativity and fine motor skills while having a ghostly good time!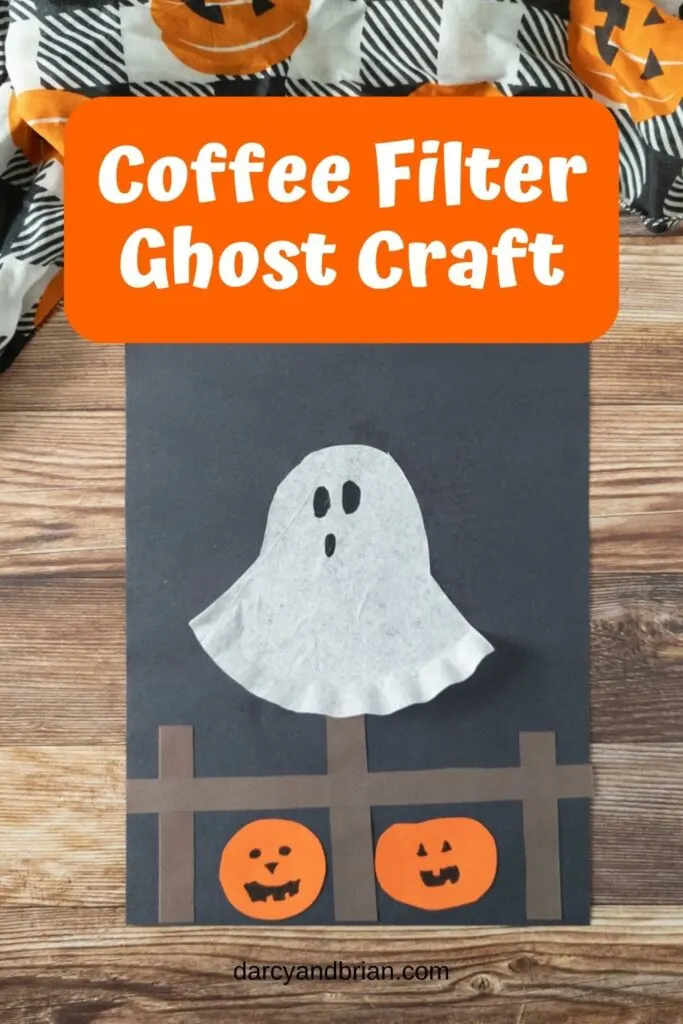 Halloween is the perfect occasion to let those little imaginations run wild and delve into some crafty fun.
It's an exciting time of year for children, filled with the anticipation of trick-or-treating, colorful costumes, and of course, an abundance of candy.
More Coffee Filter Crafts for Kids
We absolutely adore creating crafts with coffee filters. They are not only inexpensive, but they also offer a remarkable canvas for blending colors and bringing your imagination to life! After you've had a blast making your coffee filter ghosts, here are a few ideas to inspire your next project:
For even more ideas, check out our full collection of coffee filter crafts for kids and find projects to make all year long!
This post contains affiliate links. As an Amazon Associate and a participant in other affiliate programs, we earn a commission on qualifying purchases.
Fun Halloween Craft Kits
If you're looking for more Halloween craft activities, check out the vast array of craft kits available for kids, from spooky witches to friendly pumpkins.
You'll find kits like this Halloween Glitter Snow Globe, featuring common Halloween themes and symbols.
These kits come with all the necessary materials and instructions, allowing kids to create their own bewitching pieces of art with ease.
Winlyn 24 Sets Halloween Crafts Kits Fall Kids Crafts DIY Halloween Ornaments Decorations Art Sets Foam Monster Jack-o'-Lantern Stickers Googly Eyes for Kids Halloween Classroom Party Activities
Libima 224 Pcs Halloween Haunted House Craft Kit Include 4 Haunted House 3D Craft Kit with LED Candle Lights 16 Water Color Pen 200 Glitter Felt Balls for Boys Girls Halloween Party Favors Decoration
Max Fun 302PCS Halloween Foam Stickers Set, Pumpkin Ghost Witch Hat Halloween Decorations for Kids Crafts Party Favors Supplies Halloween Craft Kits for Kids
Halloween Diamond Painting Magnets Set Diamond Art Kits for Kids Adults Pumpkin Bat Witch Ghost Gnome Fridge Magnets Diamond Painting Stickers for Crafts Refrigerator Home Decor (Halloween)
Halloween Craft for Kids, 4PCS Halloween Mason Jar Kit with Accessories for Kids DIY, Halloween Art Activities Supplies Gifts for Kids aged 4-12, Halloween Decoration for Classroom, Trick or Treat
Made By Me Create Your Own Halloween Window Art, DIY Suncatcher Kit and Clings, Great Staycation or Sleepover Activity, Fun Group Activity, Arts and Crafts Set for Kids Ages 6, 7, 8, 9
Benefits of Making This Coffee Filter Ghost Craft
This coffee filter ghost craft not only adds to the fun spirit of Halloween, but it also offers a multitude of educational benefits.
As children trace, cut, and glue, they are exercising their creativity, and at the same time, strengthening their fine motor skills.
This project allows children to freely express their artistic side, encouraging innovation and originality.
It's also a fun way to extend learning from Halloween-themed books featuring ghosts.
Additionally, the process of tracing and manipulating the coffee filters enables kids to work on their hand-eye coordination and dexterity, crucial skills that support writing and other intricate tasks.
So, while they're creating their own little ghostly masterpieces, they're also enhancing several skills in a fun, engaging way.
Coffee Filter Ghost Craft Supplies
To create this adorable coffee filter ghost craft, you will need some very basic supplies.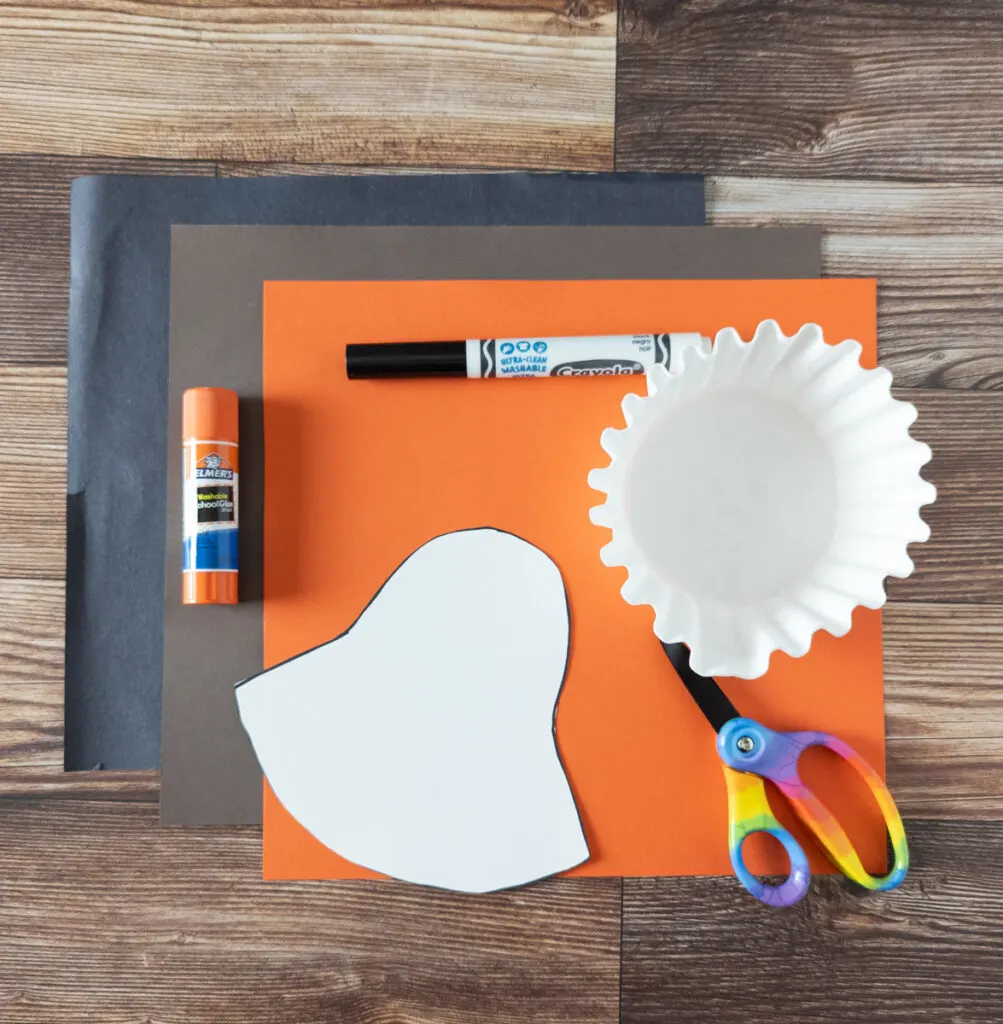 Coffee Filters: Begin with round, white coffee filters which will form the ghost's ethereal body.
Construction Paper: You will also need construction paper in various colors to create interesting details and the background for your ghost.
Black Marker: Use a black marker to draw on the ghost's face.
Scissors: Have a pair of kid-safe scissors at hand for cutting out the ghost shapes and anything you want to decorate the paper with.
Glue: You'll need a bottle of school glue or a glue stick to attach the ghost and other decorations to the construction paper.
Ghost Craft Template: We offer a free printable craft template (available for free at the bottom of this post) that simplifies the process of tracing and cutting out the ghost shape.
This craft is not only simple and enjoyable but also utilizes supplies you probably already have at home!
How to Make a Coffee Filter Ghost
To begin making your Coffee Filter Ghost Craft, start by gathering all of your supplies and print out the ghost craft template that we've made available for you.
Next, take a white round coffee filter and flatten it out, tracing the ghost template onto it. Then cut out the outlined ghost shape from the coffee filter.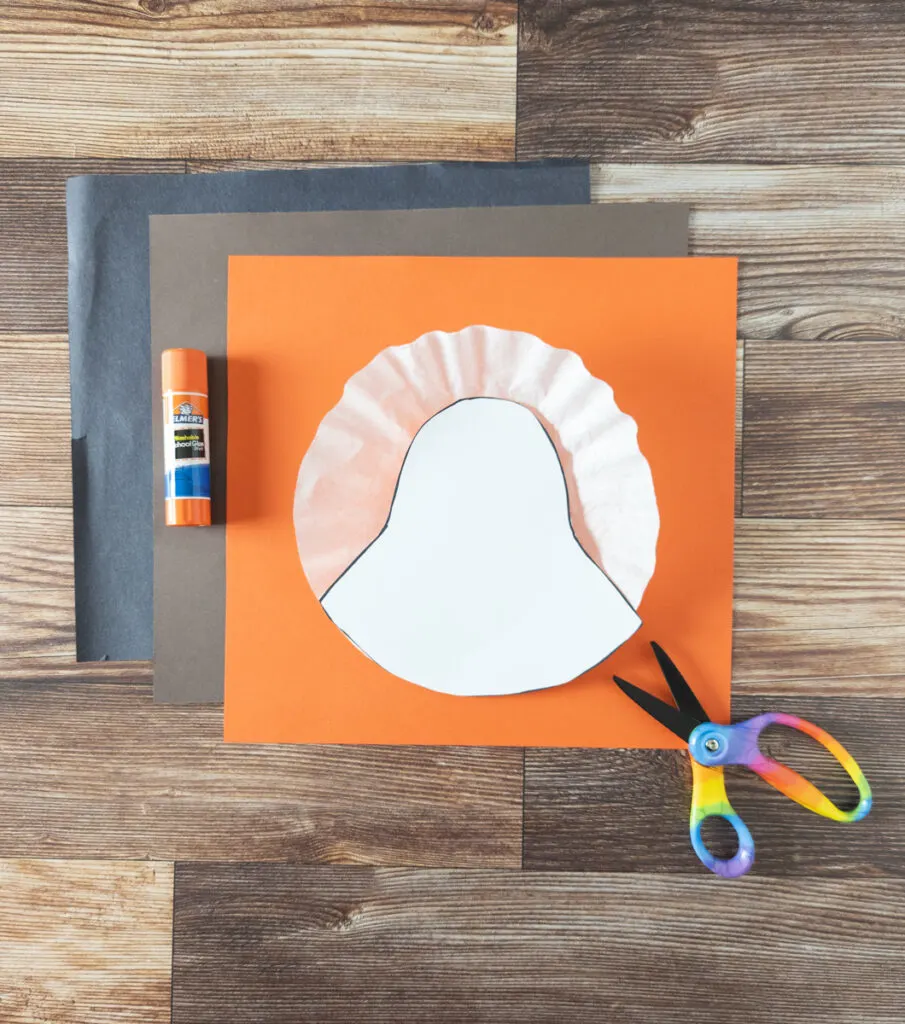 Once you have your ghost shape ready, you will glue it onto a piece of construction paper of your choice.
To give the illusion that the ghost is floating, don't apply glue along the bottom edge of the coffee filter and allow it to raise slightly from the paper.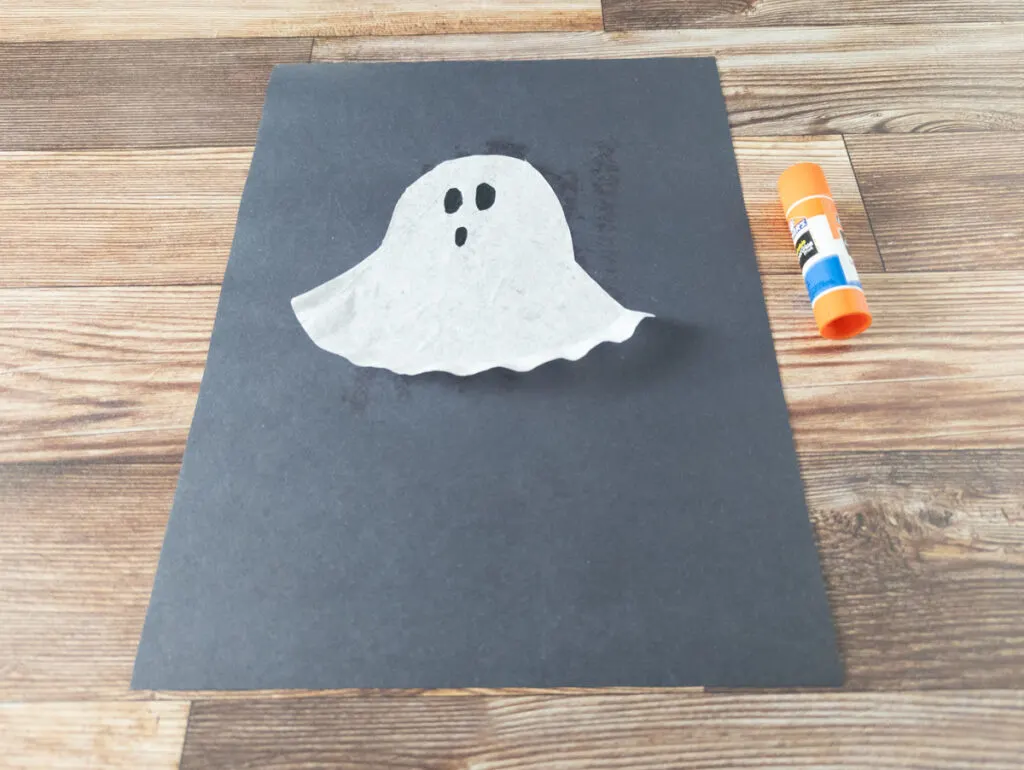 Then give your ghost some personality by drawing on its eyes and a mouth using a black marker.
To make your ghost stand out even more, consider decorating the surrounding area on your construction paper with a scene of your own creation.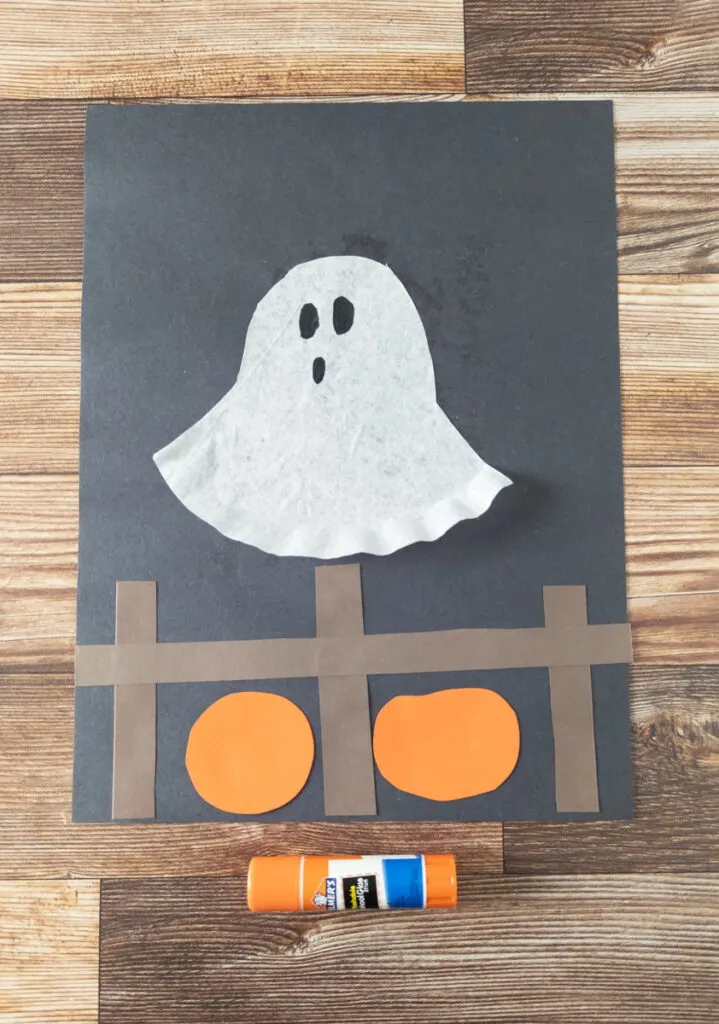 For our craft, we cut out orange pumpkins and a brown fence from construction paper. This gives the impression that our ghost is floating about in a pumpkin patch!
Coffee Filter Ghost Craft Variations
Our coffee filter ghost craft idea is only one of many other creative ways to use or make them.
For instance, you can create a ghostly Halloween banner by stringing together several coffee filter ghosts.
Or you can use a coffee filter ghost to decorate the front of a handmade Halloween card, adding a spooky touch.
Another idea is to make coffee filter ghost ornaments to hang on a Halloween tree, giving it an eerie ambiance.
Additionally, you can engage kids in writing or telling stories about their ghost creations, encouraging their imagination and storytelling skills.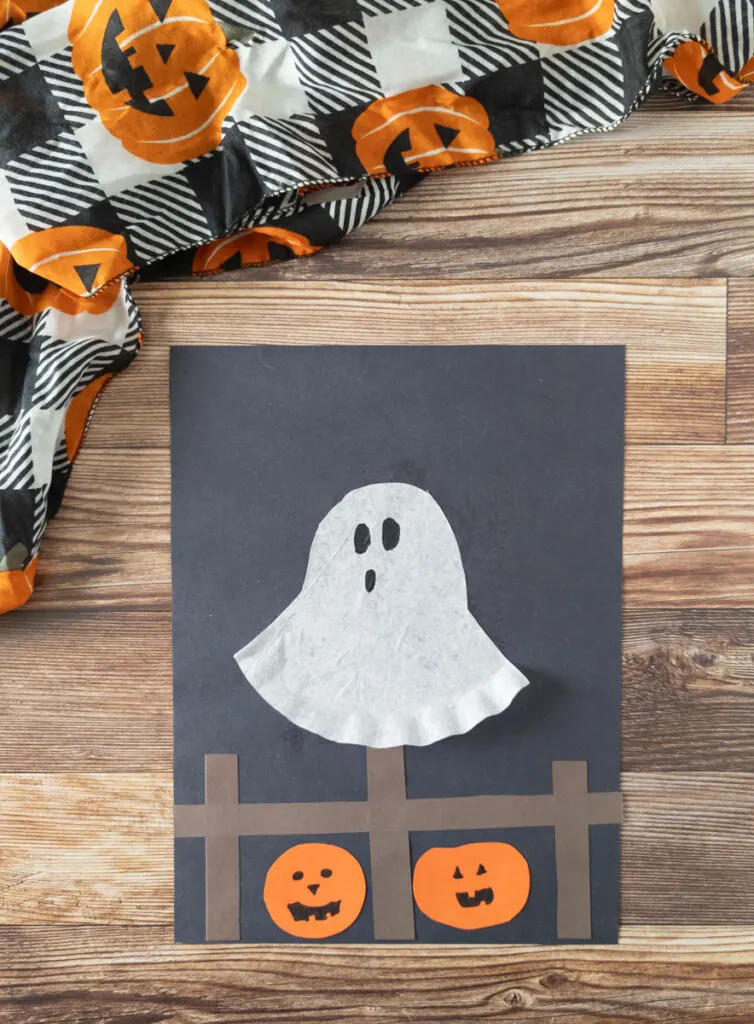 More Halloween Activities for Kids
Planning a fun Halloween-themed unit or a week of Halloween activities can be a thrilling experience for kids!
You can incorporate spooky story time sessions, pumpkin carving activities, costume designing, and even a small trick-or-treat event within the class.
Use our printable Halloween scavenger hunt clues to set up a fun treasure hunt full of Halloween-themed riddles. This assortment of Halloween toys make excellent prizes to hide!
Preschoolers can work on early math skills with our numbers Halloween sorting activity or our pumpkin size sorting activity.
Little learners can practice recognizing patterns with these Halloween sequencing activities.
Get kids excited about reading with our printable Halloween bookmarks. Coloring them in allows for creativity as well as strengthens fine motor skills.
Halloween Books
As we immerse ourselves in the spooky season, it's the perfect time to add Halloween-themed books to our reading list.
There's a treasure trove of fun Halloween picture books for children that feature ghosts, witches, pumpkins, and other iconic Halloween characters.
The Berenstain Bears Go on a Ghost Walk: A Halloween Book for Kids
The Super Tiny Ghost
Gus the Gassy Ghost: A Funny Rhyming Halloween Story Picture Book
How to Catch a Monster: A Halloween Picture Book for Kids About Conquering Fears!
Ten Timid Ghosts (Read With Me Paperbacks)
Pete the Cat: Trick or Pete
So, grab a hot cocoa, snuggle under a blanket and share these enchanting stories with your little ones for a spooktackular reading experience!
Halloween Games
If you're on the hunt for the best Halloween games for kids, you're in for a treat! Games can add an element of excitement to any Halloween party or learning session.
Enjoy endless laughter and fun with our Halloween charades printable game, sure to thrill children of all ages. This game, full of spooky actions and characters, is a perfect addition to your Halloween party or a lively break from learning activities.
Get ready to bring even more fun to your Halloween celebration with a Halloween Bingo game! It's not only entertaining, but it also promotes learning by teaching kids to recognize different Halloween-themed symbols and images.
Amp up the fun with our printable Halloween Would You Rather questions for kids. This game is not only a hilarious conversation starter, but it's also a delightful way to encourage social interaction among youngsters.
These games not only promise heaps of fun but also stimulate their creativity, problem-solving skills, and teamwork.
More Halloween Craft Ideas for Kids
Unleash your little ones' creativity with more Halloween craft ideas! Crafts are great extension activities and there are so many fun projects this time of year. Here are some project ideas your children will enjoy creating!
Halloween celebrations can be made even more delightful and educationally enriching with specially curated games and crafts for kids.
These activities not only add thrill and excitement to the festivities but also foster creativity, problem-solving abilities, and social skills. So let your imagination run wild and make this Halloween a memorable learning adventure for your kids.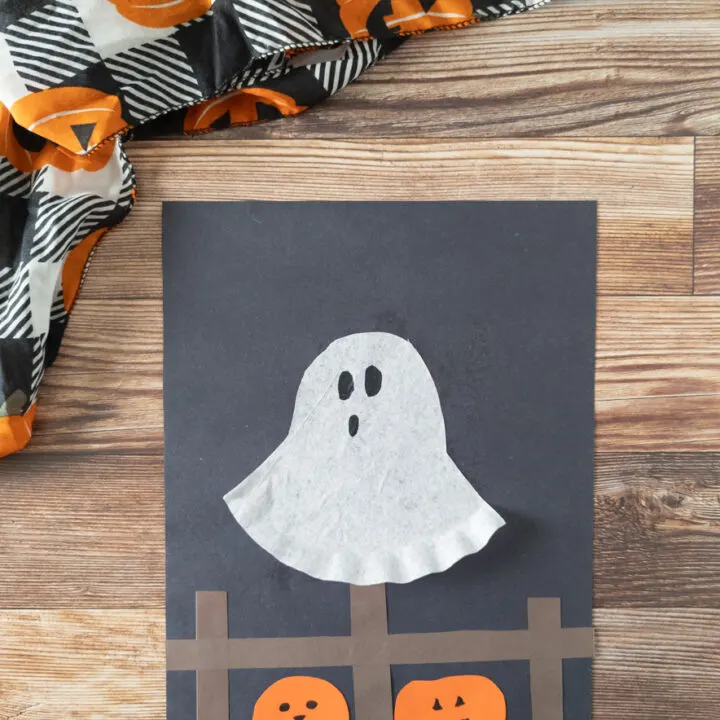 Coffee Filter Ghost Craft
Estimated Cost:
$5 or less
Make a cute little coffee filter ghost craft with the kids for a fun Halloween activity!
Materials
Ghost Craft Template
1 White Coffee Filter
Construction Paper in assorted colors
Black Marker
Glue
Instructions
Print and cut out ghost craft template and trace it on a white coffee filter.
Cut out the ghost shape.
Glue ghost onto colored paper to create a scene.
Draw eyes and a mouth on the ghost.
Cut out other shapes and items from construction paper to decorate around the ghost.
Notes
Find additional ideas for your coffee filter ghosts and Halloween activity planning in the blog post.
Recommended Products
As an Amazon Associate and member of other affiliate programs, I earn from qualifying purchases.