Engaging kids in creative activities like this clothespin bat craft is both fun and educational. Simple Halloween crafts for kids are perfect for engaging little hands at home or school. With this project, you'll transform ordinary clothespins and construction paper into delightful bats.
The free printable bat wings template I've hand-drawn makes this craft easy for any age. Tracing, cutting, and painting also offer an excellent opportunity to work on fine motor skills. These clothespin bats, just like many of our other crafts for kids, brings a blend of fun, creativity, and learning.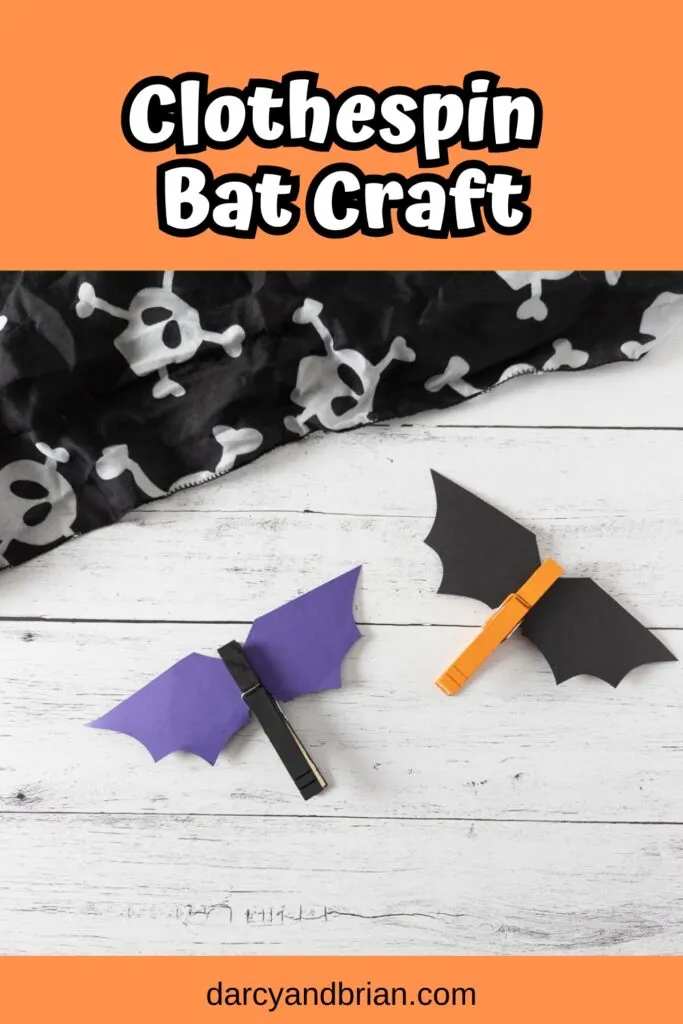 We absolutely adore Halloween and the crafting opportunities it presents. Part of the fun is in creating spooky decorations ourselves, transforming our homes and classrooms into enchanting Halloween landscapes.
We're always on the lookout for easy yet engaging craft projects that children of all ages can get involved in and enjoy.
Our clothespin bat craft is a perfect example of this, managing to be simple enough for younger kids while still engaging for the older ones.
This makes it an excellent classroom project, allowing every child to contribute to decorating the classroom for the season.
Why Is Crafting Important for Kids?
Crafting plays a crucial role in fostering creativity and art appreciation among children. It serves as a platform where little ones can freely express their thoughts and ideas through the medium of art, promoting a level of creative expression that is often hard to achieve through other means.
From painting with watercolors to molding clay and exploring different textures of crafting materials–each experience enriches a child's understanding of the world around them. Moreover, crafting can be a therapeutic activity, providing a sense of calm and relaxation.
In an era where children are often bombarded with digital stimulation, crafting offers a much-needed respite, allowing children to immerse themselves fully in a hands-on, tactile experience.
Whether it's an intricate clothespin bat project or a simple paper folding exercise, crafting nurtures a child's imagination while simultaneously providing a platform for stress relief and relaxation.
This post contains affiliate links. As an Amazon Associate and a participant in other affiliate programs, we earn a commission on qualifying purchases.
Apple Barrel Acrylic Paint Set, 16 Piece (2-Ounce), Best Colors Count
Bassion Pack of 2 Kids Art Smocks, Children Waterproof Artist Painting Aprons Long Sleeve with 3 Pockets for Age 2-6 Years
AdTech Ultra Low-Temp Cool Tool | Mini Hot Glue Gun for Safe Crafting | Children and Kids | Item #05690 , White
Aleene's Turbo Tacky Glue, 4 FL OZ – 3 Pack, Multi
More Bat Crafts for Kids
Beyond our clothespin bat craft, there's a whole world of bat-themed craft activities for kids to explore. These crafts present an exciting opportunity for children to learn more about these intriguing nocturnal creatures, while creating something they can take pride in.
Whether it's transforming everyday household items or using inexpensive craft supplies, there's no end to the creativity that can be sparked.
Remember, the goal is not just to follow instructions but also to inspire creativity, so encourage your little ones to add their unique touches to their craft projects. You'll be amazed at the variety of bat crafts that can be created, all while kids are developing valuable skills!
Learning Benefits of Making Clothespin Bats
Creating clothespin bats is a fun, enriching activity that offers kids a multitude of learning benefits. This craft encourages creativity by allowing children to make choices about the colors of paint and paper to use, promoting decision-making skills and color recognition.
As they trace the craft template and cut out the shapes with scissors, they are fine-tuning their motor skills, fostering precision and hand-eye coordination.
The act of painting provides an opportunity for expressive play and sensory exploration, while pinching the clothespins open and closed strengthens hand muscles, an essential skill for writing.
Thus, this simple and entertaining craft offers a creative learning platform, helping children develop various skills while they create their unique bat clothespins.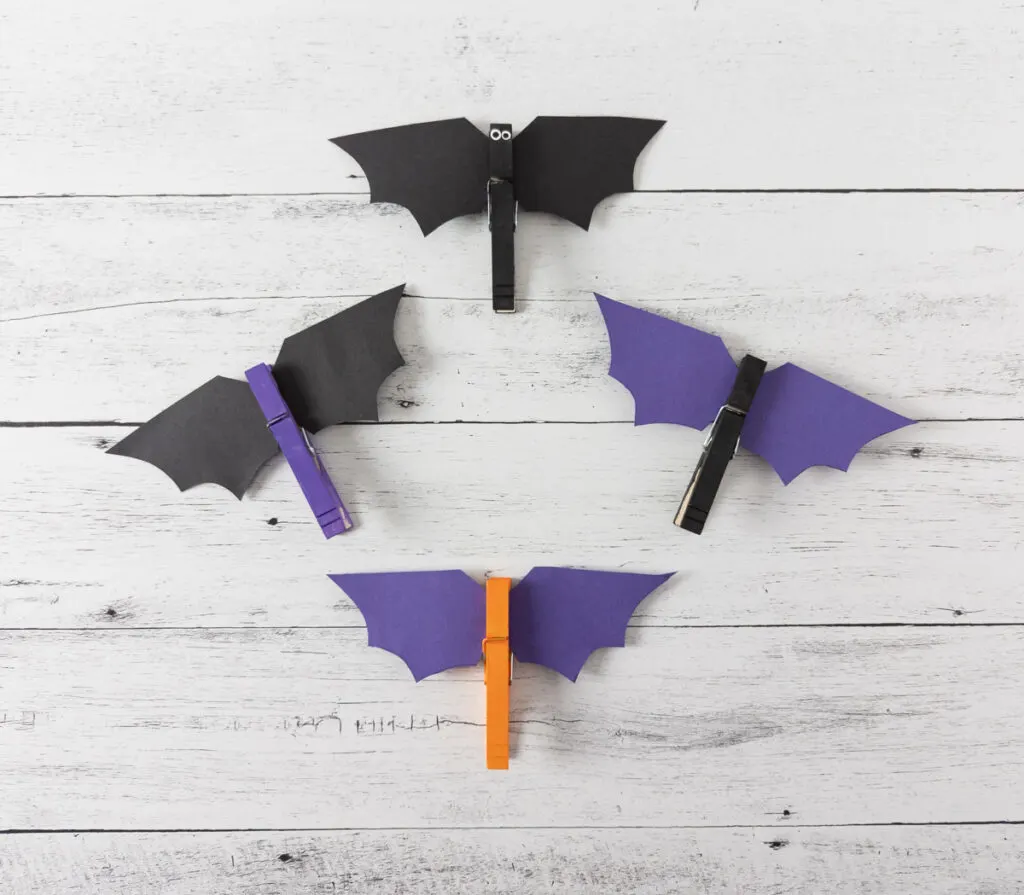 Create a Bat Unit Study
Incorporating this clothespin bat craft into a comprehensive bat unit study can significantly enhance your young ones' educational experience.
Beyond crafting, it opens the door to delve deeper into the fascinating world of bats, transforming the activity from merely a fun task into a multidimensional learning journey.
You can plan bat-themed lessons that cover a range of subjects – from learning about the diverse species of bats and their habitats in science to crafting captivating stories about bats in language arts.
It's also worth noting that bats are not just iconic symbols of Halloween, but also the stars of Bat Week, an annual event held to raise awareness and educate people about these often misunderstood creatures.
Bat Week usually falls around the same time as Halloween, making it an ideal opportunity to align your bat-themed lessons and crafts with this international celebration of the role of bats in nature.
Books About Bats for Kids
Reading about bats can significantly enrich your child's learning experience while they engage in crafting.
A variety of informative and entertaining children's books can wonderfully complement the clothespin bat crafts and bat-themed lessons.
These books, filled with captivating illustrations and engaging narratives, enable children to explore the fascinating world of bats, their habitats, and their unique behaviors.
From understanding the importance of bats in our ecosystems to debunking common myths, these books offer a comprehensive view of these creatures.
They can be integrated into your bat unit study, or used as delightful standalone read-alongs during the crafting activity. Here are some recommended bat books that will surely captivate young learners.
All Things Bats For Kids: Filled With Plenty of Facts, Photos, and Fun to Learn all About Bats
DK Readers L1: All About Bats: Explore the World of Bats! (DK Readers Level 1)
Bats at the Library (A Bat Book)
Bo the Bat (Learn and Love Series)
It's a Good Thing There Are Bats (Rookie Read-About Science: It's a Good Thing…)
The Secret Life of the Little Brown Bat
Bat Learning Activities
Alongside the hands-on crafting, we also have a set of enriching bat learning activities for your young learners. These include printable bat counting mats for numbers 1-20, which provide a fun, tactile way for children to familiarize themselves with numbers and improve their counting skills.
In addition, we've prepared printable bat life cycle activity pages that offer a fascinating glimpse into the stages of a bat's life.
Creating a bat sensory bin is another fantastic hands-on activity to immerse your child in the world of bats, offering an engaging, tactile learning experience.
Combining these activities with our clothespin bat crafts can make learning about bats an immersive, multi-sensory experience that children will love.
Clothespin Bat Craft Supplies
One of the great aspects of this project is that it utilizes affordable, readily-available supplies. Most likely, you already have everything you need tucked away in your home craft drawer or cabinet.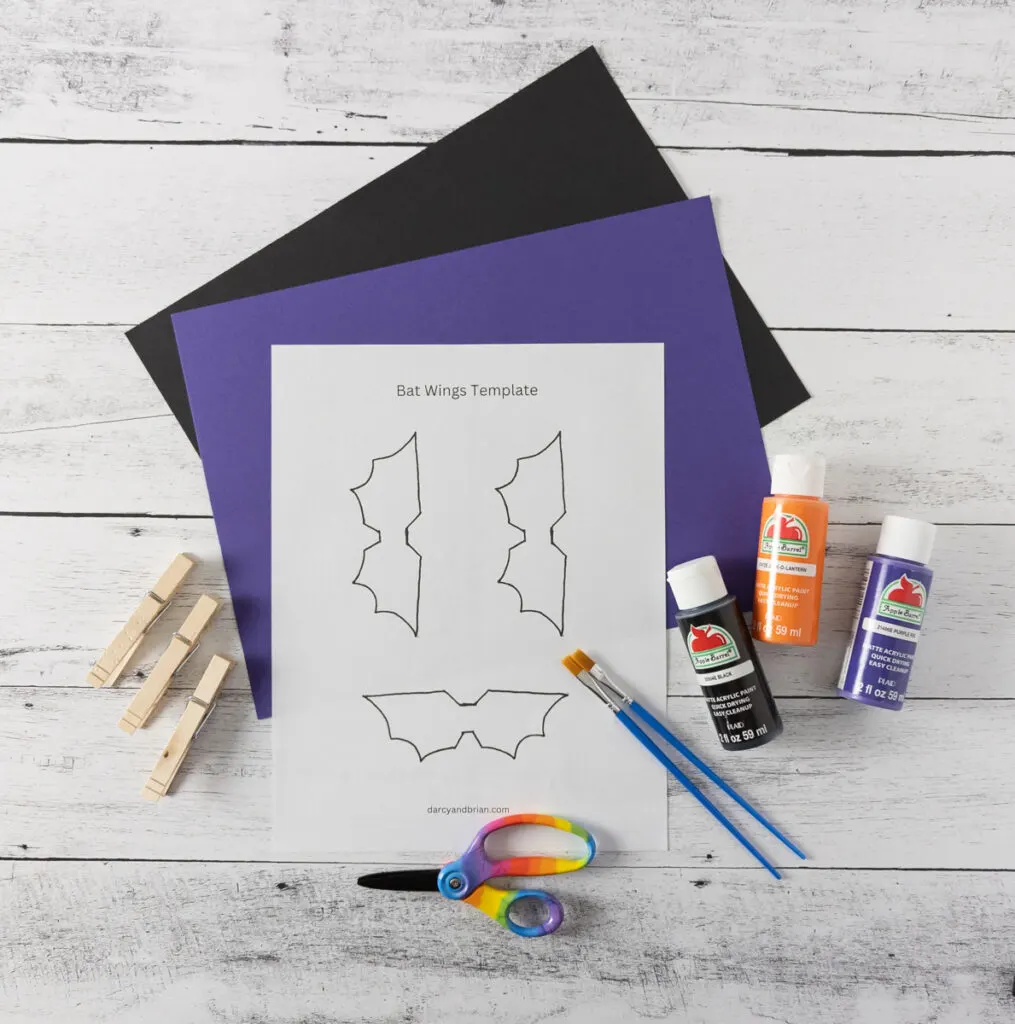 Let's take a look at the items you'll need:
Bat Wings Template: This is a hand-drawn pattern that you can print out and trace. It's simple, fun, and makes the process easy for kids.
Clothespins: We suggest using wooden clothespins with a spring. They serve as the body of your bat and are perfect for small hands to manipulate.
Acrylic Craft Paint: Assorted colors are necessary for this project, but we definitely recommend using black, purple, and orange to maintain that Halloween vibe. These paint tray palettes come in handy too!
Color Paper: Either construction paper or colored cardstock can be used to create the wings of your bats. Choose whichever you have at-hand or prefer for your crafts.
With these supplies, you're all set to make your clothespin bats!
Shop some of my favorite craft supplies on Amazon!
How to Make Clothespin Bats
Start by painting your clothespins. You can either paint them all in black or use a variety of colors. To make the painting process easier and avoid getting paint on your hands, attach the clothespin to a piece of scrap cardboard.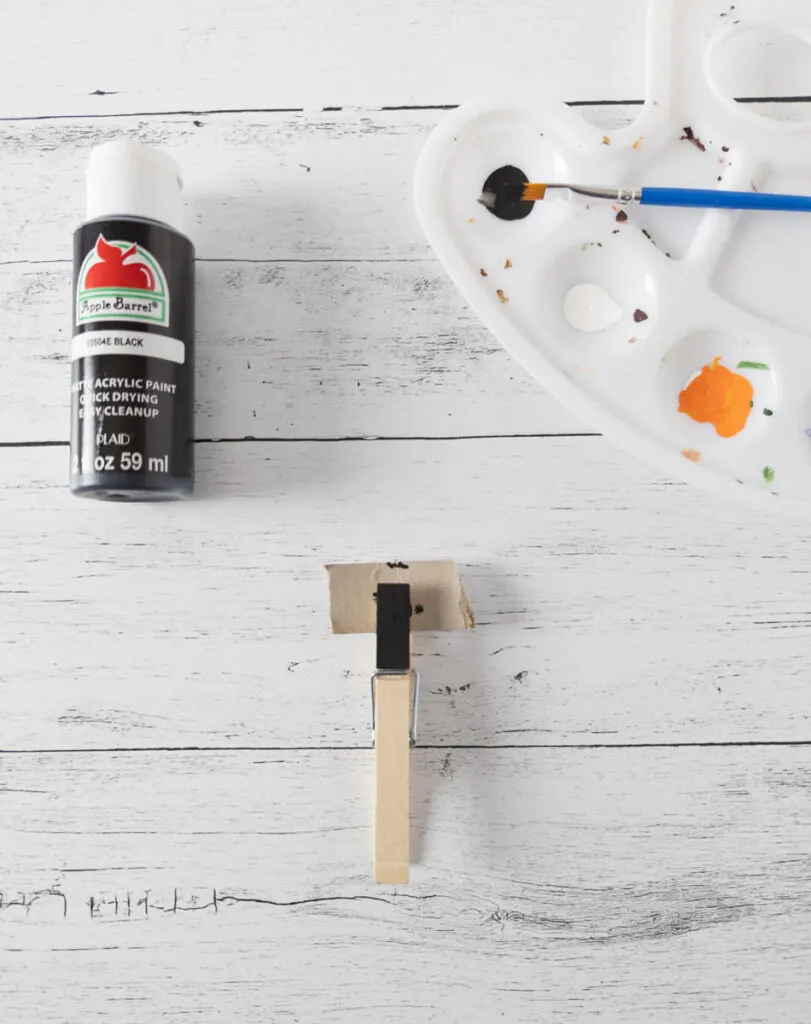 Paint the top and sides of your clothespins. If desired, you can remove the spring, paint it separately, and then reassemble the clothespin once it has dried.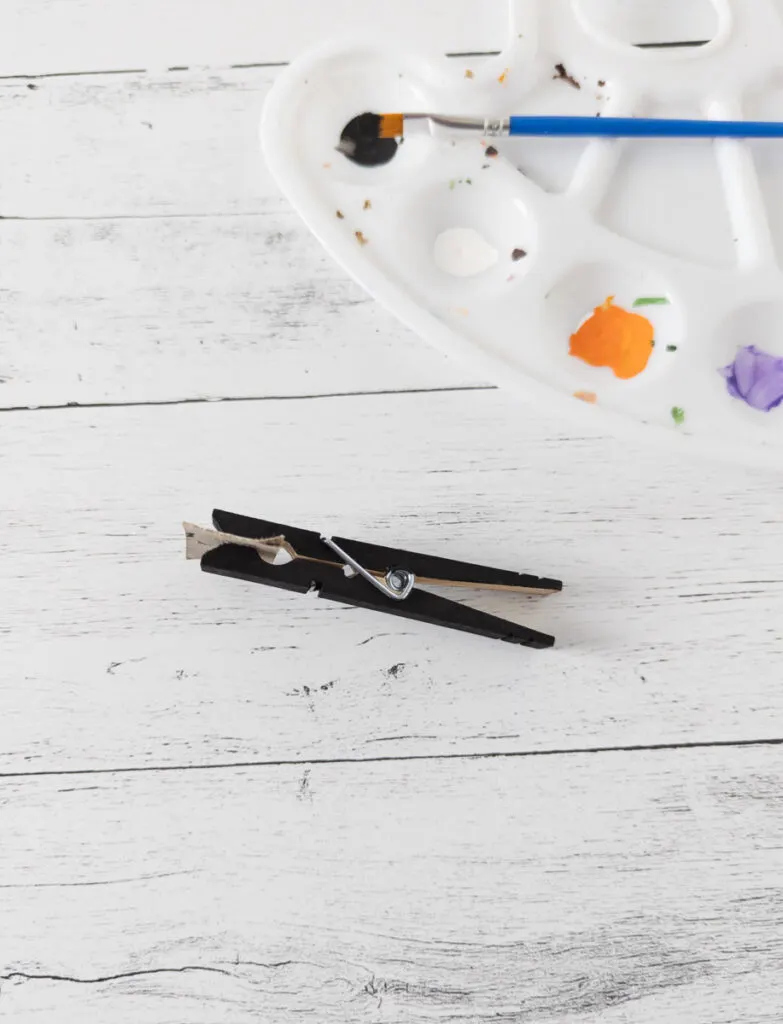 Personally, I painted my clothespins as they were without disassembling them. Then allow the paint to dry and apply an additional coat if necessary.
This clothespin bat craft looks fantastic even without adding a face, but feel free to add one if you wish!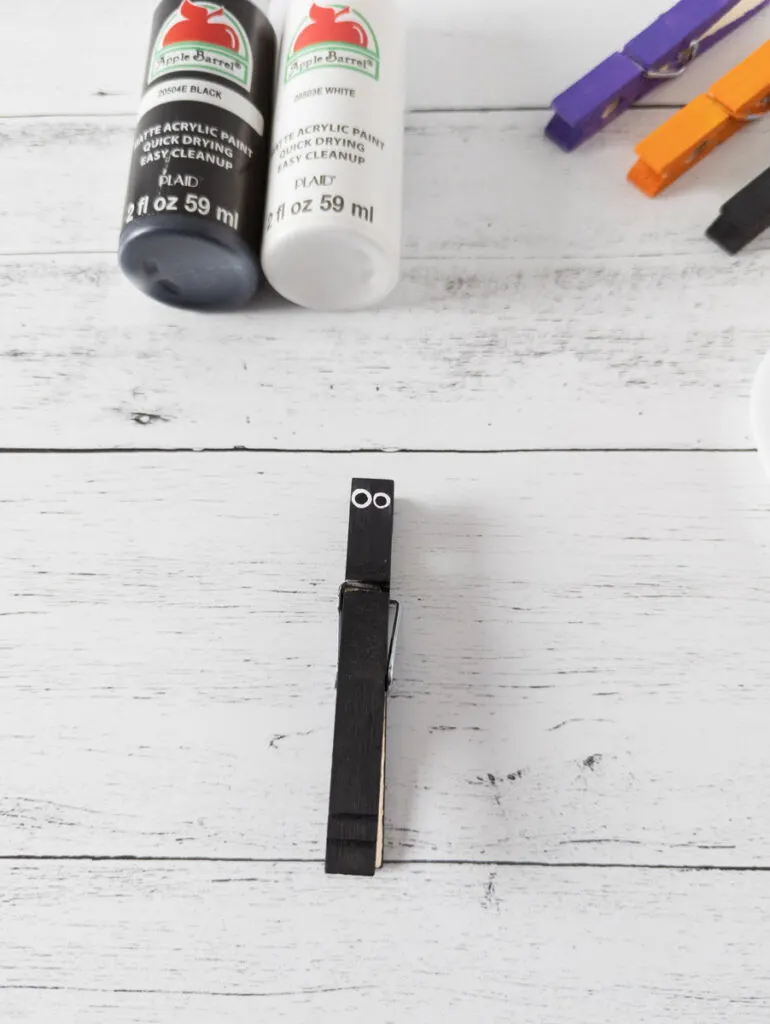 I used a cotton swab to carefully dab white circles onto one of my black clothespins. After letting the white paint dry slightly, I added a small amount of black paint to the center.
Next, print out our bat wing template (which is available for free using the form at the bottom of this post).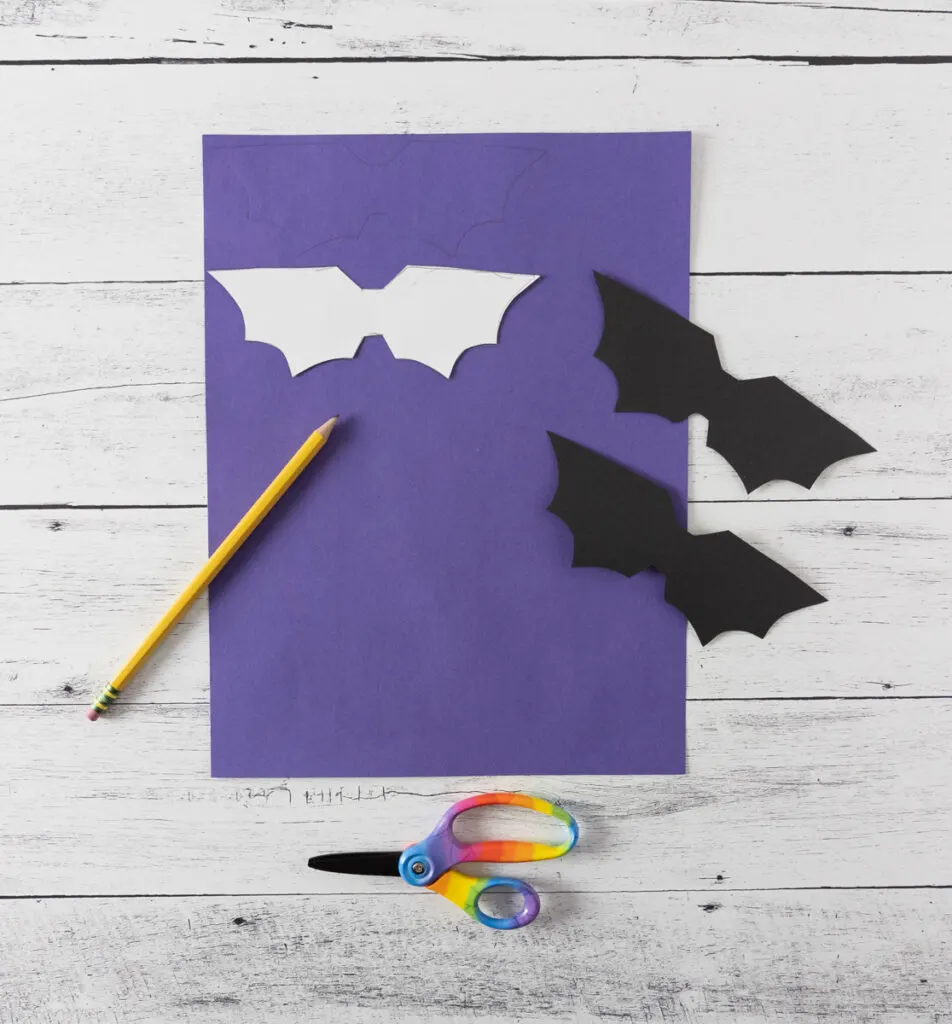 I recommend printing it on white cardstock paper, as the thicker paper is easier to trace. Alternatively, you can draw your own bat wings.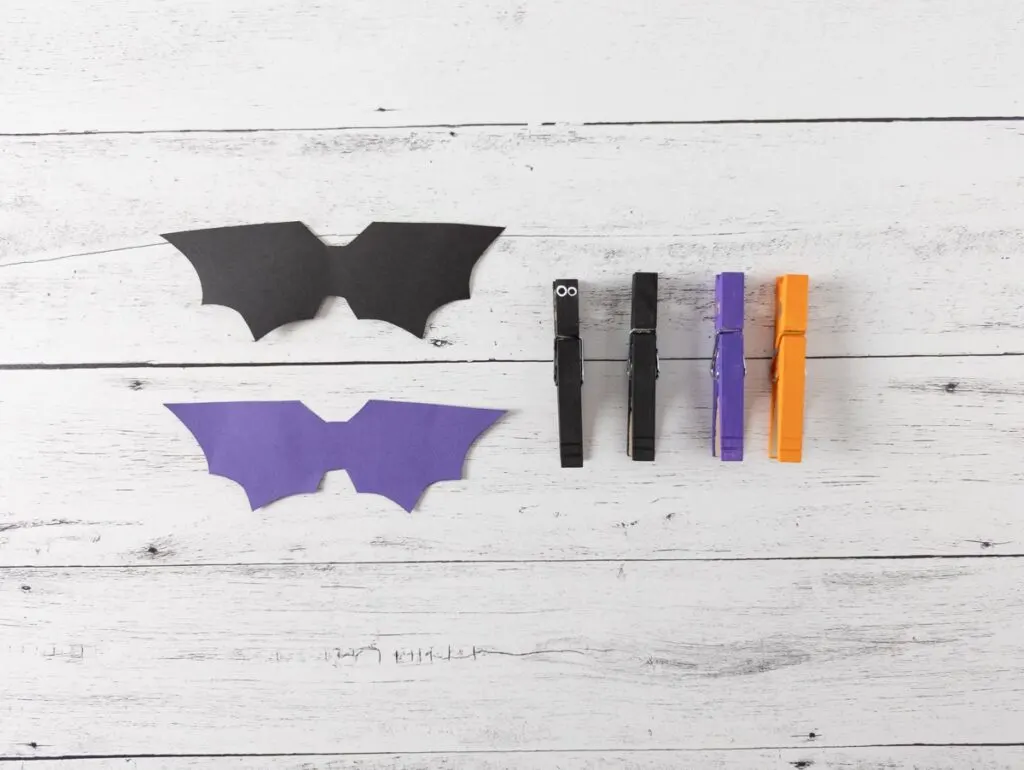 Trace and cut out as many wings as you need based on the number of clothespins you have painted.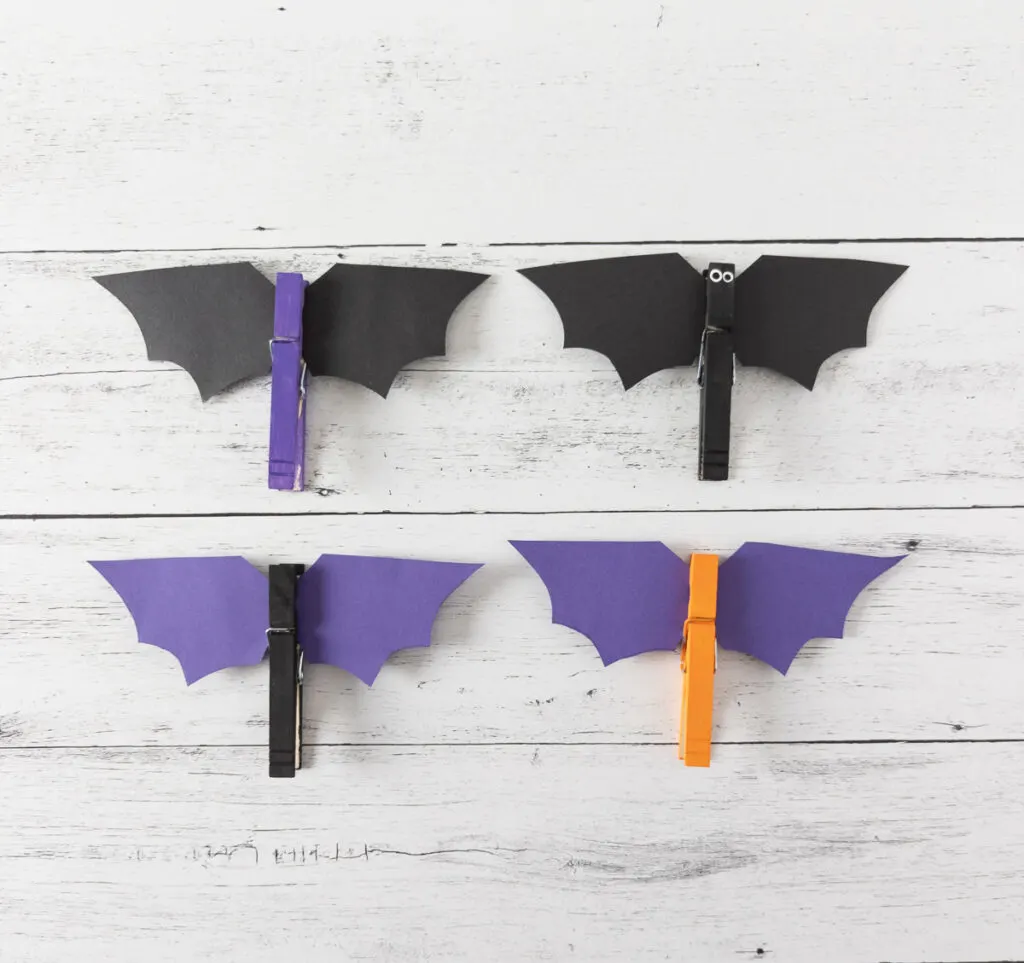 After cutting them out, attach the clothespins to the center of the wings to create your bats!
Unique Ways to Use This Clothespin Bat Craft
Once your clothespin bats are ready, there's a multitude of creative ways you can use them!
For instance, why not attach a small magnet to the back of each bat and let them spookily perch on your refrigerator? It's a fun, festive way to decorate for Halloween.
Alternatively, you could attach them to a length of twine to create a unique and charming bat banner.
Another fun idea is to attach a loop of twine to each bat, enabling them to hang individually – maybe from a Halloween tree or your kids' bedroom ceiling.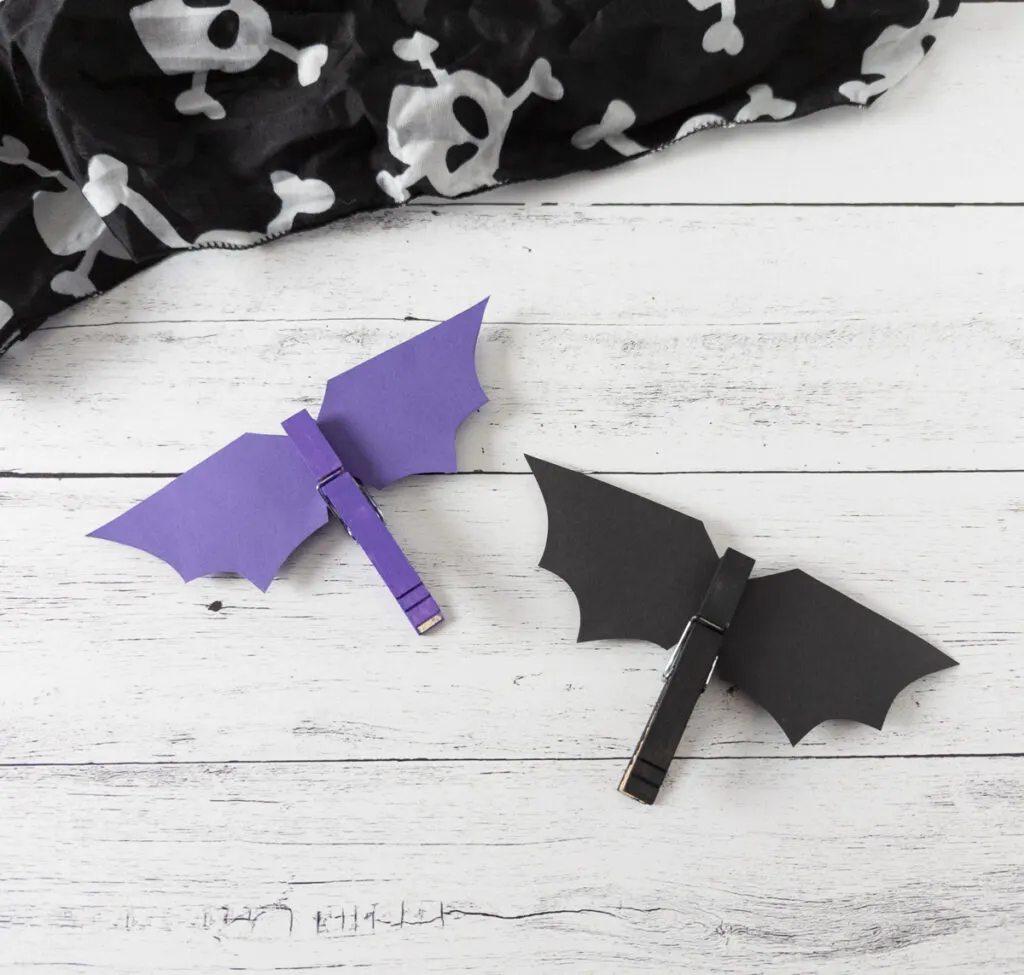 The bats also make a fantastic interactive color matching game for the little ones.
Simply paint the clothespins in a variety of colors, and have your kids match the clothespins to the paper wings of the same color.
This is not only fun but also a great way to work on their fine motor skills and color recognition!
Fun Halloween Crafts for Kids
As October draws near, the excitement of Halloween begins to take hold. It's a time of year when the air is filled with the scent of pumpkin spice and the excitement of trick or treating.
It's also the perfect time to engage your little ones in a plethora of fun Halloween craft activities.
These crafts not only offer an opportunity to express creativity and imagination but also capture the spirit of the season.
We've compiled a range of craft ideas that are simple, enjoyable, and perfect for kids to make at home or school, transforming ordinary materials into extraordinary Halloween art.
And there you have it! With some clothespins, construction paper, and your own creativity, a delightful colony of bats is ready to bring a touch of Halloween magic into your home or classroom.
This clothespin bat craft is an excellent way for kids to develop their fine motor skills while making easy Halloween decorations.
So, as the chill of October sets in, let the crafting begin! With the flutter of bat wings and the joy of creation, your little ones will surely have a spooktacular Halloween!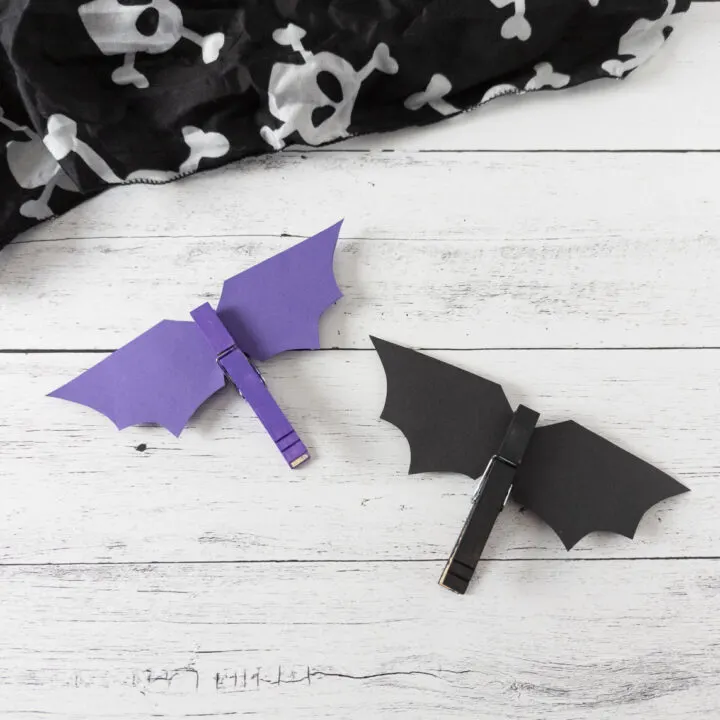 Clothespin Bat Craft
Estimated Cost:
$10 or less
Make this easy clothespin bat craft for Halloween! Fun project to do with the kids.
Materials
Printable Bat Wings Craft Template
Wooden Clothespins
Paper in Assorted Colors
Craft Paint in Assorted Colors
Tools
Paintbrush
Paint Palette Tray
Cotton Swab (optional)
Pencil
Scissors
Instructions
Start by painting your clothespins. You can paint them all black or in a variety of colors. To make it easier to paint without getting paint on your hands, clip the clothespin onto a piece of scrap cardboard.
Paint the top and sides of your clothespins. If you want, you can remove the spring, paint, then reassemble once they are dry. I did not take my clothespins apart and painted them as is.
Allow the paint to dry and apply another coat if needed.
This clothespin bat craft looks great without adding a face, but go ahead and add one if you'd like! I used a cotton swab to carefully dab white circles on one of my black clothespins. I let the white dry a little before dabbing a little bit of black in the center.
Then print out our bat wing template (it's available for free using the form at the bottom of this post). I recommend printing it out on cardstock paper as the thicker paper is easier to trace. You can also draw your own bat wings.
Trace and cut out as many wings as you'll need based on the number of clothespins you painted.
After cutting them out, clip the clothespin over the center of the wings to create your bat!
Notes
Drying time will vary; however, acrylic paint generally dries quickly.
Recommended Products
As an Amazon Associate and member of other affiliate programs, I earn from qualifying purchases.