This easy bat craft is a fantastic addition to a bat unit or a Halloween-themed art center, both at home and in school. As one of the most simple Halloween crafts for kids, it not only adds a burst of color to any space but also encourages children to unleash their creativity.
Kids can customize their bats using different colors and patterns of tissue paper, giving each bat a unique personality. The process is simple, requires minimal assistance, and is less messy than traditional painting, making it ideal for young crafters. This craft is sure to make Halloween more fun and educational!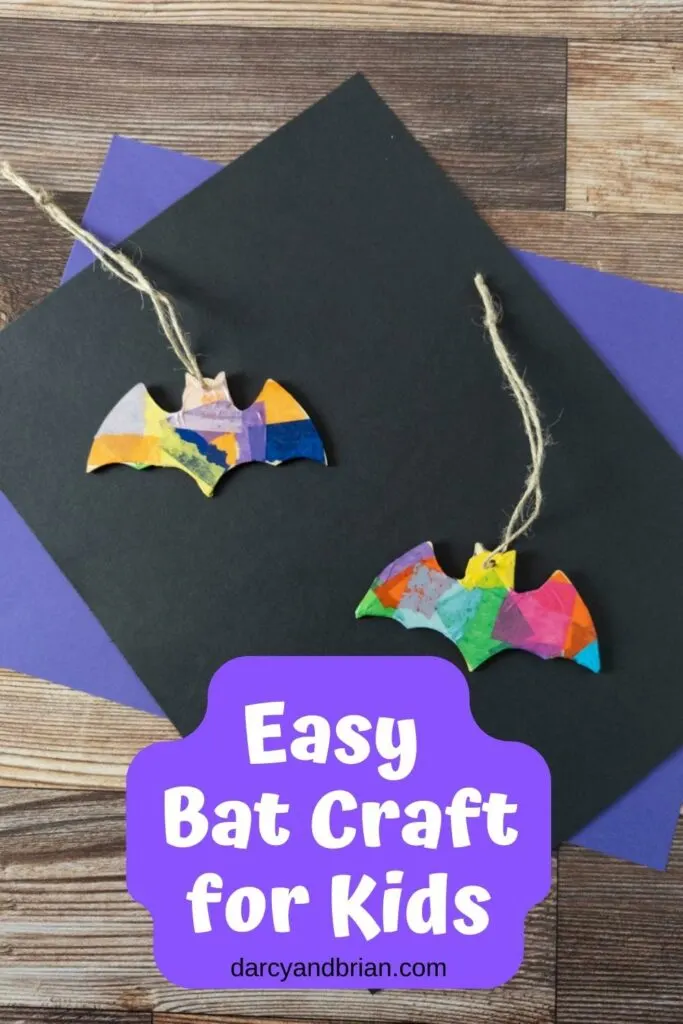 Creating their own Halloween decorations is a thrilling experience for kids, and this bat craft is an ideal starting point for their spooky adventure. It's a fun alternative to painting, just like our tissue paper picture frame craft for kids.
Making these simple, charming ornaments brings immense joy and a sense of accomplishment. Children can hang their creations on a Halloween tree or around the classroom, adding a personal touch to the seasonal décor.
More Bat Crafts for Kids
Let's dive into the world of nocturnal creatures with more bat crafts for kids! Crafting offers a fun and engaging way for children to learn about bats and Halloween traditions.
Through these additional creative projects, children can continue exploring their artistic abilities while learning about bats and their importance in the ecosystem. Each craft is designed to be straightforward and enjoyable, suitable for preschoolers as well as older kids.
This post contains affiliate links. As an Amazon Associate and a participant in other affiliate programs, we earn a commission on qualifying purchases.
Fennoral 12 Pack Bat Crafts for Kids
Shemira Halloween Craft Kit for Kids, 6 pcs Glass Mason Jar with Accessories for DIY Lantern Jar
Made By Me Create Your Own Halloween Window Art
jackinthebox Halloween Crafts for Kids
Benefits of Making This Bat Craft
Engaging children in this unique bat craft comes with numerous benefits. Notably, it provides an excellent opportunity for young minds to exercise their creativity.
This activity allows them to experiment, make choices about the colors and patterns they use, and create something genuinely unique.
The process of adhering tissue paper to the bat cutouts also helps children develop their fine motor skills.
Manipulating small pieces of tissue paper and placing them carefully on the cutout requires precision and control, which strengthens hand-eye coordination and bolsters dexterity.
This activity, therefore, is not only fun and educational but also instrumental in their developmental process.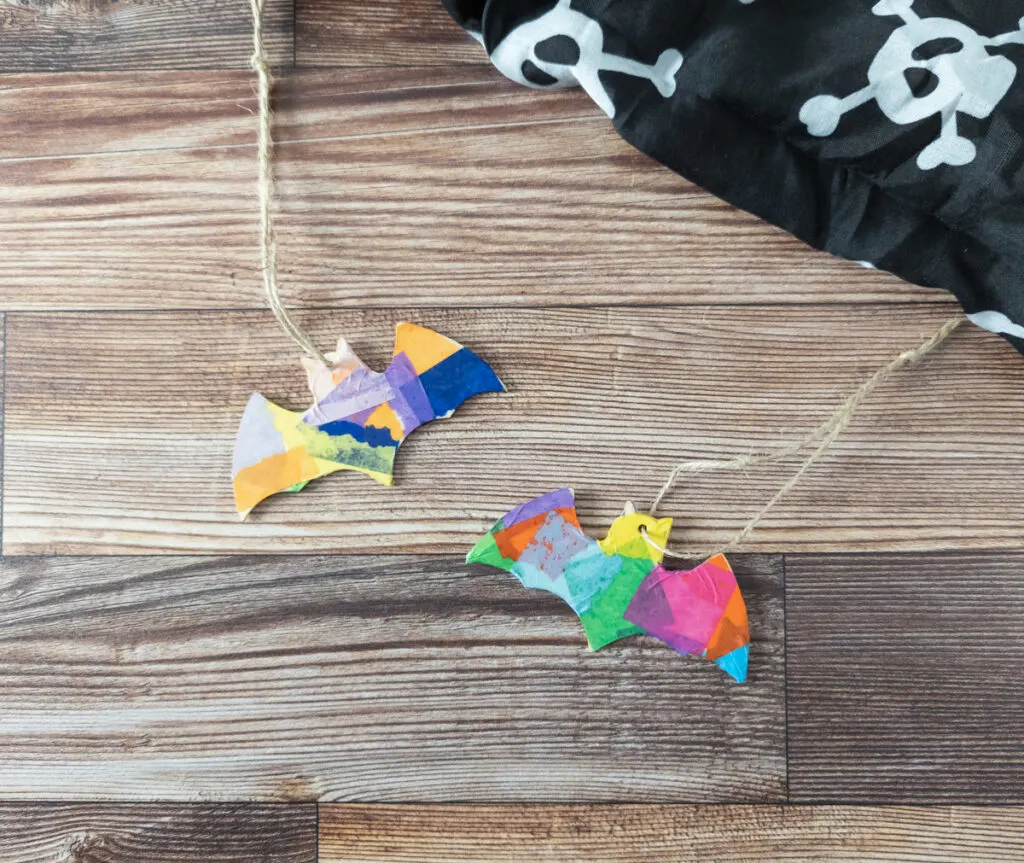 Bat Books for Kids
To enhance the learning experience, consider pairing these bat crafts with an engaging selection of bat-themed books for children.
Reading about bats complements the crafting experience by providing context and sparking curiosity about these fascinating creatures of the night.
Books like "Stellaluna" by Janell Cannon or "Bats at the Library" by Brian Lies not only demystify bats but also instigate a love for reading.
After delving into these captivating stories, children can channel their newfound knowledge and enthusiasm into their bat crafts, making their creations more meaningful and personalized.
This combination of reading and crafting forms an enriching, multi-sensory learning approach that deepens children's understanding and appreciation of bats.
Stellaluna 25th Anniversary Edition
Bats at the Library (A Bat Book)
Bo the Bat (Learn and Love Series)
Fiona the Fruit Bat
It's a Good Thing There Are Bats (Rookie Read-About Science: It's a Good Thing…)
National Geographic Readers: Bats
Bat Craft Supplies
To transform simple wooden bat cutouts into vibrant decorations, you'll need only a few crafting materials. This project is a great way to recycle and creatively repurpose items you might already have at home.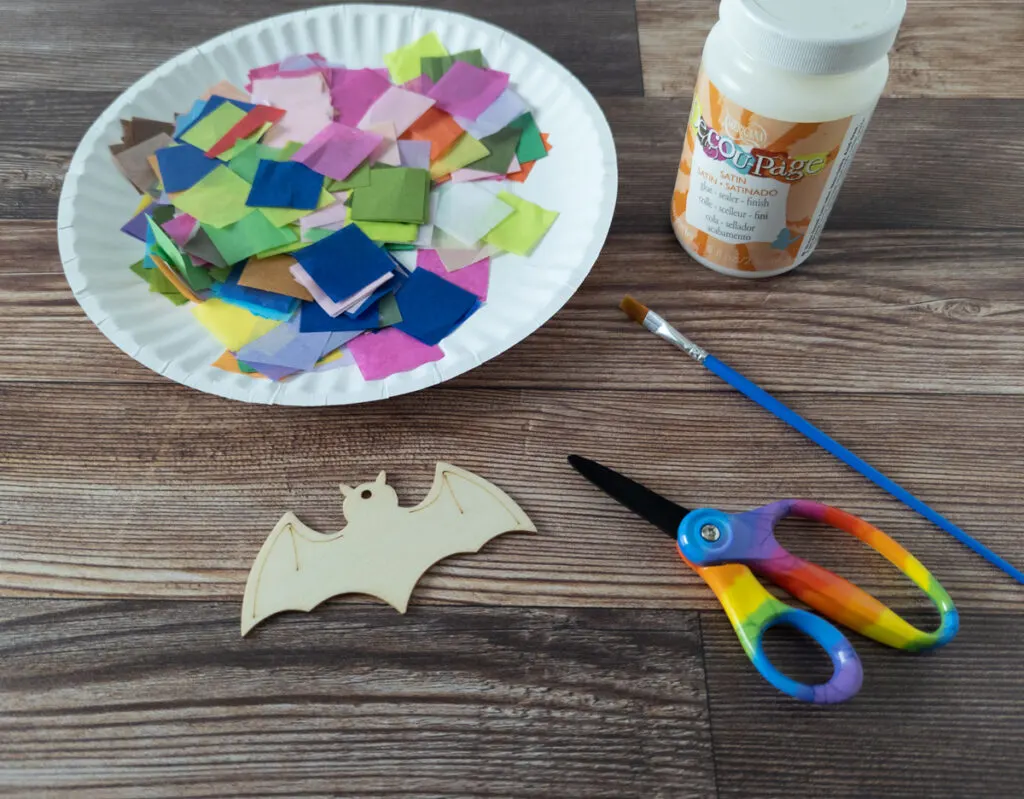 The required supplies include:
With these materials at your disposal, you are well on your way to creating a unique and colorful bat decoration!
Shop some of my favorite craft supplies on Amazon!
How to Make This Easy Decoupage Bat Craft
Begin by gathering your crafting materials and setting up your workspace. Cut or tear the tissue paper into smaller pieces.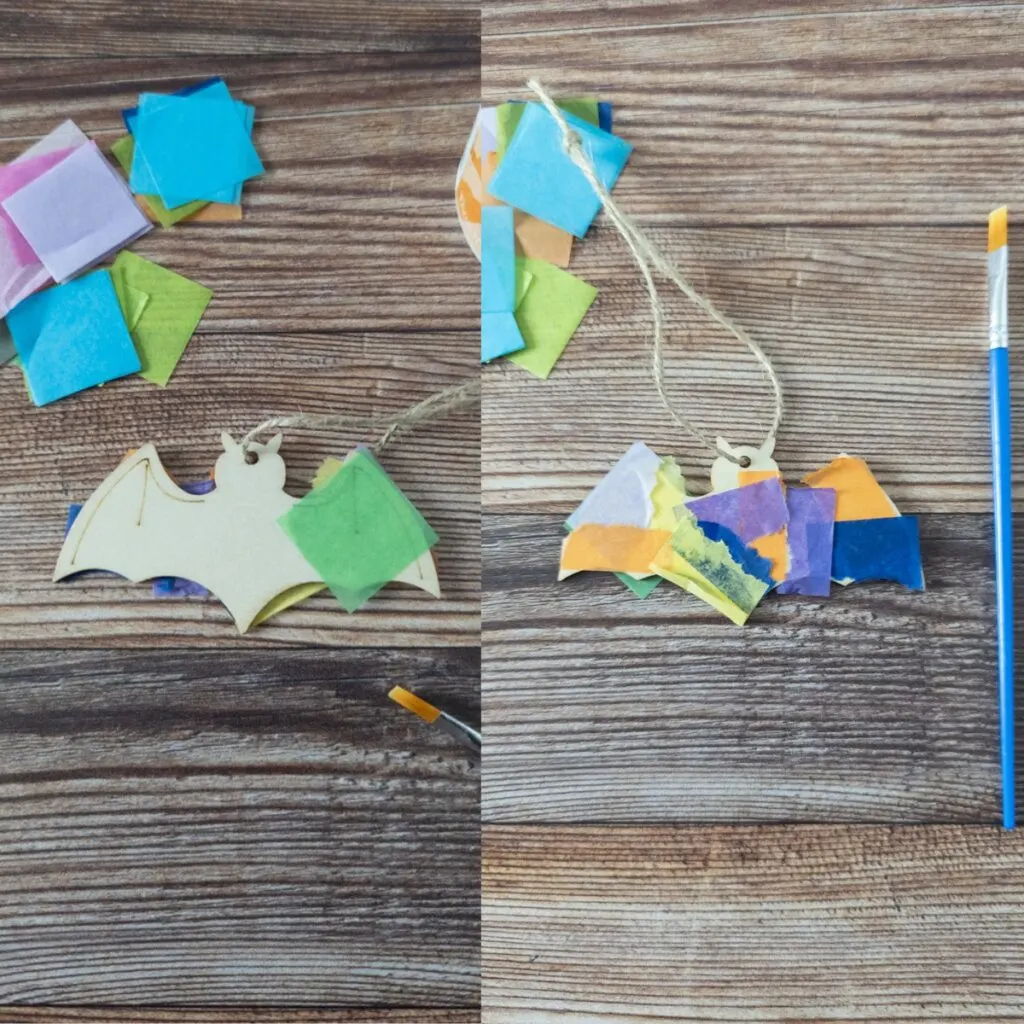 Use a brush to apply decoupage glue onto the wooden bat. Carefully place the tissue paper pieces onto the glue. Repeat this process until one side of the bat is completely covered in tissue paper.
Adjust any excess paper by trimming it or adding glue to the edges and tucking it around to the other side.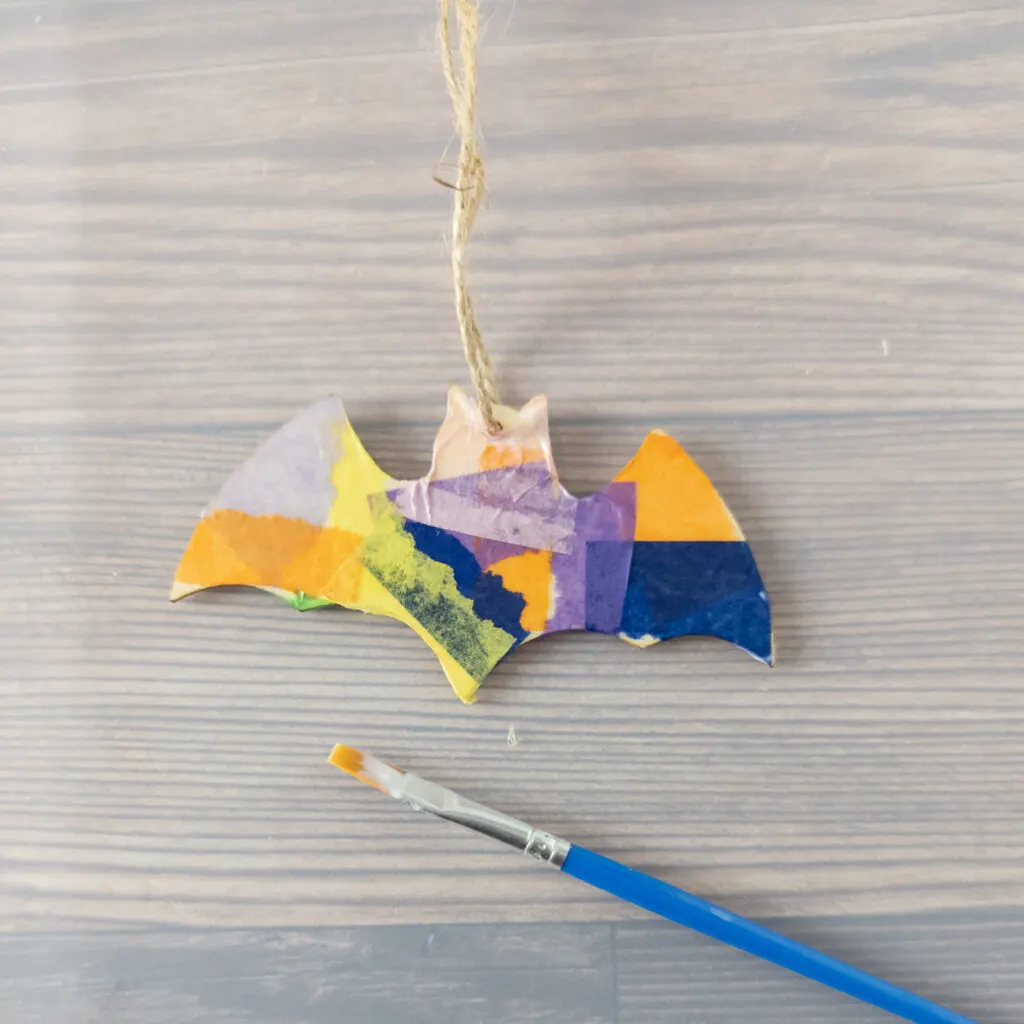 Apply a thin coat of decoupage glue over the tissue paper-covered side and allow it to dry.
Flip the bat over and repeat the same process for the other side.
If desired, you can either string twine through the hole before starting or create a hole through the tissue paper afterwards.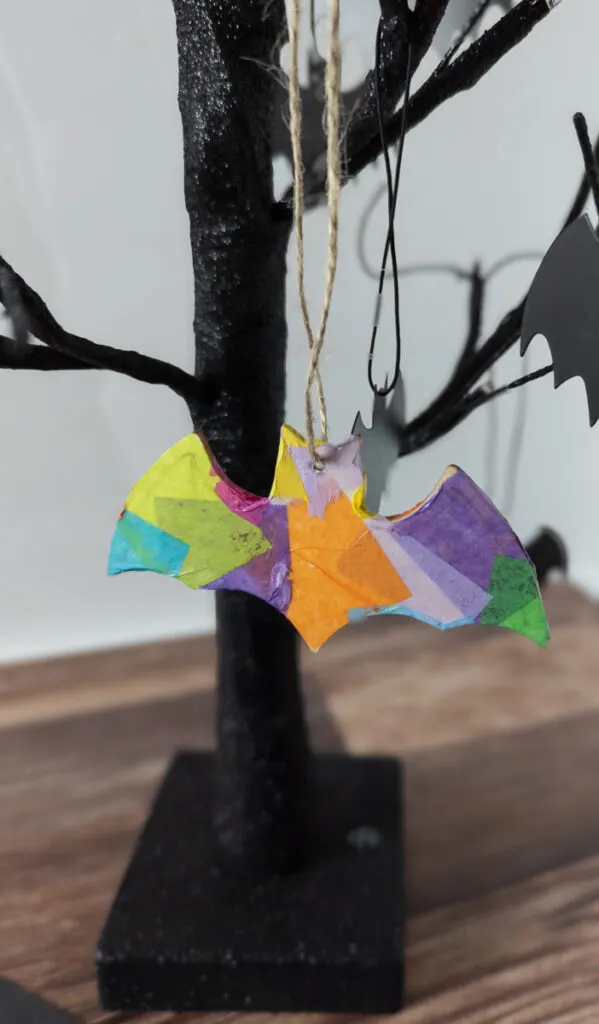 Fun Bat Learning Activities
To gain a comprehensive understanding of bats, try incorporating these engaging activities into your bat study unit or Halloween-themed lessons:
Add a fun and educational spin to your bat craft session with our printable bat life cycle activities. These worksheets are a great way for children to learn about the fascinating life cycle of bats, from birth to maturity.
Take the learning a step further by using this bat anatomy worksheet to help kids understand the different body parts of these amazing creatures. This worksheet encourages children to identify and label different parts of a bat, enhancing their biological knowledge and vocabulary.
For our younger crafters, the bat printable counting book is a delightful resource. This preschool-friendly activity offers a creative way to introduce number recognition and counting skills, all within the engaging context of our bat theme.
In addition, you can enrich your bat study with an interactive exploration of bat habitats. Educate children about the natural environments where bats live and guide them in creating a DIY bat cave using recycled materials.
Immerse students in real-world exploration by utilizing multimedia resources, such as video clips showcasing bats in their natural habitat.
Conduct a hands-on science experiment to demonstrate a bat's echolocation ability. Kids will find this echolocation activity to be both interesting and engaging!
Foster creativity and empathy by encouraging students to write a short story or poem from a bat's perspective. This activity enhances their understanding and appreciation of the lives of bats.
These resources further enhance the learning experience and provide a well-rounded understanding of bats.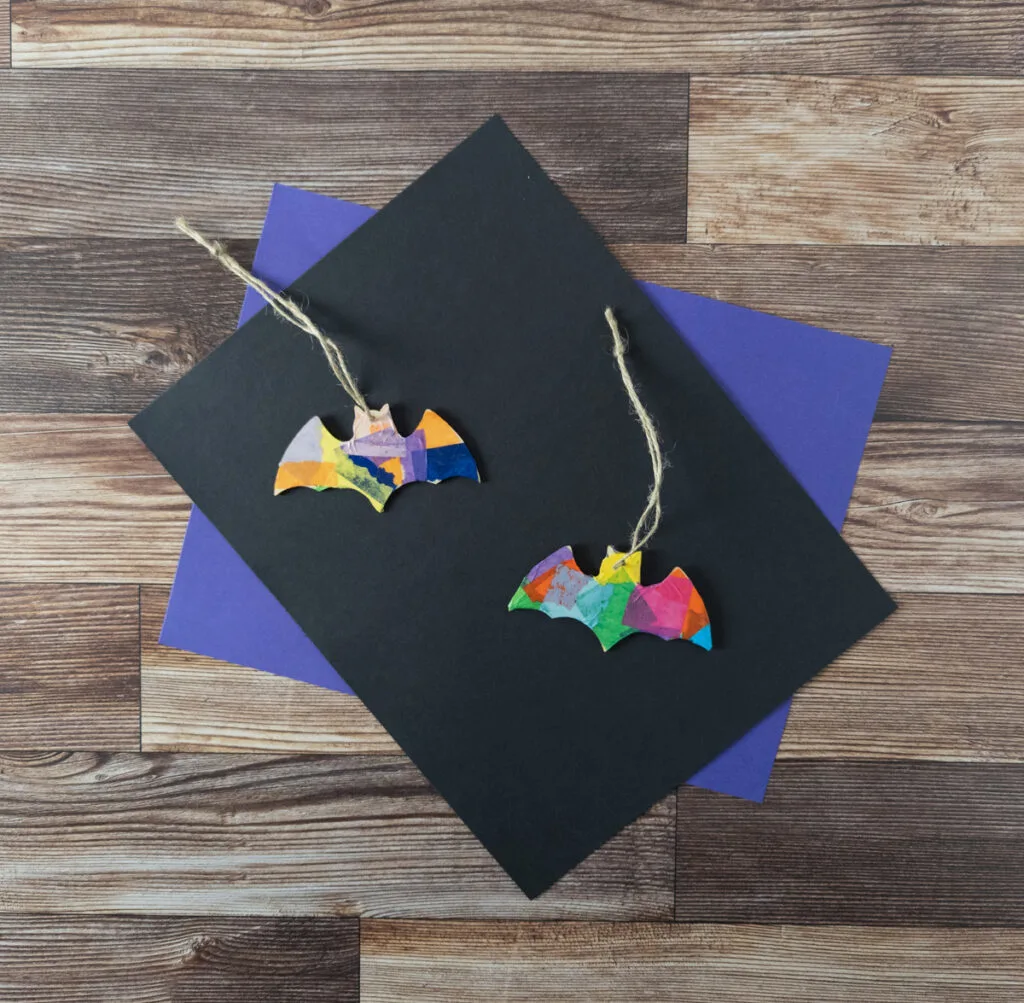 Bat Toys and Games
Bat-themed toys and games for kids can be an exciting addition to our craft activity, enhancing understanding and admiration for these nocturnal creatures.
Puzzles featuring different types of bats, plush bat toys, or even a bat-themed board game can serve to extend the learning and fun beyond the craft project. These items can be instrumental in reinforcing the knowledge acquired during the craft and reading activities!
ArtCreativity Plush Wearable Bat Wings
Wild Republic Bat Plush, Stuffed Animal
Dissect-It Simulated Synthetic Lab Dissection Toy, Animal Science – Bat
Safari Ltd. Brown Bat Figurine
eeBoo Love of Bats Glow in The Dark 100 Piece Jigsaw Puzzle/Ages 5+ (PZBAT)
More Halloween Craft Ideas for Kids
Want even more Halloween crafts for kids? Consider trying your hand at some of these ideas!
Pumpkin carving is a classic Halloween activity that allows children to use their creativity in designing unique jack-o'-lantern faces.
Spiderweb string art can be an excellent fine motor skill exercise, and it creates a spooky decoration perfect for Halloween.
Ghost-themed crafts, such as this handprint ghost art, are not only cute and festive, but they also serve as a memorable keepsake of your child's growth.
Each of these crafts provides a fantastic opportunity for kids to explore their creativity, learn new skills, and get into the Halloween spirit, all while making memories that will last a lifetime.
And there you have it, from bat-themed toys and games to a variety of other Halloween craft ideas for youngsters, we've covered a lot of creative ground. Our easy, colorful bat craft stands out as a less messy, yet unique activity perfect for preschoolers and older kids.
Remember, crafting is not just about creating fun decorations; it's about fostering creativity, learning, and making unforgettable memories. So, get ready with your tissue paper and wooden bat cutouts and let the Halloween crafting magic begin!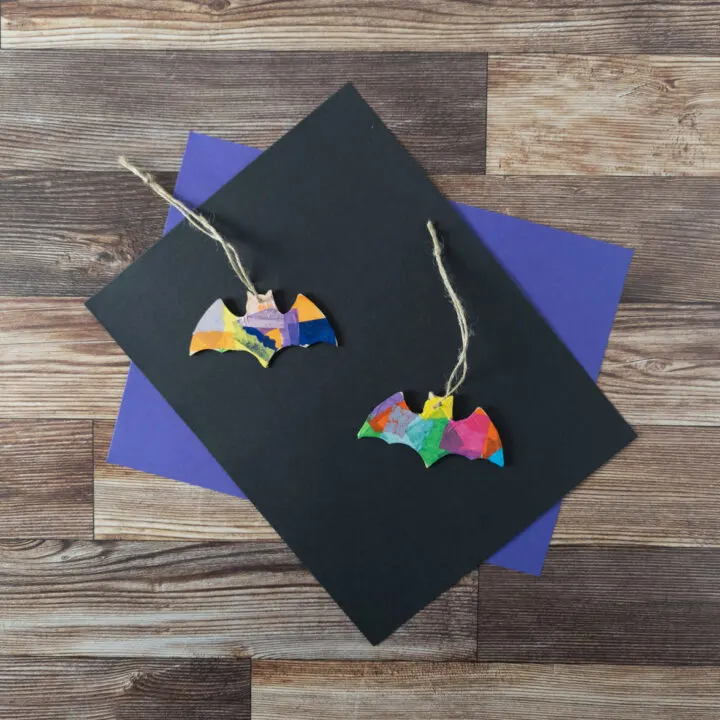 Easy Bat Craft
Total Time:
1 hour
25 minutes
Estimated Cost:
$10 or less
Make colorful Halloween decorations with this easy decoupage bat craft!
Materials
Wooden Bat Cutouts
Tissue Paper in Assorted Colors
Mod Podge
Paint Brush
Instructions
Start by gathering your craft materials and setting up your work space.
Cut up or rip tissue paper into smaller pieces.
Using a brush, apply decoupage glue to the wooden bat. Gently place tissue paper pieces over the glue. Repeat until one side is completely covered in tissue paper.
You can trim pieces that hang over the edge of your bat or add glue to the edges and carefully tuck the paper around to the other side.
Apply a thin coat of decoupage glue over the tissue paper covered side and allow to dry.
Then flip it over and repeat for the other side.
You can either string twine through the hole before starting or poke a hole through the tissue paper afterwards.
Recommended Products
As an Amazon Associate and member of other affiliate programs, I earn from qualifying purchases.