Looking for fun Halloween activities for kids? Or an exciting alternative to traditional trick-or-treating this Halloween? Look no further! We have the perfect solution for you and your family.
Introducing our printable Halloween scavenger hunt clues – a fantastic way for kids to celebrate and enjoy the spooky season from the comfort of your own home.
With these engaging clues, your little ones will have a blast hunting for treasures and surprises hidden throughout your house or yard.
Get ready for an unforgettable Halloween adventure that will create lasting memories for everyone involved.
We love Halloween, but some years it is hard to go trick-or-treating. That doesn't mean we can't find a way to still dress up in Halloween costumes and have our own little Halloween party!
This year, why not include a Halloween scavenger hunt as part of your fun festivities. Hide clues around the house or yard and let the kids search for creative treasures.
At the end of the hunt, reward them with candy and prizes! Everyone will have a blast searching for hidden treats!
We have even more Halloween themed printable games for kids as well as ideas for all year round. Let the Halloween festivities begin!
What is a Scavenger Hunt?
A scavenger hunt is a super fun game where participants compete to find items or solve clues.
It's all about exploring and discovering, which makes it exciting for kids and adults alike.
There are different types of scavenger hunts for different ages and interests. Some give you a checklist of items to find, from everyday stuff to cool artifacts or landmarks.
Others, like our Halloween Scavenger Hunt, have riddles or clues that lead you to different places, all leading to a hidden treasure.
Those are also known as treasure hunts and are awesome for the mystery and surprise factor. You can even customize them for your kids' level of challenge.
So, no matter the occasion, it's a versatile and super fun activity!
More Printable Scavenger Hunts:
Kids absolutely adore scavenger hunts, whether they're embarking on the adventure solo or competing against their friends to see who can find everything first.
The thrill of discovery and the excitement of the chase make these games an instant hit. Here are a few of our other popular printable scavenger hunts that you might enjoy:
Scroll down for the free printable
What's Included in the Printable Halloween Scavenger Hunt Clues?
This set includes 12 printable Halloween scavenger hunt riddles. Each card has Halloween themed hints and hiding spots, plus a final card to include at the end.
There are also blank cards provided so you may write in your own clues too.
Items Needed for a Halloween Treasure Hunt
To set up your Halloween treasure hunt, you'll first and foremost need clues to guide your explorers.
We've crafted a whimsical set of Halloween-themed riddles that not only rhyme but also evoke the spooky spirit of the season!
You can snag this free printable card set by filling out the form located at the bottom of this post. We recommend printing these on cardstock paper for better durability.
A paper cutter will come in handy to separate the cards neatly and efficiently.
Lastly, no treasure hunt is complete without the treasure! Stock up on candy and other small treats to hide throughout your hunt, providing a sweet reward and motivator for your little adventurers.
This post contains affiliate links. As an Amazon Associate and a participant in other affiliate programs, we earn a commission on qualifying purchases.
VKTEN 48Pcs Halloween Party Favors Slap Bracelets
24PCS Halloween Stretchy Skeleton Toys
Halloween Party Favors Toys for Kids 38 PCS Halloween Led Light Up
QINGQIU 200 PCS Assortment Halloween Toys
Eavotoy 12 Pack Halloween Pumpkins Stress Balls
Partywind 250 Styles Glow Halloween Party Supplies, Luminous Halloween Temporary Tattoos
How to Use These Halloween Scavenger Hunt Clues
After printing and cutting the cards apart, you'll need to hide everything before starting. Don't forget to hold onto the first clue card to hand over to the kids!
Parents or kids can read the riddles aloud on the cards one at a time then take turns finding the items or work together as a team.
You can use the clues to lead to finding another clue with a special surprise at the end.
Or, you can use each clue to lead to candy or a prize. With this set up, you will give all of the clue cards to the kids at once.
Then they can figure out the locations in any order to collect the candy hidden at each spot.
Halloween Scavenger Hunt Ideas
Create a memorable Halloween with these Halloween scavenger hunt ideas. Use them as an alternative to going trick-or-treating, as a small socially distant activity, as a Halloween party activity for kids, or as a classroom activity.
You can hide candy and other allergy-friendly Halloween treats at each spot along the scavenger hunt or have treat bags for each participating child at the very end.
Another idea is to use the scavenger hunt cards to lead to another Halloween party activity, such as a candy filled Halloween pumpkin piñata or Halloween books for a read aloud. How fun would that be?
Get creative on where to hide items for the kids to find! For example, the riddle "You're getting warmer! I can feel it in my bones. The next clue is hidden next to some stones." could refer to rocks or gravestone decorations anywhere in or around your home.
If any of the cards don't make sense for your family or students, you can skip using that one or modify it.
We hope you enjoy using this Halloween Scavenger Hunt printable available below to create new spooktacular memories!
What Ages Can Participate In a Halloween Scavenger Hunt?
Halloween Scavenger hunts can be adjusted for all ages and abilities. The difficulty of the clues or riddles can easily be modified to create a successful experience for kids as young as three years old.
For younger children, involve them by helping them find the answer to each clue and then guiding them along on their hunt.
For older children, make them work for it with riddles that require a bit of problem solving.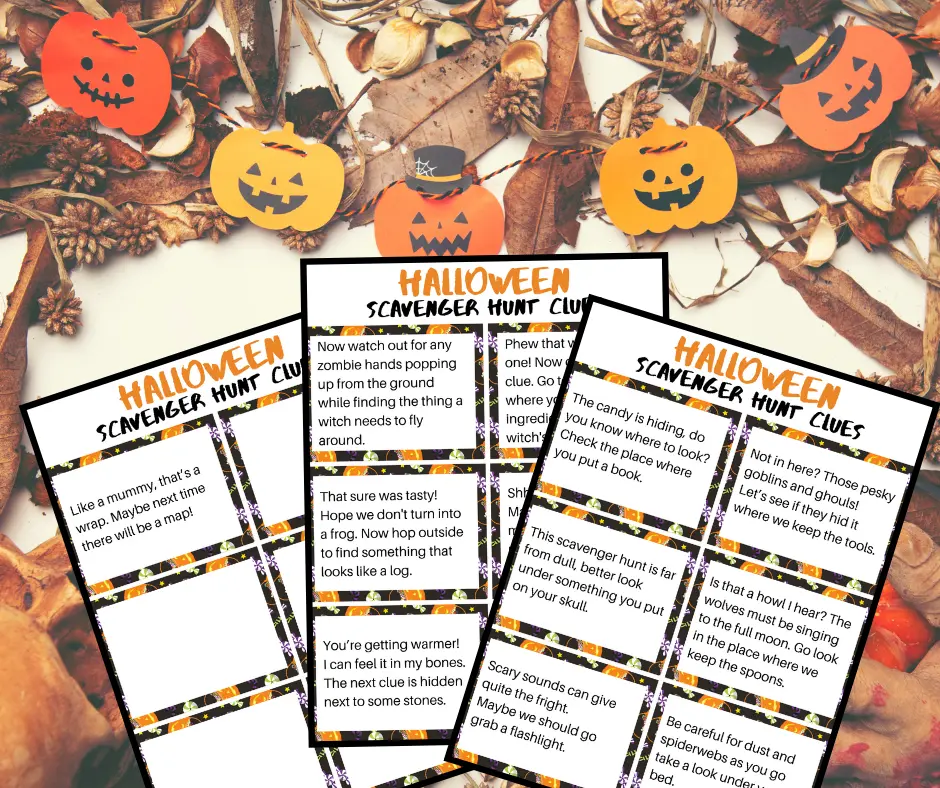 Are These Halloween Scavenger Hunt Clues Educational?
Absolutely! Not only will the kids have a great time, but they will also learn while doing it.
Through this activity, children are learning problem-solving skills and developing their reading comprehension and critical thinking.
Want them to also work on sharpening their math skills? Use the blank cards to create riddles that require counting or other simple calculations.
Halloween Scavenger Hunts are a fun way to reinforce learning in a unique way. Plus, they get to find candy or prizes when the hunt is done!
More Halloween Printables
Halloween printables offer a versatile and creative way to enhance learning activities, add a touch of spookiness to your home decor, and serve as templates for craft projects, creating countless opportunities for both fun and learning during the Halloween season.
Here are some additional ones you may like to use:
So there you have it – a Halloween Scavenger Hunt is a dynamic, educational, and fun alternative to traditional trick-or-treating.
This adaptable activity can cater to all ages, and with our free printables, you're set to make this Halloween unforgettable.
From problem-solving to reading comprehension, your children will be learning without even realizing it! Pair it with our additional Halloween-themed resources for an even richer experience.