Are you looking for a fun alternative to trick-or-treating? These printable Halloween scavenger hunt clues are a fun way for kids to celebrate Halloween at home!
We love Halloween, but some years it is hard to go trick-or-treating. That doesn't mean we can't find a way to still dress up in Halloween costumes and have our own little Halloween party!
This post contains affiliate links. As an Amazon Associate and a participant in other affiliate programs, we earn a commission on qualifying purchases.
Ideas for a Halloween Scavenger Hunt
Create a memorable Halloween with these Halloween scavenger hunt ideas. Use them as an alternative to going trick-or-treating, as a small socially distant activity, as a Halloween party activity for kids, or as a classroom activity.
You can hide candy and other allergy-friendly Halloween goodies at each spot along the scavenger hunt or have treat bags for each participating child at the very end.
Another idea is to use the scavenger hunt cards to lead to another Halloween party activity, such as a candy filled piñata or Halloween books for a read aloud. How fun would that be?
This set includes 12 printable clues with Halloween themed hints and hiding spots, plus a final card to include at the end. There are also blank cards provided so you may write in your own clues too.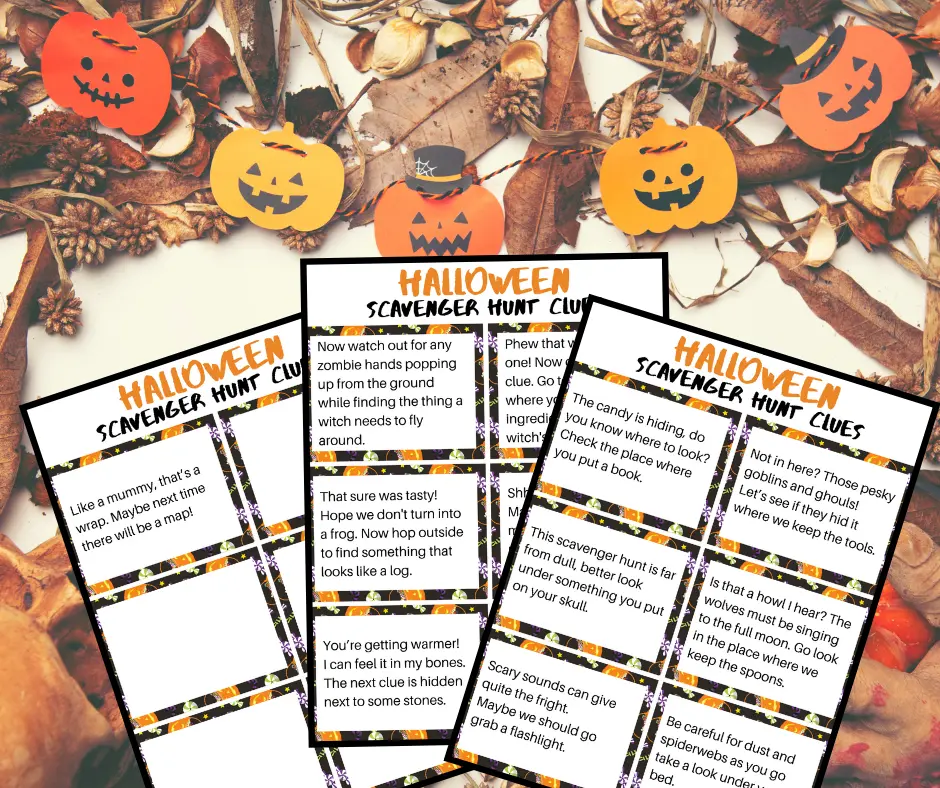 You can use the clues to lead to finding another clue with a special surprise at the end.
Or, you can use each clue to lead to candy or a prize. With this set up, you will give all of the clue cards to the kids at once. Then they can figure out the locations in any order to collect the candy hidden at that spot.
Get creative on where to hide items for the kids to find! For example, the riddle "You're getting warmer! I can feel it in my bones. The next clue is hidden next to some stones." could refer to rocks or gravestone decorations anywhere in or around your home.
If any of the cards don't make sense for your family, you can skip using that one or modify it.
We hope you enjoy using this Halloween Scavenger Hunt printable available below to create new spooktacular memories!
More Printable Scavenger Hunts:
Halloween Scavenger Hunt Printable Clues
This printable set of scavenger hunt clues for Halloween is for personal use only. To download, click the button below and save a copy to your computer or phone.
Print them out at home or have them printed at a local print shop. I recommend using cardstock paper for better durability.
Cut the cards apart and hide everything before starting. Don't forget to hold onto the first clue card to hand over to the kids!
Parents or kids can read the riddles aloud on the cards one at a time then take turns finding the items or work together as a team.
More Halloween Printables: