Looking for easy Halloween crafts for kids? Gather up your supplies and unleash your creativity with these Popsicle Stick Monsters!
This craft is not just a fun way to celebrate the spooky season, but it's also a simple activity that can be done at home or school.
Children of all ages, from preschoolers to older kids, will adore creating their unique monsters.
The process involves painting, gluing, and drawing, which are excellent for developing fine motor skills.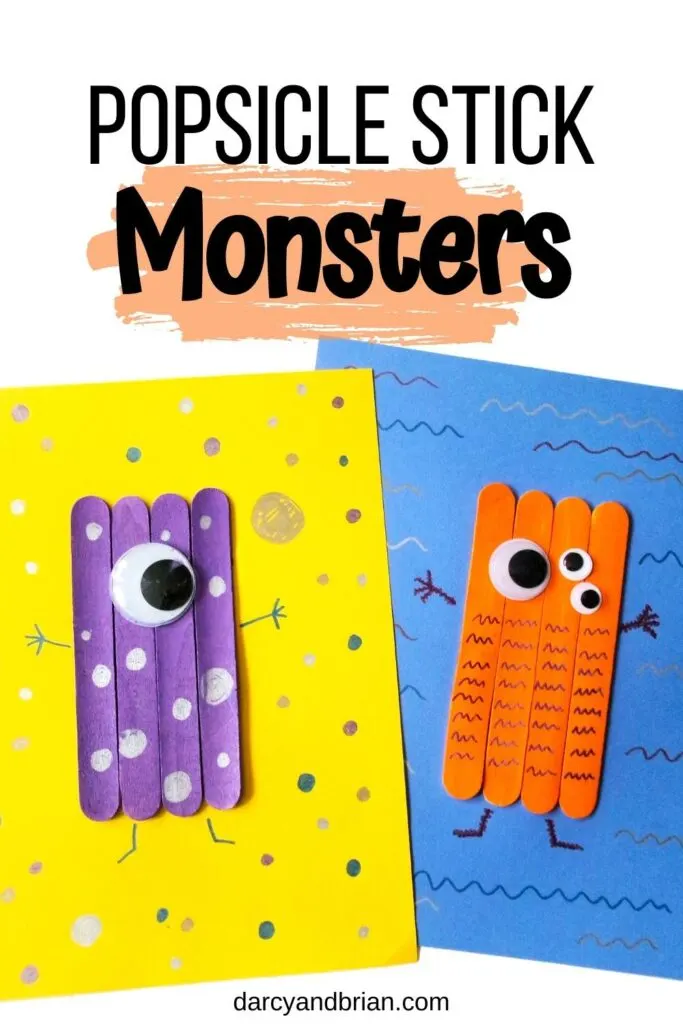 Halloween is a time of year that always seems to ignite a special spark of excitement in children.
It's an opportunity for them to fully unleash their imaginations, transforming their ideas into spooky and silly characters.
With the autumn leaves falling and the evenings growing darker, there's no better time for kids to get crafty.
The thrill of creating their own Popsicle Stick Monsters will not only entertain them but also provide them with a sense of accomplishment when they see their delightful monsters come to life.
This is an activity that captures the spirit of Halloween, and the joy it brings to kids is absolutely priceless!
More Popsicle Stick Crafts
Popsicle stick crafts are truly a childhood staple, demonstrating the magic of transforming simple, everyday objects into wonderful pieces of art. The humble popsicle stick, with its versatility and ease of use, unlocks a world of creativity, inspiring children to craft, design, and innovate.
Benefits of Crafting Popsicle Stick Monsters
Crafting offers lots of benefits, especially for young, growing minds. It encourages creativity and imagination, as children explore, experiment, and express their ideas.
As they paint various colors on their popsicle sticks and draw silly or scary faces, they unleash their artistic side and expand their creative horizons.
Crafting can also serve as a form of stress relief. It diverts the mind from everyday concerns, creating a sense of calm and relaxation. This helps to reduce anxiety and promote emotional well-being.
The process of painting, drawing, and gluing involved in making these monsters enhances fine motor skills. These activities require concentration, precision, and hand-eye coordination, supporting the development of essential motor skills.
Additionally, this craft can reinforce color and shape recognition. As children choose and discuss the colors they wish to use, or identify the shapes that make up their monsters, they are unknowingly engaging in an educational activity.
Lastly, crafting these monsters can also help with basic counting skills as children count the number of popsicle sticks and googly eyes to use. For additional counting practice, have the kids play this build a monster game.
Crafting these popsicle stick monsters extends beyond a simple Halloween activity. It's a journey of exploration, creativity, learning, and fun!
Are Classic Halloween Monsters Too Scary for Kids?
Classic Halloween monsters, while a significant part of the holiday's tradition, can sometimes appear a bit too frightening for younger children.
With a little imagination and creativity, we can re-interpret these classic monsters into cute, silly versions that are more kid-friendly.
This project, in particular, is all about crafting silly monsters, transforming what might be scary into a source of giggles and fun.
Halloween Books for Kids
Reading Halloween-themed books together can complement this monster craft activity, turning craft time into an engaging storytelling session.
Any book featuring friendly monsters could be a perfect fit, inspiring children's imagination as they create their own popsicle stick monsters.
This post contains affiliate links. As an Amazon Associate and a participant in other affiliate programs, we earn a commission on qualifying purchases.
How to Catch a Monster: A Halloween Picture Book for Kids About Conquering Fears!
Pete the Cat: Trick or Pete
It's Raining Bats & Frogs
Don't Push the Button! A Halloween Treat: A Spooky Fun Interactive Book For Kids
Little Blue Truck's Halloween
The Spooky Wheels on the Bus: (A Holiday Wheels on the Bus Book)
What Ages Can Make These Popsicle Stick Monsters?
Popsicle Stick Monsters is an ideal craft project for preschool and kindergarten children, who can complete it with minimal assistance.
The simple yet fun process of painting, gluing, drawing, and assembling encourages their fine motor skills development. But the fun doesn't stop there!
Older children are free to explore their creativity even further, using additional materials to create more elaborate and distinctive monsters.
Even toddlers, under adult supervision, can join in – decorating popsicle sticks and gluing them down to create their unique monster creations.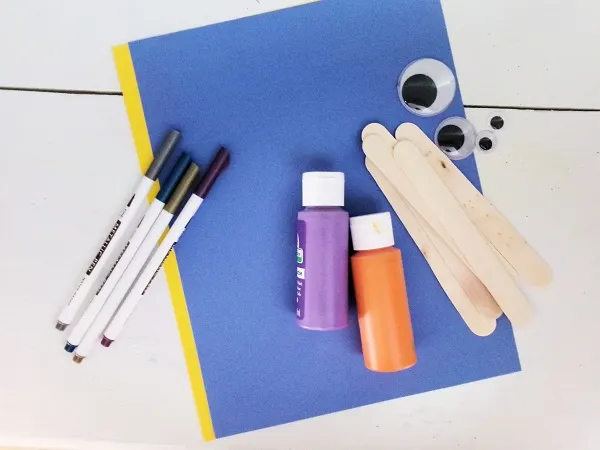 Popsicle Stick Monsters Craft Supplies
One of the best things about our Popsicle Stick Monsters project is that it utilizes materials you likely already have at home or can easily procure from your favorite craft store.
We like jumbo craft sticks for this craft, but regular-sized popsicle sticks work just as well if that's what you have on hand.
Our project calls for acrylic paint, metallic paint markers, and cardstock, all in assorted colors, to add variety and vibrancy to your monster creations.
We also use googly eyes in assorted sizes for that fun monster touch!
As for the adhesive, you can opt for either liquid school glue or glue sticks, depending on your preference.
Just keep in mind that while liquid glue may adhere better, it will take a bit longer to dry compared to glue sticks.
Apple Barrel Acrylic Paint Set, 16 Piece (2-Ounce), Best Colors Count
Bassion Pack of 2 Kids Art Smocks, Children Waterproof Artist Painting Aprons Long Sleeve with 3 Pockets for Age 2-6 Years
AdTech Ultra Low-Temp Cool Tool | Mini Hot Glue Gun for Safe Crafting | Children and Kids | Item #05690 , White
Aleene's Turbo Tacky Glue, 4 FL OZ – 3 Pack, Multi
How to Make Popsicle Stick Monsters
Start by painting four jumbo craft sticks in the color of your choice. These will serve as the body of the monster. Allow the paint to completely dry.
Once the paint is dry, glue the four craft sticks onto the center of a sheet of cardstock in your preferred color.
Feel free to experiment with bold and contrasting colors to make your monster even more fun, but the final color combination is entirely up to you!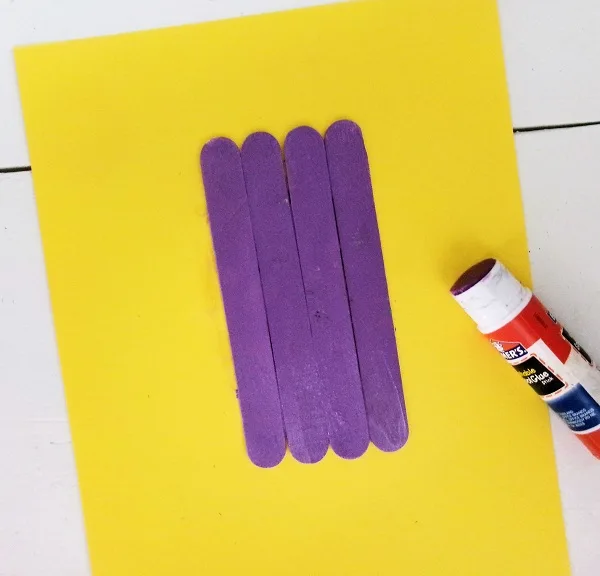 Now, attach the eyes to your monster. You can use a single large eye or a variety of different-sized eyes. Let your imagination run wild and create the monster just the way you want it!
Next, use markers to add decorative details to your monster. Metallic markers work great as they really stand out against the paint, but use whatever markers you have on hand.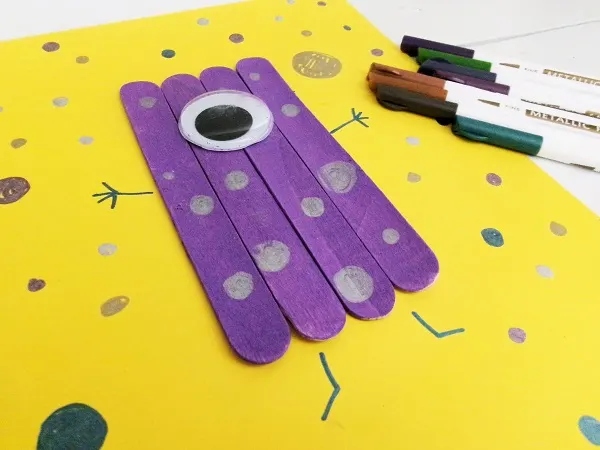 Create circles or wavy lines to mimic fur, and don't be afraid to get creative! You can even draw arms, legs, horns, or hair coming out of the body onto the paper.
Finally, use markers to decorate the cardstock background as well. Let your artistic flair shine through!
Tips for Making Craft Stick Monsters
When crafting Popsicle Stick Monsters with kids at home or in a classroom setting, there are several tips and tricks to keep in mind.
First, if you're short on time or simply prefer a less messy option, you can skip the painting stage entirely.
Colored craft sticks are readily available for purchase at most craft stores or online.
Alternatively, let the kids unleash their creativity by coloring the popsicle sticks with markers.
Second, remember that the number of popsicle sticks used can be adjusted to create monsters of different sizes.
Using more than four sticks can create larger, more intimidating monsters, while using less can result in tall, skinny monsters.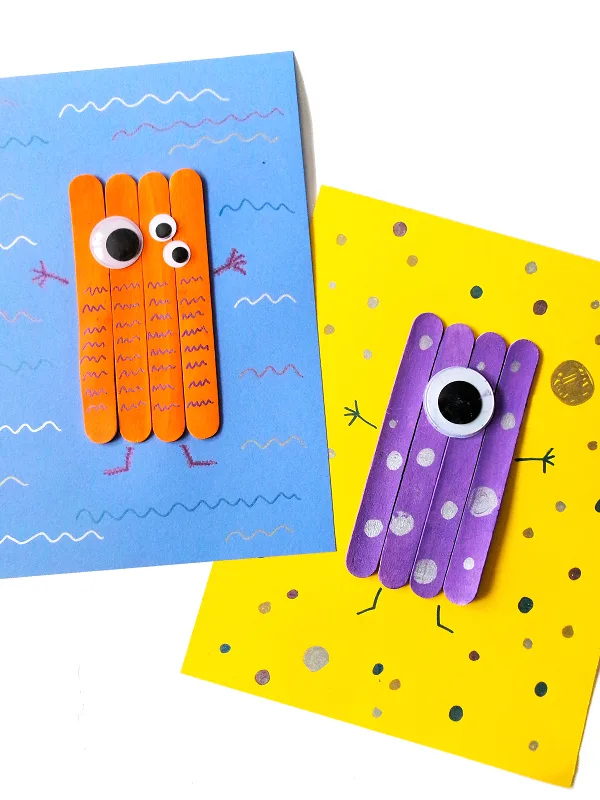 Don't hesitate to cut out different shapes from colored paper and glue them onto the popsicle sticks to decorate your monsters.
This is another fun way for kids to express their creativity and it adds a delightful visual impact to the final product.
Additionally, consider adding other embellishments such as chenille stems for arms and legs, pom poms for noses, or yarn for hair to bring your monsters to life in a fun and whimsical way.
These details not only enhance the look of the monsters but also add a tactile element to the craft, making it even more engaging for young children.
More Halloween Activities for Kids
Planning Halloween activities for kids can be a delightful blend of learning and fun, creating an environment that feeds their curiosity and reinforces their knowledge.
Themed units and classroom centers during this season not only cater to academic goals but also inject a sense of excitement and anticipation.
Here are some thrilling activities that are sure to make Halloween memorable for the kids:
Remember, the goal is to ensure the kids are learning while having a good time. With these activities, you'll give them a Halloween they'll fondly remember!
Fun Halloween Crafts for Kids
There's an abundance of imaginative Halloween crafts out there just waiting for little hands to bring them to life. Kids will delight in creating spooky yet charming Halloween decorations that add a special touch to the festive season.
Here are a few suggestions for crafts that will not only brighten up your Halloween, but also keep your kids happily engaged.
And there you have it – a treasure trove of fun, spooky, and educational Halloween activities and crafts for your little ones. By engaging in these activities, children will not only enjoy the holiday spirit but also develop their motor skills and imagination.
Remember, the key is to guide them, but also give them the freedom to express their creativity. After all, Halloween is all about having fun and creating memorable experiences.
Popsicle Stick Monsters Craft
Estimated Cost:
$10 or less
Make these adorable, silly popsicle stick monsters for a fun Halloween craft. Perfect for kids of all ages!
Materials
4 Jumbo Popsicle Craft Sticks
Acrylic Paint in Assorted Colors
Metallic Paint Markers
Cardstock in Assorted Colors
Googly Eyes in Assorted Sizes
Glue
Instructions
Start by painting four jumbo craft sticks in the color of your choice. These will be the monster's body. Set aside to dry.
Once dry, glue the four craft sticks in the center of your cardstock.
Glue eyes onto your monster. You can use a single large eye and a couple small ones or try a variety of different-sized eyes.
Add details to the monster using markers. Metallic markers work great as they stand out against the paint.
Finally, use markers to decorate the cardstock background as well.
Notes
Don't miss the helpful tips shared in the blog post for ways to adapt or adjust this project!
Recommended Products
As an Amazon Associate and member of other affiliate programs, I earn from qualifying purchases.