Halloween is a fantastic time to get crafty with your kids, and we've got the perfect project to kickstart the fun!
Our easy paper witch craft for kids is not only simple to make but also serves as a delightful addition to your Halloween décor.
For a myriad of creative ideas, be sure to check out the rest of our Halloween crafts for kids too.
To make this project easier, we have a printable craft template available for free! Just fill out the form at the end of the post to receive it.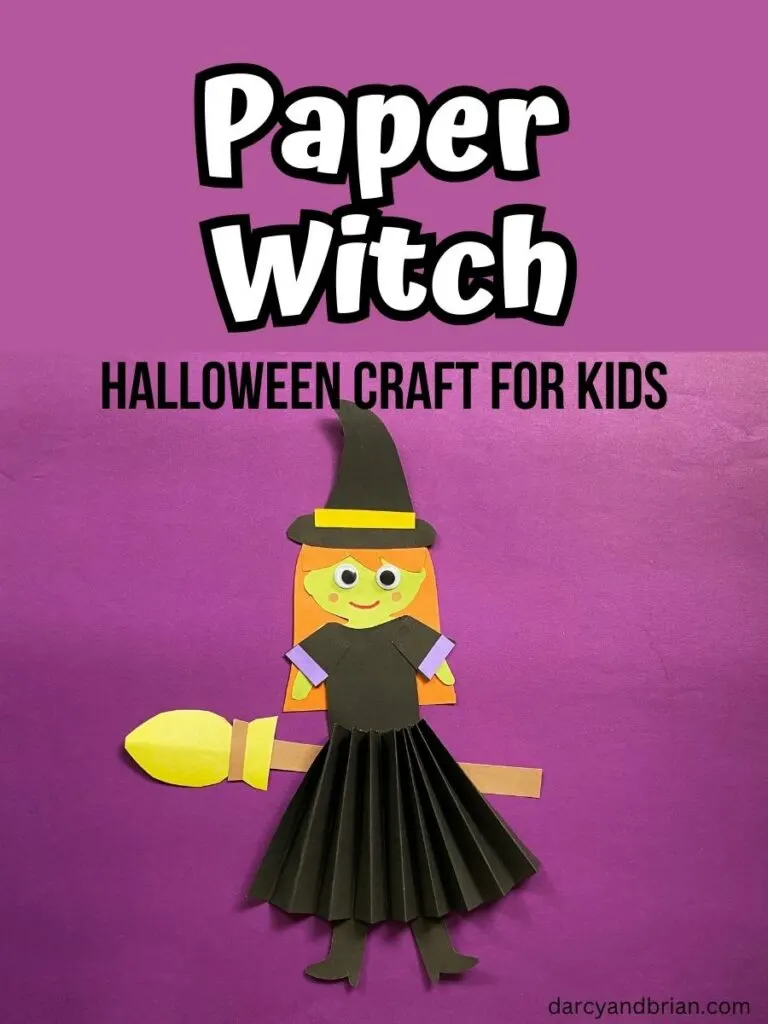 Kids absolutely love crafting, especially when it comes to the spooky and fun-filled Halloween season.
It's a time when their creativity can truly shine, and what could be more fitting than creating their very own paper witches?
Witches, with their pointy hats and broomsticks, are an iconic symbol of Halloween, making them perfect for adding a festive touch to your home or school decorations.
Whether in the comfort of your living room or in the bustling creativity of a classroom, this craft is adaptable and easy to undertake.
With just some basic craft supplies and our free template, your kids can whip up their own adorable witch in no time!
Free printable available at the end of this post.
This post contains affiliate links. As an Amazon Associate and a participant in other affiliate programs, we earn a commission on qualifying purchases.
More Halloween Crafts for Kids
If you're looking for more ways to keep your children entertained this Halloween season, we've got you covered! From monster bookmarks to wizard wands, our collection of Halloween crafts is full of fun ideas that will get their imagination brewing.
Apple Barrel Acrylic Paint Set, 16 Piece (2-Ounce), Best Colors Count
Bassion Pack of 2 Kids Art Smocks, Children Waterproof Artist Painting Aprons Long Sleeve with 3 Pockets for Age 2-6 Years
AdTech Ultra Low-Temp Cool Tool | Mini Hot Glue Gun for Safe Crafting | Children and Kids | Item #05690 , White
Aleene's Turbo Tacky Glue, 4 FL OZ – 3 Pack, Multi
What Age Can Make This Witch Craft for Kids?
This paper witch craft is ideally suited for children who have confidently mastered scissor skills, typically first graders and older.
The witch template includes some complex shapes and smaller pieces that these children can handle with ease.
However, that doesn't mean our younger craft enthusiasts have to miss out on the fun!
While younger kids might need more assistance in cutting out the pieces, or perhaps simpler shapes prepared for them to cut and paste, they can still actively participate in creating their own little paper witch.
Remember, crafting is not just about the end result, but also about the fun and learning during the process!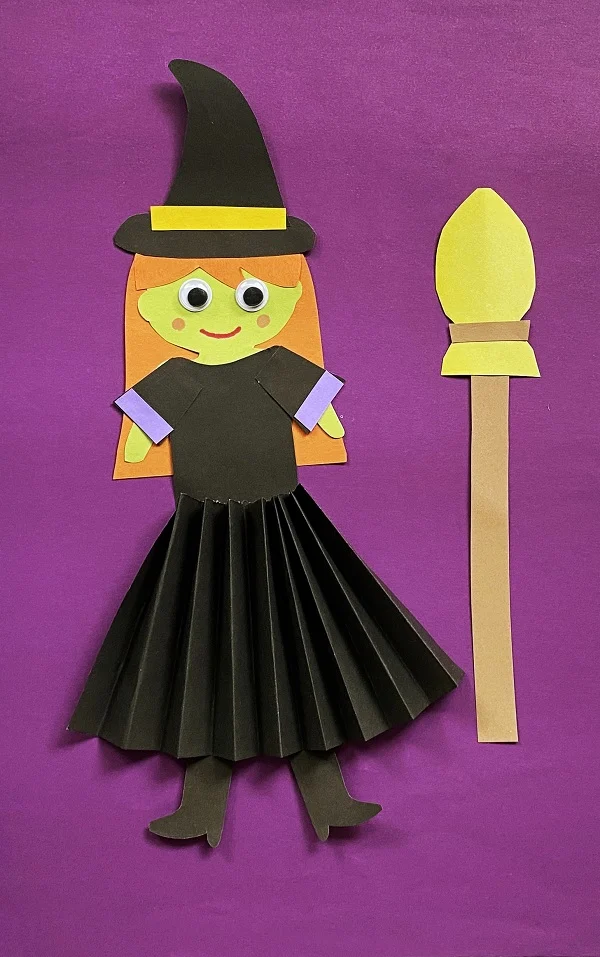 What is the Benefit of This Witch Craft for Kids?
Creating the witch craft is not just an enjoyable activity, but also a great way to continue enhancing fine motor skills in a fun and engaging manner.
The tracing, cutting, and gluing of paper pieces required in this craft offer ample practice in precision and control – crucial for the development of these skills.
The fan folding of the witch's skirt introduces children to a new technique, further diversifying their crafting knowledge.
Besides motor skills, this activity also cultivates creativity. Children are free to choose the color scheme for their witches, thereby expressing their creativity and personal style.
Crafting, in general, has been linked to improved cognition, critical thinking, and problem-solving abilities. We have lots of fun craft ideas for kids to make all year around.
Beyond its creation, this witch craft extends its benefits to imaginative play when used as a paper puppet, encouraging children to fabricate stories and scenarios, stimulating their creativity, and enhancing their social and communication skills.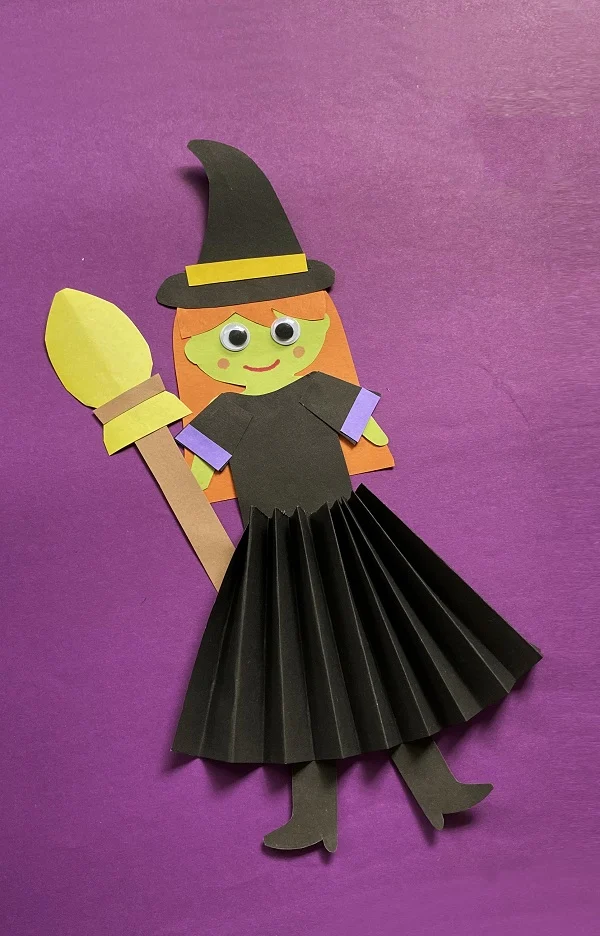 Halloween Witch Craft Supplies
Creating this delightful witch craft doesn't require a trip to the crafts store. In fact, you'll likely find all the necessary materials right in your home! Here's what you need:
Printable Witch Template: This free template comes in two formats: a black and white version that allows your child to add their own splash of color, or a full-color version for a simpler cut and paste activity.
Construction Paper or Colored Cardstock: These provide the base material for your witch. You can use any colors you like, making the witch as vibrant or as monochrome as you desire.
Glue: Liquid glue or a glue stick will work equally well for this craft.
Scissors: A pair of child-friendly scissors is all you need to cut out the shapes from the template.
Marker: This is for adding the details to the witch's face. It could be a wicked smile or a friendly face – let your imagination decide!
Googly Eyes (Optional): While not necessary, adding googly eyes can give your witch a playful, lively touch.
How to Make This Paper Witch Craft for Kids
Start by printing out the witch template (which is available for free at the bottom of this post). Cut out the black and white pieces and trace onto construction paper in your choice of colors.
Kids can also color the plain template in themselves or choose to cut out the color version to assemble.
Once all of the pieces are cut out, it is time to start assembling the witch and her broom.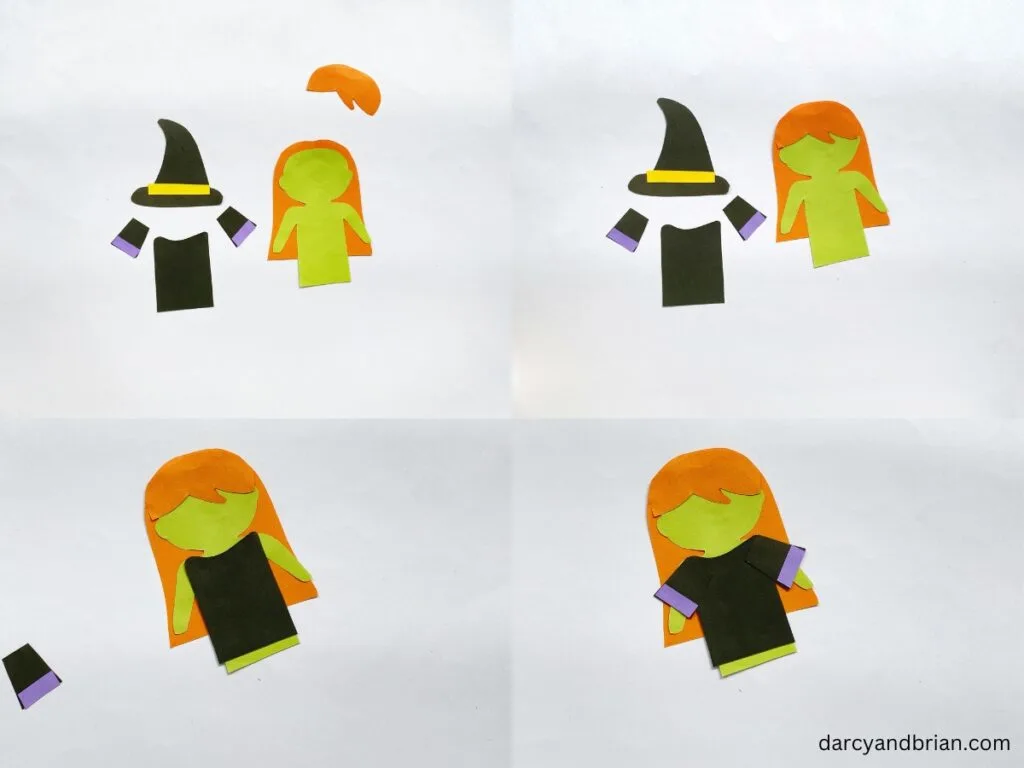 Glue the pointy part of the hat onto the oval. Then glue the band over where they connect.
Line up the witch's head and glue the hair to the back of the head. Then glue the bangs on over the top of the head. Feel free to change the length and hairstyle!
Glue the shirt over the body. Add the sleeves and decorative stripe.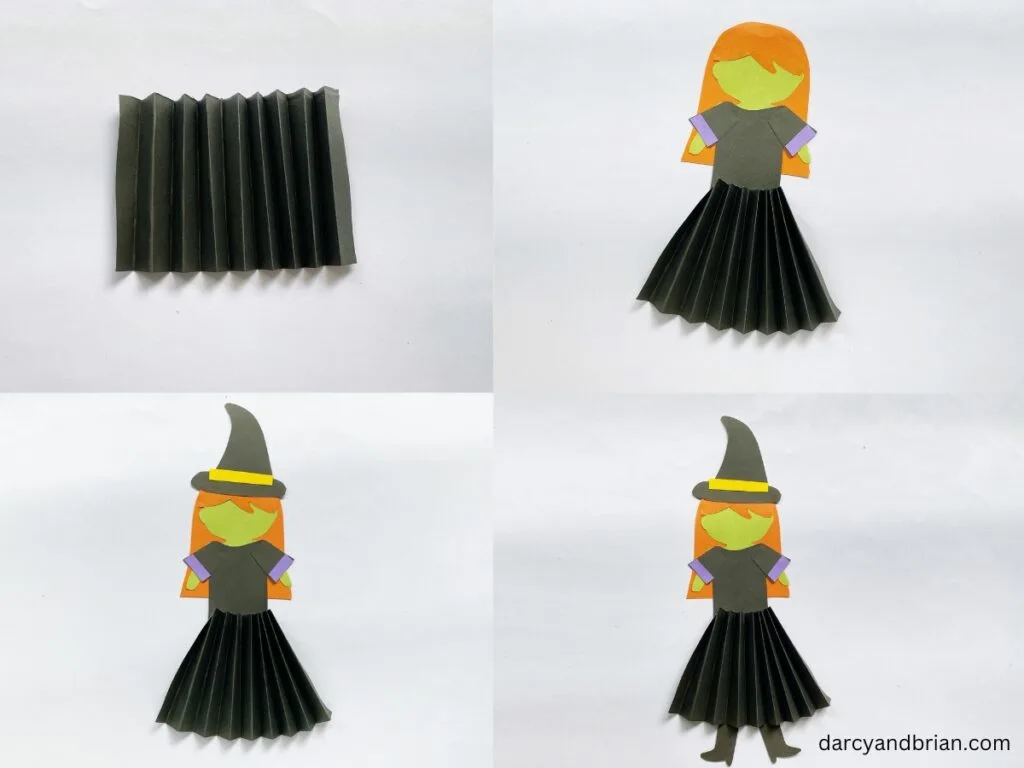 Then accordion fan-fold the large rectangle to create the skirt. Attach this to the bottom of the shirt and body.
Glue the hat onto the top of the hair.
Add her boots by gluing them to the bottom of the skirt on the back.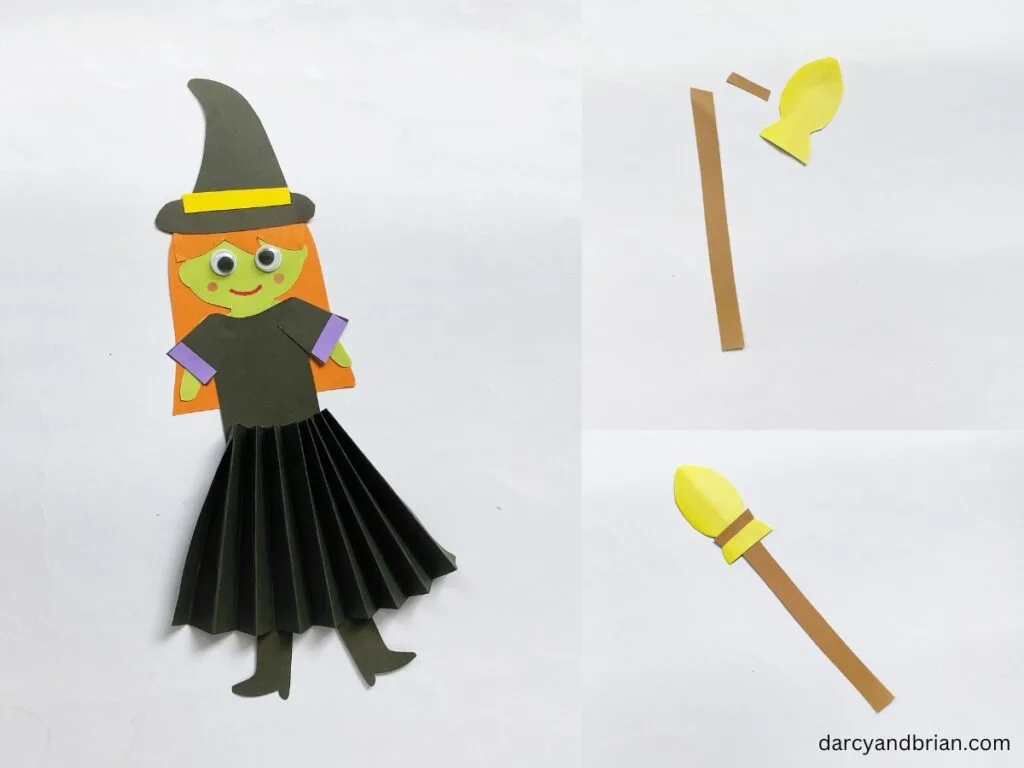 Draw a mouth and eyes or glue on two googly eyes.
Put her broom together by gluing the fish shaped broom bristles onto the end of the long skinny rectangle. Add the other small strip across the broom head.
You can glue the witch as though she is riding the broom or to her hand.
Ways to Use the Witch Craft
This magical paper witch craft is not only fun to make but also incredibly versatile. You can use these friendly witches in a variety of ways to celebrate the Halloween season.
Halloween Decoration: Hang your completed witch from a string or ribbon to create a spooky Halloween decoration. Choose different spots around your home, like from a window, wall, or even on the refrigerator.
Witch Banner: Create several witches, each with their unique style and personality. Connect them side-by-side with string or ribbon, and voila! You've got yourself a festive witch banner to hang across your fireplace mantel or along the wall.
Witch Puppet: For a lively addition to story-time or playtime, glue the finished witch onto a popsicle stick, transforming it into a witchy puppet. Kids will love putting on a magical puppet show for their friends or family.
Remember, it's all about using your creativity and having fun. This Halloween, let your imagination take flight—just like our paper witches!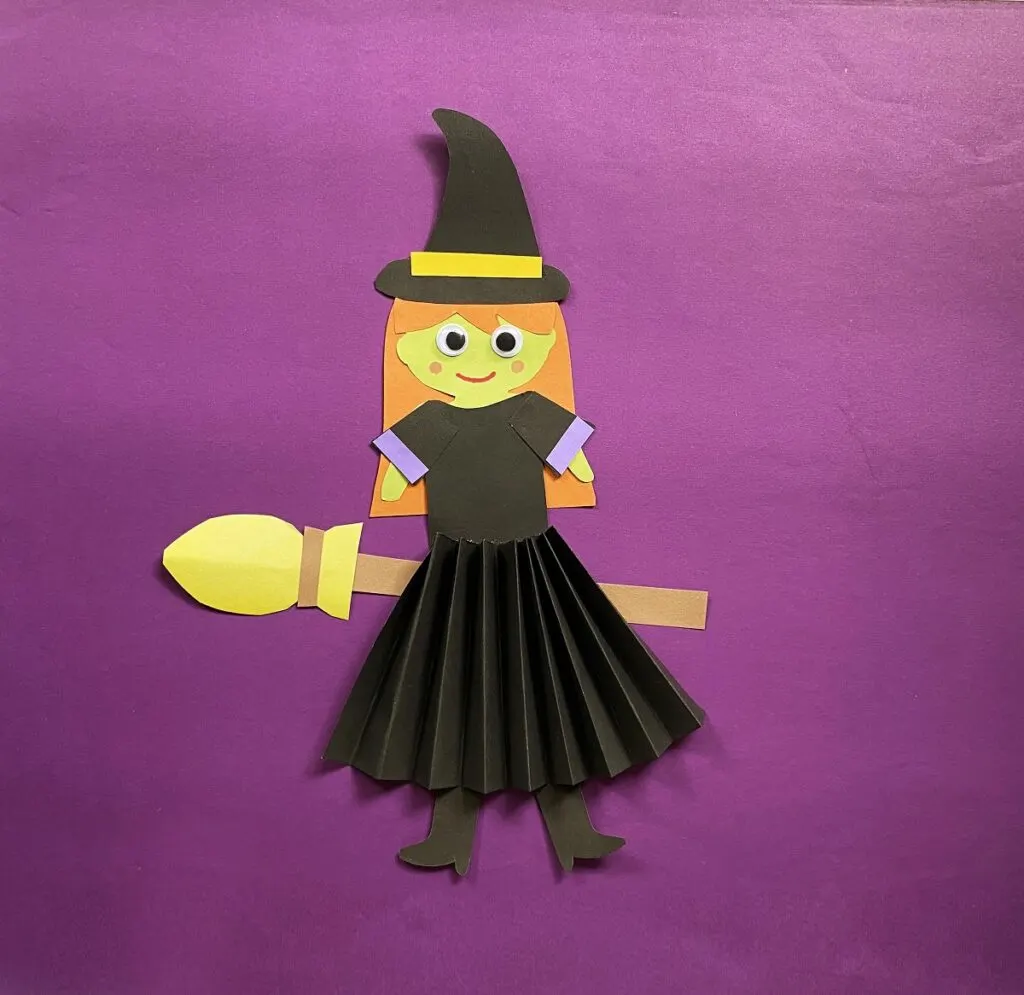 Books About Witches for Kids
Incorporating this paper witch craft as an extension activity after reading a book about witches can bring the story to life and encourage children's imagination and creativity.
How to Catch a Witch
The Witch's Cat
Lulu Goes to Witch School: A Halloween Book for Kids (I Can Read Level 2)
The Witches
The Witch's Cat and The Cooking Catastrophe: A fantastical tale of magic, mischief and mishap!
Room on the Broom
As they assemble their witches, kids can reflect on the characters they've read about, further enhancing their understanding and engagement with the story.
It's a fun and educational way to extend the literary experience beyond the pages of the book.
Additional Halloween Learning Activities
Let the fun continue beyond crafting with our range of holiday-themed learning activities! The witch craft can be seamlessly incorporated into a Halloween-themed unit, further enriching your child's festive learning experience.
Included in our offerings is the Spooky Fun Learning Packet, filled with a variety of activity pages designed for preschool and kindergarten-aged children. This pack provides an exciting blend of Halloween-themed learning and fun.
Add an extra layer of tactile learning to your Halloween celebrations with our printable Halloween lacing cards. These easy-to-use cards are perfect for honing fine motor skills.
Plan some fun Halloween science experiments and provide a spooky twist on learning chemistry and physics!
For a more interactive play experience, try out our Roll a Jack-O-Lantern dice game. This game combines creativity, fun, and a little bit of chance as children roll the dice to create a unique Jack-O-Lantern face.
Ignite your kids' imagination with these captivating Halloween writing prompts, perfect for enhancing your language arts lesson and embark on a thrilling journey of spooky storytelling.
Let's not forget about our Halloween scavenger hunt clues either! These clues can transform your home or backyard into a thrilling adventure zone, keeping kids engaged and excited.
Finally, spark some lively conversation with our set of Halloween Would You Rather questions for kids. These questions are a fun way to get kids thinking and sharing their ideas in a festive context.
Engaging, educational, and utterly Halloween, our lineup of activities is bound to make this holiday a memorable learning journey for your children.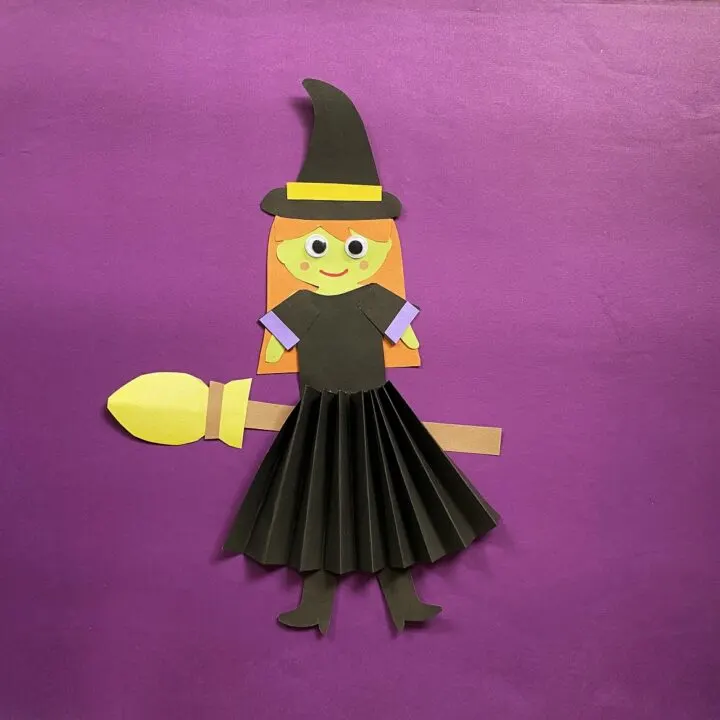 Witch Craft for Kids
Estimated Cost:
$5 or less
Make this paper witch craft for kids. It's perfect for first graders to create for Halloween!
Materials
Witch Template
Construction Paper
Glue
Marker
Googly Eyes
Instructions
Begin by printing out the witch template (available for free at the bottom of this post). Cut out the black and white pieces and trace them onto construction paper in your preferred colors.
Children can also color the plain template themselves or opt to cut out the colored version for assembly.
Once all the pieces are cut, it's time to start assembling the witch and her broom. Glue the pointed part of the hat onto the oval shape. Then, attach the hat band over the connecting area.
Align the witch's head and glue the hair to the back. Next, affix the bangs on top. Feel free to customize the length and style!
Glue the shirt over the body, and add the sleeves and decorative stripe. For the skirt, create an accordion-like fan-fold with the large rectangle. Attach it to the bottom of the shirt and body.
Securely glue the hat onto the hair. Attach her boots by gluing them to the back of the skirt.
For the face, you can either draw a mouth and eyes or use googly eyes for a fun touch.
Assemble the broom by gluing the fish-shaped broom bristles to the end of the long, skinny rectangle. Place the other small strip across the broom head.
Finally, you have the option to glue the witch onto the broom as if she's riding it or hold it in her hand.
Recommended Products
As an Amazon Associate and member of other affiliate programs, I earn from qualifying purchases.