If you are looking for Halloween crafts for kids, then you have to try making your own coffee filter monsters! Not only are they a blast to make, but they're also a brilliant way for children to explore their creativity, especially around the Halloween season.
Whether you're a parent looking for an at-home art project or a teacher eager to add some spooky fun to your classroom art center, this craft is a perfect choice.
It's especially ideal for preschool and kindergarten children who are working on developing their fine motor skills. Still, the simplicity and fun of this project means that kids of all ages can participate and enjoy creating adorable monsters!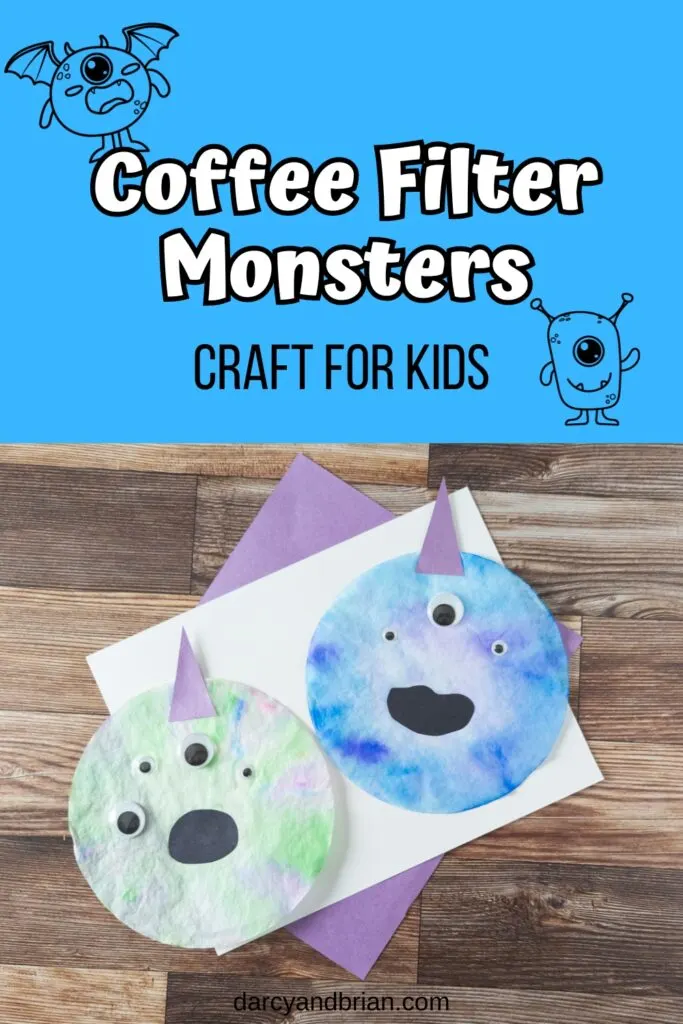 Engaging in Halloween-themed learning activities, like arts and crafts, is not only super fun for kids but also packed with educational benefits.
Creating these cute monsters is a cool way to make homemade decorations vibes at home or in the classroom too.
Plus, these craft activities also help with fine motor skills, creativity, hand-eye coordination, and cognitive development.
These hands-on experiences make Halloween more than just dressing up and getting candy!
Benefits of Making Coffee Filter Monsters
Crafting Coffee Filter Monsters offers many benefits for a child's development. It enhances fine motor skills, fosters creativity, and teaches about colors in a fun way.
Also, it serves as a positive outlet, promoting relaxation and providing a break from the routine. Crafting is not just about making art—it's about learning, growing, and having fun!
This post contains affiliate links. As an Amazon Associate and a participant in other affiliate programs, we earn a commission on qualifying purchases.
Crayola Ultraclean Broadline Classic Washable Markers (10 Count), (Pack of 2)
Melitta Junior Basket Coffee Filters White 100 Count
Fiskars 5
Elmer's bundle Washable Liquid School Glue, White, Dries Clear, 4 fl oz Plus Disappearing Purple Elmer's School Glue Stick, 7g, 2pk
Fine Motor Skills
When children color the coffee filters, spray water, use scissors, and glue together their monsters, they are actively strengthening their fine motor skills.
Coloring requires control and precision and allows them to practice their grip and hand-eye coordination.
Spraying water on the filters is a great way to work on hand strength and control, while cutting and gluing the monster shapes require careful manipulation, helping to build dexterity.
These skills are crucial for a child's development as they are used in other areas of their lives, such as writing, buttoning clothes, and using utensils.
Enhancing fine motor skills through such creative activities is not only fun but also prepares them for more complex tasks as they grow.
Encourage Creativity
This craft project also serves as a fantastic platform to spark children's imagination and creativity.
Given the freedom to design their own monsters, children can choosing whether their creature has three eyes, or purple stripes, or a round or triangular body.
There are no limits to what they can create, allowing each child to express their individuality and innovative thinking through their unique monster designs.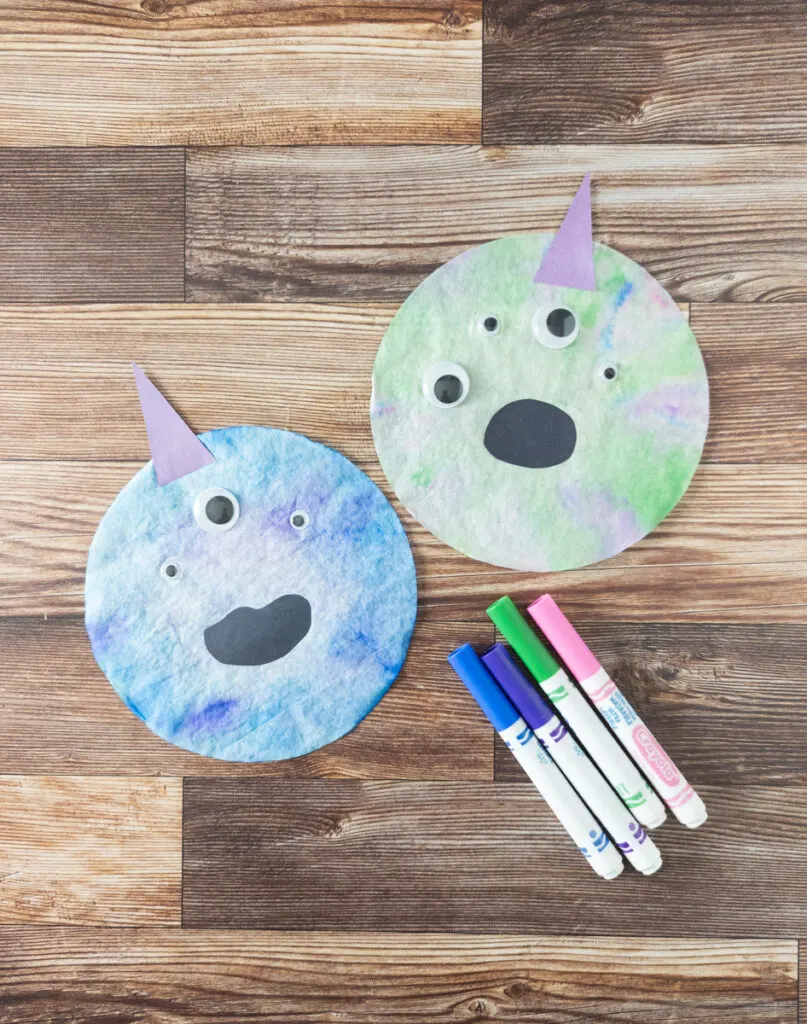 Work on Colors
Working on this coffee filter craft also provides children with a basic introduction to color theory.
As they select different color markers to blend on their coffee filters, they begin to understand how colors interact and change when mixed together.
Additionally, choosing what color paper to use for their monster's additional features lets them explore color coordination and contrast, further enriching their understanding and application of colors in a fun, hands-on manner.
More Coffee Filter Crafts for Kids
Coffee filters are awesome for crafting! Their flexibility and absorbency open up endless possibilities for creative and innovative projects. Here are even more coffee filter crafts for kids:
Coffee Filter Monster Craft Supplies
Making coffee filter monsters is an excellent group activity that is both enjoyable and inexpensive. It uses simple craft materials that are easy to handle, even by the littlest of hands, making it an ideal project for a class or a kids' party.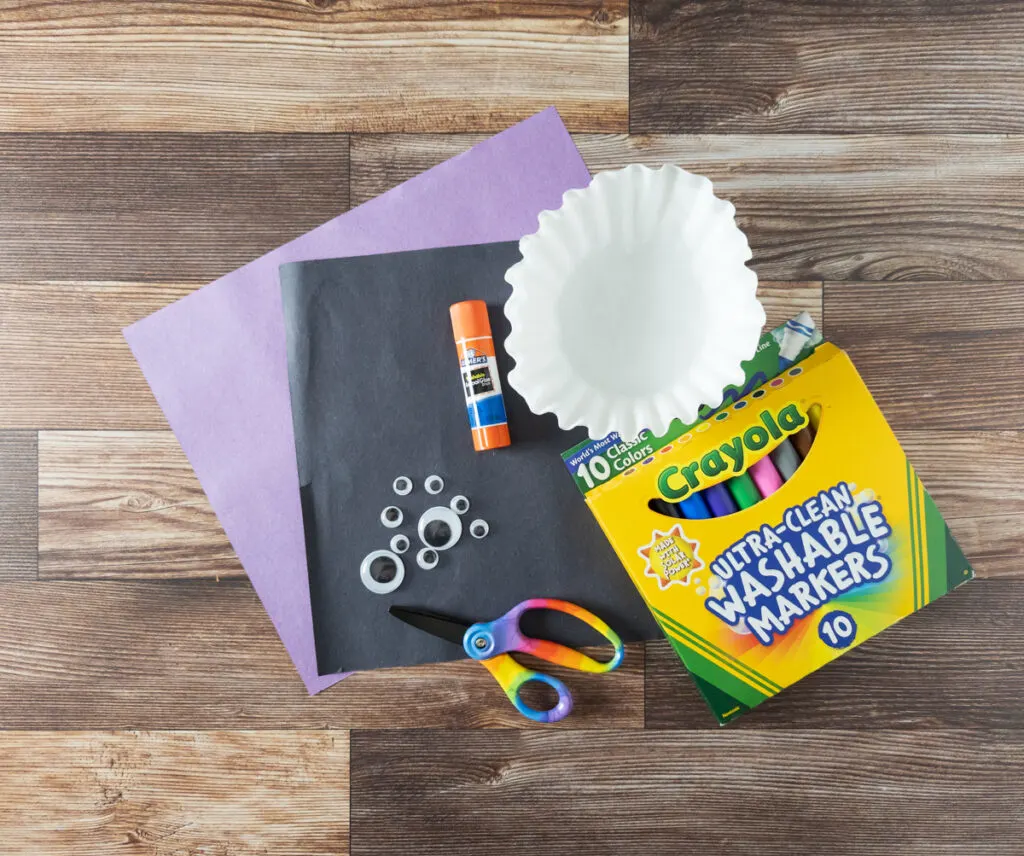 Let's take a look at the essential supplies you will need:
Coffee Filters: These will serve as the main body of your monsters. Each child can create a unique shape for their monster, exercising their creativity and fine motor skills.
Washable Markers: Kids can use these to color their coffee filters. The variety of colors allows each monster to be vibrant and unique.
Spray Bottle: You'll need this in order to wet the coffee filter and blend the colors.
Construction Paper: Available in a multitude of colors, these can be used to add additional features to the monsters. Think of horns, mouths, arms, and legs – the possibilities are endless!
Googly Eyes: In various sizes, googly eyes can bring the monsters to life. Whether a monster has one eye or ten is entirely up to the child's imagination.
Glue: A necessity for sticking all these pieces together and bringing their monster creation to life.
Additionally, you can introduce other materials like yarn, chenille stems, or even foam stickers to add hair and other decorations to the monsters.
Make sure to protect your workspace because the ink easily bleeds through the coffee filter paper. I like to use a craft mat, but you can also use zip top bag or wax paper.
I do not recommend using a towel or newspaper because they can absorb too much of the color as the filters dry.
With these supplies, each child can let their creativity run wild and create a unique monster masterpiece!
Can I Use Sharpies?
While Sharpies or permanent markers can be tempting to use for their bright and vivid colors, it's important to note they are not the best choice for this project.
The key to creating the beautiful color blend for these coffee filter monsters is using washable markers.
This is because when you add water, the ink from the washable markers will blend and mix, creating a cool effect.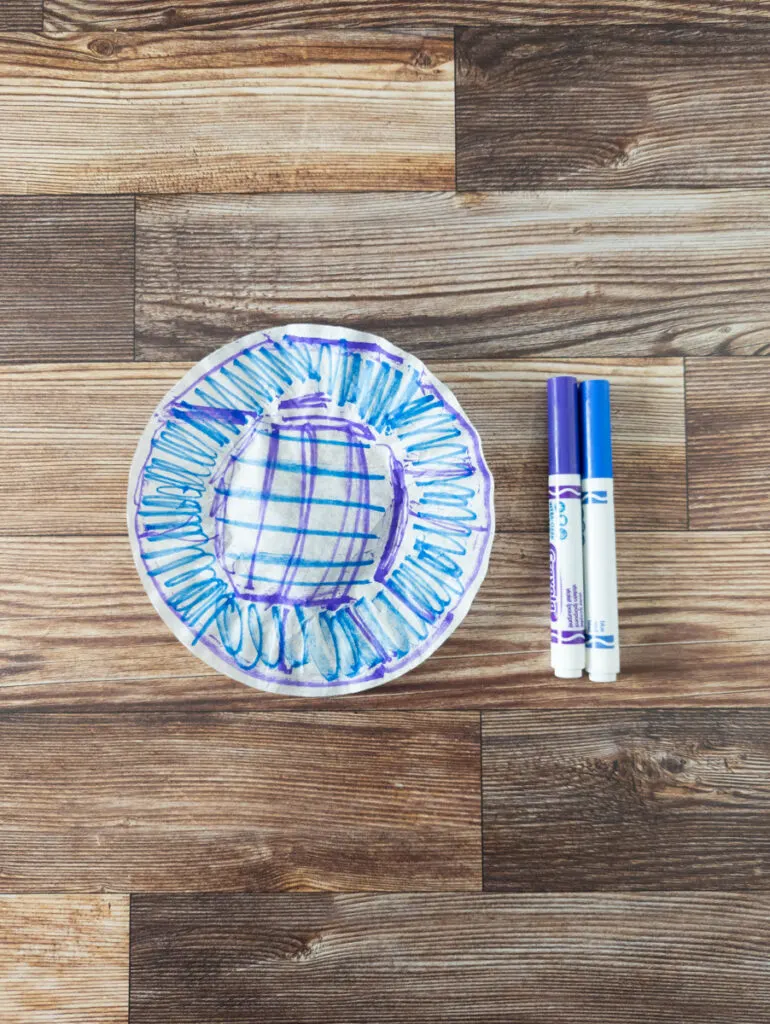 However, if there are certain design details you want to add to your monster that you don't want to blend or mix, feel free to use a Sharpie or other permanent markers.
The ink from these types of markers reacts differently when water is added, allowing you to maintain the integrity of your design. Just remember to always supervise children when using permanent markers.
How to Make Coffee Filter Monsters
To make your monsters, start by flattening round white coffee filters. Color them with washable markers.
To create bright vibrant colors, fill in as much white space as possible. For pastel colors, lightly color the filters and leave more white space.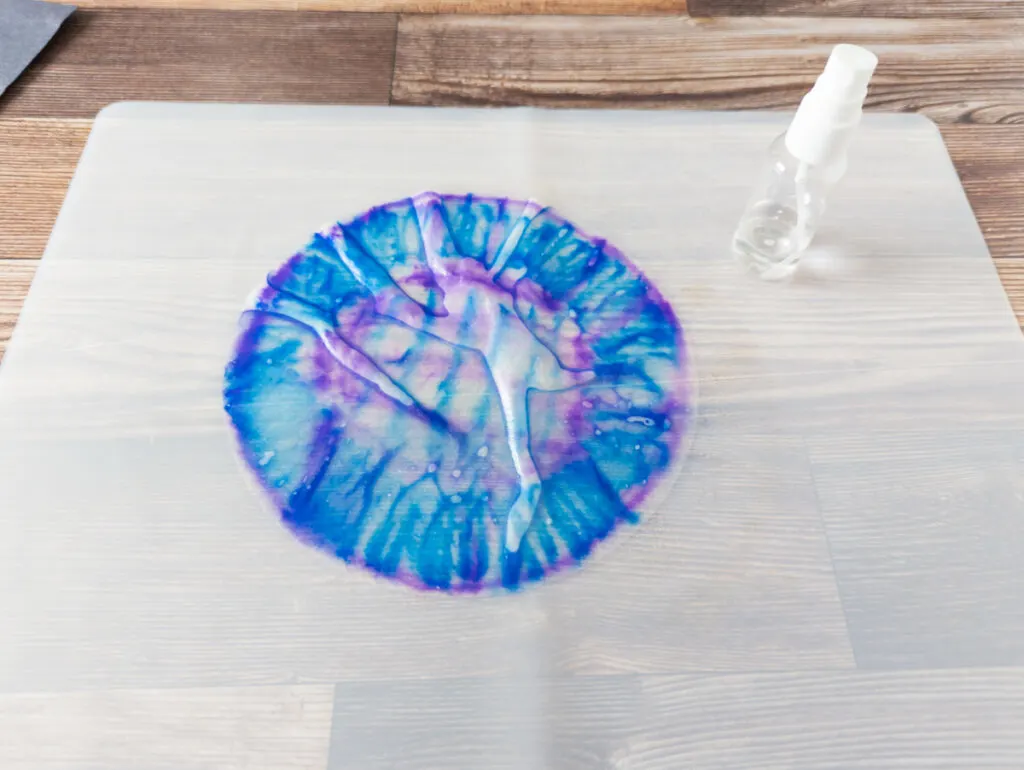 Mist the colored coffee filters to blend the inks. I like to use a fingertip spray bottle but you can use any water spray bottle or even drip water using a pipette.
Allow the coffee filter monsters to dry. This will vary based on how much water is used, how warm it is, etc. Mine are usually dry within 1-2 hours.
Cut out shapes and features from construction paper and decide how many eyes your monster will have.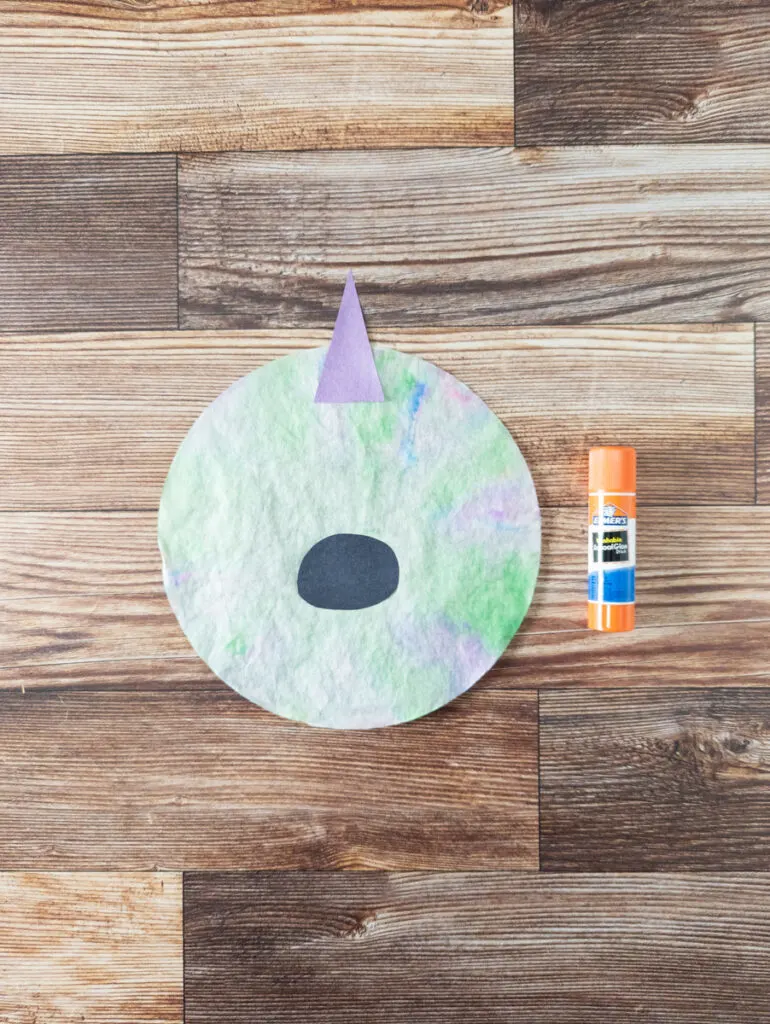 Once they are completely dry, glue these details on until the monster looks just the way you envisioned!
Ways to Use Coffee Filter Monsters for Learning
Incorporating the Coffee Filter Monsters craft into preschool lessons provides an engaging and interactive platform for teaching various concepts.
For instance, while making their monsters, children can be encouraged to discuss the colors and shapes they used in their designs, subtly introducing them to basic art and geometry principles.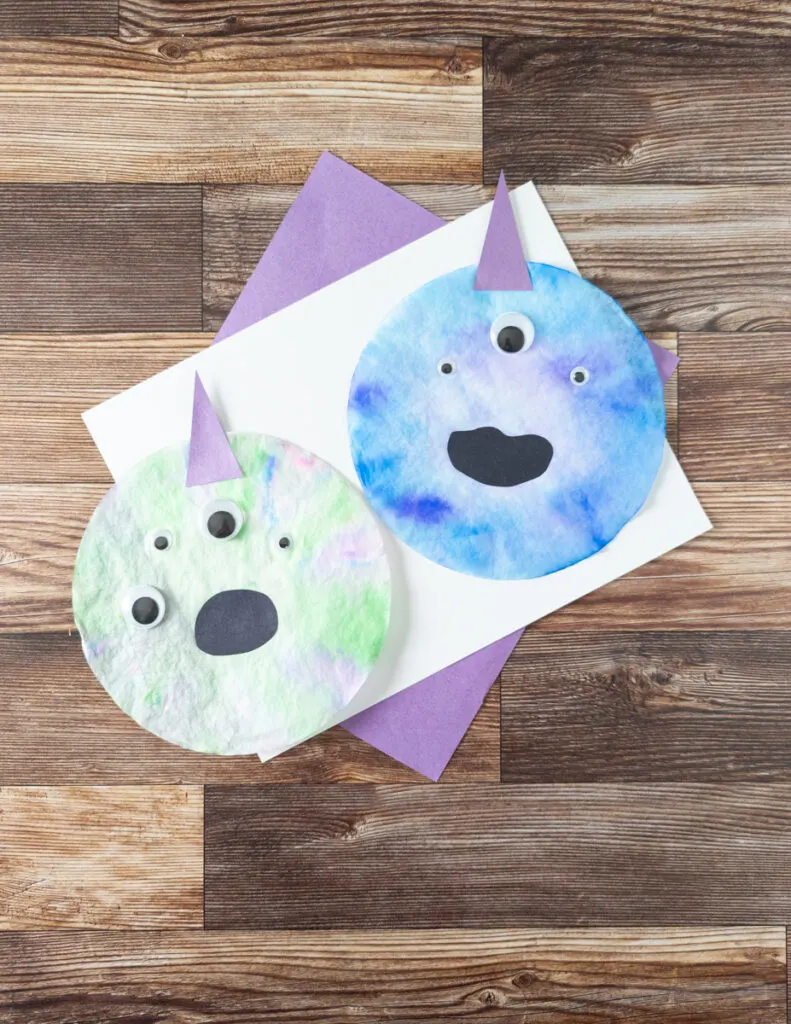 The craft can also serve as a fantastic extension activity to story time. After reading a monster-themed story, children can create their own coffee filter monsters.
Then ask the kids to narrate a short story about them, fostering their creativity and narrative skills.
Additionally, you could introduce a printable monster match game. This fun game not only keeps the monster theme alive but also enhances the children's memory and cognitive skills.
Monster Books for Kids
Reading books about monsters can be a fun, silly, and engaging way for children to explore narratives and concepts.
These whimsical tales often incorporate important lessons on themes like friendship, bravery, and acceptance, enhancing the learning experience in an entertaining manner.
Goodnight, Little Monster
Monsters Don't Eat Broccoli
Go to School, Little Monster
Lonely Planet Kids Atlas of Monsters and Ghosts 1
How to Catch a Monster: A Halloween Picture Book for Kids About Conquering Fears!
Go Away, Big Green Monster!
Fun Monster Crafts for Kids
If your little artists enjoyed this coffee filter monster craft, we've got more monstrously fun ideas for them! They might want to explore different materials for some of these creations.
More Halloween Learning Activities
If you're on the hunt for more Halloween-themed learning activities for your kiddos, we've got you covered!
Our Halloween Charades printable game is an exciting way for children to engage in imaginative play while building social skills.
For a tactile, multi-sensory experience, you might want to consider setting up a Jack-O-Lantern Sensory Bin. This activity is excellent for practicing fine motor skills and encouraging creative exploration.
Finally, make math fun with preschool Halloween math worksheets. These themed worksheets add a spooky twist to regular math problems, making them more engaging for young learners.
For number recognition, grab our printable Halloween sorting activity. Our Printable Spooky Fun Learning Packet for Halloween has a few different themed educational worksheets that are perfect for morning work.
Each activity serves to make the learning process more enjoyable and Halloween-centric!
So there you have it – creating coffee filter monsters is not only a fun, engaging craft for kids of all ages but also a fantastic learning activity. It's an easy and enjoyable way to get those little fingers moving and to spark creativity.
Whether you're at home or in a school setting, this project is sure to be a Halloween hit! Remember, there's no such thing as a scary monster here – only the ones that your children's vibrant imaginations bring to life!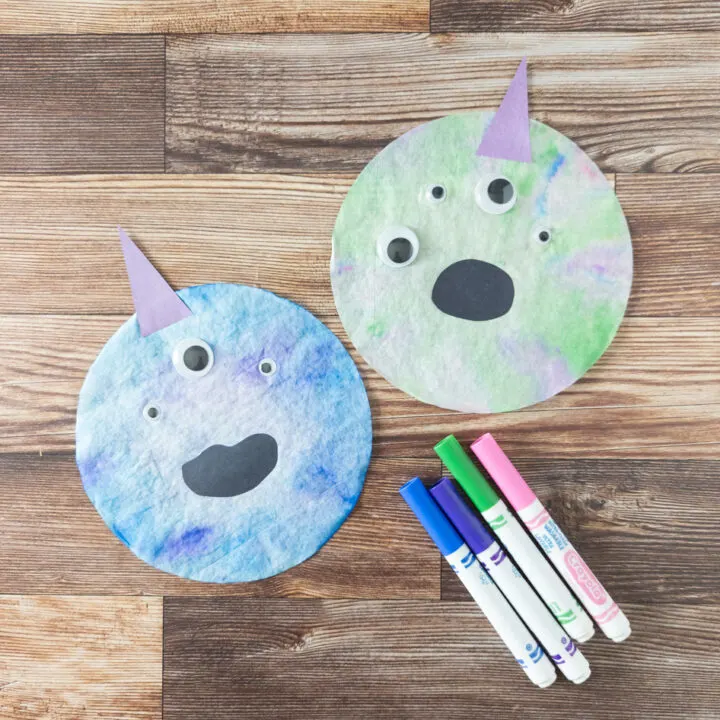 Coffee Filter Monsters
Total Time:
1 hour
20 minutes
Estimated Cost:
$5 or less
Make adorable and silly coffee filter monsters for a fun Halloween kids' craft!
Materials
White Round Coffee Filters
Washable Markers
Construction Paper
Googly Eyes
Glue
Tools
Water Spray Bottle
Scissors
Craft Mat
Instructions
To create your own monsters, begin by flattening round white coffee filters.
Use washable markers to color them, ensuring to fill in as much white space as possible for bright and vibrant colors. For a softer pastel look, lightly color the filters and leave more white space.
Next, mist the colored coffee filters with water to blend the inks.
Once dry, cut out shapes and features from construction paper. Decide how many eyes your monster will have. Then attach these details onto the coffee filters using glue.
Have fun creating your unique and colorful coffee filter monsters!
Recommended Products
As an Amazon Associate and member of other affiliate programs, I earn from qualifying purchases.