Are you looking for some outdoor fun this weekend? Why not try a family farm scavenger hunt? Whether you and your kids are curious about farm animals or just need an excuse to get out in the fresh air, this free printable scavenger hunt is a great way to explore!
Perfect for sparking conversations, learning more about our environment, and connecting with nature – this challenge will keep everyone entertained while helping create lasting memories. Get ready to discover all the magic of farm life! Need more ideas like this? We have a variety of printable games for kids that you may enjoy.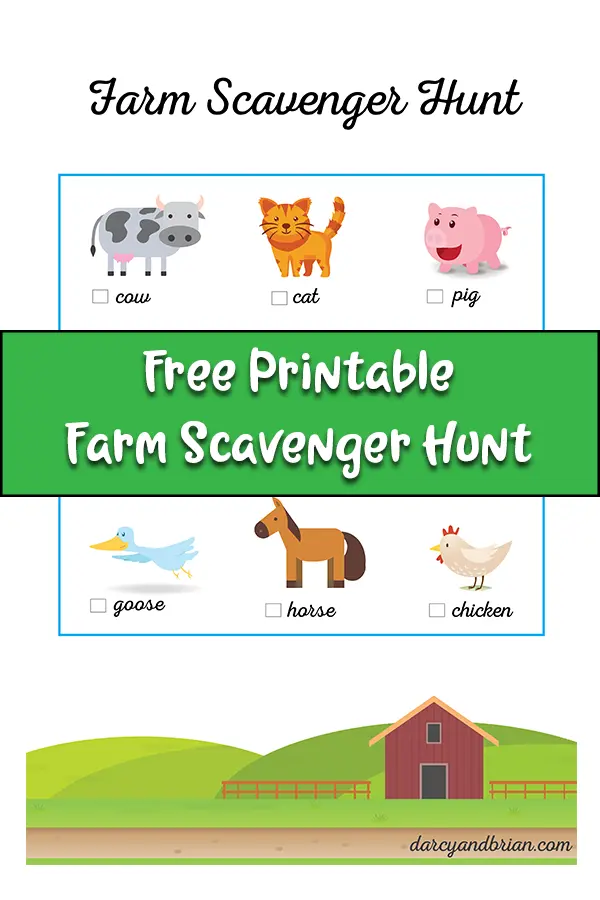 This post contains affiliate links. We may earn a small commission if you make a purchase.
We love taking the kids to visit Green Meadows Petting Farm in East Troy, Wisconsin.
It's a fantastic place to spend the day. We always pack a lunch and take advantage of their picnic area.
There are lots of different farm animals for the kids to see and interact with plus play areas where they can run some energy out.
How to Use the Printable Farm Scavenger Hunt
The scavenger hunt has pictures and words for the farm animals, making it a fun activity for kids of all ages.
Younger children who are not reading yet can look at the pictures to identify the animals. This farm scavenger printable includes a cow, cat, pig, dog, sheep, goat, goose, horse, and chicken.
Heading to the zoo? Grab our printable zoo scavenger hunt too!
As they see each animal, they can check it off the list. You can add more activities like asking them what sound each animal makes or what letter sound they start with.
Not able to take a trip to a farm? Then use this farm scavenger hunt along with reading farm board books and have your little one search through the pages to find each animal. Another option is to have them find matching farm animal toys. They can still enjoy going on a farm animal scavenger hunt without leaving home.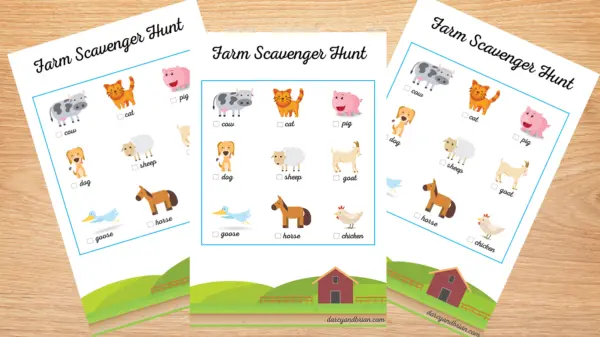 This printable is for personal use or classroom use only, but you may save it and print off as many pages as you need for your group.
When printing at home, please note that the quality of printables can vary depending on the type of printer and paper you use. If you do not want to print at home, you may take it to a local printing shop or a place like Office Depot.
Click here to download our free farm printable scavenger hunt.
We hope you enjoy using this printable scavenger hunt the next time you visit a farm or petting zoo!
More Animal Activities for Kids: