Specially crafted for preschoolers, this Popsicle Matching Game offers a delightful mix of fun and learning. With vibrant images of popsicles, it's a wonderful tool to enhance children's memory and concentration.
This is just one among our growing collection of printable games for kids designed to make learning both fun and accessible.
More than just an engaging activity, it's screen-free entertainment that's perfect for home or classroom use.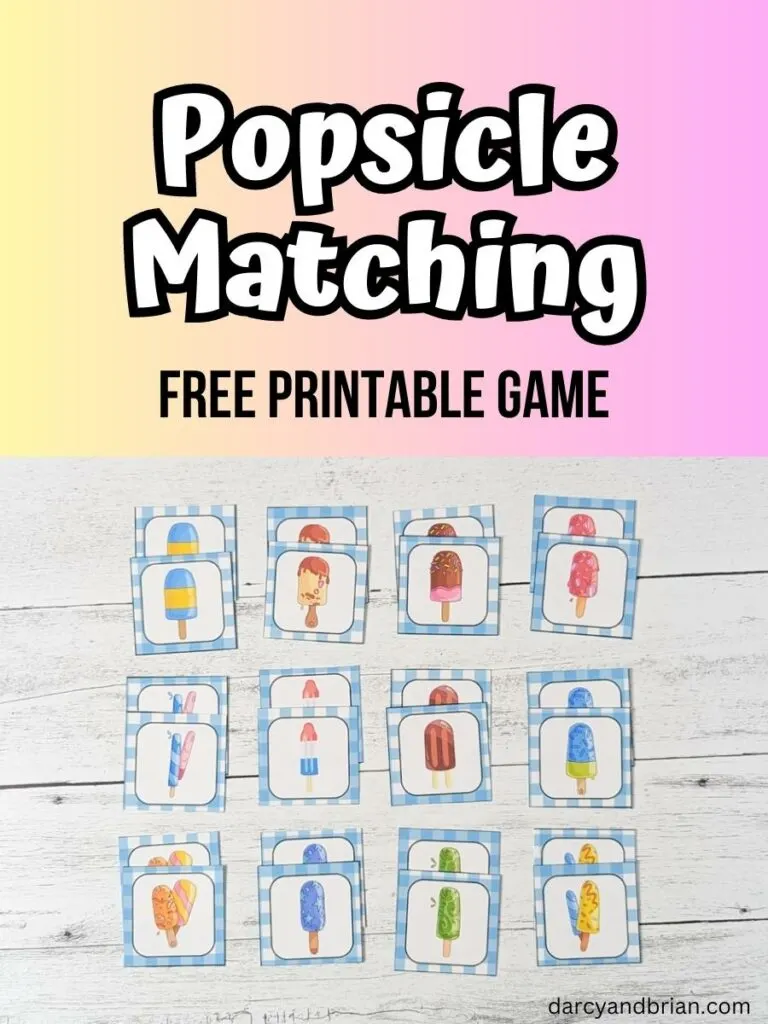 It's crucial to keep learning experiences for young children engaging and fun, as their formative years lay the foundation for lifelong learning habits.
Children have an innate curiosity and propensity for learning that can be nurtured and encouraged through interactive and enjoyable activities.
Integrating games into lessons is a highly effective strategy for achieving this.
Games, like our Popsicle Matching Game, not only grab children's attention but also motivate them to learn by presenting knowledge in a playful manner.
This approach can significantly enhance their cognitive development, making learning an exciting journey rather than a chore.
Free printable available at the end of this post.
Benefits of Playing This Popsicle Matching Game
This Popsicle Matching Game is more than just a delightful activity; it's an efficient, hands-on tool to enhance critical developmental skills in children.
Playing this game aids in improving memory, as children must remember the location of each popsicle card for successful matching.
It also enhances concentration by requiring consistent attention to detail throughout the game.
The visually distinct popsicles help develop visual discrimination skills as children learn to identify and differentiate between various patterns and colors.
Plus, when played with another person, the game encourages social interaction and teaches the valuable concept of turn-taking.
This engaging game is a fun, screen-free way to nourish and develop these crucial aspects of early learning.
This post contains affiliate links. As an Amazon Associate and a participant in other affiliate programs, we earn a commission on qualifying purchases.
ABCaptain Counting Animal Matching Game with Sorting Cups
Ocean Adventure Memory Games for Kids
SPARK INNOVATIONS Animal Matching Cards
Disney Classic Characters Matching Game by Wonder Forge
Hasbro Gaming Trucks Matching Game
Chuckle & Roar – Matching Game Alphabet – Board Game for Kids
Why Are Visual Discrimination Activities Important?
Visual discrimination activities are essential in a child's development, as they lay the groundwork for more complex skills such as reading and writing.
Through identifying patterns, shapes, and colors, children hone their spatial awareness and keen observational powers.
These exercises also strengthen visual memory by teaching them to recall size or color of objects that have been seen before.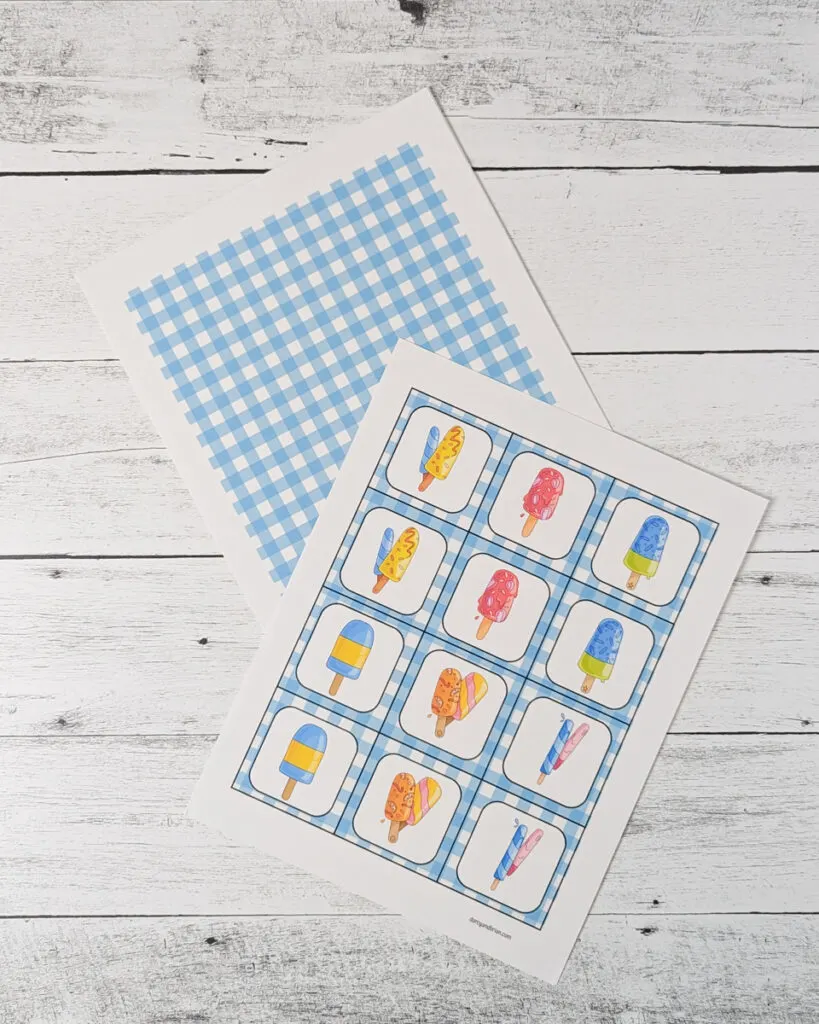 Is Matching a Math Skill?
The ability to match something is related to math skills. By matching objects, children learn about basic concepts such as size, shape and color.
Matching activities can also help children understand the basics of counting, sorting and classifying items.
Furthermore, it's a great way to introduce young minds to basic arithmetic operations such as addition and subtraction.
This is done by having the child add and take away cards as they match them to each other.
The Popsicle Matching Game provides an enjoyable way of developing these important skills for preschoolers.
More Math Activities for Kids
Developing proficiency in math can be made fun and engaging through a variety of activities. From matching games to simple arithmetic puzzles, each interactive exercise offers an opportunity to build and refine different math skills, stimulating young minds in a playful way.
What's Included in the Popsicle Matching Game?
The Popsicle Matching Game features 12 matching pairs of delicious, colorful popsicles, for a total of 24 cards.
It also includes one pattern page that can be attached to the back of the game cards to prevent seeing through them when flipped over.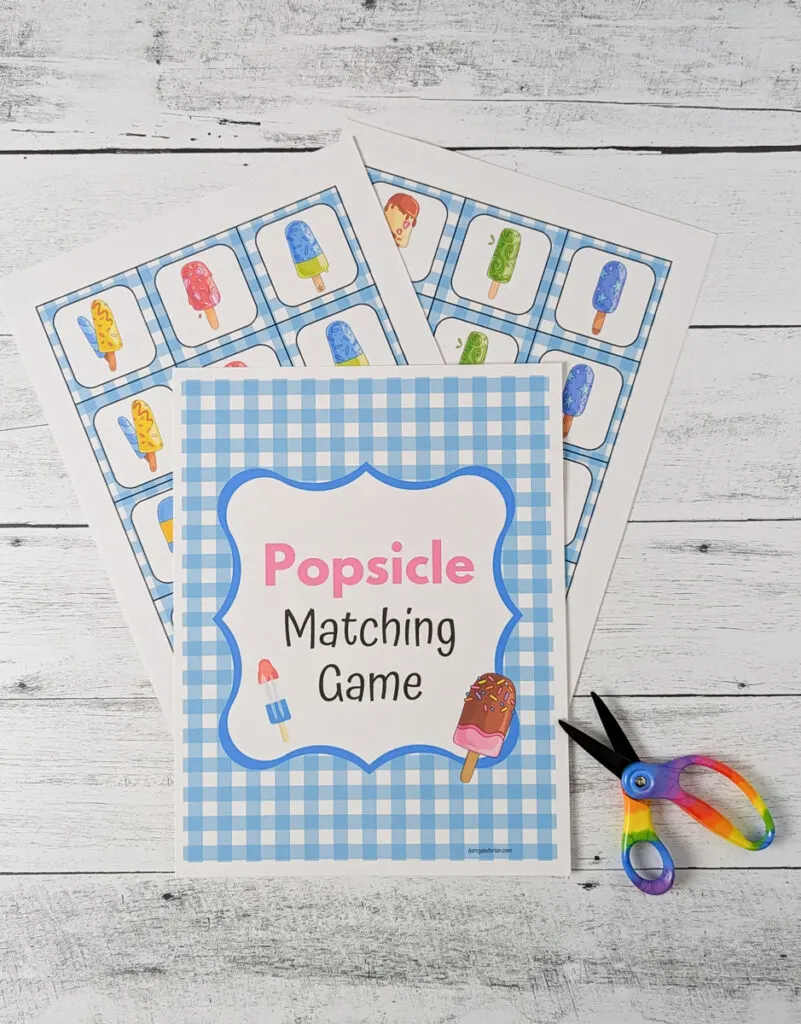 Recommended Items for Printable Games
The Popsicle Matching Game is a low-preparation activity, making it a convenient choice for busy parents or educators.
The essentials you need to get started include the free printable game and a printer. You can easily access the game by filling out the form located at the bottom of this post.
If you are looking for a new printer, we highly recommend the Epson EcoTank for high-quality, vibrant printouts.
Additionally, although not a necessity, a laminating machine can be useful to ensure the longevity of your game cards.
However, if you do not have one, printing on cardstock can be an excellent alternative to provide durability.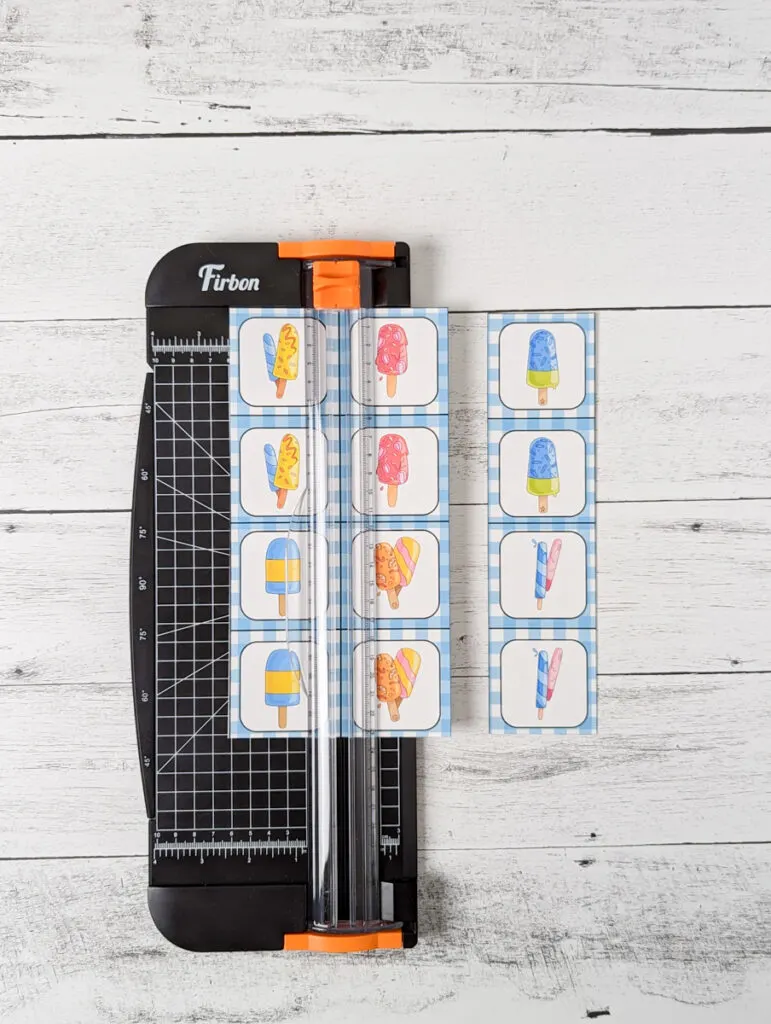 A paper cutter, while optional, can be a helpful tool for neatly and easily cutting apart the game cards.
This way, preparation for this educational, fun, and engaging game can be done in no time, ready to captivate your little learners!
Epson EcoTank ET-3830 Wireless Color All-in-One Cartridge-Free Supertank Printer with Scan, Copy, Auto 2-Sided Printing and Ethernet – The Perfect Printer Productive Families,White
Astrobrights/Neenah Bright White Cardstock, 8.5
Firbon A4 Paper Cutter 12 Inch Titanium Paper Trimmer Scrapbooking Tool with Automatic Security Safeguard and Side Ruler for Craft Paper, Coupon, Label and Cardstock (Black)
Classroom Timers for Teachers Kids Large Magnetic Digital Timer 2 Pack
TIHOOD 24PCS Sand Timer Assortment Plastic Sand Clock Timer 30s / 1min / 2mins / 3mins / 5mins / 10mins for Adult Kids in Classroom Kitchen Games Office
Charles Leonard Dry Erase Lapboard Class Pack, Includes 12 each of Whiteboards, 2 Inch Felt Erasers and Black Dry Erase Markers (35036)
How to Play the Popsicle Matching Game
To play the Popsicle Matching Game, start by printing and cutting out the game cards. Once all of your pieces are cut and ready, it is time to have some fun!
The goal of this game is for children to practice their visual discrimination skills by matching the popsicles.
Set up the game by laying out all of the cards face-down in an array. Players then take turns turning over two cards.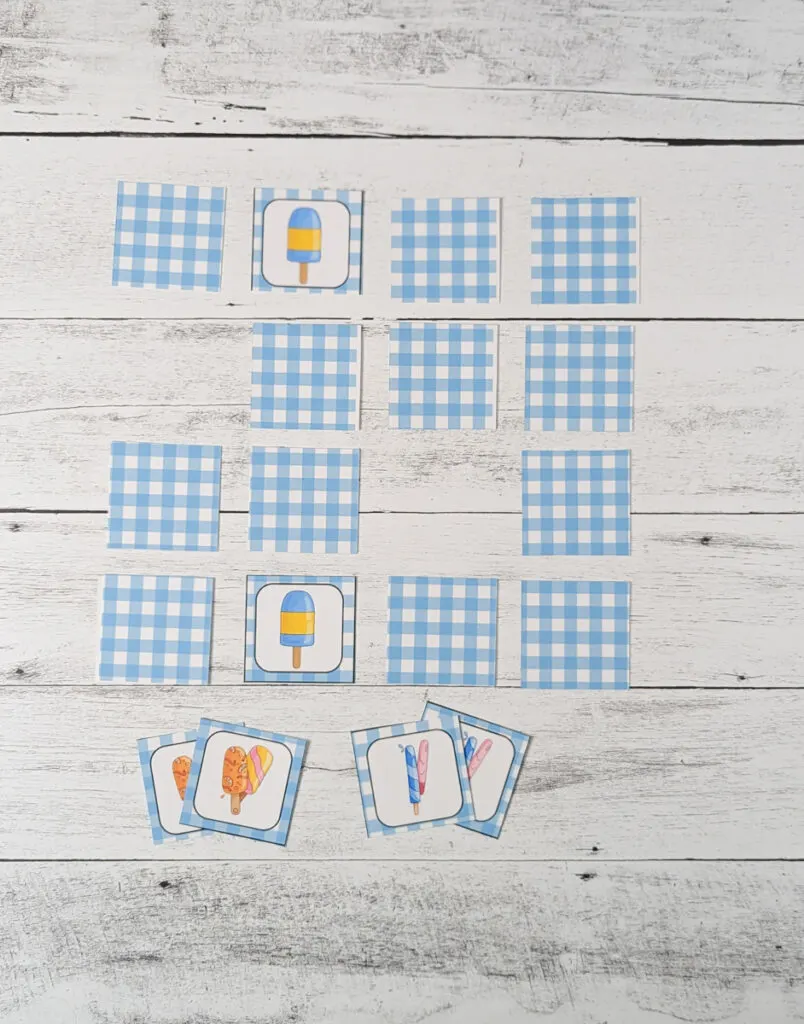 If they match, they keep them and go again. If not, turn them back over so that players can remember where the card was located for their next turn.
The player with the most matching popsicles at the end is the winner!
Additional Summer Learning Activities for Kids
In addition to the Popsicle Matching Game, here are some other screen-free activities to enhance your child's creativity and learning this summer:
Beach Charades and Summer Pictionary: These printable games bring the fun of the beach to your backyard. Children can engage in mimes and drawings related to beach and summer activities, while also improving their communication, imagination, and quick-thinking skills.
Summer Scavenger Hunt: Prepare a scavenger hunt list of items for kids to find outside. For added fun, give them a digital camera to capture images of the items they find. Grab this beach scavenger hunt if you're planning a trip to the shore.
Reading Aloud: Spend some quality time with your kids by reading aloud stories from our curated list of ice cream books for kids. This activity not only improves listening skills, but also stirs imagination and fosters a love for reading.
Outdoor Adventure Journal: Let kids make an outdoor adventure journal to document plants and animals that they encounter on their nature hikes and park visits. Read these tips for going on nature hikes with preschoolers too.
Summer Cloud Art: Take a blanket outside on a sunny day with some sidewalk chalk and let kids draw pictures of the clouds in the sky.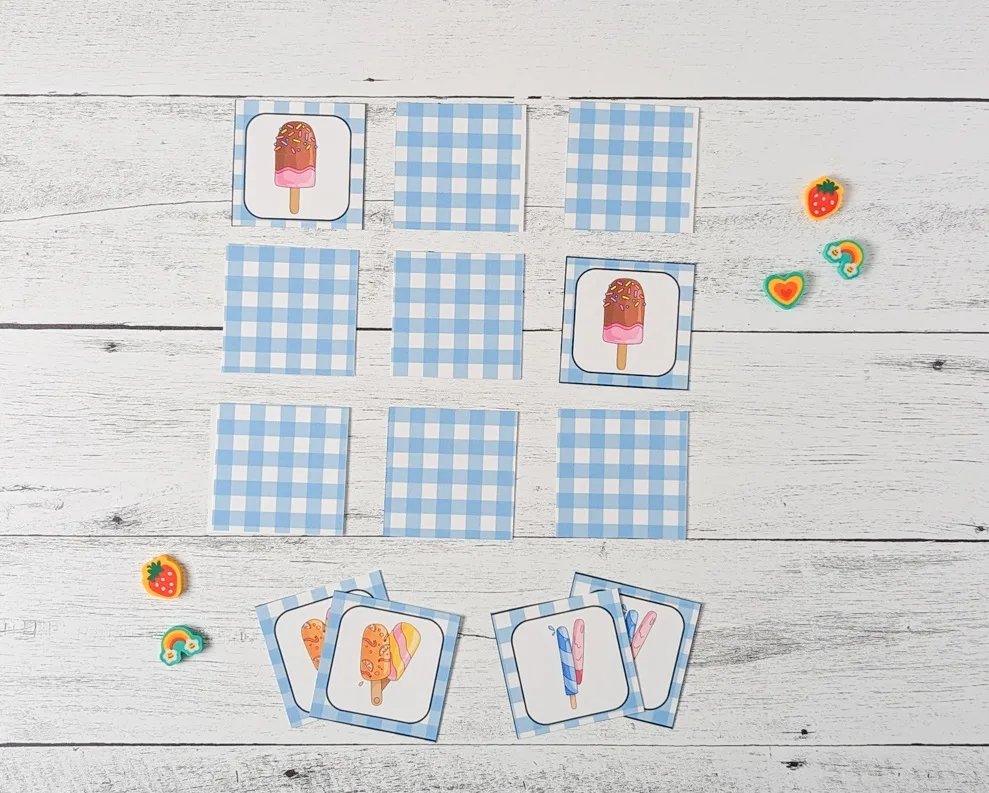 Summer Crafts for Kids
When the weather is too hot to go outside, or if you're looking for an indoor activity for kids – why not try some summer crafts? Here are a few fun and easy ideas:
Coffee Filter Watermelon Craft: Use coffee filters, markers, and construction paper to create a unique and colorful watermelon suncatcher.
Ice Cream Cone Crafts: Turn everyday materials like paper, foam sheets, and pom-poms into colorful ice cream cones. This adorable ice cream handprint craft is an easy project for preschool.
Clothespin Mermaid Craft: Get creative and make mermaids out of clothespins, using paint, colorful cardstock, and our printable craft template.
Popsicle Stick Picture Frames: Get creative with popsicle sticks and glue to make a unique picture frame for your photos!
Paper Plate Jellyfish Craft: Kids can make a jellyfish that comes alive with paint and yarn.
In conclusion, summer is a glorious time for kids to explore and engage in fun, creative activities.
Whether it's going out on a nature hike, indulging in crafty pursuits, or playing an engaging game like our printable Popsicle Matching Game, there's no shortage of opportunities to learn, grow, and make unforgettable memories.
Screen-free and educational, these activities are an excellent way to keep young minds ticking, improve memory and concentration, and most importantly – ensure a summer filled with joy and laughter.