The Halloween Left Right Game is a captivating adventure that transforms the spirit of Halloween into a fun learning experience. As an ideal addition to your arsenal of Halloween activities for kids, this printable game offers an entertaining twist to traditional story time.
Children engage with the narrative, attentively following along, and passing treats or toys to their left or right according to the tale's direction.
This unique play not only sparks their imagination but also enhances their listening skills, making it a perfect choice for parties or classroom activities. Immerse your children in the spellbinding journey of our Halloween Left Right story game, and watch the magic of learning come alive!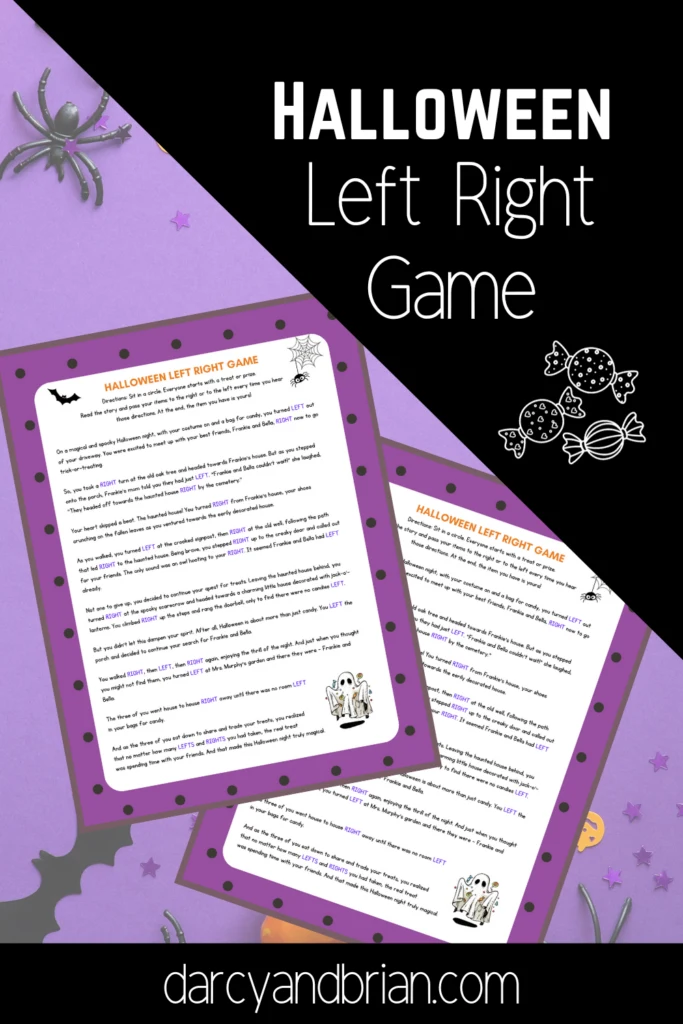 Low and no-prep activities, like our Halloween Left Right Game, require minimal effort and resources to set up, making them ideal for busy educators. Seasonal and holiday themes add an exciting layer to the learning experience, sparking children's curiosity and interest.
These games help in skill development like problem-solving, critical thinking, and fine motor skills. Whether you're homeschooling or looking for fun classroom activities, printable games for kids offer a flexible and interactive way to keep kids engaged in learning.
Fun Halloween Party Games
When Halloween season rolls around, it brings with it the opportunity to add a dash of spookiness, fun, and creativity to the usual party games. Halloween party games for kids combine the thrill of the holiday with engaging activities that keep children entertained and engrossed.
These games, with their unique Halloween twists, promise not just laughter and excitement, but also a chance for kids to exercise their problem-solving skills and teamwork.
Whether it's a themed treasure hunt, a spooky story session, or a peculiar pumpkin challenge, the possibilities are endless and offer a memorable experience that kids eagerly look forward to every Halloween season.
Halloween Books for Kids
These captivating tales, brimming with fun-filled frights and cute characters, provide an exciting way to get your young ones into the Halloween spirit.
Whether it's spooky stories to read under the blanket, or light-hearted tales about the fun of trick-or-treating, Halloween books add an extra layer of excitement to this festive season.
Not only do these books entertain, but they also introduce children to new words and concepts, helping to improve their reading and comprehension skills.
So, add a dash of magic and mystery to your child's reading library with some of these fantastic Halloween-themed books.
This post contains affiliate links. As an Amazon Associate and a participant in other affiliate programs, we earn a commission on qualifying purchases.
The Halloween Tree: Build New Traditions with This Funny and Imaginative Holiday Book for Children (Halloween Gifts for Kids)
How to Catch a Monster: A Halloween Picture Book for Kids About Conquering Fears!
Lulu Goes to Witch School (I Can Read Level 2)
Big Pumpkin
How to Catch a Witch
The Crayons Trick or Treat
Benefits of Playing the Halloween Left Right Game
The Halloween Left Right Game is a delightful and educational addition to your child's Halloween celebrations.
This engaging activity not only provides amusement and excitement but also stimulates their listening skills as they carefully follow the playful story and its directions.
The game encourages quick response and active participation as kids pass around candy or small items every time they hear 'left' or 'right' in the story, which in turn enhances their hand-eye coordination.
Furthermore, the nature of the game promotes their ability to follow instructions and fosters a sense of camaraderie among the young participants.
So, while the children are immersed in this fun-filled Halloween game, they are also developing essential cognitive and social skills.
What's Included in the Halloween Left Right Game Printable
The Halloween Left Right Game consists of a one-page printable that includes an original short story with designated cues for 'left' and 'right' directions.
The story revolves around a group of friends venturing out on Halloween night to go trick-or-treating.
The game is designed to be played with a group of children, making it perfect for Halloween parties or as a fun activity during family gatherings.
How to Play the Halloween Left Right Game
To play the Halloween Left Right Game, gather a group of children and give each one a small item, such as candy or Halloween stickers. Have them sit in a circle and read the story out loud, pausing at each 'left' or 'right' cue for the kids to pass their item to the person on their left or right.
As the game progresses, keep an eye on your little ones as they eagerly listen and pass items, practicing their listening skills along the way. The game ends when the story is finished, and each child will have keep the item they are holding.
While it is possible to play this game by only passing around one item, we think it is more fun when everyone starts with an unknown item that they can unwrap at the end.
If you enjoy playing this Halloween game, we also have a holiday edition! Check out our Disney Right Left Christmas Game Printable for a fun way to pass around small gifts.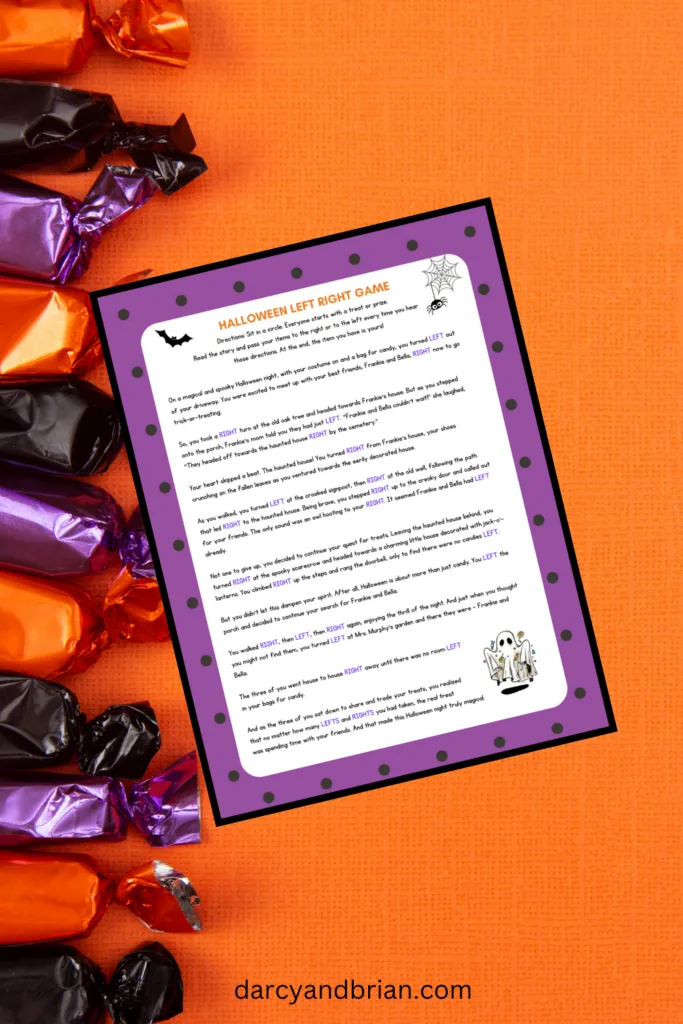 Recommended Items for Playing Halloween Left Right Game
To play the Halloween Left Right Game, you'll need a few essential items. Starting with the most important, you'll need a copy of the Halloween Left Right Game story which can be accessed for free by filling out the form at the bottom of this post.
You can either print the story to read aloud, or open it on your device. The game also requires small mystery bags filled with an assortment of treats – these could be candies, tiny toys, or small prizes.
To add to the suspense and thrill, we suggest using opaque favor bags or wrapping these treats so that their contents remain a surprise until the end of the game.
This not only raises the excitement level but also keeps the kids eager and attentive throughout the game anticipating the final reveal.
QINGQIU 100 PCS Halloween Toys Assortment for Kids
100Pcs Halloween Pencil Assortment with Eraser
ArtCreativity Halloween Temporary Tattoos for Kids
GMAOPHY 72 PCS Halloween Slap Bracelets for Kids
68 PCS Halloween Party Favors for Kids, LED Flash Rings Light Up Necklaces
MGparty 38pcs Halloween Squishies Toys for Kids
More Halloween Activities for Kids
In addition to the Halloween Left Right Game, there are other engaging Halloween-themed activities that can supplement your children's learning experience.
Consider incorporating our Halloween Pre K Worksheets and other printable Halloween activity pages. They include math, literacy, and fine motor activities.
The Spooky Mad Libs could also be a hit, where children fill in nouns, verbs and adjectives into a story. Filling these out and reading through them is an entertaining way to enhance their creativity and storytelling skills.
With these Halloween Science Experiments, kids can learn about basic scientific concepts while having fun with spooky-themed experiments.
Pairing these activities with the Halloween Left Right Game could make your Halloween party a memorable and educational event for the kids.
Halloween Crafts for Kids
Encourage your children's creativity with Halloween-themed crafts that are not only fun to make but also serve as festive decorations for the season.
Crafting together as a family can be a great way to bond while developing the children's fine motor skills and artistic abilities.
Plus, these handcrafted Halloween creations will add a personal touch to your celebrations, making them extra special.
As Halloween approaches, keep these ideas in mind for adding a sprinkle of fun, creativity, and learning to your celebrations.
Whether it's challenging their listening skills with the Halloween Left Right Game or incorporating one of the suggested activities we've provided, each activity is designed to enhance your child's skills while making the holiday memorable.
So, as the leaves turn color and the air gets chillier, embrace the spirit of Halloween with these engaging and educational activities for your children. Enjoy a spooky, yet enriching Halloween!