Introduce your preschooler to the exciting world of numbers and dinosaurs with our engaging Dinosaur Counting Game. We love creating printable games for kids that are fun and educational!
This printable board game helps children learn to count while fostering a love for these fascinating creatures.
It's a perfect choice for parents and teachers looking to enhance their child's understanding of numbers and encourage important skills like following rules, taking turns, and subitizing.
With this game, your little learner will be entertained while developing essential mathematical concepts.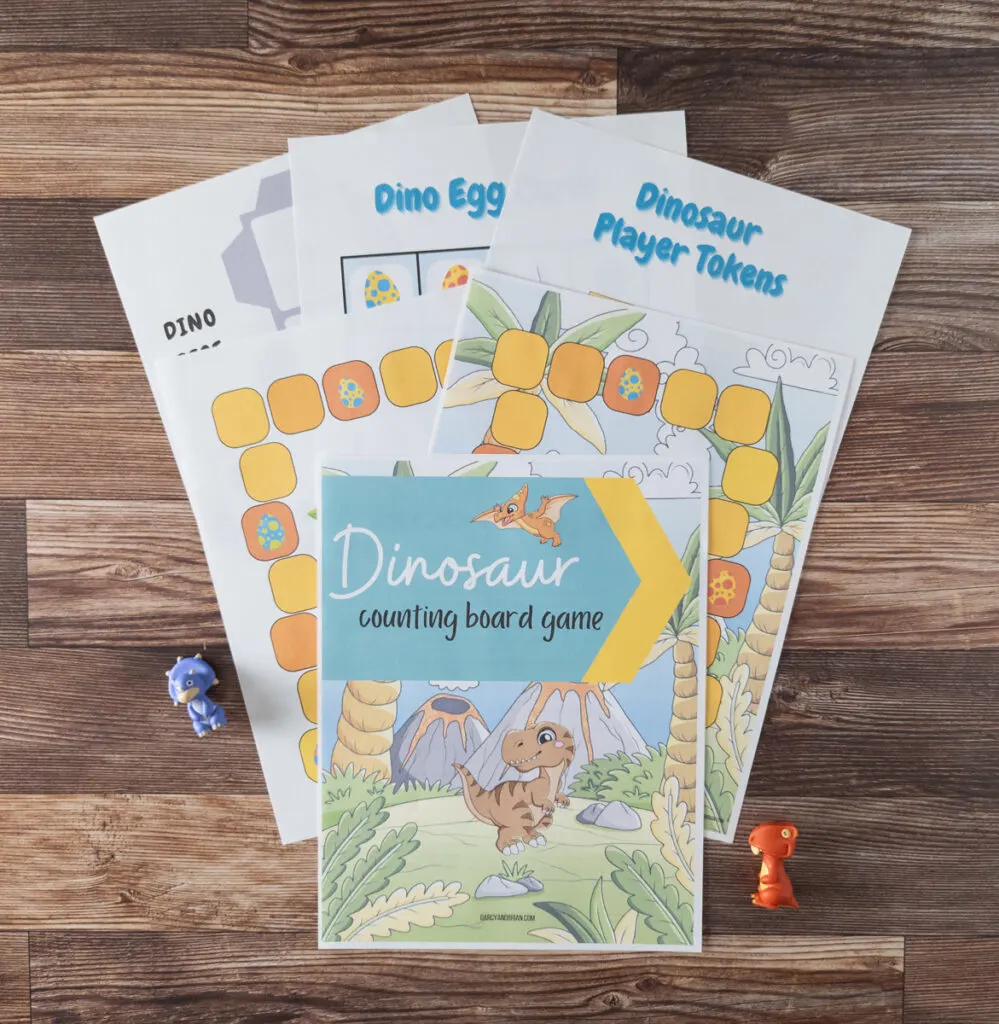 It's no secret that many little ones are utterly captivated by the world of dinosaurs. By incorporating this fascination into an early learning activity, we've created a unique opportunity to foster engagement and enthusiasm in developing math skills.
Board games serve as fantastic learning tools; their repetitive nature aids practice, reinforcing and ingraining new concepts, while the play aspect ensures it remains fun and engaging.
This is why we've designed our Dinosaur Counting Game with such intention. Not only does it cater to the dinosaur enthusiasts, but it also focuses on enhancing early math literacy skills.
It's a fantastic mix of fun and learning, making it the perfect addition to homeschool and classroom math centers!
Scroll down for the free printable
This post contains affiliate links. As an Amazon Associate and a participant in other affiliate programs, we earn a commission on qualifying purchases.
Loki: SOS Dino Game, -Tile Placement Tabletop -Board Game, Strategy, Cooperative
Blue Orange Games Dragomino, My First Kingdomino
Peaceable Kingdom Press/Dinosaur Escape Cooperative Game for Kids
Hapinest DIY Dinosaur Toy Lantern Night Light Kit – Arts and Crafts
eeBoo: Shiny Dinosaur Memory and Matching Game
Coogam Counting Dinosaur Sorting Toy Set, Color Matching
Counting Activities for Preschoolers
Counting activities for preschoolers play a vital role in building early mathematical skills. They are designed to be simple and engaging, often incorporating play to keep young learners interested.
Activities such as counting objects in a group, counting out loud, or using number lines help in teaching children how to count, understand number sequences, and establish one-to-one correspondence.
What Are the Benefits of the Dinosaur Counting Game
The Dinosaur Counting Game offers various benefits, creating an educational yet entertaining platform for children to build foundational math skills. By playing this game, children engage in early math literacy in a fun and interactive way.
The use of dice not only introduces the concept of chance and unpredictability but also helps develop subitizing skills – the ability to recognize the number of objects in a small group without counting.
As the children roll the dice and move their game tokens, they practice one-to-one correspondence, enhancing their understanding of numbers and their values.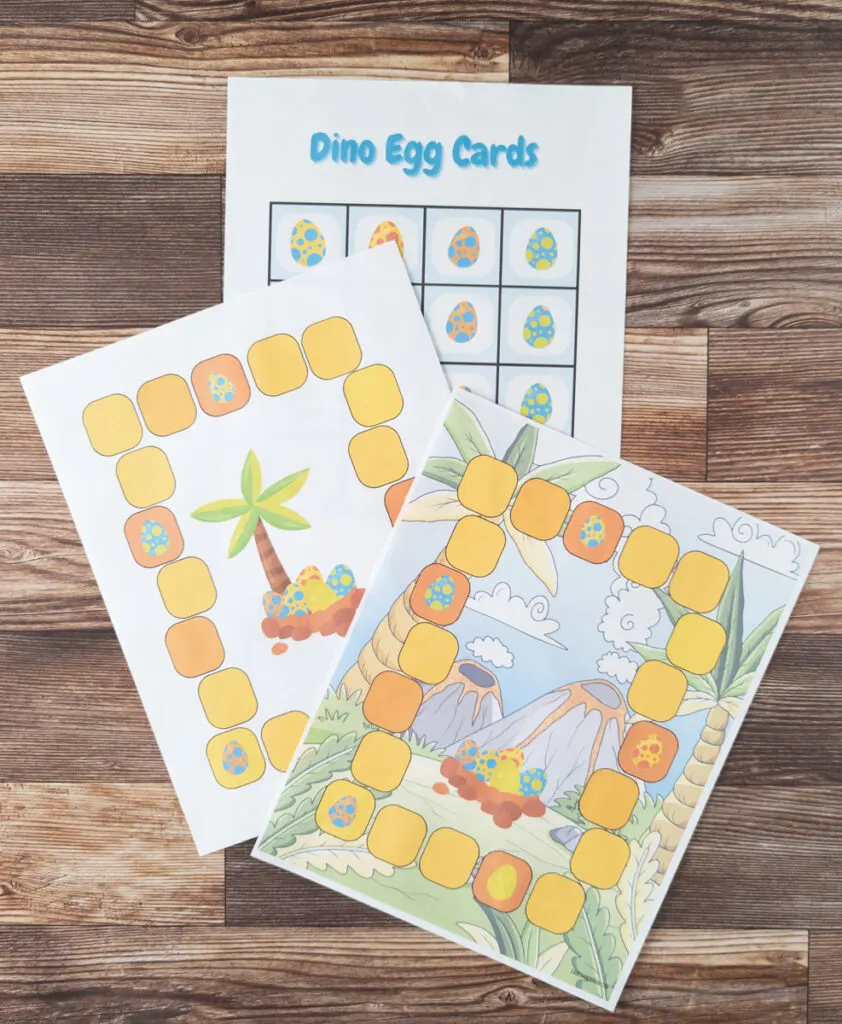 Additionally, this game incorporates a social aspect, promoting the development of important social skills as the players take turns and interact with each other.
The excitement of collecting dinosaur egg cards and the challenge of counting the total at the end adds another layer to the learning experience, teaching simple addition and reinforcing the concept of counting.
Overall, the Dinosaur Counting Game is a wonderful tool that combines education and play, allowing children to learn crucial mathematical concepts while having fun.
What is One-to-One Correspondence in Math?
One-to-one correspondence is a fundamental concept in mathematics that refers to the ability to count a set of objects while matching each object with one and only one number word.
This means that when counting, children must touch or move an object for every number they say.
This interactive dinosaur counting game encourages children to move their dinosaur token for every number they say, reinforcing their understanding of counting and the concept of one-to-one correspondence.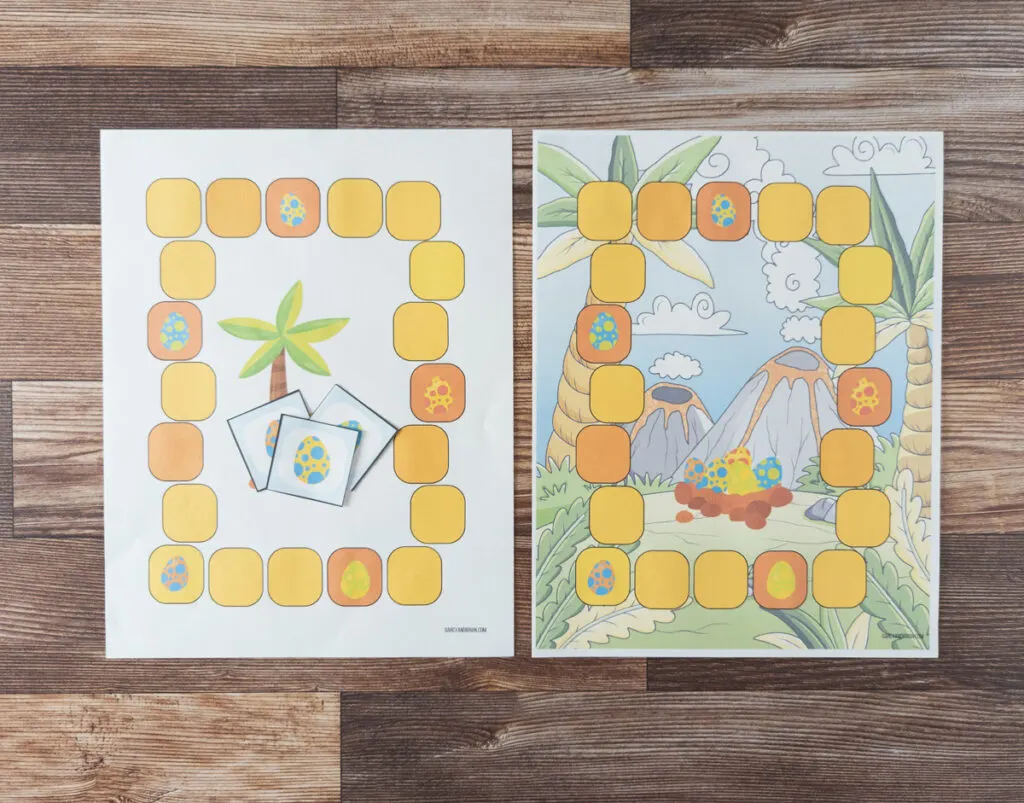 What's Included In the Printable Dinosaur Counting Game?
The game comes with two printable game boards – one uses less ink when printing, ensuring an economical and environmentally-friendly option.
It also includes dinosaur game tokens, dinosaur egg cards, and a custom dino tracks six-sided die.
The colorful and engaging design of the game is sure to capture the attention of preschoolers while they learn and play.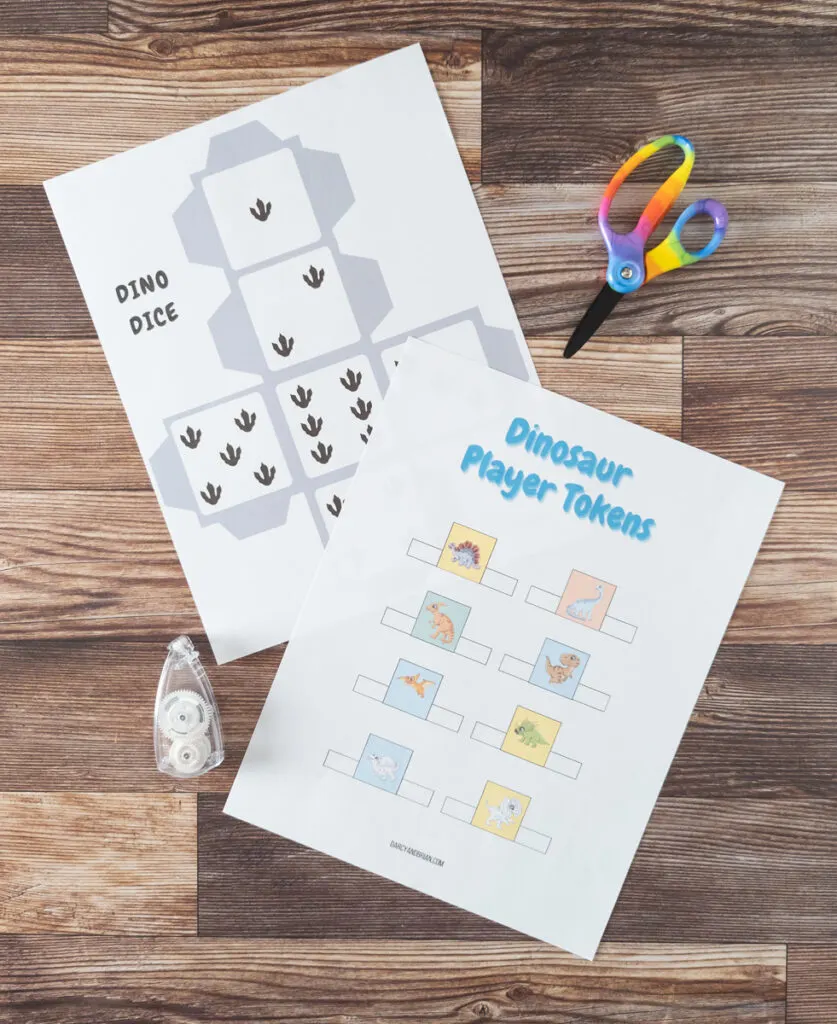 How to Prepare the Game
This game is a breeze to print and play, requiring only a minimal amount of prep to set up. You'll want to use a color printer such as the Epson EcoTank (which we absolutely love!) or have it printed at a local print shop for the best results.
Laminating the game board and pieces is a great way to enhance their durability and longevity. Alternatively, you can slide the game board into a dry erase pocket for easy use and reuse.
If you're short of a six-sided die, don't fret – we've included a custom die in the pack that you can simply cut out and fold.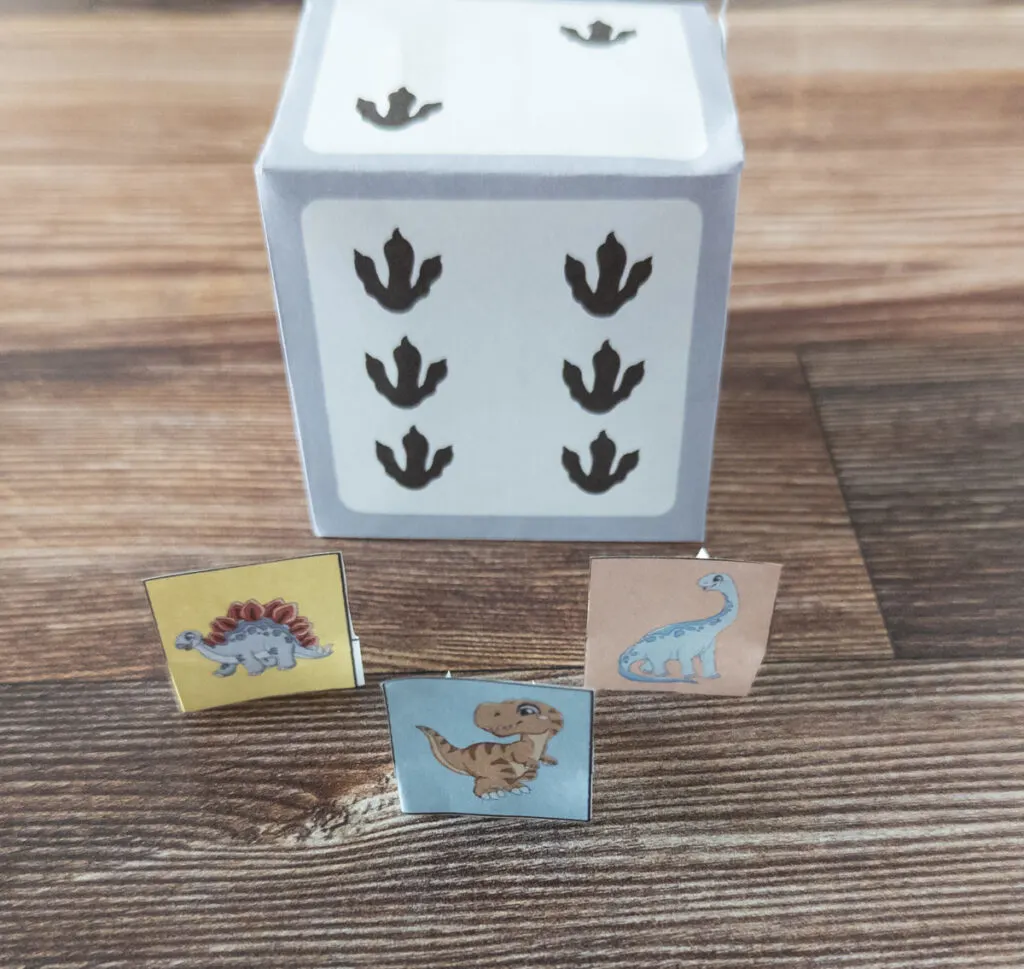 You can assemble it using a tape runner, or just some basic tape or a glue stick if that's what you have handy.
We've included delightful dinosaur pieces that you can cut out and fold to move around the board. Or, you could also use mini dinosaurs or other manipulatives as your players' pawns.
How to Play the Dinosaur Counting Game
Our Dinosaur Counting Game adds an adventurous twist to traditional counting activities. As they navigate through the game, they'll roll, count, and move in a prehistoric wonderland collecting dinosaur eggs.
The game not only develops counting skills but also encourages fine motor skills through the grasping and moving of game tokens.
Roll the dice.
Move your dinosaur token forward by the number rolled.
You can choose to move in either direction on the board, but remember that all moves in a turn must be made in the same direction. Your dinosaur cannot hop back and forth within one turn.
When you land on a dinosaur egg space, collect one egg card from the center of the board.
Keep taking turns until all the eggs have been collected.
The player with the most dinosaur eggs at the end is the winner!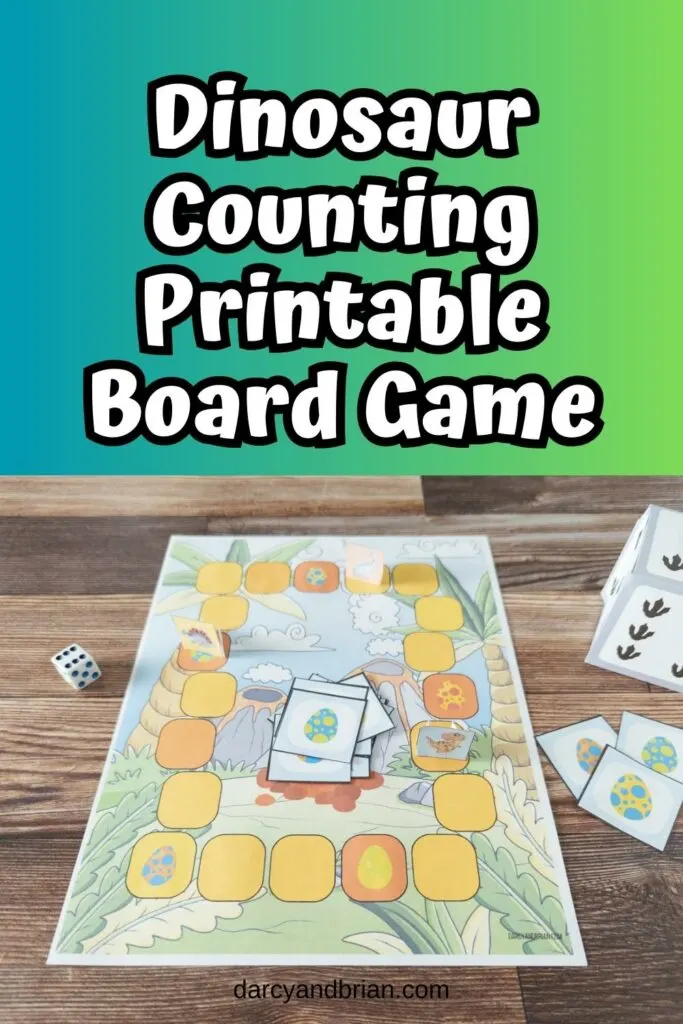 Is Subitizing Important for Preschoolers?
Subitizing, or the ability to recognize small quantities without counting, is an essential skill for preschoolers to develop.
It can be practiced using dice rolls, where children learn to quickly identify the number of dots on the dice (also known as pips) without having to count them individually.
This skill lays the foundation for number sense and mathematical understanding, making tasks like counting objects or recognizing patterns quicker and easier in children's daily lives.
Fun Counting Games for Kids
Counting is one of the foundational math skills for children, and what better way to learn than through fun and engaging games?
Incorporating play into education helps children develop their counting skills in an enjoyable, stress-free environment.
Here are some more fun counting games that incorporate similar learning strategies, ensuring your little ones can count, add and subtract while also having loads of fun.
Think Fun Zingo 1-2-3 Number Bingo Game
Think Fun – My First Math Dice
Dinhon Kids Learning Locks with Keys Numbers Matching & Counting Montessori Educational Toys
CozyBomB Homeschool Kindergarten Balance Board Game
Hasbro Hi Ho! Cherry-O Board Game
Peaceable Kingdom Count Your Chickens Award Winning Cooperative Counting Game
More Number Activities for Preschoolers
Providing children with a wide range of activities not only makes learning numbers fun, but it also caters to their varied interests.
The activities that follow are designed to reinforce number recognition, counting, and basic arithmetic skills in a playful manner that keeps preschoolers curious and eager to learn.
Homemade Number Rocks: Make homemade number rocks by painting numbers on small stones. Children can use these rocks for counting, number recognition, and hands-on learning.
Number Line Hop: Using a number line on the floor, children can hop from number to number and say the corresponding number aloud. This promotes number sequence understanding and also incorporates physical activity.
Number Crafts: Engage children in number crafts like creating a number 3 craft that looks like a seahorse. This combines creativity and number recognition.
Number Puzzles: Use these free printable number sequencing puzzles to work on number recognition, sequencing, and one-to-one correspondence.
Dot-to-Dot Drawings: Provide dot-to-dot printables that form a picture when completed. This activity promotes number sequencing and fine motor skills.
Roll and Color Dice Game: Play a dice game where kids roll the dice and find the shape with the corresponding number on a coloring sheet. They can color it in according to the dice key. This game reinforces number identification and coloring skills.
Embark on a thrilling educational adventure with our captivating dinosaur-themed game. Let your little ones explore the prehistoric world as they dive into the exciting dinosaur counting game.
This fantastic resource is designed to make learning a delightful experience for children. Sign up now to receive these free printables and ignite their curiosity as they engage in this interactive learning journey.
Don't miss out on this opportunity to create lasting memories and foster a love for learning in your little explorers!