Are you wondering how to make science lessons more engaging and less daunting for kids? With our printable Science Bingo game, kids can explore science terminology in a new way. By blending play with learning, this unique tool turns scientific concepts into an exciting game, broadening children's knowledge while keeping them entertained.
It's the perfect addition to a science unit for preschool, kindergarten, and elementary school age children at home or in a classroom. You can find this gem, along with many other educational games in our collection of printable games for kids.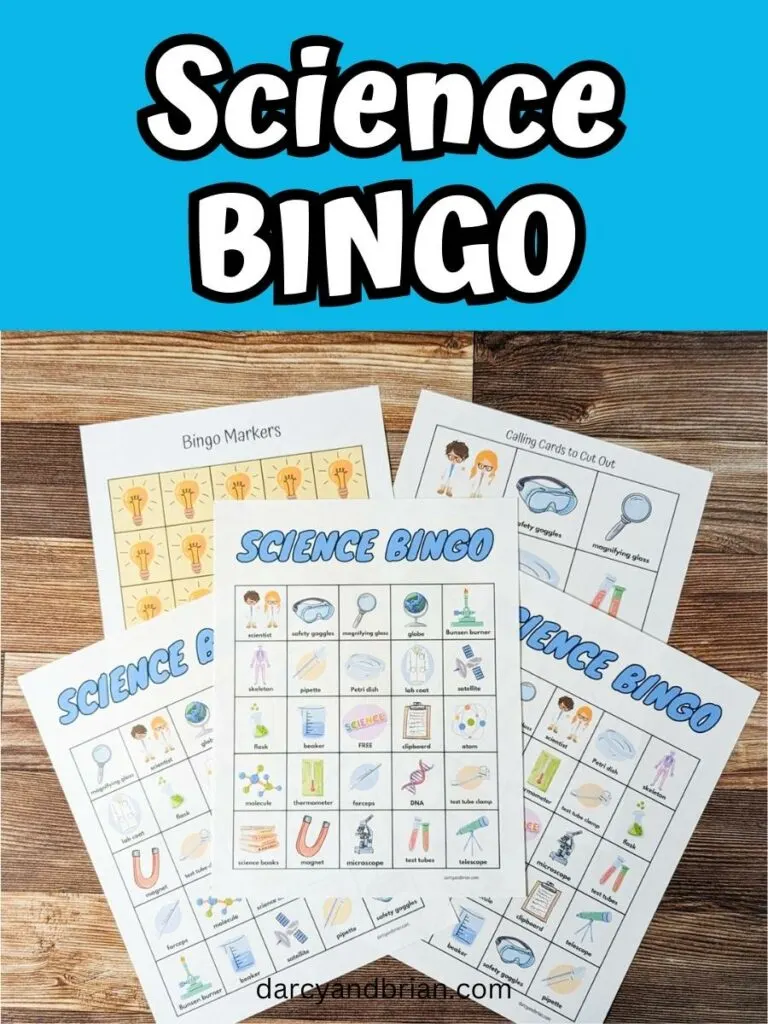 Children can explore science terminology in a new and exciting way with our printable Science Bingo game. The bingo cards have images along with text, making it suitable for preschool, kindergarten, and older kids to play.
Whether at home or in the classroom, our Science Bingo game is sure to broaden children's scientific knowledge while keeping them entertained.
More Bingo Games for Kids
Looking for more fun and educational bingo games? Here are a few you may like to try:
Free printable available at the end of this post.
Importance of Learning Through Play
Learning through play is a critical aspect of children's development. It is during play that children explore, discover, and understand the world around them. This interactive process not only stimulates their curiosity but also fosters creativity, problem-solving skills, and cognitive aptitude.
By incorporating learning with playful elements, like our Science Bingo game, children can grasp complex concepts in an enjoyable and stress-free manner. This approach not only enhances their retention of information but also fuels their interest in the subject, promoting a lifelong love for learning.
Engaging Science Games
One of our favorite ways to sneak in learning is through board games. Since the kids are playing a game, they don't even realize they are learning something at the same time. There are board and card games for practically every subject!
This post contains affiliate links. As an Amazon Associate and a participant in other affiliate programs, we earn a commission on qualifying purchases.
Ecosystem – A Family Card Game about Animals, their Habitats, and Biodiversity
Looney Labs Chemistry Fluxx Card Game
Subatomic: an Atom Building Game (2nd Edition) | A Chemistry Game About Elements, Protons, Neutrons, and Electrons
Human Heart Anatomy Floor Puzzle
What is Included in Science Bingo?
Like our Science Pictionary game, this Science Bingo game is a fantastic educational tool, designed with the curiosity of young learners in mind. This game includes 25 unique bingo cards, ensuring variety among a group of kids.
Each card features a combination of images and corresponding words related to scientific terms and science equipment. This unique design triggers visual learning, helps improve children's scientific vocabulary, and creates a more interactive and engaging experience.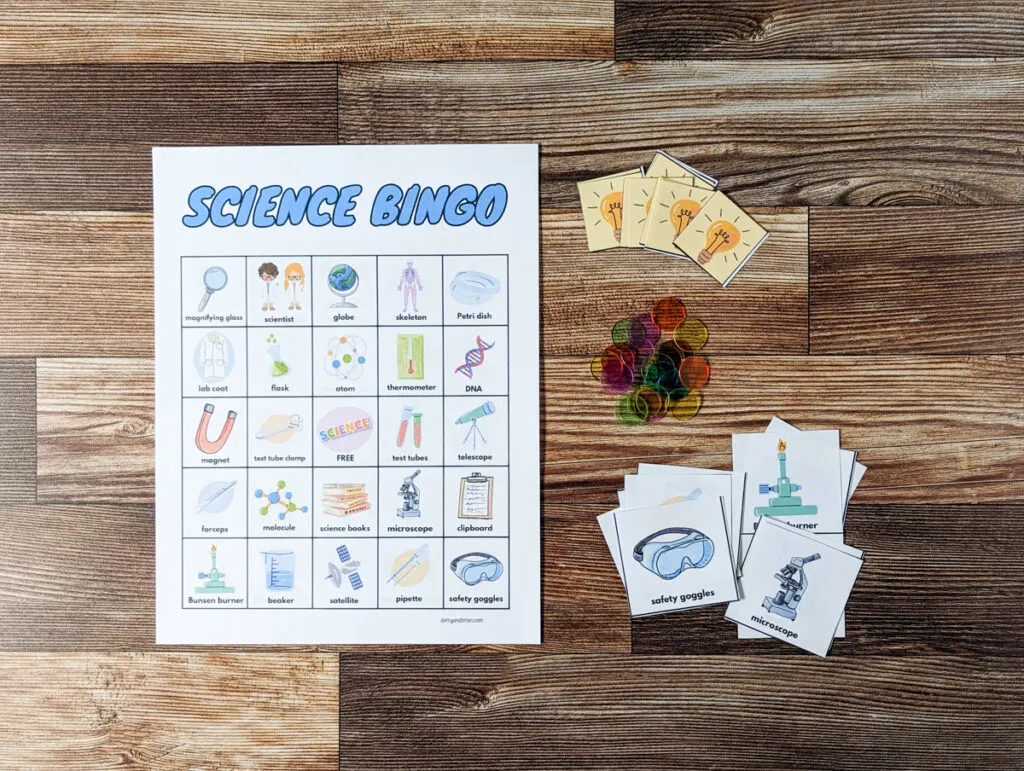 In addition to the bingo cards, the game also comes with 24 calling cards. These serve as a guide and help to facilitate the game. Also included in the kit are printable bingo markers, adding convenience and ensuring you have everything you need to play the game.
By transforming science learning into a playful bingo game, we make complex concepts more approachable. Young learners not only enjoy the game but also absorb and remember scientific knowledge more effectively.
How to Play Science Bingo
Playing Science Bingo is simple and fun! Start by giving each child a bingo card. The caller takes the 24 calling cards and shuffles them. They then turn one card over and read out the scientific term or name of the science equipment displayed.
The children then look for the matching image and term on their bingo card. Then they cover that space using the provided lightbulb bingo markers. You can also use bingo chips, mini erasers, or any other small objects to cover the spaces.
To ensure the durability of the game pieces, we suggest printing the bingo cards and calling cards on cardstock paper. Alternatively, you can laminate them for added protection and longevity. Using a paper cutter also makes it easier to cut out the calling cards and game tokens.
The game continues until one child covers a complete row or column on their card and shouts 'Bingo!'. It's an engaging way to learn science and have fun at the same time!
Using Science Bingo Game as a Teaching Tool
Science Bingo can be a powerful teaching tool, especially when integrated into your curriculum in a thoughtful manner. For parents, teachers, and homeschoolers alike, it presents a unique opportunity to diversify teaching methods and make learning more enjoyable.
Start by integrating the game into lessons where students are learning new scientific terms or equipment. This allows children to associate new knowledge with a fun, interactive experience, thus improving memory retention.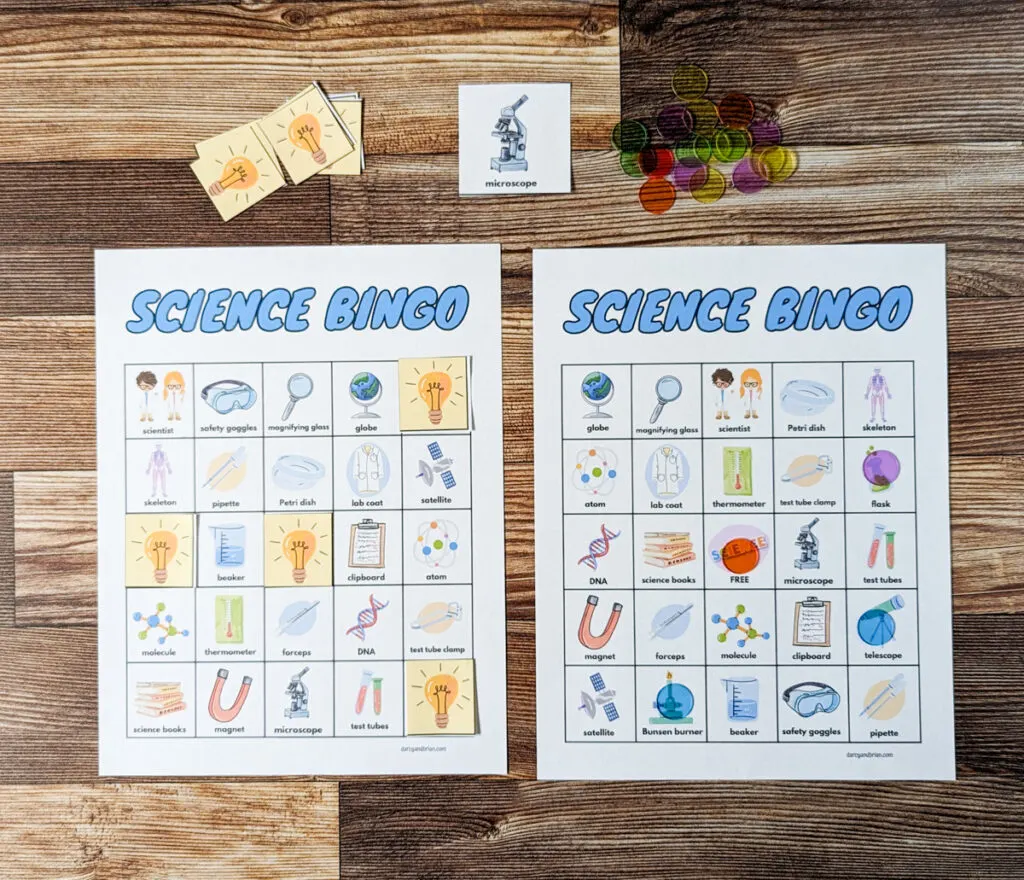 During the game, encourage children to explain what each scientific term or item of equipment does, advancing their comprehension of the topic. Additionally, Science Bingo fosters a healthy competitive spirit, promoting active participation and engagement.
This immersive learning methodology ensures that children not only learn but thoroughly enjoy the process, making their educational journey memorable.
Learning Benefits of Playing Science Bingo
Playing Science Bingo offers a multitude of learning benefits for kids, some of which go beyond just learning science terms. One of the key advantages is vocabulary expansion. By continuously encountering new scientific terminology, children broaden their lexicon, which is crucial for their academic growth.
The game also fosters visual recognition skills as kids learn to identify different scientific equipment and match the images on their cards. This not only expands their knowledge of science apparatus but also aids their visual memory.
Another significant facet of Science Bingo is how it enhances concentration. Children must focus to listen for the correct term, look for it on their card, and mark it, thereby improving their ability to concentrate.
In short, Science Bingo is not just a fun game; it's a powerful instructional aid that promotes comprehensive learning.
Additional Resources for Teaching Science
Apart from the Science Bingo game, there are plenty of other fun and engaging resources available for teaching science effectively. Science experiment kits, for example, provide a hands-on experience that can spark a child's curiosity and help them understand scientific concepts better.
There are even science themed crafts kids can create. For example, these paper plate planets can easily be incorporated into a space or solar system unit.
Meanwhile, science-themed books can also be an excellent resource. They generally present scientific knowledge in an easy-to-understand narrative format, often accompanied by colorful illustrations.
Science Kits for Kids
In the realm of hands-on learning, science kits are a valuable resource. These kits encompass a variety of scientific domains and provide a tangible approach to understanding how things work.
NATIONAL GEOGRAPHIC Break Open 10 Premium Geodes
NATIONAL GEOGRAPHIC Magic Chemistry Set
Big Bag of Backyard Science
Einstein Box Science Experiment Kit For Kids
Science Books for Kids
Engaging a child's imagination is key in making learning an enjoyable process. Here's a curated list of science-themed books that are not only educational but also captivating, ensuring your child's interest in science is kept alive and thriving.
My First 100 Science Words: The New Early Learning Series from the #1 Science Author for Kids (Padded Board Books, Gifts for Toddlers, Science Board Books for Babies) (My First STEAM Words)
The Everything Kids' Science Experiments Book: Boil Ice, Float Water, Measure Gravity-Challenge the World Around You!
Awesome Engineering Activities for Kids: 50+ Exciting STEAM Projects to Design and Build (Awesome STEAM Activities for Kids)
Science Book, The: Everything You Need to Know About the World and How It Works
Hands-On Science Activities for Kids
Nothing beats the excitement of conducting your own experiments at home! Here are some simple, yet intriguing, science activities to spark your child's curiosity and inspire their inner scientist.
In conclusion, cultivating a love of science in children is an investment in their future. From the excitement of hands-on experiments with science kits, to the imaginative journey through science-themed books, and stimulating games like Science Bingo, there is something for every young mind.
Remember, nurturing curiosity and the spirit of exploration can guide a child towards a lifetime of discovery. Let's make science fun, engaging and accessible for our children – the budding scientists of tomorrow!