Discover our free printable color matching game, designed specifically for young children. This game can be used either at home or in a classroom, providing an excellent opportunity for your child to learn and have fun at the same time.
It's just one of many resources available in our comprehensive list of printable games for kids of all ages.
Also, don't miss out on our tips below to make the most of this learning tool, including three different ways to play this game. To receive your free game, simply fill out the form at the end of this post!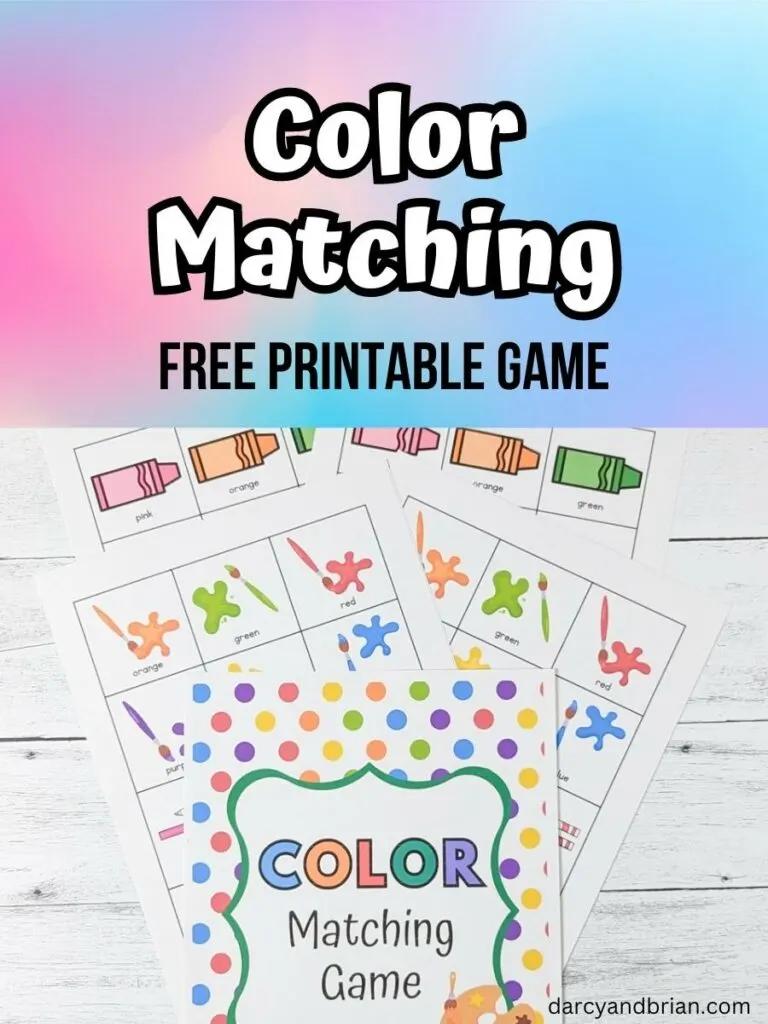 Children learn best through repetition, but it's crucial to keep things dynamic to maintain their interest. That's why games are a fantastic learning tool.
They provide an engaging platform for children to practice skills repeatedly, but in a manner that feels more like play than work.
This color matching game fits the bill perfectly.
It's a simple, low-prep activity that takes learning off the screen and into the real world.
The game can be played multiple times with different variations, ensuring that while the core skill of color recognition is being reinforced, the approach remains fresh and exciting.
This blend of fun and education supports effective learning and fosters a positive attitude towards education from a young age.
Why Should Children Play Matching Games?
Matching games can benefit children in many ways. The most obvious is to determine if images are the same or different, but it also helps with fine motor skills and short-term memory.
It allows children to recognize patterns, which develops their problem-solving abilities as they try to remember where each card belongs.
More Matching Games for Preschoolers
Matching games with different themes can reinforce what children are learning in a fun and engaging way.
The versatility of these games is evident in the fact that they don't exclusively require printable cards.
You can create unique and thematic matching games using everyday household items.
For instance, a sock matching game can be a fun way to teach children about colors and patterns, while a game of pairing lids to their corresponding containers can reinforce shape recognition.
These are just a few suggestions, be creative, and turn everyday objects into educational fun!
This post contains affiliate links. As an Amazon Associate and a participant in other affiliate programs, we earn a commission on qualifying purchases.
ABCaptain Counting Animal Matching Game with Sorting Cups
Ocean Adventure Memory Games for Kids
SPARK INNOVATIONS Animal Matching Cards
Disney Classic Characters Matching Game by Wonder Forge
Hasbro Gaming Trucks Matching Game
Chuckle & Roar – Matching Game Alphabet – Board Game for Kids
Benefits of Playing the Color Matching Game
The cards have an illustrated image of a crayon, marker, or paint brush, along with the word for that color.
Encouraging children to match up the images not only helps build color recognition, but including the written word also promotes literacy and word recognition.
They can also enhance their sorting abilities, concentration, memory, and practice turn-taking while playing memory match with another player.
What Ages Can Play This Color Matching Game?
This color matching game is particularly ideal for preschool children, generally falling in the age bracket of 3 to 5 years.
They are at a developmental stage where color recognition, word recognition, and memory enhancement are crucial.
Nevertheless, this doesn't mean that the game is exclusive to this age group.
Toddlers, typically aged 2 and under, can also have fun with the game as an introductory tool to color names and words, fostering their language abilities while they explore vibrant colors.
The game also stands as a suitable activity for kindergartners, aged 5 to 6, who can use it to reinforce their already developed color recognition skills and literacy abilities.
Overall, it's a versatile, educational, and fun game suitable for a wide age range.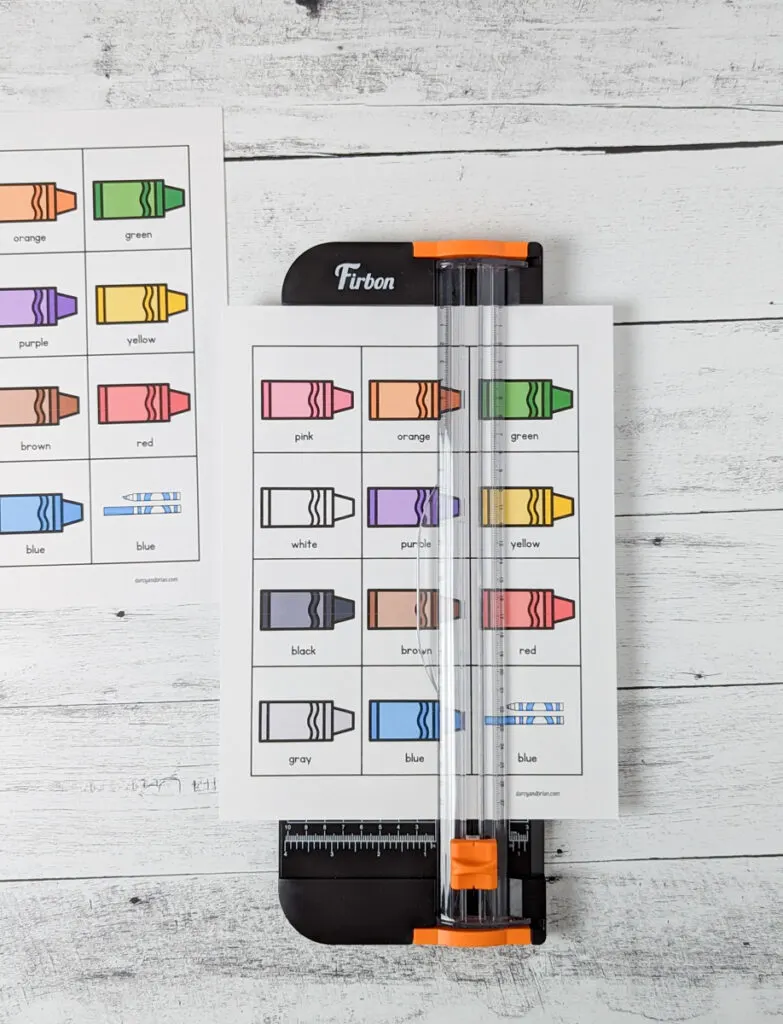 Recommended Items for Color Matching Game Printables
One of the fantastic things about this game is that it requires minimal preparation, making it incredibly user-friendly for parents, teachers, or caregivers.
First, you will need the printable set of game cards. You can conveniently obtain this set by filling out the form located at the end of this post.
To print these cards, a good quality printer is a must. We absolutely adore our Epson EcoTank printer for its excellent print quality and cost-effective ink usage.
For long-lasting durability and multiple uses, we suggest printing the game cards on regular printer paper and then laminating them.
If laminating is not possible, printing on cardstock would provide better durability, although there is a risk of the cards getting bent.
Finally, to make the process of preparing the game cards easier and quicker, a paper cutter is a handy tool. It gives precise cuts and is a time-saver compared to using scissors.
Epson EcoTank ET-3830 Wireless Color All-in-One Cartridge-Free Supertank Printer with Scan, Copy, Auto 2-Sided Printing and Ethernet – The Perfect Printer Productive Families,White
Astrobrights/Neenah Bright White Cardstock, 8.5
Firbon A4 Paper Cutter 12 Inch Titanium Paper Trimmer Scrapbooking Tool with Automatic Security Safeguard and Side Ruler for Craft Paper, Coupon, Label and Cardstock (Black)
Classroom Timers for Teachers Kids Large Magnetic Digital Timer 2 Pack
TIHOOD 24PCS Sand Timer Assortment Plastic Sand Clock Timer 30s / 1min / 2mins / 3mins / 5mins / 10mins for Adult Kids in Classroom Kitchen Games Office
Charles Leonard Dry Erase Lapboard Class Pack, Includes 12 each of Whiteboards, 2 Inch Felt Erasers and Black Dry Erase Markers (35036)
How to Play This Color Matching Game
There are three ways to play this game: memory matching, sorting by colors, and finding the pairs.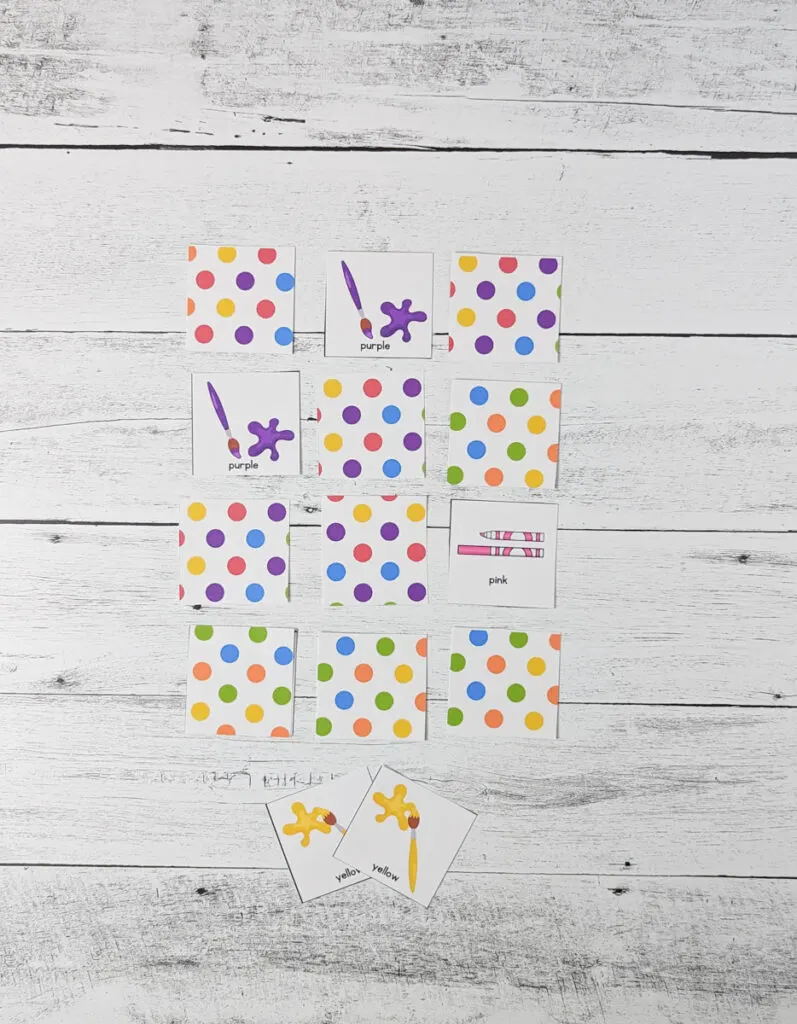 Memory Matching Game: To play the memory matching game, start by printing out the color pattern page provided and use it to cover the back of the cards. This will prevent players from easily seeing through them.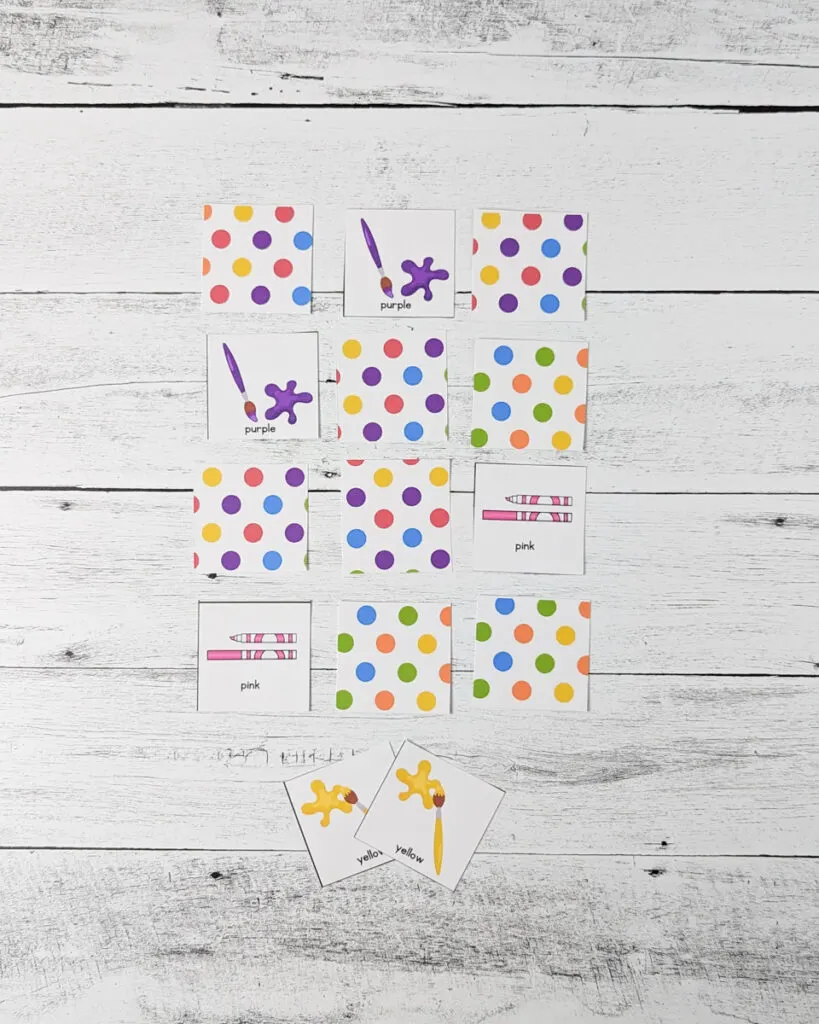 Shuffle the cards and lay them out face-down. Take turns flipping over two cards at a time, trying to find a matching pair. If a pair is found, the player keeps the cards and gets another turn.
If not, the cards are flipped back over and it's the next player's turn. The game continues until all the pairs are found.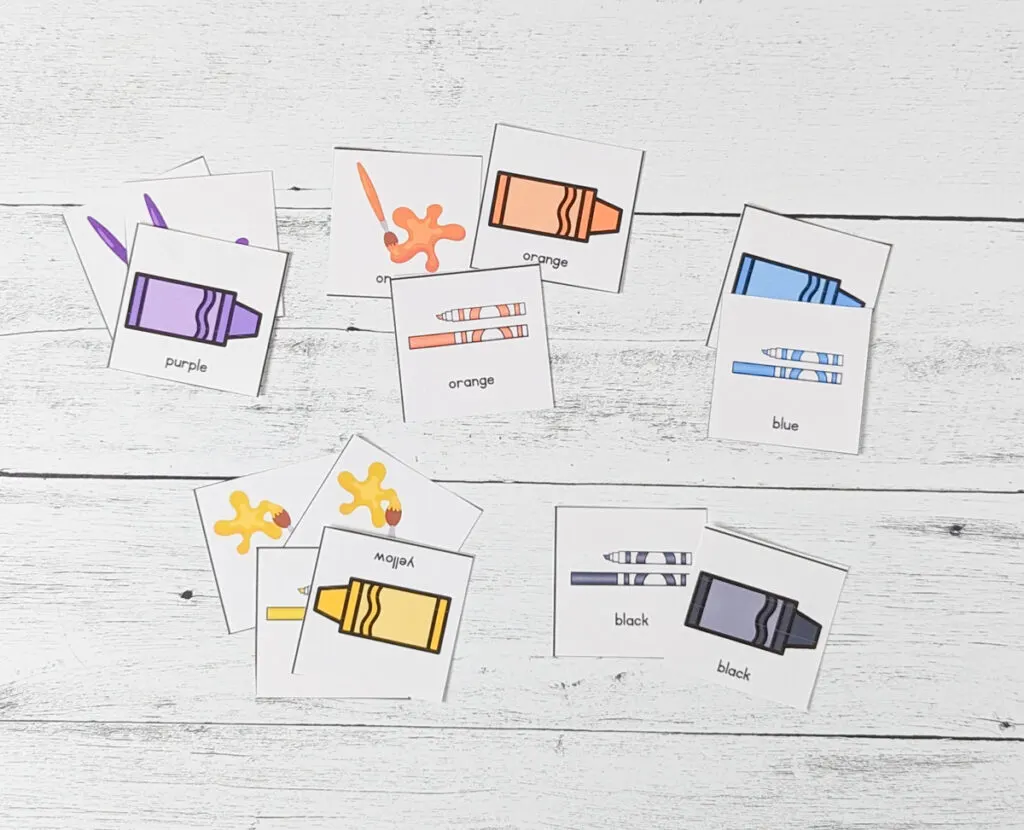 Color Sorting Game: For the sorting game, gather household or classroom items in like colors.
Use the cards as guides and sort the items into separate piles based on their colors. This adds a fun and interactive element to the game.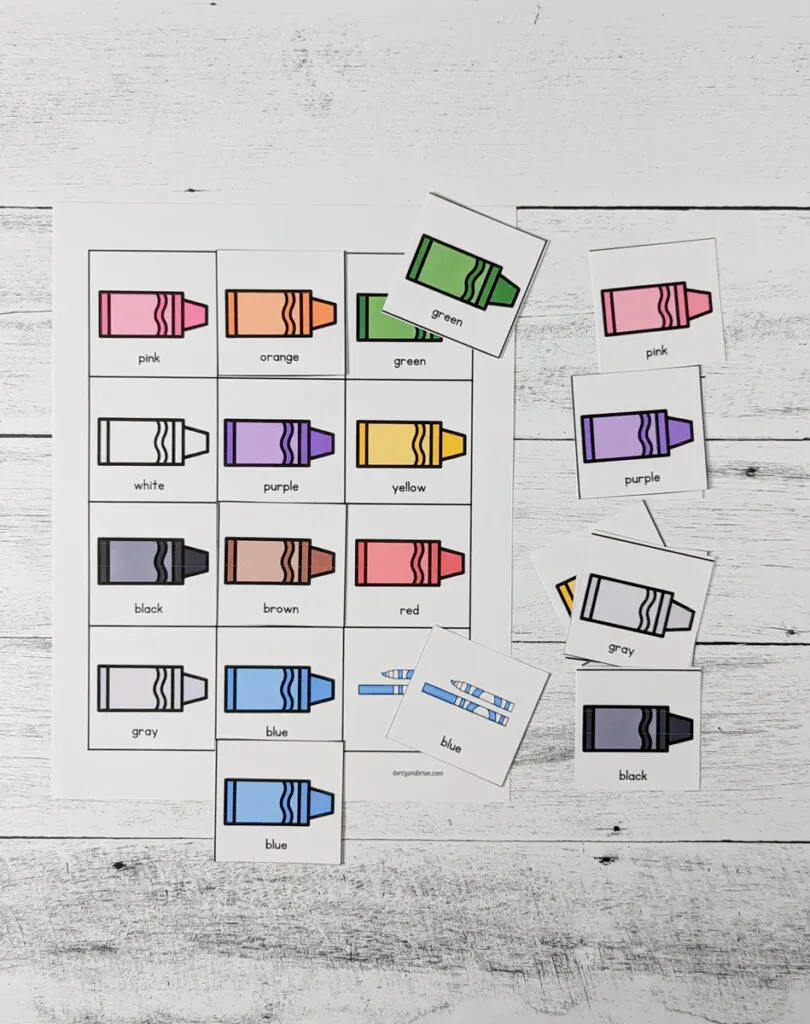 Color Matching Pairs: To play the find the matching pair game, leave two pages intact and cut out the cards on the other two pages. Lay the matching cards onto the corresponding places on the full sheet.
This can be done in a busy binder or used as a busy bag activity. The goal is to find the matching pairs and place them correctly on the sheet.
Enjoy these different variations of the game, whether you choose to play memory matching, sorting, or finding the pairs!
Books About Colors for Preschoolers
Reading is an essential tool for cognitive development and a wonderful avenue for engaging young minds. It lays a foundation for lifelong learning and curiosity.
For preschoolers learning about colors, here are some captivating books that beautifully introduce the world of colors in an enchanting way:
Colors
Dog's Colorful Day: A Messy Story About Colors and Counting (Picture Puffin Books)
Blue
Mix It Up!: Board Book Edition (Herve Tullet)
Mouse Paint
A Color of His Own
These books not only make learning colors fun and exciting, but they also foster a love for reading at an early age.
Additional Ways to Make Learning Colors Fun
Incorporating the color matching game printables in your homeschool or classroom routine is a great way to make color recognition fun and engaging for preschoolers.
You can use them during your color-themed weeks or as a quick activity to fill in downtime.
Here are a few additional color lesson activity ideas:
Colorful Sensory Bins: Create sensory bins filled with items of a single color, such as a red bin with a red ball, red plastic spoon, and a red toy car.
To add more variety, make colored popcorn kernels and make colored rice to use in the bins. Change the colors weekly to give children the opportunity to explore and learn about new colors.
Rainbow Walks: Take the children on a 'rainbow walk' around the school or local park. Encourage them to find and identify objects that match the colors of the rainbow.
This can be a fun and active way to learn about colors in their natural environment.
Colorful Crafts: Organize craft sessions where children get to create art with specific color themes, such as our coffee filter rainbow craft or coffee filter peacock craft.
This hands-on approach to learning colors will be a wonderful and engaging experience for them.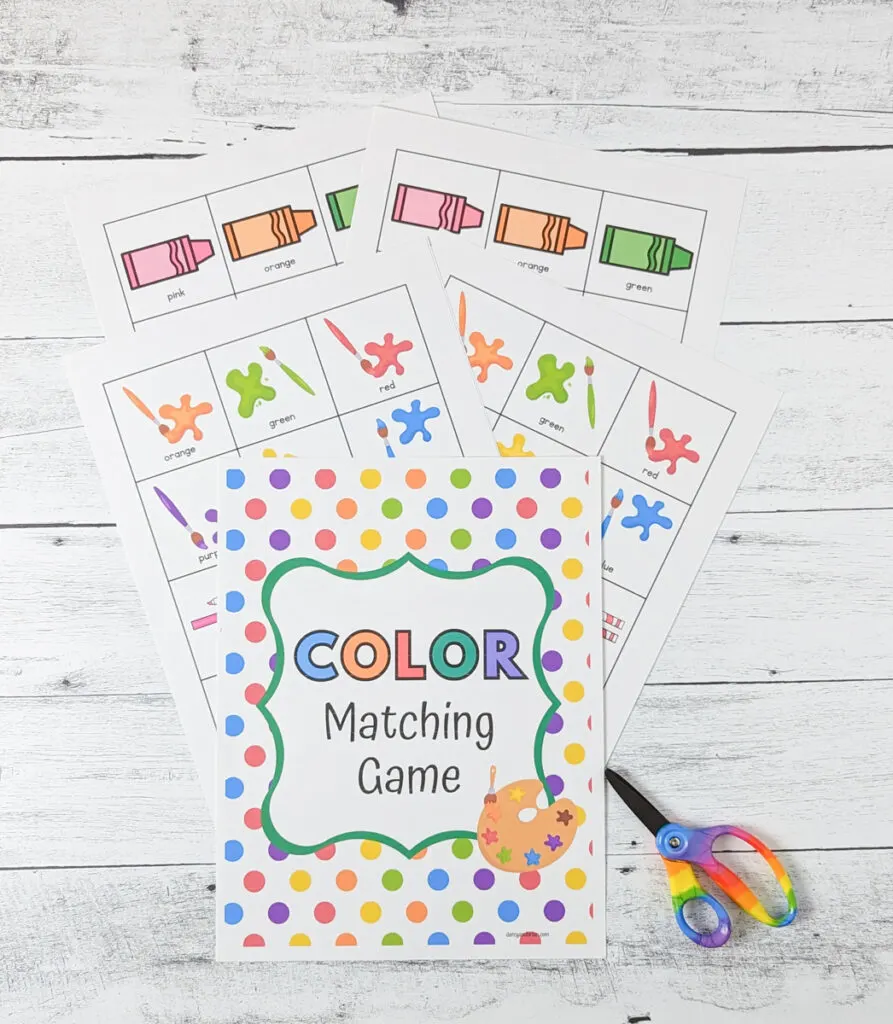 Color-themed Days: Have color-themed days at school where everyone wears a certain color and all activities revolve around that color.
You could sing color-based songs, read a story about 'a blue bird' on a blue day, or eat green vegetables during lunchtime on a green day.
Color Pattern Cards: Another hands-on activity involves creating Color Pattern Cards. These cards can feature different color patterns or sequences (like red-blue-red or yellow-green-yellow-green), which the children need to identify and then replicate using color manipulatives.
Kids can place color tokens, painted wooden blocks, or even colored playdough balls on the corresponding colors in the pattern on the card.
This activity not only aids in color recognition but also helps develop pattern understanding and fine motor skills.
It's a trifecta of learning wrapped up in one fun, engaging task!
Teaching color recognition to preschoolers can be a fun-filled journey of exploration and discovery.
Through a variety of activities, kids can learn about colors in an engaging and interactive way.
These interactive activities will not only reinforce their understanding of colors but also create a hands-on, memorable learning experience.
So, why not print out our free color matching game and start this colorful adventure today?
The joy of seeing your little ones learn, grow and enjoy in the process is simply incredible.