This list of easy Christmas tree crafts are perfect for kids to make at home or at school.
One of the best ways to feel festive is to get crafting, don't you agree?
Turn on some Christmas music and plan an afternoon making these Christmas Tree crafts for kids.
There are a variety of projects to choose from that can be done with toddlers, preschoolers, kindergarten children, and older kids too.
Looking for more Christmas themed activities for kids? Don't miss our edible Christmas Tree Cones craft, Christmas Tree size sorting printable game for preschool and kindergarten and this list of 30 Christmas books to read aloud.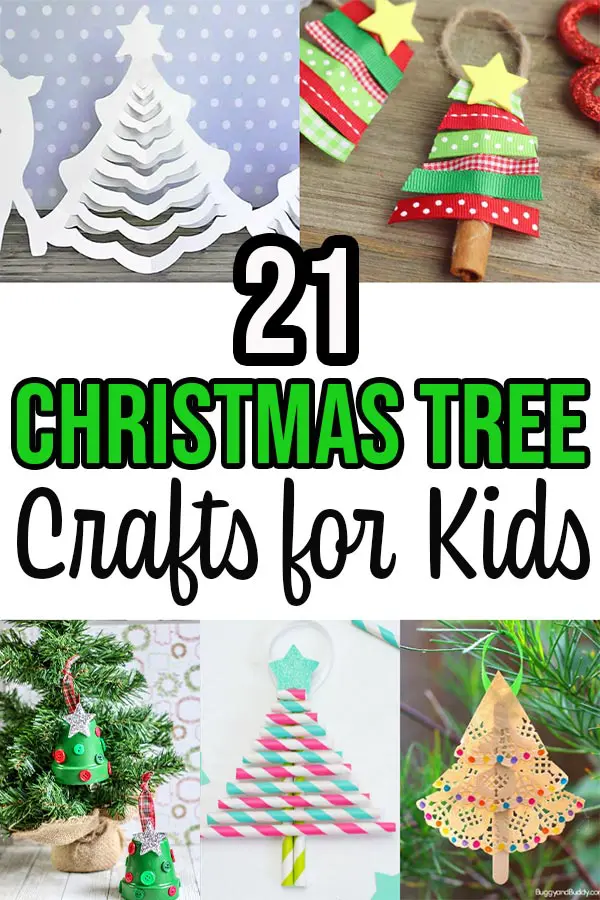 This post contains affiliate links. As an Amazon Associate and a participant in other affiliate programs, we earn a commission on qualifying purchases.
Kids Christmas Tree Crafts
There are so many different ways to make Christmas trees and kids will love getting creative with these craft ideas.
Most of these Christmas tree crafts use common supplies you probably have at home or in your classroom, such as popsicle craft sticks, construction paper, acrylic paints, and craft glue.
Crafting with kids is a great way to spend time together. Making different Christmas trees is a fun way to keep kids busy leading up to Christmas as well as during winter break.
These also make great project ideas for classroom art centers too!
1. Christmas Tree Clay Pot Bell Ornament
With a little paint, kids can transform a small clay flower pot into a cute little Christmas Tree Ornament.
2. Christmas Tree Lights Paper Craft
Kids will have fun making this Christmas Tree Lights craft which uses Dot Markers to decorate their tree.
3. Cinnamon Stick Ribbon Trees
Make these Cinnamon Stick Ribbon Trees by Hunny I'm Home DIY for a lovely smelling ornament. Great craft for preschoolers to practice fine motor skills too.
4. Jeweled Christmas Tree
These Jeweled Christmas Trees by Housing A Forest are simply beautiful. It's a very easy craft for kids to work on and they make lovely decorations.
5. Scrap Ribbon Tree Ornament
Don't throw away those ribbon scraps! Save them for a project like these Scrap Ribbon Tree Ornaments by Fireflies And Mudpies.
6. Paper Strips Christmas Tree
Little kids will enjoy creating a 3D tree using construction paper with this Paper Strips Christmas Tree craft by Easy Peasy And Fun.
7. Glittery Popsicle Stick Christmas Tree Ornament
I love how easy these Modern Popsicle Stick Christmas Tree Ornaments by Dream A Little Bigger are to make. If you love crafting with glitter, you'll love these!
8. Paint Stick Christmas Tree
This Paint Stick Christmas Tree by Girl Just DIY looks great when finished! You'll need to prepare the sticks ahead of time, but the kids can help paint them.
9. Paper Doily Christmas Tree
This Paper Doily Christmas Tree Ornament by Buggy And Buddy is a quick and easy ornament craft for kids to make. They look so cute when they are done!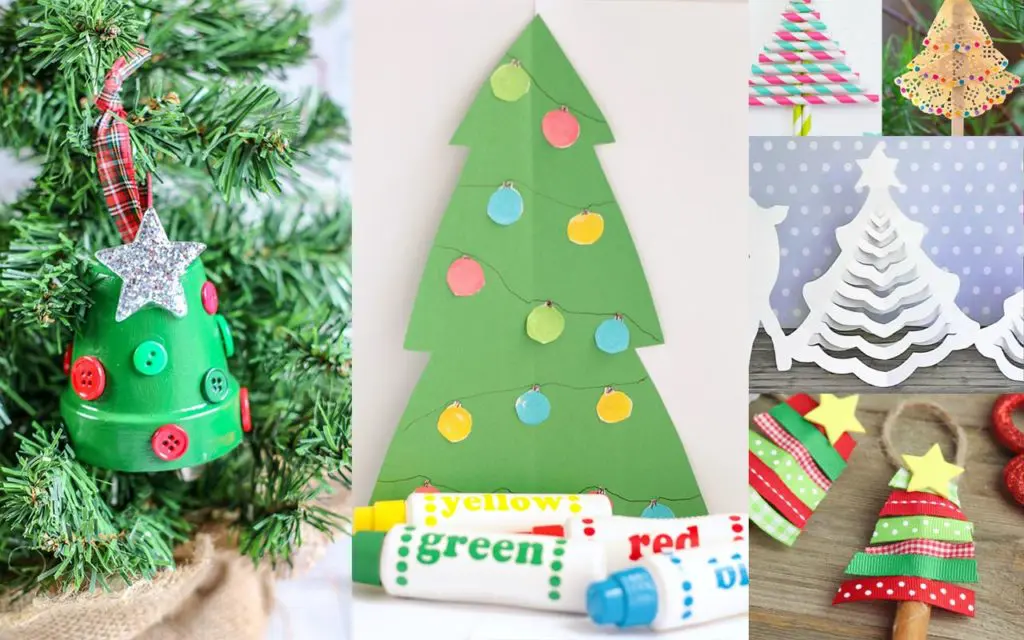 10. Toilet Paper Roll Christmas Tree
Just about everyone has a few empty toilet paper rolls or paper towel tubes on hand. Use them to make this Toilet Paper Roll Christmas Tree by The Resourceful Mama.
11. Paper Plate Christmas Tree
Let the kids get creative in how they decorate this Paper Plate Christmas Tree by Creative Family Fun. Great craft for toddlers and preschoolers!
12. Paper Straw Christmas Tree Ornament
Kids will have fun using decorative paper straws to create these Paper Straw Christmas Tree Ornaments by Simple As That Blog. So simple and pretty!
13. Popsicle Stick Christmas Trees
These Popsicle Stick Christmas Trees by One Little Project are a wonderful classic craft project to make with preschoolers.
14. Rustic Twig Christmas Trees
This is a cute low cost craft, especially if your child collects sticks like mine. Be sure to grab the printable template to make Rustic Twig Christmas Tree Ornaments by Stow And Tell.
15. Crinkle Paper Christmas Tree
This fun Shredded Paper Christmas Tree by Artsy Momma is a great craft for preschoolers. Use crinkle paper that often comes in packages or shred up used gift wrap and let them decorate their own tree.
16. Felt Christmas Tree
Make this Felt Christmas Tree by The Nerd's Wife and let your toddler or preschooler play with it over and over. They'll love using the felt pieces to decorate the tree.
17. Gumdrop Christmas Tree
Let the kids help you make this Gumdrop Christmas Tree Centerpiece by Gym Craft Laundry. Older children can probably make this one themselves under adult supervision.
18. Mini Felt Christmas Tree
Use felt and twigs to make this cute DIY Felt Christmas Tree by Craft Bits. Great way to add festive decor around the home.
19. Pop Up Christmas Tree Card
Do your kids like making homemade cards? They'll love making this adorable Paper Chain Pop Up Christmas Tree Card by Red Ted Art.
20. Paper and Bead Christmas Trees
Kids will enjoy creating ornaments with this Paper & Bead Christmas Tree craft by Kids Craft Room. Older children can assist with assembling these cute decorations.
21. 3D Paper Christmas Trees
These 3D Paper Christmas Trees by Hattifant are gorgeous! We've all made classic paper snowflakes, but now it's time to take your paper cutting skills to the next level with these trees.
More Christmas Crafts and Activities: