Keep learning fun all winter long with this adorable snowman button counting activity. It's perfect for children in preschool and kindergarten! You can easily set up this activity at home or at school for math centers.
I love that it's easy to set up and takes minimal prep because I don't usually set up math activities far in advance.
The kids will love playing with the snowmen while practicing counting one through ten and working on number recognition.
You can enlist the children to help make the snowman counting stick as a mini craft project or create them ahead of time.
Want more snowman ideas? Don't miss our cotton ball snowman craft.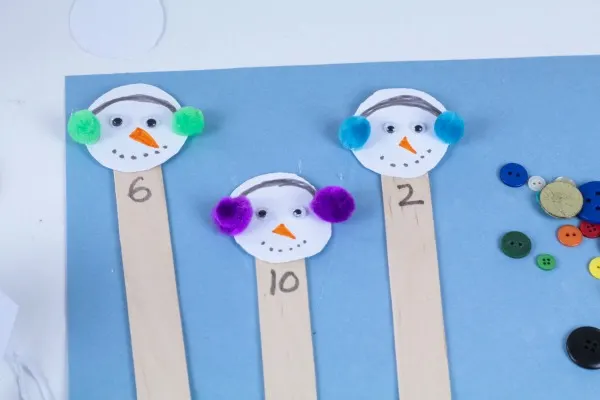 This post contains affiliate links. As an Amazon Associate and a participant in other affiliate programs, we earn a commission on qualifying purchases.
Snowman Button Counting Game
Make as many of these snowmen as you like, but for our version, we made 10 so kids could learn number recognition and counting from 1-10.
The kids will love the snowmen puppets and turn a simple counting lesson into a fun math activity!
Snowman Button Counting Activity Supplies: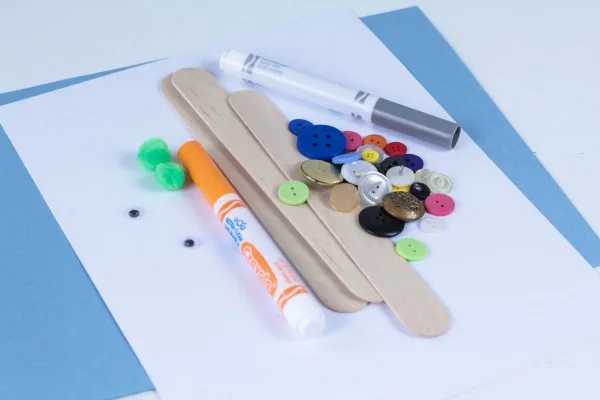 How to Make Snowman Counting Sticks
Cut 10 2-inch circles from white paper (if you want your kids to count more than 10, make as many circles as you want them to count to).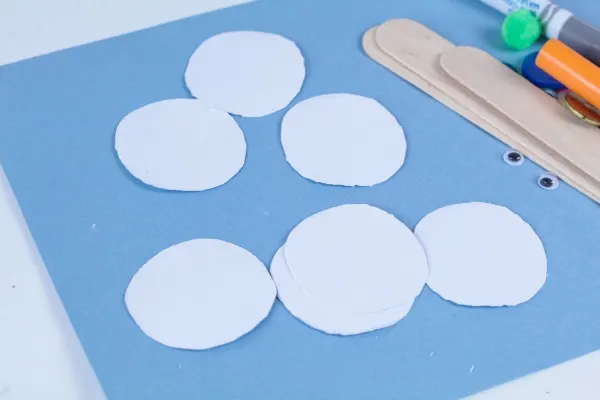 Line up 10 craft sticks in a row.
Cut out orange felt noses for each snowman (or draw them on).
On each circle, glue 2 googly eyes and an orange felt nose.
Glue two matching pom poms to either side of the snowman's head to make ear muffs (you could also make hats from black felt or something else).
Draw on the mouth and top of the snowman's ear muff headband.
Glue the snowman heads to the craft sticks.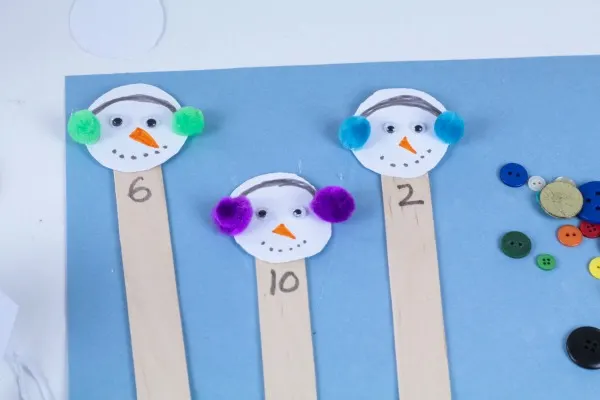 Just below the snowman's head, write a number from 1-10 (or more).
Give your child a container of buttons.

Show your child how to look at the number listed on the craft stick and find that many buttons to add to the craft stick. Picking up buttons and placing them with the snowman also helps kids work on their fine motor skills.
Kids will play with this activity for hours!
If you are looking for a quick winter counting activity that kids will love, you will fall in love with this fun snowman counting activity.
All it takes is a few supplies you probably already have in your classroom or at home, and a small bit of time in advance to make the craft stick snowmen.
This is a great learning activity you can set up at home or in the classroom!
More counting activities for preschool and kindergarten: