Looking for delightful Christmas crafts for kids? Our easy-to-make printable elf craft is an engaging and fun-filled way for children to celebrate the holiday season.
Whether at home or in school, this simple activity allows children to color in the elf, cut out the different pieces, and then assemble their very own festive friend.
More than just a craft, it's also a wonderful opportunity for children to work on their fine motor skills. So grab some scissors, glue, and let the holiday crafting begin!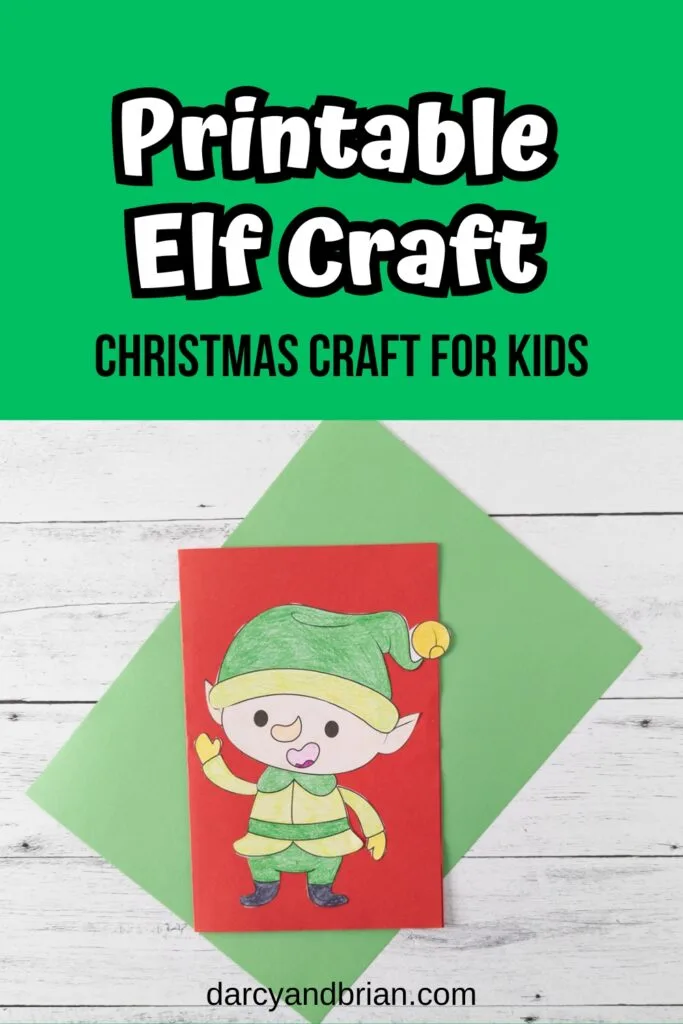 The holiday season is a time of excitement and anticipation which can be a challenge to keep little ones busy and engaged in constructive activities.
This is where our printable elf craft comes into play. It's a fun, low-prep activity that fosters creativity and helps develop fine motor skills.
So, in the midst of holiday preparations and hustle, this little elf project will provide a delightful learning activity for your kindergartners and preschoolers.
Ways to Use This Printable Elf Craft
One of the most delightful things about this printable elf craft is how versatile it is! This holiday season, let your children add a personal touch by using the finished elf to decorate the front of a homemade Christmas card.
It's sure to bring a joyful surprise to the lucky recipient! And for some extra fun and creativity, why not host an elf costume design contest? Kids can color and decorate their elves in their own unique styles, showing off their artistic flair.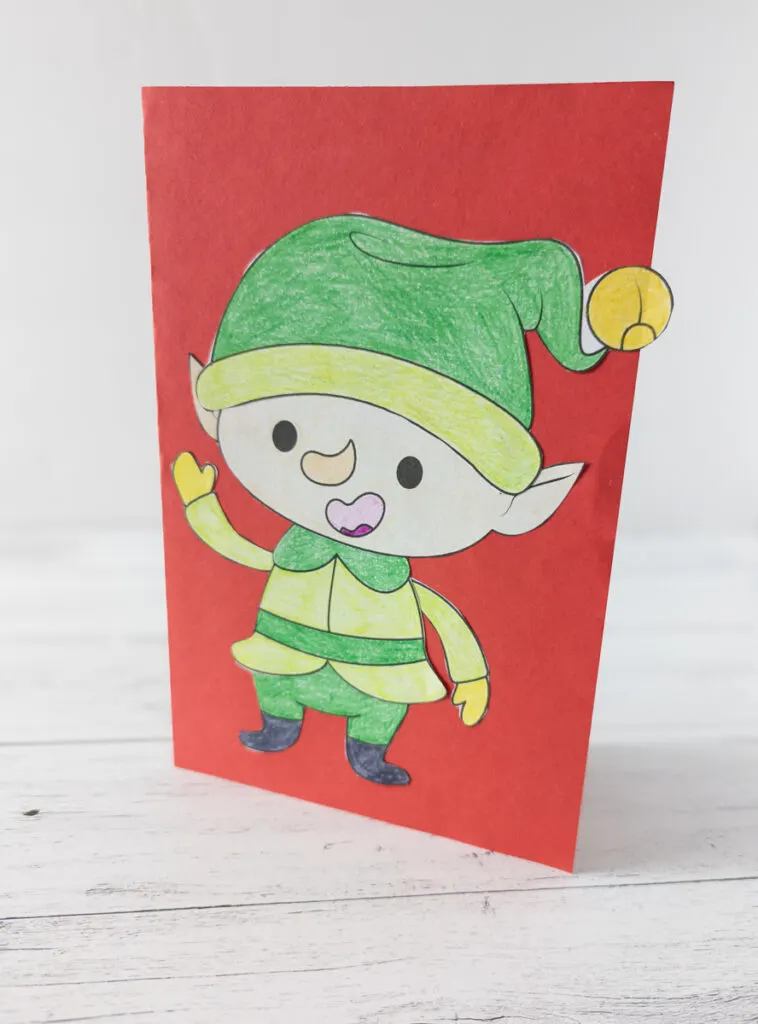 Another engaging activity for older kids is story crafting. After constructing their elves, children can write imaginative tales about their new festive friends, fostering not only their creativity but improving their narrative skills.
Incorporating this craft into various activities will surely make it a highlight of the holiday season for children of all ages.
This post contains affiliate links. As an Amazon Associate and a participant in other affiliate programs, we earn a commission on qualifying purchases.
Arteza Kids Colored Pencils, Set of 48 Vibrant Colors, Triangular, Pre-Sharpened
Crayola Classic Color Crayons in Flip-Top Pack with Sharpener, 96 Colors
Epson EcoTank ET-3710 Wireless Color Inkjet All-in-One Supertank Printer, White
Crayola Erasable Colored Pencils 24 count
Printable Elf Craft Supplies
To create this charming printable elf craft, you'll need just a handful of items that you likely already have around your home or classroom, making it a low-prep, no-mess activity.
First, you will need the Printable Elf Craft. This project is available for free by filling out the form near the end of this post.
Then, gather some crayons, markers, or colored pencils which will be used to color in and bring your elf to life.
You'll also need some construction paper or cardstock to provide the background for your elf.
Make sure you have a pair of scissors for cutting out the elf parts and a glue stick for adhering them to the background.
If you'd like to add a little extra sparkle to your elf's outfit – a step that's entirely optional – you can use glitter glue for some additional decoration.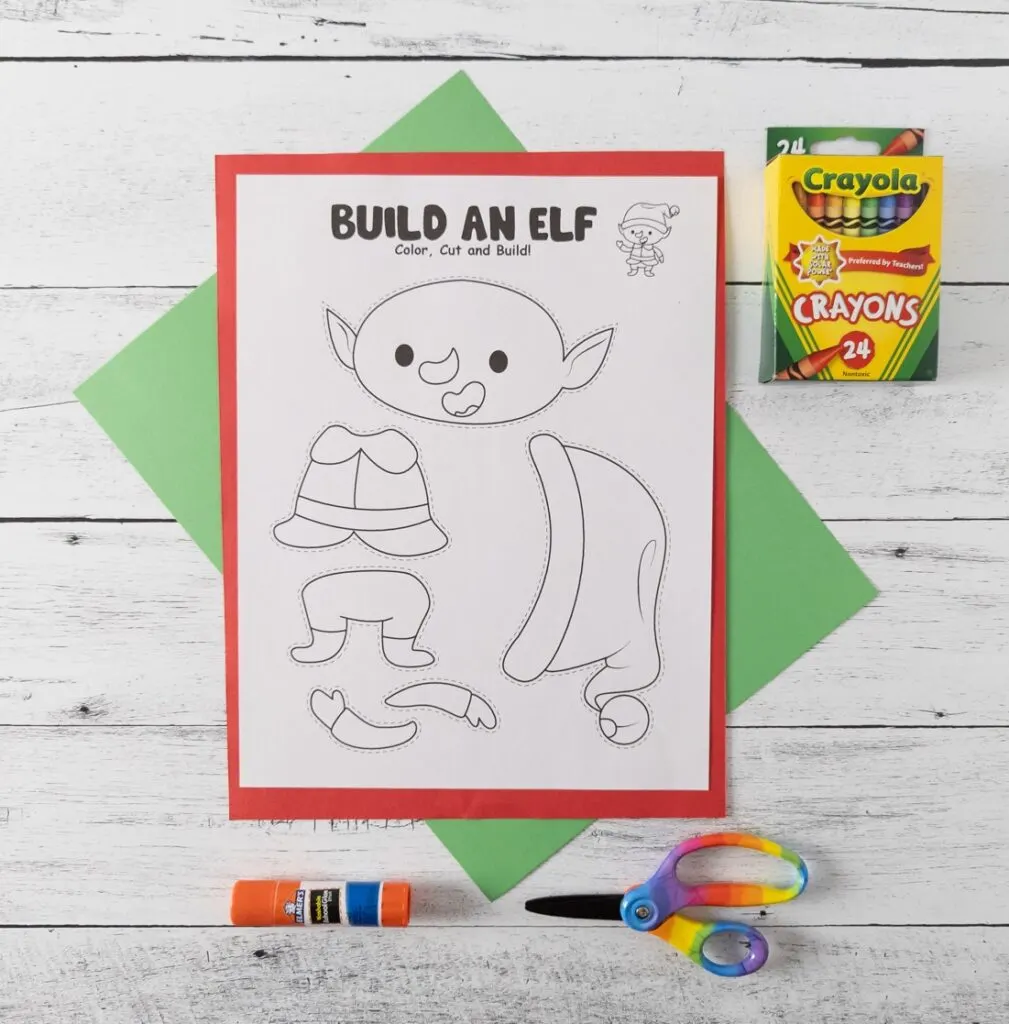 How to Make the Printable Elf Craft
To begin, start by printing the elf craft printable template. If you often print activities like I do, I highly recommend the Epson Ecotank printer. I personally love mine as it has helped me save a significant amount of money on ink.
Next, have fun coloring your elf, and feel free to design their outfit however you like! Crayons, markers, colored pencils, or even watercolor paint can be used for this step.
Shop some of my favorite craft supplies on Amazon!
Once you have finished coloring, carefully cut out all the pieces. Before gluing, arrange them on colored paper of your choice to ensure proper alignment.
If you're making a card, fold the paper in half first. Then, start by gluing the legs to the paper.
Place the torso over the legs, leaving the top part up and positioning the arms behind it. One hand should hang down while the other is raised in a wave.
After securing the arms and torso, attach the elf's head. Finally, place the hat on top of the elf's head.
In my case, I ended up tilting my elf's head too much while gluing, causing the hat to overhang on my card example.
Make sure to allow the elf to fully dry before hanging it up or displaying it.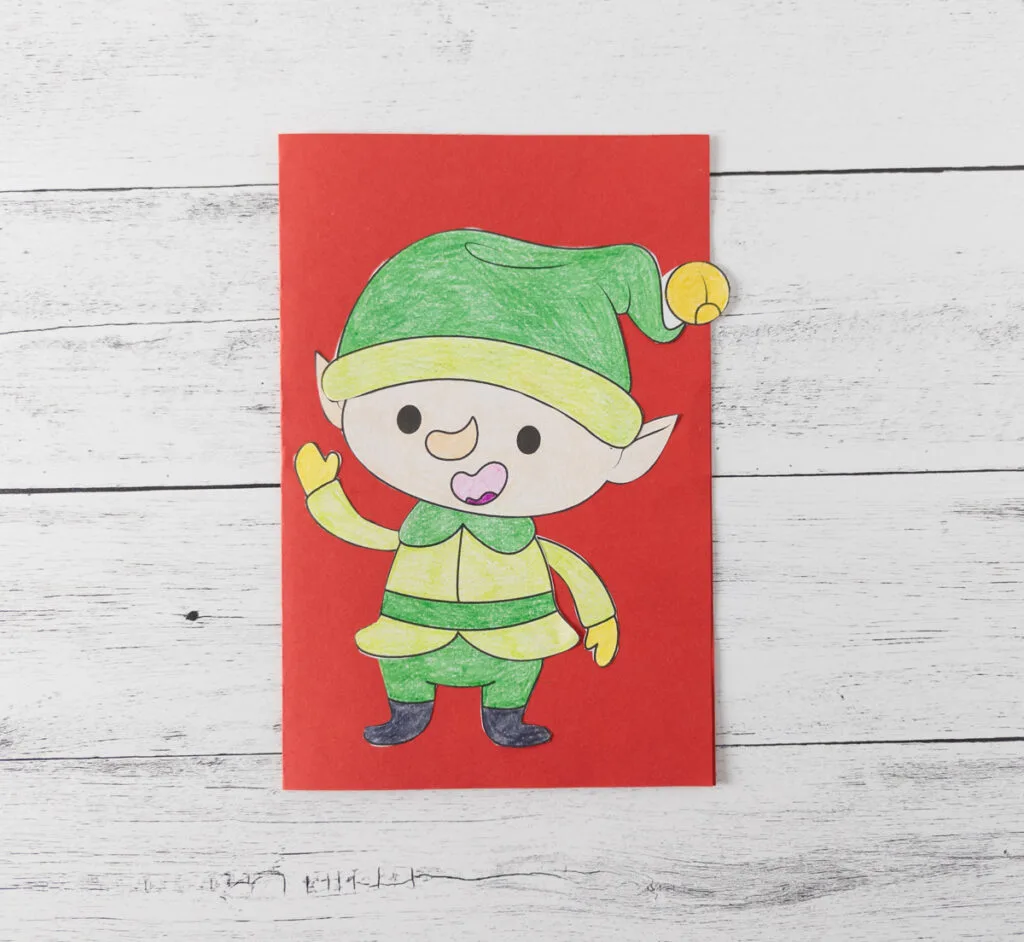 More Elf Crafts for Kids
Beyond this delightful printable elf craft, there's a whole world of elf-themed creativity waiting for your kids to explore! Incorporating a variety of crafts into your holiday activities can make the season even more magical and engaging for your little ones.
Transform a basic clay pot into a jolly elf head with this adorable elf clay pot ornament craft. Kids will love making a charming addition for the Christmas tree.
Another creative idea to bring Christmas fun into your home is an elf yourself craft. Using the craft template, cut and paste your child's photo for the face, and voila – your child has transformed into a joyful elf!
From simple cut-and-paste projects to more elaborate creations, elf crafts offer boundless opportunities for children to express their creativity, develop their fine motor skills, and create cherished holiday memories.
What Are the Benefits of Making Printable Crafts?
Working on printable cut and paste crafts offers a wealth of benefits for children. One of the most immediate is the boost to creativity.
When kids are deciding on colors and whether to use markers, crayons, or colored pencils, they are making artistic choices and expressing their personal style.
These activities also enhance fine motor skills, as the act of coloring requires precise hand control.
Cutting out the craft pieces provides all-important scissor skills practice, promoting dexterity and hand-eye coordination.
Gluing the pieces together to create the final product is a task that requires both careful placement and delicate touch.
All these activities, wrapped up in fun crafting, promote crucial developmental skills that will benefit children long into their future.
Ticonderoga My First Short Triangular Wood-Cased Pencils
JuneLsy Pencil Grips for Kids Handwriting Pencil gripper Pencil Holder Posture Correction Training
The Pencil Grip Original Pencil Gripper, Universal Ergonomic Writing Aid For Righties And Lefties
Fiskars Training Scissors for Kids 3+ with Easy Grip
Scissor Skills Preschool cut & paste cats activity pad for kids: Cat Coloring Book & Scissor Activity Book
Ticonderoga Wood-Cased Pencils, Pre-Sharpened, 2 HB Soft, Yellow, 12 Count
Elf Books for Kids
To make the crafting experience even more enriching, consider coupling it with enchanting elf-themed books for children. Reading these books can inspire the children's imagination and creativity before they start on their craft projects. Here are three highly-rated elf books to consider:
The Littlest Elf by Brandi Dougherty: Follow the journey of Oliver, the littlest elf in the North Pole, as he discovers his special role in Santa's workshop. This heartwarming tale encapsulates the spirit of determination, resilience, and the joy of finding one's place in the world.
Elf on the Shelf: A Christmas Tradition: This captivating book comes with a magical elf that becomes Santa's eyes and ears during the holiday season. Kids will love the interactive nature of this book and the excitement of finding the elf in different places every morning.
The Christmas Elf Countdown!: This cheerful, rhyming book includes interactive flaps for kids to open as they count down the days to Christmas with the help of a jolly elf. Each flap reveals a festive surprise, making reading an exciting adventure.
How to Catch an Elf by Adam Wallace: This whimsically illustrated and engaging book tells the tale of a crafty elf who is hard to catch! As Christmas draws near, children and pets set numerous traps to catch this elusive elf, all in good fun.
Pairing these captivating books with the elf craft can transform it into an immersive learning experience, combining the joy of reading with the fun of creating.
The Littlest Elf
How to Catch an Elf
The Christmas Elf Countdown!
The Elf on the Shelf: A Christmas Tradition – Boy Scout Elf with Blue Eyes – Includes Artfully Illustrated Storybook, Keepsake Box and Official Adoption Certificate
Fun Christmas Activities for Kids
In addition to our cut and paste elf craft, there are numerous other Christmas-themed activities that can be incorporated into your homeschool curriculum or classroom setting.
These activities also serve as wonderful boredom busters for children during the holiday season at home.
From creative crafts and festive art projects to cool Christmas science experiments, the opportunities for fun and learning are endless.
Introducing our Elf on the Shelf Arrival Letter with a secret message from Santa himself! This charming surprise helps set the stage for your Elf's magical holiday arrival, sparking excitement and intrigue among children who are eager to decipher Santa's hidden message.
Another fun, educational exercise designed especially for young minds is our printable Christmas tree size sorting activity! This engaging activity not only brings the holiday spirit to life but also cultivates early math skills as children learn to sort and classify trees based on size.
Are your children big fans of the Grinch? These How the Grinch Stole Christmas printables offer a variety of engaging learning activities for them to enjoy.
Get ready for a festive adventure with our Christmas Scavenger Hunt, complete with printable clues that guide your little explorers on a thrilling treasure hunt. It's a fun-filled activity that adds an extra dose of magic to the holiday season while fostering problem-solving skills and teamwork.
More Christmas Crafts for Kids
Looking for more ways to keep little hands busy throughout the holiday season? We have an array of additional Christmas crafts that are sure to bring out the artist in your little ones.
These hands-on projects are not just enjoyable, but they also stimulate creativity, improve hand-eye coordination, and foster a sense of accomplishment among children.
We hope our printable elf craft is a delightful addition to your Christmas activities! It's easy to assemble and tons of fun, perfect for adding a dash of holiday charm to your home or classroom.
Plus, it offers an engaging learning experience for preschool and kindergarten children. This colorful, hands-on project brings joy to the little ones while fostering their creativity and fine motor skills.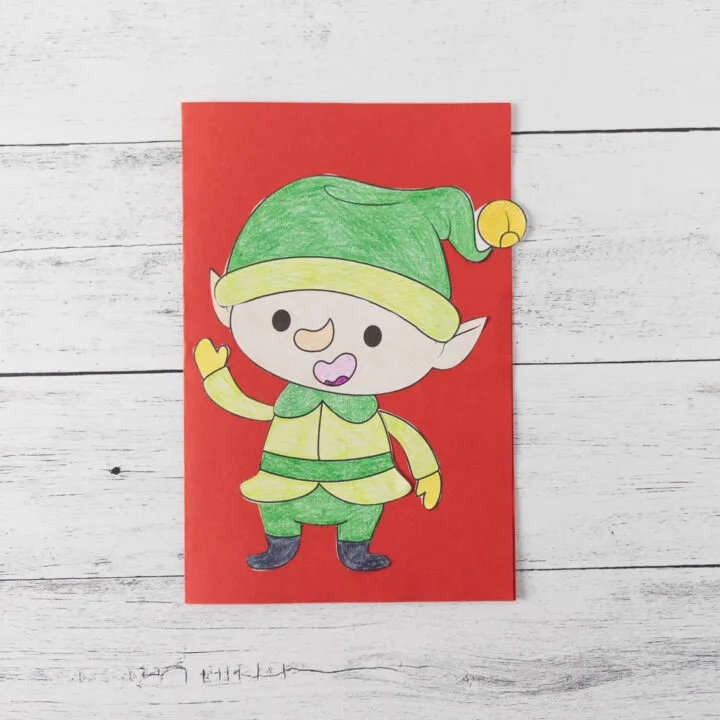 Printable Elf Craft
Estimated Cost:
$5 or less
This cute printable elf craft is an easy Christmas craft for young children.
Materials
Printable Elf Craft
Crayons or Markers
Construction Paper or Cardstock
Instructions
Start by printing out the elf craft printable template.
Next, have fun coloring in your elf. Design their outfit anyway you want! You can use crayons, markers, colored pencils, or even watercolor paint.
Then carefully cut out all of the pieces. Arrange them on your choice of colored paper to line everything up before gluing.
If making a card, fold the paper in half first.
Glue the legs to the paper first. Add the torso over the top of the legs, but leave the top up and position the arms behind it. One hand will hang down and the other raised in a wave.
After gluing down the arms and torso, add the elf's head. Then attach the hat over the top of the elf's head.
Allow the elf to completely dry before hanging up or displaying.
Recommended Products
As an Amazon Associate and member of other affiliate programs, I earn from qualifying purchases.