Are the kids feeling bored and stuck indoors? Then you need to grab our printable Winter Would You Rather questions for kids. We have lots of printable games for kids that will keep them entertained, even throughout the winter doldrums.
Use these winter themed questions for a fun conversation starter at dinner, in the classroom, or even on a video call with family and friends. They make an easy, no prep printable game to play as a family.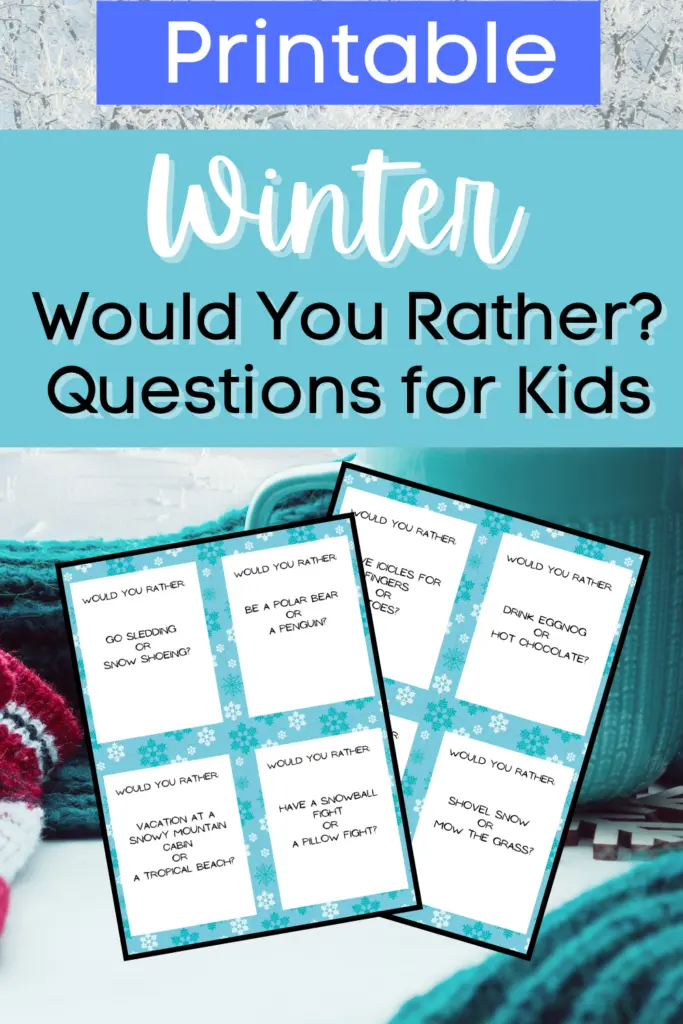 My kids absolutely love answering these types of questions because they are fun and low pressure. After all, there is no such thing as a right or wrong answer!
Playing the Would You Rather game is easy to do just about anywhere, because it does not require any set up and focuses on fun socializing.
The printable cards are portable, meaning you can stick them in a purse or backpack to use while traveling or even while out to dinner.
I regularly come up with a variety of these either/or scenarios, ranging from normal everyday stuff to silly and downright ridiculous, with my kids. So you always know our would you rather questions are kid tested and approved.
Benefits of Winter This or That Questions for Kids
Engaging kids in the "Would You Rather" questions game fosters a multitude of benefits, turning leisure time into a covert learning activity.
Children are encouraged to think critically and justify their choices, thus enhancing their reasoning skills.
Sharing their answers and the reasons behind their choices also promotes effective communication skills and fosters empathy as they listen and understand their peers' perspectives.
The game serves as a fantastic ice breaker, facilitating easy and fun interactions among friends and classmates.
Additionally, these winter this or that questions can be creatively repurposed as writing prompts, inspiring children to articulate their thoughts and opinions, thereby improving their writing skills.
This post contains affiliate links. As an Amazon Associate and a participant in other affiliate programs, we earn a commission on qualifying purchases.
SUSSED The Wacky 'Would You Rather' Card Game – Cool Blue Deck: 200 Conversation Questions About Life – Travel Gift for Teens, Kids & Adults – All Ages 10 and Up
Do You Really Know Your Family? A Fun Family Game Filled with Conversation Starters and Challenges – Great for Kids, Teens and Adults
Pick Your Poison Card Game: The "What Would You Rather Do?" Game for All Ages – Family Edition
Skillmatics Card Game – Train of Thought, Family Connection & Conversation Starters, Gifts for Ages 6 and Up
SUSSED The Wacky 'Would You Rather' Card Game – Family Fun for 2+ Players – Gift for Kids & Adults – Travel Size – Yellow Deck, All Ages 6 and Up
200 Family Conversation Cards – Questions to Get Everyone Talking & Building Relationships – Fun Family Games for Kids and Adults – Get to Know Each Other Better for Family Game Night or Road Trip
More Would You Rather Questions for Kids
Whether you're looking for everyday scenarios or silly and downright ridiculous options, our kid-tested and approved collection of "Would You Rather?" printable games has you covered.
Spark fun conversations and inspire imagination with these thought-provoking choices. Get ready for endless hours of entertainment for the whole family!
What's Included in the Would You Rather Winter Edition Printable Set?
To join the fun, simply obtain the printable game (accessible for free via the form below). Afterward, print and cut out the cards.
This set includes directions and 20 engaging Would You Rather question cards, all centered around the enchanting winter season.
Here's a sneak peek at a few examples:
Would you rather build a snowman or make a snow angel?
Would you rather have a carrot for a nose or a nose made out of coal?
These questions never fail to captivate my children, who eagerly answer them while even inventing their own!
Recommended Items
When printing the game cards out, I recommend using cardstock because it is more durable than regular printer paper. If they'll be used multiple times or in a classroom setting, I highly suggest laminating them.
After laminating the question cards, use a hole punch and book rings to take this game on the go. A paper cutter can also be helpful for cutting the cards straight and quickly.
Epson EcoTank ET-3830 Wireless Color All-in-One Cartridge-Free Supertank Printer with Scan, Copy, Auto 2-Sided Printing and Ethernet – The Perfect Printer Productive Families,White
Astrobrights/Neenah Bright White Cardstock, 8.5
Firbon A4 Paper Cutter 12 Inch Titanium Paper Trimmer Scrapbooking Tool with Automatic Security Safeguard and Side Ruler for Craft Paper, Coupon, Label and Cardstock (Black)
Classroom Timers for Teachers Kids Large Magnetic Digital Timer 2 Pack
TIHOOD 24PCS Sand Timer Assortment Plastic Sand Clock Timer 30s / 1min / 2mins / 3mins / 5mins / 10mins for Adult Kids in Classroom Kitchen Games Office
Charles Leonard Dry Erase Lapboard Class Pack, Includes 12 each of Whiteboards, 2 Inch Felt Erasers and Black Dry Erase Markers (35036)
How to Play the Winter Would You Rather Questions Game
Playing the 'Would You Rather' Winter Edition game is a no-prep activity that can be enjoyed at home or school. It's pure, simple fun that spurs creativity and conversation among kids.
To start the game, distribute the question cards or assign a reader to read them out one by one. Each player takes turns answering, choosing between the two options on the card.
Remember, only one answer can be chosen, but lively discussions often arise as some kids try to justify why they should be able to choose both options.
This game provides entertainment while encouraging kids to articulate and justify their choices, making it an engaging and thought-provoking activity.
More Winter Activities for Kids
If you're seeking more winter-inspired fun for your children, explore these fun activities for preschoolers on snow days.
Alternatively, you can bring the winter wonderland indoors! For active kids, an indoor snowball fight using soft, plush snowballs can be a great way to expend energy even when it's too cold outside.
Engage young learners in a delightful discussion about their favorite aspects of the winter season using this free winter printable book.
Doing winter-themed scavenger hunts, and baking winter treats are more great options to keep the joy of the season alive.
Additionally, making and using a Frozen snowflake sensory bottle can provide a mesmerizing and engaging sensory experience.
Each of these activities not only guarantees entertainment but also stimulates creativity and brings about learning opportunities.
Books About Winter for Kids
Looking to ignite a love for reading during the winter season? Look no further! Incorporating books about winter into your lessons and activities is not only fun but also keeps kids learning. Check out these four highly-rated winter-themed books for kids:
The Snowy Day Board Book
Over and Under the Snow
Snowflake Bentley: A Caldecott Award Winner
Bear Snores On (The Bear Books)
"The Snowy Day" by Ezra Jack Keats: This classic, Caldecott Medal-winning book tells the story of Peter, a young boy exploring his city after the first snowfall. Peter's day of adventures is depicted with beautiful, collage-style illustrations that will captivate young readers.
"Over and Under the Snow" by Kate Messner: In this book, a father and child embark on a cross-country ski trip and discover the secret world of animals living under the snow. The book combines beautiful storytelling and facts about winter wildlife, engaging children's curiosity about nature.
"Snowflake Bentley" by Jacqueline Briggs Martin: This is the true story of Wilson Bentley, a farmer who made significant contributions to the understanding of snowflakes by photographing them. The book encourages children to pursue their passions and interests, even when others don't understand them.
"Bear Snores On" by Karma Wilson: In this charming book, Bear hibernates through the winter and misses all the fun his friends are having in his cave. The rhythmic text and enchanting illustrations make this a perfect read-aloud book.
Winter Crafts for Kids
As the winter weather keeps us indoors, it's the perfect opportunity to engage children in fun and creative activities. Let's explore some winter crafts that kids can enjoy, turning those cold days into memorable experiences!
Decorate your home or classroom with colorful coffee filter snowflakes! This fun activity not only allows kids to mix colors and create unique patterns but also helps develop their fine motor skills.
Crafting a handprint cardinal is a fun and creative activity that can bring a touch of winter inside. Kids will enjoy tracing their hands, cutting out the shapes, and assembling them to create a vibrant red cardinal, a classic symbol of the winter season.
Explore your artistic side by crafting a charming felt snowman ornament! With our easy-to-follow, no-sew approach and a handy printable craft template, you can add a touch of homemade charm to your winter decorations.
Kids will thoroughly enjoy cutting out a mug shape from the paper, and then using cotton balls to represent the whipped cream or marshmallows on top, creating a cozy hot chocolate craft.
Keeping children entertained during the winter can be challenging, but with these invigorating activities and thought-provoking 'Would You Rather' questions, every snowy day can turn into an adventure.
So, the next time the winter winds blow, remember these fun-filled ideas to keep the spirits high and the creativity flowing. The beauty of winter is that it provides plenty of opportunities for indoor and outdoor fun, allowing children to make the most of this magical season.