These printable Winter Would You Rather? questions for kids make an easy, no prep printable game to play as a family.
Use these winter themed questions for a fun conversation starter at dinner, in the classroom, or even on a video call with family and friends.
Want more winter activities? Check out these snow day ideas for preschoolers and this Frozen snowflake sensory bottle.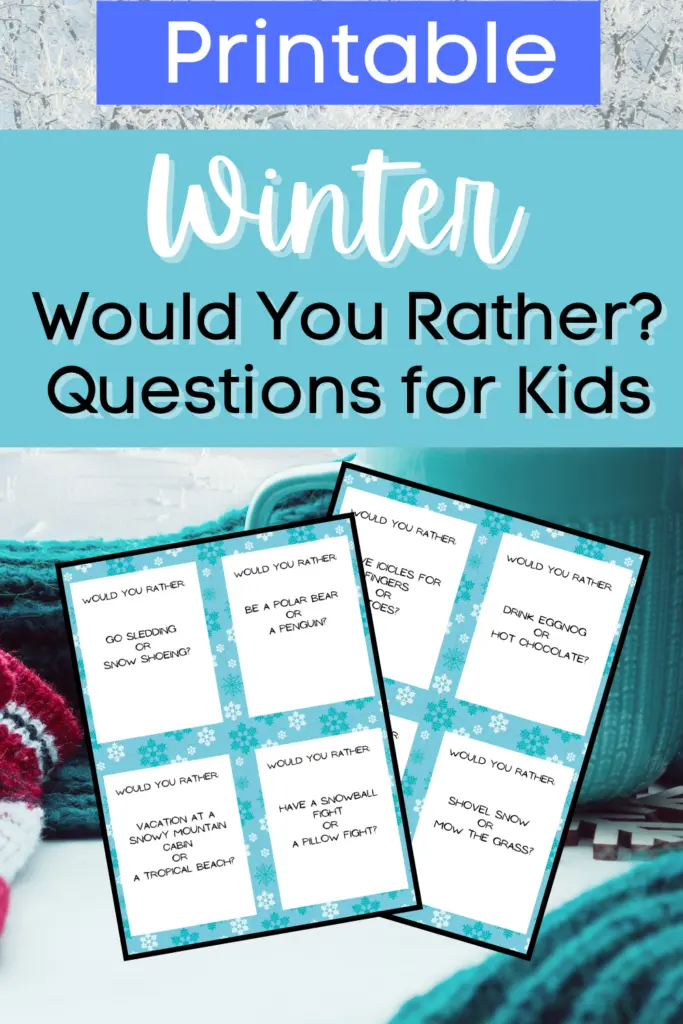 This post contains affiliate links. As an Amazon Associate and a participant in other affiliate programs, we earn a commission on qualifying purchases.
Winter Themed Would You Rather Questions Game
My kids absolutely love answering these types of questions because they are fun and low pressure. After all, there is no such thing as a right or wrong answer!
Playing the Would You Rather game is easy to do just about anywhere, because it does not require any up and focuses on fun socializing.
The printable cards (file 126 available in our free printable resource library) are portable, meaning you can stick them in a purse or backpack to use while traveling or even while out to dinner.
I regularly come up with a variety of these either/or scenarios, ranging from normal everyday stuff to silly and downright ridiculous, with my kids. So you always know our would you rather questions are kid tested and approved.
Here are a few examples of the would you rather questions included in the Winter edition:
Would you rather build a snowman or make a snow angel?
Would you rather have a carrot for a nose or a nose made out of coal?
My kids cannot resist answering these and love to make up their own as well!
To play, everyone takes turns reading a question card and sharing their answer. (Or you can have one designated question reader.) You can only pick one answer, but some people will try to get away with saying both.
Turn these questions into a learning activity (without the kids realizing it) by having older children and adults share why they chose their answer.
You could also use the would you rather cards as winter themed writing prompts.
Winter Would You Rather Printable Cards
In order to play, you need to download the printable PDF File 126 in our resource library (if you do not have the password, get free access by using the form below). Then print and cut the cards out.
It includes directions and 20 Would You Rather question cards related to the winter season.
When printing the game cards out, I recommend using cardstock because it is more durable than regular printer paper.
If they'll be used multiple times or in a classroom setting, I highly suggest laminating them.
After laminating the question cards, use a hole punch and a book rings to take this game on the go.
More Would You Rather? Printables for Kids: