Welcome to our collection of free printable games for kids! If you're looking for fun and educational ways to keep your kids engaged, you've come to the right place.
Whether you're at home or in the classroom, these games are perfect for keeping kids of all ages entertained while they learn. From practicing essential math and reading skills to simply having a blast, these activities have got it all. Make sure to bookmark our complete list of printable games for kids so you never run out of ideas!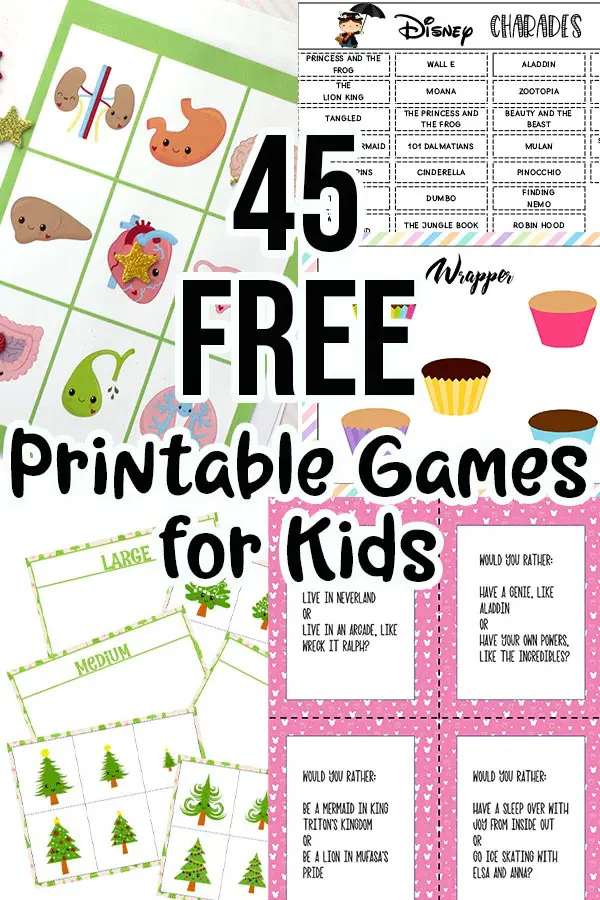 Board Games for Kids and Families
Looking for board game suggestions? Check out these quick board games to play with your kids in under 20 minutes, board games for stir crazy kids when they just can't sit still, and this list of our favorite family board games.
What You Need for These Game Printables
These free printable games for kids are great because they don't require a lot in order to play them. Overall, there is low to no prep required.
This post contains affiliate links. As an Amazon Associate and a participant in other affiliate programs, we earn a commission on qualifying purchases.
If you are printing these at home, depending on the particular game, you'll want printer paper or white cardstock paper. A laminator can be helpful as well as a paper cutter, but they are not necessary.
I'd also recommend getting a variety of dice and math manipulatives as well. They will come in handy for several of these activities.
Hobby Monsters 10 D6 16mm White Dice with Multi-Colored Pips
Aizweb Ten-Frame Pop Board – Math Manipulative for Elementary, Math Fidget Sensory Toy, Montessori Educational Toy Gift for Kindergarten Classroom Kids 3 4 5 Year Old
edxeducation Math Cubes – Set of 100 – Math Manipulatives – Classroom Learning Supplies, Homeschool Supplies, Preschool Learning, Counting Toys, Linking Cubes, Math Linking Cubes
edxeducation Counting Bears with Matching Bowls – Early Math Manipulatives – 68pc Set – 60 Bear Counters, 6 Bowls & 2 Game Spinners – Home Learning
Qidiwin EVA Foam Dices, Colorful Dot Foam Dice for Kids, Building Toys,Educational Toys, Party Supplies, 6 Colors, 24 Pcs
Fun Printable Games for Kids
Looking for fun free printable games for kids? You've come to the right place. We know how tough it can be to keep your little ones entertained without relying on screens, but fear not, we've got you covered.
Our selection of games is not only engaging, but also educational. Plus, since they're printable, they're easy to access and can be played anywhere.
So, what are you waiting for? Start exploring our collection and watch your kids become engrossed in hours of screen-free fun.
Additional Activities for Kids