Gathering around and playing games as a family is a cherished pastime. Not only do these games provide amusement, but they also offer valuable learning opportunities.
We are confident that you will have a fantastic time with our Disney-themed Pictionary, one of our printable games for kids.
I personally know how much children love drawing games, and Pictionary-style games are timeless favorites at parties. They are also suitable for both home and school settings.
What I love most about these games is their versatility, as they can be enjoyed by different age groups and tailored to various themes.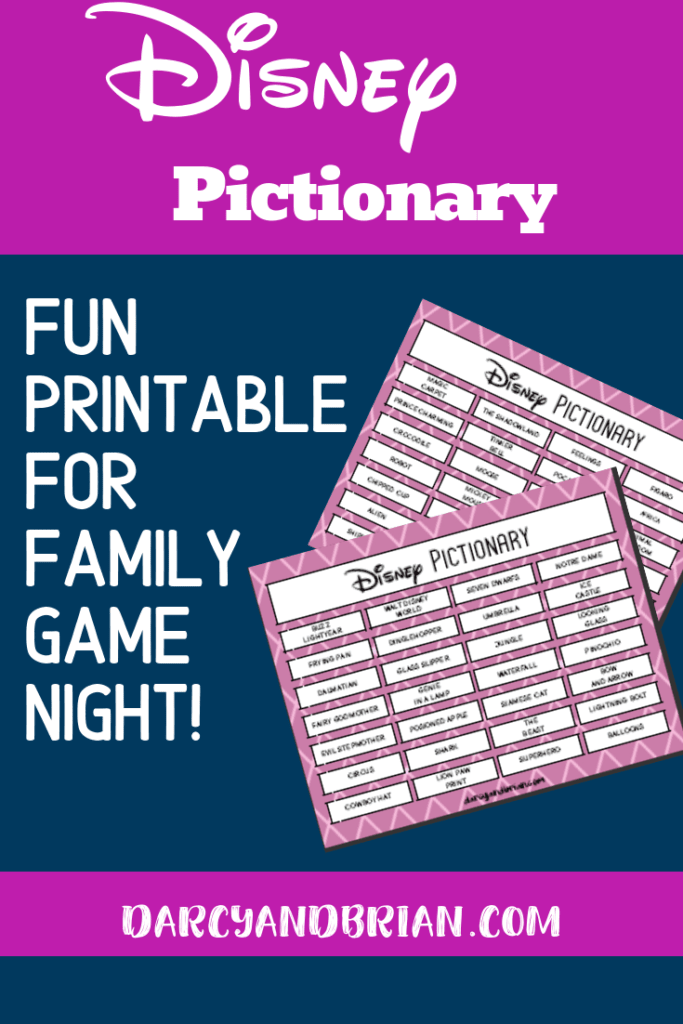 This Pictionary game comes with over 50 printable word cards featuring Disney characters, actions, and items found in Disney movies.
It offers a mix of easy and hard words to draw for kids of different ages and abilities. With such an extensive list, there's something that everyone can relate to!
So if you're looking for something fun to do with your kids, don't forget to grab a copy of this free printable Pictionary game at the bottom of this post.
After all, it's never too early to make some memories and build skills for the future.
Free printable available at the end of this post.
This post contains affiliate links. As an Amazon Associate and a participant in other affiliate programs, we earn a commission on qualifying purchases.
Disney Pictionary Ideas
I remember playing the original Pictionary game growing up. In fact, I still have it! There were so many cards with a wide variety of words and phrases to draw, but a lot of them were challenging as a kid.
Since then, there have been newer versions created as well as other types of drawing games, such as Telestrations, one of our family's favorites.
You can easily make your own Disney themed version using Pictionary phrases from your family's favorite movies and characters and writing them on slips of paper.
To save you some time, we have a printable word list with over 50 Pictionary game words using Disney characters, actions, and items found in Disney movies available at the bottom of this post that you can print out at home
You can also purchase the official Disney Pictionary game which is played a little differently and comes with Mickey slap hands for grabbing the correct card.
Drawing games, like Disney Pictionary, are a whirlwind of fun that children absolutely adore. They not only offer a world of enjoyment, but also stimulate creativity, making them a hit among kids.
TWOPOINTOH GAMES Artsy Fartsy – Fun Family Games for Kids and Adults. Winner of USA Today's Best Gift for Families National Award
Mythical Creatures Drawing Game for Kids Mashup Animal Art Ideas. 150 Prompt Cards. Creative Gift for Tweens, Teens + Family Fun Night for All Imaginations!
Telestrations Original 8-Player | Family Board Game | A Fun Family Game for Kids and Adults | Family Game Night Just Got Better | The Telephone Game Sketched Out | Ages 12+
The Imagineering Company WatchamaDrawit Fast Action Drawing Game with Wildly Creative Challenges – A Family Board Game for Kids and Adults
Vango The UpsideDownChallenge Game for Family & Kids – Complete Fun Challenges with Upside Down Goggles – Hilarious Fun Game for Game Night & Parties – 2-6 Players, Ages 8+
​Pictionary Air Kids Vs. Grown-Ups Family Game for Game Night with Light Pen and Clue Cards, Connect to Smart Devices
More Disney Printable Games
Disney printable games are the perfect way to bring a piece of that magical, enchanted world into your home or classroom. They provide entertainment, spark creativity, and offer a fun-filled learning experience for kids and Disney fans of all ages.
Let's explore some other Disney themed printable games that you might enjoy!
How to Play Pictionary
The main item you need (besides players) are words to draw!
From there, the basic game play consists of someone picking a card and drawing the word while other players try to guess what they are drawing.
Generally players are split into two teams. Each person on the team will rotate to take turns drawing while the others shout out their guesses.
Players don't have a lot of time to think about what they will draw. It's designed to be drawn quickly rather than super detailed as the rest of the team tries to guess correctly before the timer runs out.

There are a few other ways you can play this game:
If the drawing team doesn't guess right before time is up, the other team can make a guess to steal the point.
Instead of teams, each person takes turns drawing and the one who guesses correctly gets the point. Or the person drawing gets the point when someone guesses right.
It's easy to modify and adapt the game depending on the age and number of children playing. Sometimes team party games are difficult for smaller families when using traditional rules.
Recommended items:
Epson EcoTank ET-3830 Wireless Color All-in-One Cartridge-Free Supertank Printer with Scan, Copy, Auto 2-Sided Printing and Ethernet – The Perfect Printer Productive Families,White
Astrobrights/Neenah Bright White Cardstock, 8.5
Firbon A4 Paper Cutter 12 Inch Titanium Paper Trimmer Scrapbooking Tool with Automatic Security Safeguard and Side Ruler for Craft Paper, Coupon, Label and Cardstock (Black)
Classroom Timers for Teachers Kids Large Magnetic Digital Timer 2 Pack
TIHOOD 24PCS Sand Timer Assortment Plastic Sand Clock Timer 30s / 1min / 2mins / 3mins / 5mins / 10mins for Adult Kids in Classroom Kitchen Games Office
Charles Leonard Dry Erase Lapboard Class Pack, Includes 12 each of Whiteboards, 2 Inch Felt Erasers and Black Dry Erase Markers (35036)
Benefits of Playing Disney Pictionary
Playing games have social and educational benefits for kids. This game helps kids to think differently about communication.
For example, drawing squiggly lines can provide additional context and meaning to the rest of their picture.
They need to think quickly about what their word or phrase is and how to draw it. Some words and phrases may seem simple, but how exactly do you draw that?
This helps kids practice reasoning skills, nonverbal communication skills, as well as creative problem solving. They need to think about what their team will understand as they draw.
For the players making guesses, they are practicing nonverbal communication (seeing the drawing) as well as verbal communication (saying their guess).
They are also problem solving based on context clues given in the drawing and even how their teammate reacts and responds to their guesses.
Plus, they need to quickly process what they are seeing and make connections to figure out what is being drawn.

Tips & Tricks for Playing Disney Pictionary
Playing Pictionary games with your little ones doesn't have to be complicated, but here are some tips and tricks to make the game even more enjoyable:
Get a timer! This is an important element of Pictionary, since it creates tension and encourages faster drawing.
Make sure you have enough space on the table for everyone's drawings. It also helps to spread out around the table.
Encourage your children to use a variety of drawing techniques – it's important to have fun and be creative.
Have a few different colors available for your kids to use, as this can make their drawings more interesting.
If the word is too difficult for your child, help them out but don't give away the answer! Instead, provide clues that will help them figure out the answer.
Last but not least, laugh and have fun! Pictionary is all about having a good time with your family.
Disney Themed Pictionary Word List Printable
Fill out the form below to download and save this printable Disney theme Pictionary words for kids. Print it out at home, cut out the clues you want to use, and have fun!
This printable game is for your personal use or your classroom use only. Share this post with a friend or teacher who'd love to play this game and download their own copy.
More Printable Games for Kids: