This free Disney themed Pictionary printable game for kids is a fun, low prep activity.
It's no secret that we love to play board games as a family. Not only are they fun, but they provide learning opportunities too!
We have a variety of game types and themes, and I've noticed my kids showing a lot of interest in drawing games recently.
Pictionary style games are classic party games that can be played at home or at school. I love how you can adapt them for different ages and themes.
Love Disney printable games? We also have a printable list of Disney charades ideas and Disney Would You Rather questions as well as printable coloring pages for Frozen 2, Toy Story 4, and more!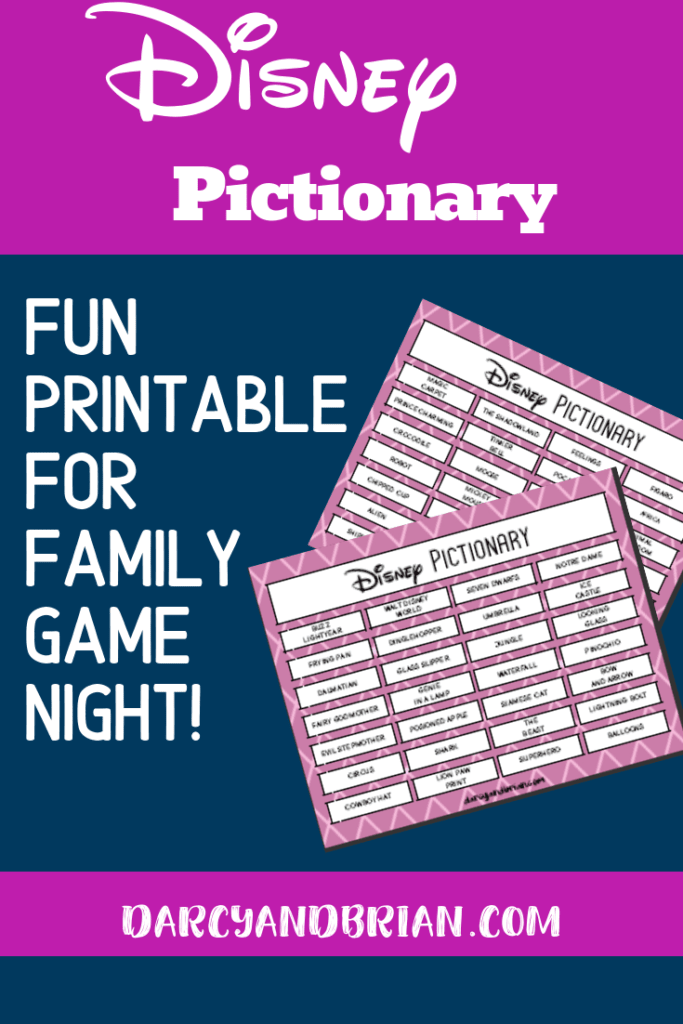 This post contains affiliate links. As an Amazon Associate and a participant in other affiliate programs, we earn a commission on qualifying purchases.
Disney Pictionary Ideas
I remember playing the original Pictionary game growing up. In fact, I still have it! There were so many cards with a wide variety of words and phrases to draw, but a lot of them were challenging as a kid.
Since then, there have been newer versions of Pictionary created as well as other types of drawing games, such as Telestrations, one of our family's favorites.
You can easily make your own Disney themed version using Pictionary phrases from your family's favorite movies and characters and writing them on slips of paper.
We also have a printable superhero themed pictionary game for kids.

To save you some time, we have a printable word list with over 50 Pictionary game words using Disney characters, actions, and items found in Disney movies available at the bottom of this post that you can print out at home
You can also purchase the official Disney Pictionary game which is played a little differently and comes with Mickey slap hands for grabbing the correct card.
How to Play Pictionary
The main item you need (besides players) are words to draw!
From there, the basic game play consists of someone picking a card and drawing the word while other players try to guess what they are drawing.
Generally players are split into two teams. Each person on the team will rotate to take turns drawing while the others shout out their guesses.
Players don't have a lot of time to think about what they will draw. It's designed to be drawn quickly rather than super detailed as the rest of the team tries to guess correctly before the timer runs out.
There are a few other ways you can play this game:
If the drawing team doesn't guess right before time is up, the other team can make a guess to steal the point.
Instead of teams, each person takes turns drawing and the one who guesses correctly gets the point. Or the person drawing gets the point when someone guesses right.
It's easy to modify and adapt the game depending on the age and number of children playing. Sometimes team party games are difficult for smaller families when using traditional rules.
Other helpful items:
Benefits of Playing Pictionary
Playing games have social and educational benefits for kids. This game helps kids to think differently about communication.
For example, drawing squiggly lines can provide additional context and meaning to the rest of their picture.
They need to think quickly about what their word or phrase is and how to draw it. Some words and phrases may seem simple, but how exactly do you draw that?

This helps kids practice reasoning skills, nonverbal communication skills, as well as creative problem solving. They need to think about what their team will understand as they draw.
For the players making guesses, they are practicing nonverbal communication (seeing the drawing) as well as verbal communication (saying their guess).
They are also problem solving based on context clues given in the drawing and even how their teammate reacts and responds to their guesses.
Plus, they need to quickly process what they are seeing and make connections to figure out what is being drawn.
Disney Themed Pictionary Word List Printable
Click to download and save this printable Disney theme Pictionary words for kids. Print it out at home, cut out the clues you want to use, and have fun!
This printable game is for your personal use or your classroom use only. Share this post with a friend or teacher who'd love to play this game and download their own copy.

More Printable Games for Kids:
Did you enjoy doing this activity with your kids or students?