This LEGO Animal Charades printable game is full of 30 easy LEGO building ideas for kids. This is a fun activity to keep the kids busy whether they build the animals solo or play it as a game.
My kids have a variety of LEGO bricks but sometimes want guidance on what to build. This twist on charades is a great way to give them an invitation to build animals in a creative way.
For even more boredom busters, don't miss our printable 30 day LEGO building challenge calendar.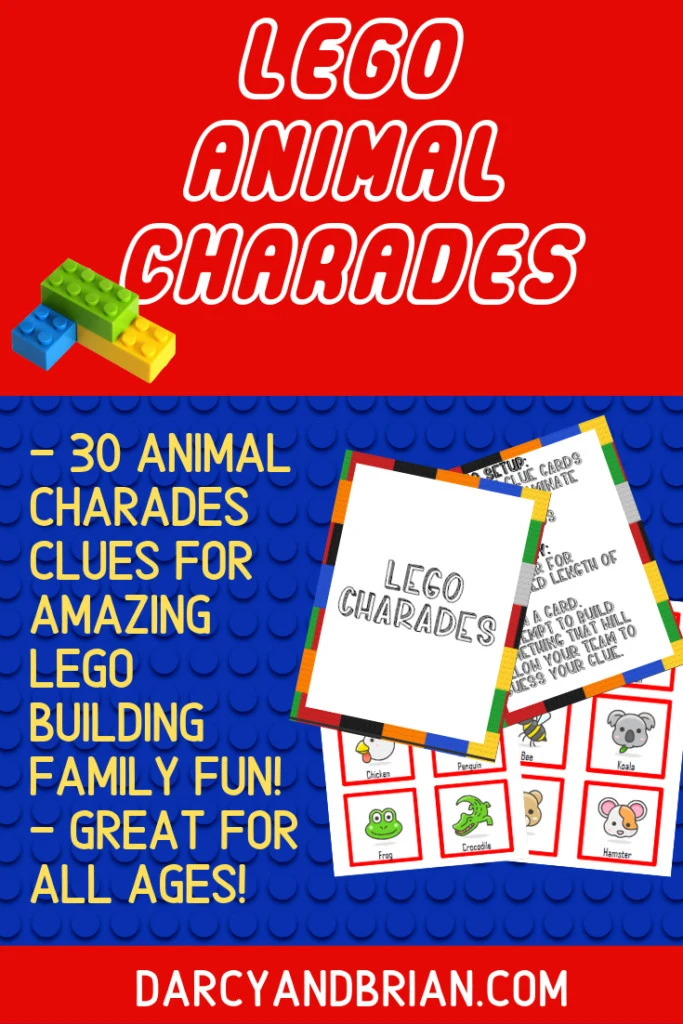 This post contains affiliate links. As an Amazon Associate and a participant in other affiliate programs, we earn a commission on qualifying purchases.
Printable LEGO Animal Charades Game
Need something to keep your kids busy that is fun and is considered a learning activity? LEGO activities are great because they require your kids to use their imagination and improves their engineering skills.
Whether they are following directions on how to build a LEGO creation or are freely playing, it's a fantastic STEM activity.
I wanted to share easy LEGO building ideas that kids could do with whatever LEGO bricks they have available. So don't worry about whether or not you have a specific set. They can use their creativity to build these animals however they want!
These LEGO animal charade cards can also be used with LEGO DUPLO.
Use these printable LEGO animal cards at home or in the classroom.
Free printable download available at the end of this post.
How to Play LEGO Animal Charades
Before playing, make sure to download and save the printable LEGO building cards featuring 30 different animals (available at the bottom of the post).
You can print them out on regular printer paper, but I recommend printing on white cardstock paper. For even better durability, you can laminate the pages before cutting the cards apart.
After cutting the cards apart, shuffle them or spread them out face down. Bring out an assortment of LEGO bricks and get ready to have fun!
To play it as a game, have each person take a turn drawing a LEGO building challenge card and make the animal on it. Have everyone else try to guess what they are building.
You can also keep the guesses until after they finish building.
Children can also use these as fun random LEGO building challenges by themselves without the guessing.
Here are the animal building prompts included:
bull
dog
ram
monkey
lion
horse
unicorn
cow
pig
camel
elephant
mouse
rabbit
panda
chicken
penguin
frog
crocodile
turtle
snake
whale
dolphin
octopus
ant
fish
snail
bee
koala
bear
hamster
These printables are for your personal use at home or for your personal classroom only. Share this post with teachers and parents who would love this activity for their kids too!
More Animal Activities for Kids: