These board games for kids are great options if they are going stir crazy because they don't have to sit still the entire time.
Doesn't February feel like the longest winter ever? I thought January felt like a year, but February has been tough.
With so much snow, ice, and dangerously cold wind chills, the kids are getting a bit stir crazy.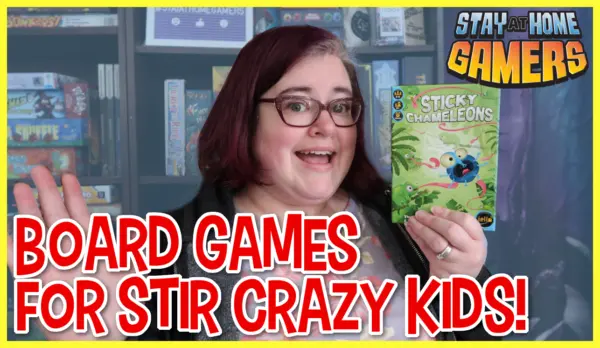 Although winter usually means we're inside more than usual, this year has been crazier than most. The kids have had more snow days than they've ever had.
It's often too cold for them to play outside at school and home, which leaves them climbing the walls.
Also check out our big list of 100+ family board games for even more recommendations!
5 Board Games for Stir Crazy Kids
This post contains affiliate links, which means we may earn a small commission if you make a purchase.
In this video, I talk about five board games that we like to play with the kids when they are full of energy.
I also share a couple tips for how we give them shake breaks to get their wiggles out when you are stuck inside the house and unable to head to an indoor play place.
Are you and the kids feeling cooped up inside the house due to the weather? Is it too cold to play outside? Too many snow days off from school?
I'm sharing 5 board games for kids that don't require them to sit quiet and still. Four of these are dexterity board games and one is a real time cooperative card game.
They are all easy to learn and quick to play. My kids love playing these games when they are full of energy but can't play outside.
I also share a couple other ideas for shake breaks or getting their wiggles out while stuck inside.
Sometimes I have the kids dance along to a couple GoNoodle videos before we sit down to play board games, especially if they are having trouble sitting still.
Have you played any of these? What are your go-to indoor activities when the kids are feeling a little stir crazy? Tell us in the comments!
Check out our current curated family game night box which comes with a board game and several other goodies!
Find more fun family game suggestions in our Amazon shop.
More kids activities you may enjoy: