Looking for ways to make your kids' playtime more engaging and educational? Look no further! Our curated list of free printable board games is here to save the day.
Whether your little ones need a boost in math skills, reading, or counting, we've got you covered. These screen-free activities are not only fun but also low prep, making them perfect for busy parents, teachers, and caregivers.
And that's not all! Don't forget to explore our full collection of printable games for kids, offering a wide range of educational and entertaining options. Get ready to take playtime to a whole new level of excitement and learning!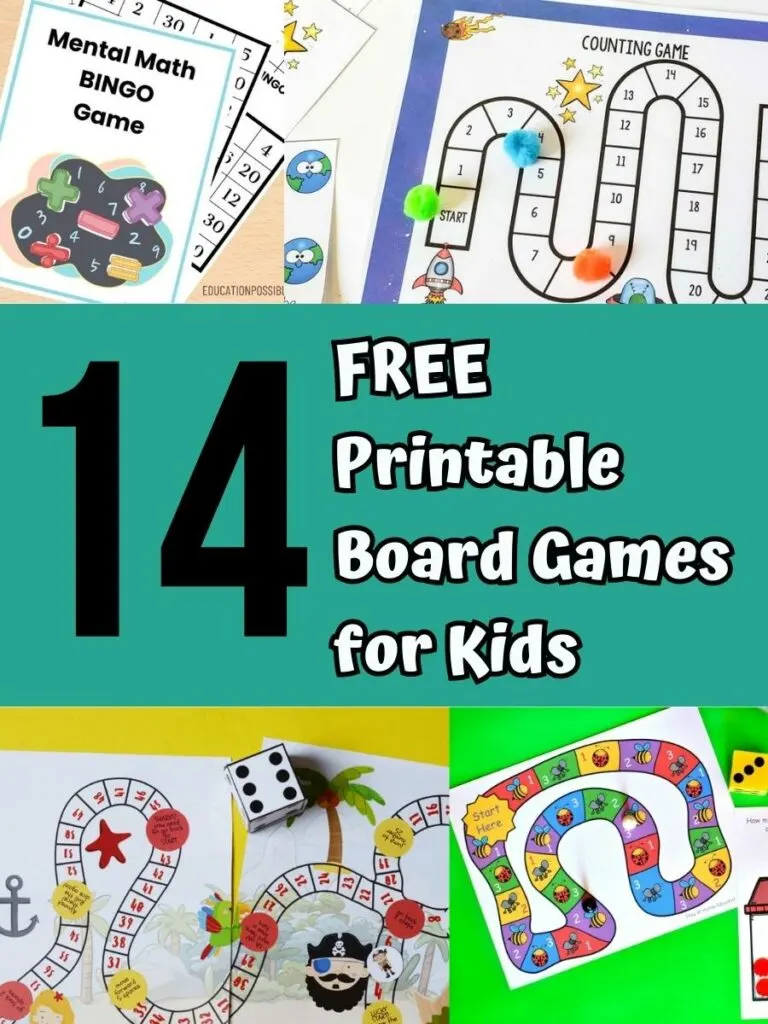 Printable board games stand out as an economical, low prep activity that fits seamlessly into both homeschool and traditional classroom environments.
With minimal setup required, these easy-to-use games are an ideal option for educators and parents seeking cost-effective resources. They cater to children of all ages, making learning an enjoyable and engaging process.
From preschoolers just beginning to explore academic concepts, to older kids ready for a challenge, the range of free printable board games can be adapted and used to enrich any learning journey.
More Educational Printables for Kids
Educational printables are an invaluable resource in the world of teaching and learning. They offer a versatile and accessible way to supplement lessons, reinforce learned concepts, and provide much-needed practice in various subject areas.
Whether it's math, reading, or other essential skills, these printables are designed to cater to a wide range of learning levels and styles.
This post contains affiliate links. As an Amazon Associate and a participant in other affiliate programs, we earn a commission on qualifying purchases.
64 Crayons Per Box, Classic Colors, Built In Sharpener, Crayons For Kids, School Crayons, Assorted Colors – 64 Crayons Per Box – 1 Box
Crayola Colored Pencils (36ct), Kids Pencil Set, Back to School Supplies, Assorted Colors, Great for Classrooms, Nontoxic, Ages 3+
50 Pieces Colored Dice, 6 Sided Dice for Board Games, 14mm Bulk Dice for Math Learning, Dice for Classroom
CiaraQ Polyhedral Dice Set (35 Pieces) with Black Pouches, 5 Complete Double-Colors Dice Sets of D4 D6 D8 D10 D% D12 D20 Compatible with Dungeons and Dragons DND RPG MTG Table Games
What Are the Benefits of Printable Board Games for Kids?
Printable board games are more than just a fun pastime. They're a treasure trove of benefits waiting to be discovered by your little ones. Here's why:
Educational Value: Many printable board games are designed with educational concepts in mind. They can help enhance your child's numeracy, literacy, color recognition, and even strategic thinking skills.
Even when the focus of the game design isn't on a specific skill, we believe kids can learn something from playing any game!
Creativity and Imagination: Some of the games require a little bit of preparation. Assembling and coloring the game boards or pieces allow children to express their creativity and develop their fine motor skills.
Social Skills: Playing board games with family or friends encourages cooperation, healthy competition, and communication skills. Games like this provide plenty of opportunities for teaching kids good sportsmanship.
Essentials for Playing Printable Board Games
Here are some items you'll find handy for printing and playing these games:
Quality Printer: We absolutely adore our Epson EcoTank printer. Not only does it produce clear and vibrant printouts, it's also cost-effective over the long run with its refillable tanks. We couldn't recommend it more for printing out your favorite board games.
Card Stock or Laminator: Printing on card stock or laminating your game boards will make them more durable. you can use a laminating machine or self-adhesive laminating sheets.
Coloring Supplies: Let your kids personalize their games with markers, colored pencils, or crayons.
Game Pieces: Use buttons, coins, or small toys as game pieces. You can even craft your own!
Dice: Every good game needs dice! Grab one from your favorite board game or make your own paper version.
Epson EcoTank ET-3830 Wireless Color All-in-One Cartridge-Free Supertank Printer with Scan, Copy, Auto 2-Sided Printing and Ethernet – The Perfect Printer Productive Families,White
Astrobrights/Neenah Bright White Cardstock, 8.5
Firbon A4 Paper Cutter 12 Inch Titanium Paper Trimmer Scrapbooking Tool with Automatic Security Safeguard and Side Ruler for Craft Paper, Coupon, Label and Cardstock (Black)
Classroom Timers for Teachers Kids Large Magnetic Digital Timer 2 Pack
TIHOOD 24PCS Sand Timer Assortment Plastic Sand Clock Timer 30s / 1min / 2mins / 3mins / 5mins / 10mins for Adult Kids in Classroom Kitchen Games Office
Charles Leonard Dry Erase Lapboard Class Pack, Includes 12 each of Whiteboards, 2 Inch Felt Erasers and Black Dry Erase Markers (35036)
What Ages Can Play These Games?
These free printable board games cater to a wide age range, suitable for preschoolers through to middle school students.
Many free printable games for preschoolers are designed with an emphasis on building foundation skills such as counting, reading, and shape recognition.
However, we've also included games that cater to older students, particularly those that carry historical themes, fostering a keen interest in past events and cultures.
What's fantastic about these games is their adaptability. Many can be tweaked to accommodate different ages and abilities, making them versatile tools for both homeschooling and classroom environments.
This ensures every child is challenged at their own level, facilitating effective and enjoyable learning experiences.
Free Printable Board Games for Kids
Printable board games can be utilized anytime, anywhere - making them a convenient and flexible learning tool.
They transform complex concepts into bite-sized lessons, perfect for kids who need extra help or those who are ready for an extra challenge.
Moreover, these free resources provide an affordable alternative to expensive educational materials, making quality learning accessible to all.
In addition to being practical, printable games are engaging and fun. They take the mundanity out of studying and replace it with an interactive and enjoyable learning experience.
So, whether you're a teacher looking to supplement your in-class lessons, a homeschooling parent in need of diverse learning materials, or a student seeking practice, educational printable games might just be the valuable tool you've been looking for.
Ways to Use Printable Board Games in Your Homeschool or Classroom
Printable board games offer an innovative way to enhance learning in homeschool or classrooms. They are versatile and can be used in various educational scenarios, such as math centers, small group work, or as part of a lesson plan.
Explore the ideas below on incorporating printable board games into your teaching environment to suit your educational needs.
Introduce or Reinforce Concepts: Printable board games are a great way to introduce certain concepts such as counting, letter recognition, and shapes. They also provide an opportunity for your kids to practice and solidify what they have already learned.
Fun Learning Experiences: Many of the printable board games come with instructions on how to play, making them a great way to encourage your kids to practice reading comprehension.
Personalize Your Games: Use our free printable board games as the basis for creating your own. Take a traditional game and add elements that relate specifically to what your child is studying or interests them. Incorporate stories from their favorite books, characters they love, facts about science, history, or geography, depending on what subject you're teaching.
Use to Supplement Schoolwork: Printable board games can be used as supplementary activities to reinforce skills such as math, spelling, and reading comprehension. They are also great for working on problem-solving skills in a fun and interactive way.
Try a Variety of Games: We have a variety of printable board games to choose from, so you can find something that's fun and challenging for your kids. You can also switch up the games to keep learning interesting and engaging.
Remember, the goal here isn't to win but to enjoy the process, learn new things, and create beautiful memories.
More Fun Games for Kids
Whether you're looking to diversify your child's activities or need some fresh ideas, this section is for you! Here, we've handpicked some more exciting and educational games to keep your little ones engaged and learning.
Free printable board games offer an inexpensive way to provide your kids with educational, screen-free activities. They are a great addition to any homeschool or classroom setting and are sure to keep your kids entertained while they learn.
So get your dice, counters, and game boards ready – it's time for some educational fun!