Are you looking for a new board game to play on family game night? Then you have come to the right place, my friend.
We play lots of board games with our kids and our friends know they can ask us for suggestions of what games to play with their kids.
Don't worry about these boring you though, we are suggesting fun modern board games that you'll enjoy playing with your family.
All of these games are fantastic options for game night and they make perfect gifts too! You may also want to check out these games for a virtual game night when you can't get together in person.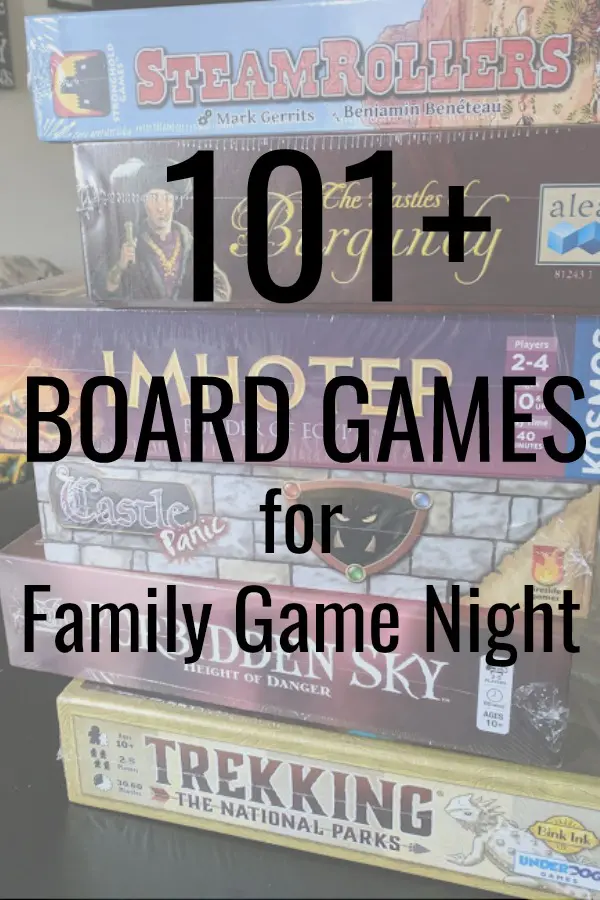 We personally own almost everything on this list, minus a few that either our friends own or were recently released.
We have received some of these titles previously to review on Stay-At-Home Gamers, our family gaming site. Most of them we have purchased and some we enjoyed playing at gaming conventions.
This post contains affiliate links. As an Amazon Associate and a participant in other affiliate programs, we earn a commission on qualifying purchases.
I have also created a list on our Amazon shop of family game night suggestions.
Strategy Board Games
Modern strategy board games have come a long way. There are so many different options that are perfect for families to play without it being too easy or boring for adults.
Most of these suggestions are not specifically designed for children, but they can be played with kids or adults.
Azul
Azul by Next Move/Plan B Games is an intriguing abstract game. Players draft tiles to place in the pattern on their board.
There's a balance between rushing to be the first to completely fill a horizontal row and strategically placing tiles for lots of points for as many turns as you can.
We love playing this game with our kids and friends. It also scales well for two players.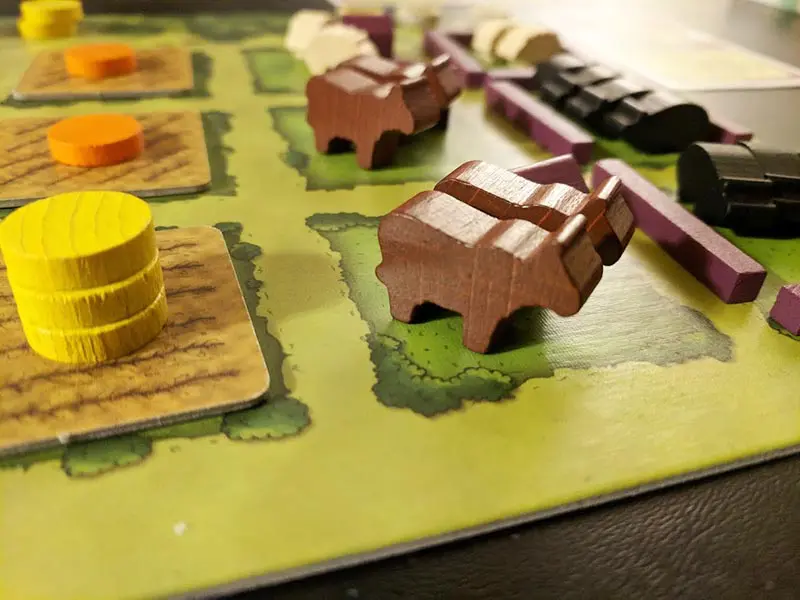 Agricola
Agricola by Uwe Rosenberg is a worker placement game that quickly became one of my favorite modern board games.
It's a great way to practice strategic thinking as you build up your farm, grow your family, and make decisions on how to spend resources.
My husband and I often play the regular rules together, but our daughter also enjoys playing the Family Edition rules with us. I have also played the solo variation several times.
Castles of Burgundy
Castles of Burgundy is a more recent addition to our collection (even though it's been around for awhile). It is one of my favorite Euro games to play.
The artwork is not as gorgeous as some as our other games, but the strategy and gameplay is oh so satisfying.
Bunny Kingdom
Bunny Kingdom by Iello is one of our family's favorites. While the bunny pieces may seem cute, but don't let that fool you!
Players draft cards to control areas on the board, building up their territories. You can watch my How to Play Bunny Kingdom video to learn more.
Ticket to Ride
Ticket to Ride by Days of Wonder is an excellent board game to play with family and friends. They have several different maps available, but the main gameplay is the same.
Players collect cards in matching colors to claim train routes. Kids learn some geography as they build routes between various cities across the map.
When we want a longer game, we enjoy playing Ticket to Ride: Europe.
If we want to play a quick game in under 30 minutes, then we switch from trains to taxis with Ticket to Ride: New York. It's the smallest and fastest Ticket to Ride game we own!
Playing games with younger children? Then we recommend Ticket to Ride: First Journey. It's shorter and a little more streamlined than the full Ticket to Ride games which makes it a great way to introduce kids and families to this series.
Villainous
Villainous is a great game for Disney Villains fans, like myself.
It's an asymmetrical board game, which means each player has a different objective they must complete in order to win the game. These are based on which villain they select and how it ties into their story.
There are also two stand alone expansions which provide even more villain characters to play. You can play those sets on their own or mix and match, allowing players to choose from a wide variety of villains.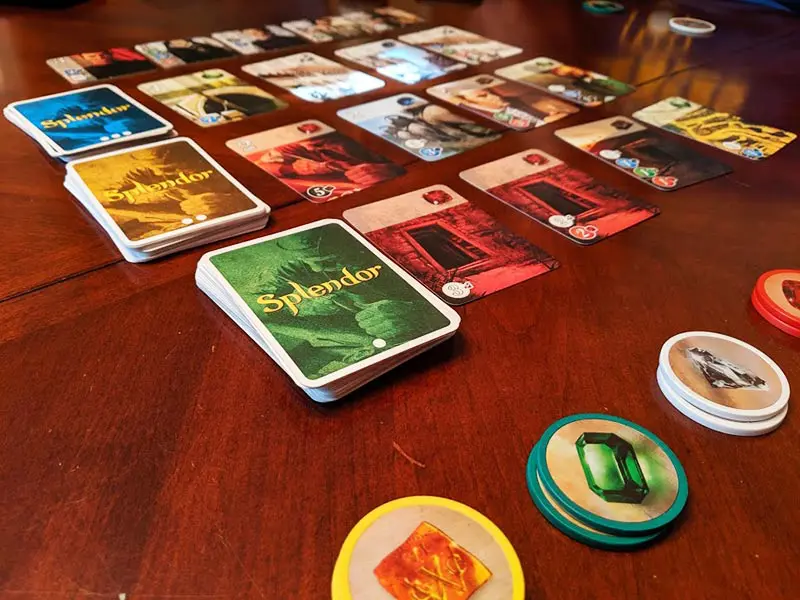 Splendor
In Splendor, you are drafting gem tokens and cards in an attempt to become a rich jewelry merchant. The cards you purchase will continue to count as gem currency and some have point values.
Players collect cards to impress nobles (who are worth points) and aim to be the first to reach 13 points or higher.
Draftosaurus
Draftosaurus by Ankama is super cute and fun to play. We loved it the moment we played a demo of it at Origins Game Fair. Players try to create the most popular dino park.
There are adorable dino meeples to draft and place in your pens each turn. However, there are placement restrictions on the board and based on the die rolled by the start player each round.
Junk Orbit
Junk Orbit by Renegade Game Studios is an interesting pick up and deliver game.
Each player has a spaceship meeple and hauls junk around space. Score points with successful deliveries.
My Little Scythe
My Little Scythe by Stonemaier Games is an adorable family friendly version of the big board game known as Scythe.
It is an excellent way to introduce kids to game mechanics used in heavier games. Collect items, complete quests, be a kind friend, and have pie fights to earn points.
Catan
Catan is a classic modern board game where you collect and trade resources in order to build your territory.
We started the kids with Catan Junior, which is a great introduction to this style of game. Plus, it was still fun to play it with the kids.
Everyone Loves a Parade
Everyone Loves a Parade by Calliope Games is a great game for 2-6 players. Collect cards to decorate your parade float with the items the crowd wants to see.
ShipShape
ShipShape by Calliope Games is a fun bidding and bluffing game. Players are pirates bidding on a stack of crates to add to their ship.
Gain points for gold, cannons, and contraband, while covering up the rats. Be careful not to get caught with the most contraband though!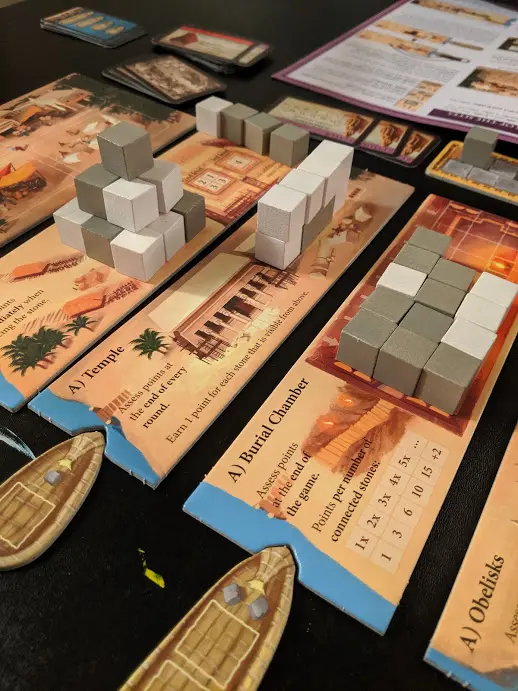 IMHOTEP
Imhotep by Thames and Kosmos has players loading stone onto ships and building pyramids, obelisks, and burial chambers.
The trickiest part is trying to plan which boat to put your stones on and where they will dock each round.
Ex Libris
Ex Libris is a fun game where players collect cards with book titles and carefully arrange them to build a bookshelf. Reading the (often punny) titles is part of the fun.
SpyMaster
SpyMaster by Calliope Games is a cyberpunk espionage game featuring a clever split-and-choose mechanism and tactical area control to complete missions.
Trekking the National Parks
In Trekking the National Parks by Underdog Games, players move around the board visiting National Parks and trying to collect park cards and stones.
Kids learn where the National Parks are located and interesting facts on the park cards. It is a fantastic choice for kids and adults alike.
Wakanda Forever
Wakanda Forever by Spin Master Games is a game for 3-5 players. Roll dice to collect vibranium and eliminate villains threatening Wakanda. Time your moves and challenge for the opportunity to be the Black Panther.
Qwirkle
Qwirkle is an abstract strategy game where you match up the color or shape on wooden blocks.
The trick is, you cannot repeat the same color or shape in the same row. If you place all six tiles in a row you score a Qwirkle!
Tile Laying Board Games
In tile laying board games, one of the main game mechanics is placing tiles throughout the game. In some cases this is for a player's own personal board or it's part of the game to create the play area together.
Carcassonne
Carcassonne is a classic modern board game where players draw tiles and lay them down, creating a unique countryside. Players try to build, control, and complete castles, roads, and monasteries for points.
Kingdomino
Kingdomino by Blue Orange games is quick and simple to play, but requires some planning to win.
It's a twist on classic dominoes where only one side of the tile has to match a previously placed tile. Your kingdom must stay within a 5×5 grid (except in a 2 player game, then it's larger).
We absolutely love playing this game. Scoring the kingdoms is great multiplication practice for the kids.
Queendomino
Queendomino is very similar to Kingdomino, but with some additional strategy. In Queendomino, there are also red city tiles where you can build using other tiles you buy.
The queen visits the kingdom with the most towers and she counts as an extra crown during scoring.
You can play Queendomino independently of Kingdomino, but you may also combine the two games together and play the Royal Wedding game variation.
Lanterns: The Harvest Festival
Lanterns: The Harvest Festival from Renegade Game Studios is a beautiful tile placement game.
You are an artisan trying to earn honor points for creating a display of floating lanterns in the palace lake for the upcoming festival.
You can watch us play this with our daughter in our Lanterns: The Harvest Festival board game playthrough.
Card Games
There are so many different types of card games that are perfect for family game night. These suggestions highlight deckbuilding games, set collection games, card laying games, and other games where the game play is focused on the use of cards.
Does your child have trouble holding all of their cards in one hand? Try this card holder for kids so it's easier for them to keep their cards from showing to everyone.
Conex
Conex is a great abstract card laying game to play with the kids. Lay cards on matching colors without touching other cards for points.
There are a few special abilities available for players. This one needs a large table or floor space to accommodate the unique spread of played cards.
Hero Realms
Hero Realms by White Wizard is a fantasy deck-building card game for two to four players. Players start with the same base decks and must purchase additional cards from the marketplace.
Use your cards to guard yourself and attack your opponent. This game involves plenty of mental math, which is great practice with the kids!
My husband and I frequently take this game along on trips and it is one of our most played games.
Tea Dragon Society Card Game
The Tea Dragon Society Card Game by Renegade Game Studios is an adorable card drafting game based on a graphic novel.
Even though you are trying to collect the most points, this game has an overall relaxing vibe.
Clank!
Clank! from Renegade Game Studios is a deck-building game where you are also using a board to sneak into a dragon lair to steal treasures.
It is a lot of fun and has a two sided board with different difficulty levels.
Virulence
Virulence is a set collection card game you are trying to infect cells.
It uses scientific terminology, which piqued my 6 year old son's interest in learning more about them. This is one of the things I love about Genius Games!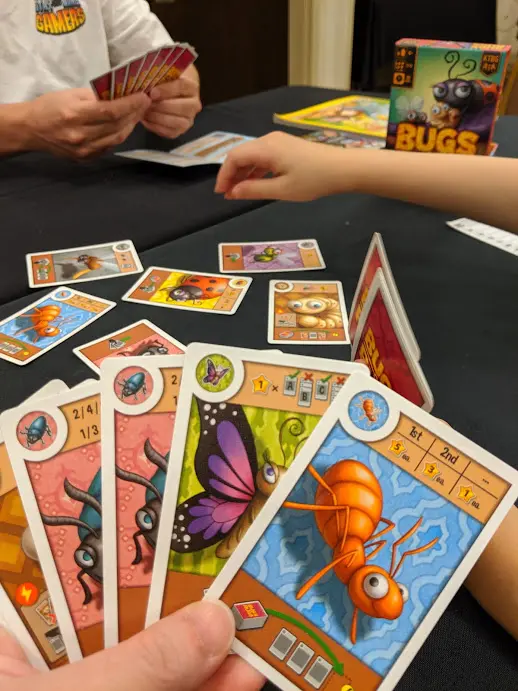 Bugs on Rugs
Bugs on Rugs by Kids Table BG is also a set collection game.
Players take turns drafting bugs from the Floor into their hand to make different sets; each bug type scores differently at the end of the game.
Simple rules, short play time, and lots of different ways to create cool scoring combos make this a perfect casual filler for players of all types.
Doxie Dash
Doxie Dash by Mackerel Sky Games is an entertaining card game. Each player has a Doxie Hero with special abilities.
Throughout the game you collect cards and create different combinations to earn points. The kids always giggle about the poo cards!
Sushi Go!
Sushi Go! by Gamewright is a set collection game where players earn points for putting together the best sushi combinations.
Fun way for kids to work on math without realizing it!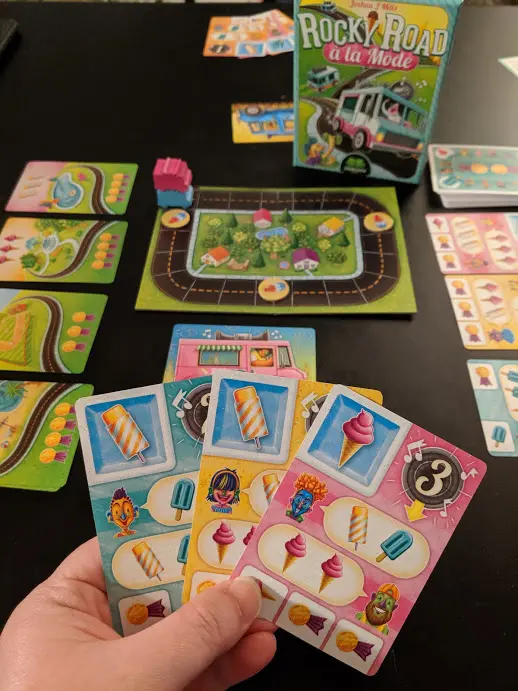 Rocky Road a la Mode
Rocky Road a la Mode by Green Couch Games is a fun, quick game for 2-4 players.
Players cruise the neighborhood stocking their truck, serving customers ice cream and popsicles, and trying to earn the most victory points.
Filler
Filler by Green Couch Games is a fun pastry themed set collection card game. Players secretly bid to see who will arrive at work the earliest then collect ingredients and bake sweet desserts.
Karuba the Card Game
Karuba the Card Game is a variation of the popular board game by HABA. Players lay down cards to create paths for their adventurers while trying to outsmart their opponents.
Dungeon Mayhem
Dungeon Mayhem is a super quick card game where you use your character's deck to fight other players. The classes are based on Dungeons & Dragons. The last player standing wins.
Not Parent Approved
Not Parent Approved is one of my daughter's favorite games. It's a card game where you fill in the blanks with cards from your hand to make hilarious sentences.
It's full of kid-friendly options that will make them laugh out loud. It's a casual game that requires virtually no set-up other than setting out the cards.
Robotlab
In RobotLab the Card Game by XYZ Game Labs, players are building a robot. Be the first to collect all the parts you need, but watch out because your opponent can slow you down by adding the wrong parts.
Inoka
Inoka by XYZ Game Labs is small "rock-paper-scissors" style card game with beautiful artwork. It's a fun, casual game.
Friday the 13th
Friday the 13th by Iello is a quick and easy card game for 3-6 players where you try not to have bad luck by picking up too many cards or score too many points. This is great for kids of all ages, even younger ones, because there is no reading involved.
Apocalyptic Picnic
What better way to bond with your family than to play a game where a radioactive potato salad starts turning everyone into zombies? Apocalyptic Picnic by Winning Moves Games is a fun card game for 2-6 players.
Use food and equipment cards to keep your family members healthy and try to turn other players' family members into zombies. Keep an eye out for Grandma's chicken noodle soup because it cures everything.
Trapper Keeper Game
The Trapper Keeper Game by Big G Creative is a must for those of us who love childhood nostalgia and can be found at Target.
This card game will take players back in time to the 1980s and 90s where they will strategically stash cards in their Trapper Keeper folders.
Collect homework, doodles, quizzes, signatures, report cards, notes from classmates, and field trip slips to see who can score the most points.
Roll and Write Games
Roll and write games come in a variety of themes and are loads of fun to play.
The gameplay generally consists of rolling dice or flipping cards that players must choose from to mark things off on their paper.
One of the most classic examples of a roll and write game is Yahtzee.
Welcome To… Your Perfect Neighborhood
Welcome To… Your Perfect Home by Deep Water Games is one of our favorite games to teach people. It's a flip and write game that can accommodate 1-99 players.
In this game, you are building houses on three streets of a new town. Players choose a pair of cards to add to their street from the 3 sets available each round.
Each set features a house number paired with type of housing development such as a park, pool, fence, or real estate value.
Qwixx
Qwixx is a fast roll and write dice game. It's an engaging way to practice math with the kids. It's one we frequently recommend to other families.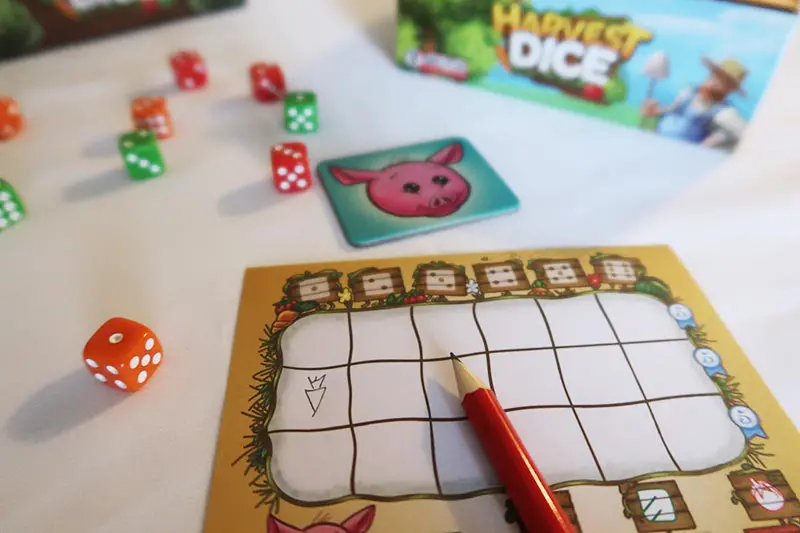 Harvest Dice
Harvest Dice by Grey Fox Games is a cute vegetable garden themed roll and write game.
Players take turns drafting dice (red for tomatoes, green for lettuce, and orange for carrots) and planting them in their garden.
We think it's fun to draw the little veggies, but you could write T, L, or C in their respective squares instead.
Castles of BURGUNDY the Dice Game
Castles of Burgundy the Dice Game is similar to the full Castles of Burgundy game, but different enough that we enjoy playing both of them.
The dice version is a great option when we want to play Castles but are short on time.
Deadly Doodles
Deadly Doodles by Steve Jackson Games is a unique game where 1-4 players simultaneously draw paths through a dangerous dungeon.
Draw cards, draw a path through your dungeon, and rack up points! Collect loot and fight monsters…or run away screaming! Can you defeat the dragon for the big score?
SteamRollers
In SteamRollers by Stronghold Games, players are rolling and drafting dice in order to strengthen their steam engine, draw train tracks, or deliver supplies from one city to another.
Kingdomino Duel
In Kingdomino Duel by Blue Orange Games, instead of adding domino tiles to your kingdom, players will choose two dice to combine into a single "domino" that must then be drawn into their kingdom.
Dungeon Academy
The Dungeon Academy by The OP has players rolling dice to create a dungeon. They also have a piece of paper with 4×4 grids for the dungeons they will go through.
Get ready to battle monsters, collect potions, and grab loot to obtain glory points.
Dice Games For Families
These game suggestion focus on using dice to play the game. There is a lot of variety in the types of dice games families can play!
Dragonwood
Dragonwood is a great dice and card game for kids.
Players are adventurers using cards and dice to capture creatures in the forest. Who will defeat the dragons first?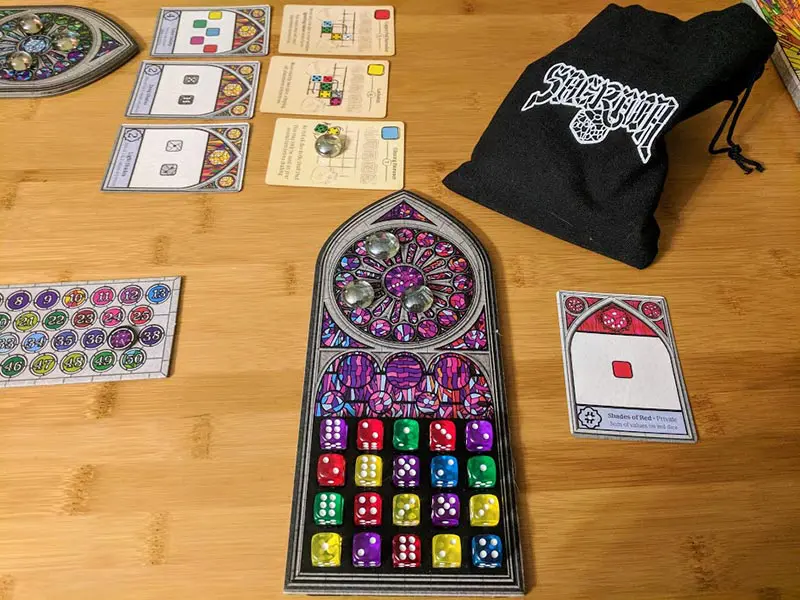 Sagrada
Sagrada by Floodgate Games is an abstract puzzle game where players roll and draft beautiful dice to create a stained glass window.
Placement restrictions and bonus scoring objectives make this game a fun challenge.
Zombie Dice
Zombie Dice by Steve Jackson Games is a press your luck game where you are a zombie trying to collect brains!
Keep the brains you rolled or press your luck by trying to roll more. Watch out because some run away and others fight back, which may cause you to lose all your brains.
Roll for Adventure
Roll For Adventure by Thames & Kosmos is a cooperative dice rolling game.
Players must band together to collect the fabled power stones and complete the magical amulet. If they succeed, they'll save the empire and win the game.
Hero Kids RPG
Hero Kids RPG is not a regular board game. It is a tabletop roleplaying game designed for kids.
It's a fantastic way to introduce kids to RPGs like Dungeons & Dragons in a more streamlined way using only 6 sided dice.
Call to Adventure
Call to Adventure by Brotherwise Games is a unique storytelling game where you collect cards to help tell the origin story of your character.
Instead of rolling dice, players cast runes. You can learn more in our Call to Adventure game review.
Roll Player
Roll Player by Thunderworks Games is one of my favorite dice games. It is longer and better suited for playing with older children and other adults.
This makes a game out of rolling dice for character creation. The expansion Monsters & Minions also has you fighting enemies.
Cooperative Board Games
Playing cooperative games with your kids can teach them important skills they can use in life beyond gaming.
The best part is, children don't even realize they are learning these things because they are having so much fun playing the game with you!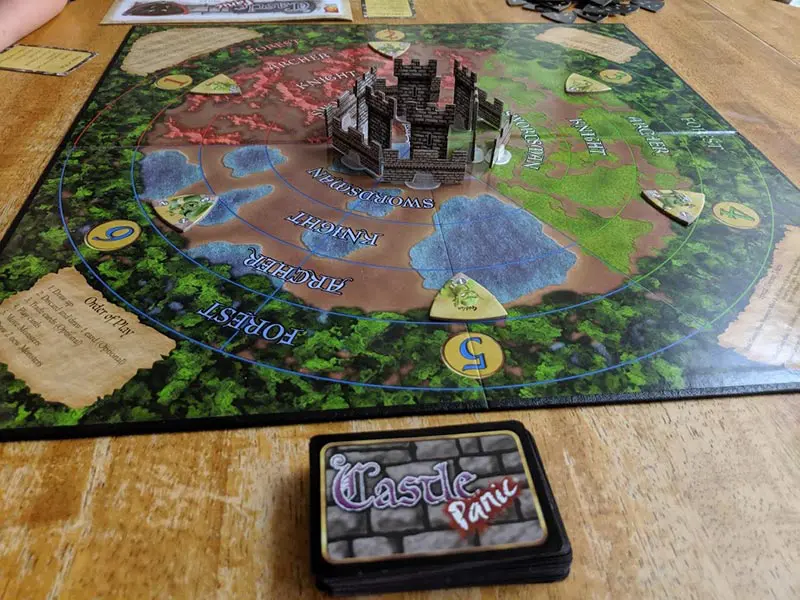 Castle Panic
Castle Panic by Fireside Games is a cooperative tower defense game.
Work together to defeat the incoming enemies and keep them from knocking down your castle walls and towers.
Pandemic
Pandemic by Z-Man Games is a cooperative game where players work together to cure diseases and try to keep them from spreading. Every player has a special role to assist the team.
Forbidden Island
Forbidden Island is a great cooperative family game. It is not specifically designed for kids, which makes it fun to play with all adult players or with a mix of adults and kids.
Players work together to collect treasures and make it back to the helicopter launch pad before the island sinks. There are additional games in this series as well: Forbidden Desert and Forbidden Sky.
SOS Dino
SOS Dino by Loki Kids is a great option for playing with kids, especially if they don't like competitive board games.
Players work as a team racing against the lava flow tiles and trying to avoid meteorites while attempting to save eggs and dinos.
It's not easy to save them all, so sacrifices may be made.
Zombie Kidz Evolution
Zombie Kidz Evolution is a new cooperative family game by Iello that evolves as you play it (also known as a legacy game). Players must work together to stop the zombies from invading their school.
There is a progress chart where you keep track of your wins and achievements. The game also comes with 13 sealed envelopes.
As you progress, you will be instructed to open them. The envelopes contain items you will add to the game and increase the challenge.
5 Minute Dungeon
5 Minute Dungeon by Spin Master Games is a unique cooperative card game that is played in real-time. That means there is no turn taking because everyone plays their cards at the same time.
Communicating about what cards you have and working as a team are a must to defeat the dungeon bosses. My kids love playing this game and you can watch us play through 5 Minute Dungeon here.
Ghost Fighting Treasure Hunters
Ghost Fighting Treasure Hunters by Mattel is a game for 2-4 people. Players enter an old haunted house in search of treasure.
Everyone works together in order to collect the treasures and escape the house to win the game. Be careful of what you roll and where you go, or you may have to fight a ghost!
Heist: One Team, One Mission
Heist: One Team, One Mission by University Games is a cooperative electronic game where players take on the roles of different characters and work together to open an electronic safe and grab $50 million in cold hard cash along the way.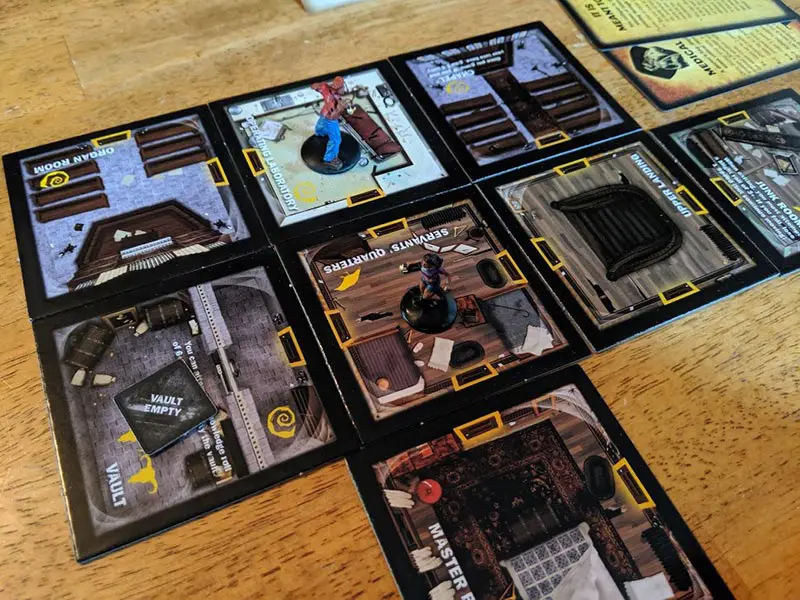 Betrayal at House on the Hill
Betrayal at House on the Hill by Avalon Games is by far the spookiest title on this list. It is a 3-6 player game and a great choice to play with tweens, teens, or adults.
This game is quite unique because there are several different haunt scenarios that could be triggered as you and the other players explore a creepy old mansion that you build room by room.
The game is mostly cooperative. Everyone works together in the beginning and secretly one player betrays the rest of the group.
The anticipation quickly builds because you know the chance of triggering the haunt is greater with every turn.
The rooms of the house (and this game in general) has scarier elements to it, which is why we recommend it for older kids.
If you enjoy playing this one, there is also an expansion you could try or the Betrayal Legacy game, which explores what happened to the family that previously lived in that house.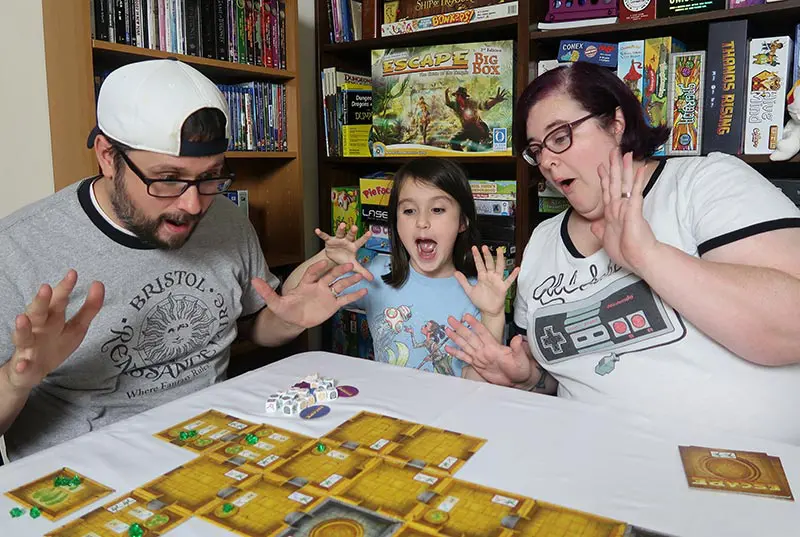 Escape: The Curse of the Temple
Escape: The Curse of the Temple by Queen Games is a real time cooperative game. This means everyone is playing simultaneously.
Players are adventurers trying to recover gems from a cursed temple. The music soundtrack (which is also a timer) can make the game feel more intense and sound a bit scary at times.
Everyone is working together, but there isn't a lot of time to stop and discuss what you are doing. We enjoy playing it and you can watch us play through Escape: Curse of the Temple with our daughter.
There is also a zombie version of the game, which would also be an excellent pick for gaming on Halloween.
Thanos Rising
Thanos Rising is a dice rolling cooperative game where players recruit members of the Avengers and fight against Thanos and his crew. It's not easy to win, but it is oh so satisfying when you do.
Board Game Party Games
These party games are great options for family game night and for large family and friend gatherings.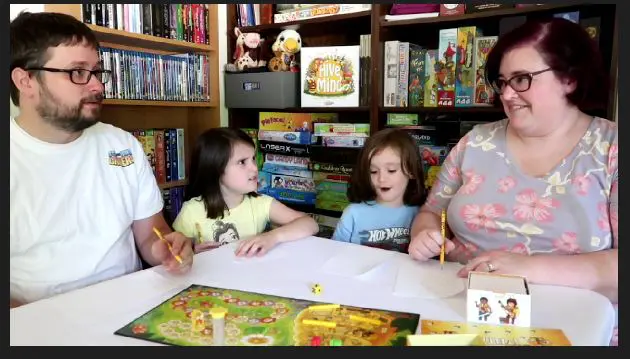 Hive Mind
Hive Mind by Calliope Games is a great family game, especially for those who do not enjoy playing trivia games.
In this game, there are no wrong answers, but you want to have the same answers as everyone around you.
The bees who don't think like the rest of the hive will slowly move towards the exit. The best part is when someone's answer prompts a story.
Hive Mind is great for family holidays because it easily accommodates three to 12 players and is ready to play straight out of the box. It even comes with pre-sharpened pencils!
Balderdash
Balderdash is one of my favorite party games to play with friends.
Players make up answers for the theme prompt and hope others vote on theirs instead of the real answer (that is also read as an option).
Telestrations
Telestrations by The OP is a blast to play with family and friends. It's essentially turning the classic game of "telephone" into a drawing party game. The regular edition is for 4-6 players, but there is a larger party edition for even more players.
When your book comes back to you, enjoy laughing as you flip through to see the hilarious path it took from your word to the end picture or be amazed at how it stayed on track!
Codenames
Codenames is a great family party game that encourages communication and teamwork. Everyone is divided up into two teams.
See which team can identify their cards first only using one word clues. You'll need to get creative with clues so you don't give anything away to the other team!
There are a few themed variations of this game too, such as Disney, Marvel, and Harry Potter.
Speechless
Speechless is a fun twist on charades for 3 or more players. One person acts out the words on their cards and everyone else writes down their answers.
Ultimate Werewolf
Ultimate Werewolf by Bezier Games is a fun social deduction party game. The deluxe edition can have up to 75 players. It's best with at least 6 people.
For this game, you need a moderator to run the game and split everyone else up into two teams. They will either be a villager or a werewolf.
The villagers don't know which players are werewolves and the werewolves try to keep their identity secret while slowly eliminating one villager at a time.
There are also different variations for smaller groups of 3-10 players: One Night Ultimate Werewolf, One Night Ultimate Vampire, and One Night Ultimate Supervillains.
Blank Slate
Blank Slate by The OP is a fun fill-in-the blank word game for three to eight people. It's easy to teach and have new players join in. The twist on this one is you try to think of a word only one other person will write down too.
Happy Salmon
Happy Salmon is a silly card game where players shout out the action on their card, looking to match it with someone else before playing their next card.
Googly Eyes
Googly Eyes by Goliath Games is a goofy drawing game the kids love to play. There are three pairs of lenses that alter your vision, making it difficult to draw.
Your teammates may spend more time laughing than guessing like my daughter!
Wits & Wagers Family Edition
Wits & Wagers Family Edition by North Star Games is a fun trivia game where you don't necessarily have to be good at trivia. One person reads the question and everyone writes down their answers.
Everyone shows their answers and then you can choose which answer you think is correct or the closest to the correct answer. The player with the most points at the end wins.
2 Player Only Board Games
Family game night does not always mean a game with lots of people playing.
These games are designed for only two players and are great options for one-on-one time with your child, spouse, or a friend.
Star Realms
Star Realms by White Wizard is a space themed deck building game. The gameplay is the same as Hero Realms, but the base game for Star Realms is designed for only two players.
Lost Cities
Lost Cities is a fun card game where players are leading expeditions in different areas of the world.
Earn points for obtaining funding and making enough progress on the expedition to satisfy investors.
Patchwork
Patchwork is a fantastic two player abstract puzzle game. It's quilt themed, where you use button currency to buy shapes to add to your quilt board.
Try to fill it up because open squares are negative points.
Hanamikoji
Hanamikoji by Deep Water Games is a card game where you are trying to collect items to win the favor of the Geishas.
The tricky part is, you only have 4 different actions you can do each turn and you will need to trade some cards with your opponent.
Othello
Othello is a classic two player game. It is an abstract strategy game where one player attempts to have the most colored discs on the board.
To achieve this, one must strategically place their discs in order to flip their opponents pieces over to their color.
Kahuna
In Kahuna, you try to take control of more islands than your opponent. Build bridges for yourself and sabotage the other player's bridges.
Duelosaur Island
Duelosaur Island by Pandasaurus Games is the two player variation of their larger Dinosaur Island Game, but without the meeples. Who will build the most exciting dino park and have the most visitors?
Dexterity Board Games
Dexterity board games are great for kids to play, especially if they have trouble sitting still for a long time.
These types of games will help players work on fine motor skills too. The game play focuses on using abilities such as flicking, tilting, shaking, stacking, and balancing objects.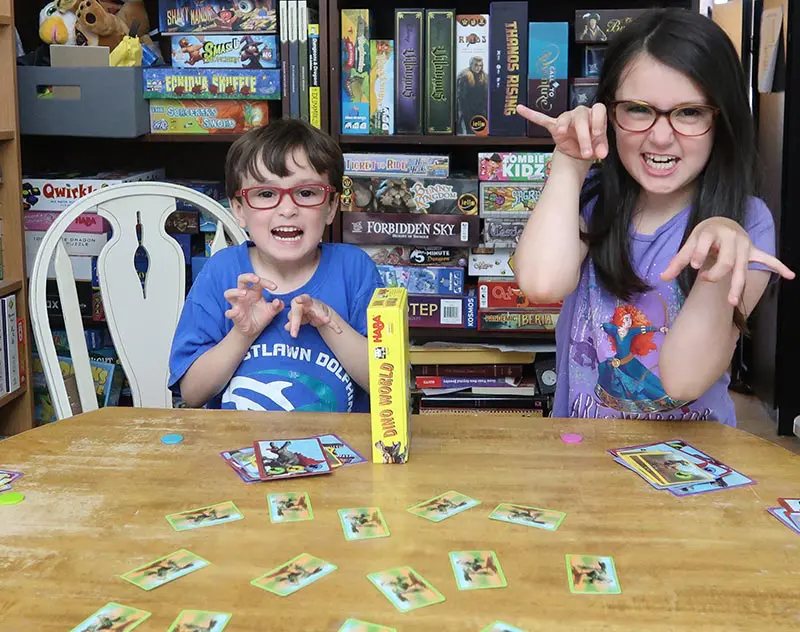 Dino World
Dino World by HABA is one of my son's favorite games. Take turns flicking dinosaur cards off the hunting rock (the box) and try to capture dinosaurs smaller than you.
Ice Cool
Warm up your fingers for this fun penguin flicking game. Ice Cool by Brain Games is a dexterity game where you are trying to collect your fish.
You can play Ice Cool and Ice Cool 2 separately or combine them for a larger game layout.
Animal Upon Animal
Animal Upon Animal by HABA is a dexterity game where players compete to stack all of their wooden animal pieces on the pile.
There are a few different versions of this game, including an edition perfect for toddlers called "My Very First Games Animal Upon Animal."
Circus Puppy
In Circus Puppy, carefully move and stack paper dogs on one of the circus platforms. Be careful not to knock them down!
Shaky Manor
Shaky Manor by Blue Orange Games is a fun dexterity game for 1-4 players, age 6 and up.
Players must shake and jiggle their tray to move the game pieces through the doorways until only the listed items are in the designated room.
Rhino Hero
Rhino Hero by HABA is a card stacking game for two to five players. It is recommended for ages five and up.
We recently gave this one as a gift and it was a hit!
Unicorn Glitterluck Cloud Stacking
Players work together in Unicorn Glitterluck Cloud Stacking to gather all the crystals and carefully stack unicorns and clouds on top of the castle.
Yogi
Yogi is a dexterity party game. The small tin easily fits in my bag and it doesn't take long to start playing and feeling like a human pretzel!
Board Games for Preschool and Kindergarten Children
While most of the games on our list can be played with a variety of ages, these suggestions are board games perfect to play with preschoolers and kindergartners.
You won't mind playing these with your kids because they aren't boring like many kid games can be; however, you probably won't take this to game night with your adult friends.
Cauldron Quest
Peaceable Kingdom has an amazing line of co-op games for kids, but Cauldron Quest was one of the first we ever owned.
Players work together to find the three ingredients needed to break the wizard's spell. Once found, you must move them into the cauldron, but watch out for the wizard! He will try to block your path.
Slap It!
In the game Slap It! from Renegade Game Studios, monsters are coming in through a portal! Be quick to slap the correct monster based on the dice rolled. Will you spot the smallest red monster first?
Farmini
Farmini is a cute little tile placement game for kids where you are building a farm and trying to keep the wolves from scaring away your animals.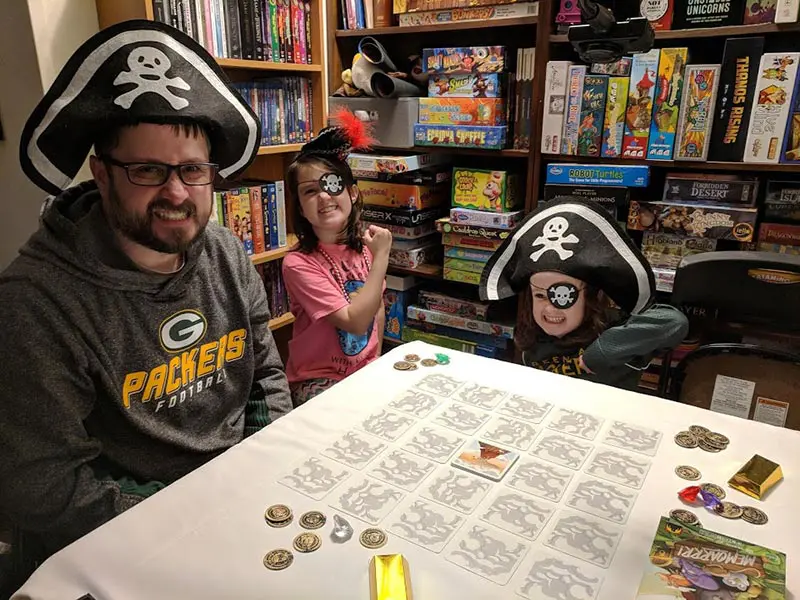 MemoArrr!
MemoArrr! from Stronghold Games is a memory game with a fun twist. The animals are trying to escape the island with the most treasure, but they don't remember the way back to the pirate ship.
You keep all of the cards in the same locations for seven rounds. Each player has to flip over a card that matches the animal or background of the previous player's card. I enjoy playing this one with my kids!
Outfoxed
Outfoxed is a fun deduction game. Players work together to figure out which fox stole the pot pie before the fox escapes.
The way the fox moves is like a built in game timer. The kids like when one of them gets to be in charge of the clue decoder.
Rivers, Roads, and Rails
In Rivers, Roads, and Rails players draft tiles and work to continue building the town by matching up to existing rivers, roads, and rails.
The kids also like to draw random tiles to create a town without playing the actual game. This was also one of Brian's favorite games as a kid!
Dragon's Breath
In Dragon's Breath, carefully remove the ice rings (which the dragons are melting) and collect your gem colors.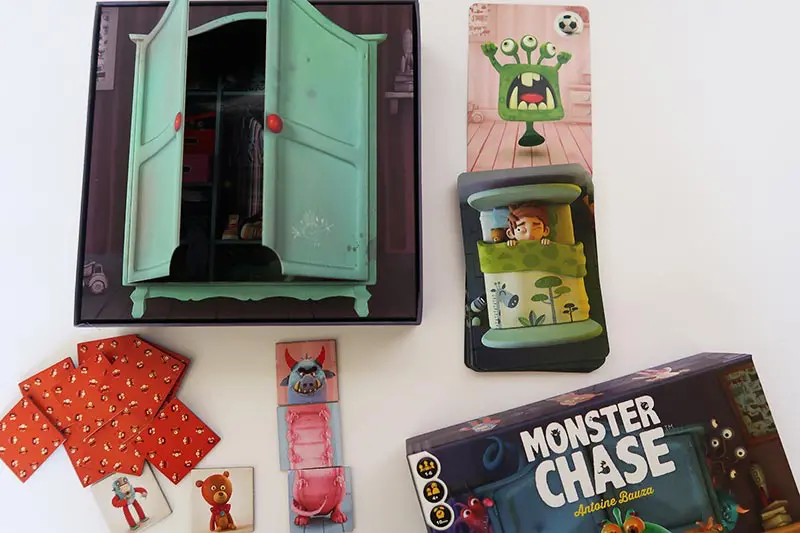 Monster Chase
Monster Chase is a cooperative memory game by Iello. This is a great option for kids ages 4+. Players work together to find the matching toy to scare each monster back into the closet.
There is also a competitive variant so you can make the game more challenging if you want.
Monster Match
Monster Match by North Star Games is a fast paced game that is simple to play and doesn't require any reading.
Roll the dice and be quick to grab the monsters that match what was rolled!
More Family Activities You May Enjoy: