Need fun Christmas activities for kids? This decorate a Christmas tree game is an engaging holiday themed game that provides young children an opportunity to practice early math skills.
It's ideal for preschool and kindergarten children, but kids of all ages can enjoy playing the game. Young learners can play it solo or with a small group. All of which makes it a great low prep classroom activity for a Christmas themed math center or school holiday party.
Roll A Christmas Tree Printable Dice Game
My favorite way to keep my kids engaged in learning is by playing board games. Playing games helps reinforce concepts while keeping learning fun.
Repetition is also important in the learning process, which is why I love changing things up using seasonal and holiday themes. December is an excellent time to pull out holiday activities like this one.
This game is simple to play and can help preschool and kindergarten children work on number recognition and subitizing when rolling the die and following the directions.
For older children, you could adjust the dice key and incorporate addition, subtraction, or multiplication facts based on rolling two dice.
This post contains affiliate links. As an Amazon Associate and a participant in other affiliate programs, we earn a commission on qualifying purchases.
Scotch TL902VP Thermal Laminator, 1 Laminating Machine, White, Laminate Photos, Holiday Decor and Gift Tags, For Holiday, Office and School Supplies, 9 in.
110 of Pack Dice Set, Colored Game Bulk Dices, Colorful Dices, 6 Sided Dice for Classroom Teaching, Board Game, Playing, Rolling, Small Six Sided 11 Color Red, Yellow, Blue, Green and More Rerdeim
Hobby Monsters 10 D6 16mm White Dice with Multi-Colored Pips
Avery 73601 Self-Adhesive Laminating Sheets, 9 x 12 Inch, Permanent Adhesive, 50 Clear Laminating Sheets
Benefits of Playing Decorate a Christmas Tree Dice Game
Playing the 'Decorate a Christmas Tree' dice game offers a wealth of benefits for children. First and foremost, it's a fun and engaging way to practice early math skills.
As children roll the dice, they naturally work on number recognition, associating the dots on the dice with numerical values.
It also encourages the development of subitizing skills – the ability to 'see' a small amount of objects and know how many there are without counting. This is a fundamental math skill that forms the basis for more complex mathematical concepts.
Plus, following the game's directions helps cultivate listening skills and the ability to follow instructions. In addition, the game's festive theme keeps young learners excited and motivated, turning learning into a joyful holiday activity.
More Christmas Printable Games for Kids
In addition to this dice game, there are a plethora of other printable games for kids that can keep children entertained throughout the holiday season. These games not only serve as a fun distraction during the holiday break, but also work as excellent resources for Christmas themed math centers and classroom activities. They help in reinforcing early math skills while keeping them interactive and engaging.
Items Needed for the Decorate a Christmas Tree Game
Christmas Tree card and decoration cards – The printable set (available below) includes a Christmas tree card, decoration pieces such as garland, ornaments, and presents, and a dice key.
Dice – Each player needs one die or can take turns using one. This red, green, and white set of dice would be perfect!
One or more players – You can decide to add an element of competition to the game if you wish, or keep it as a simple activity.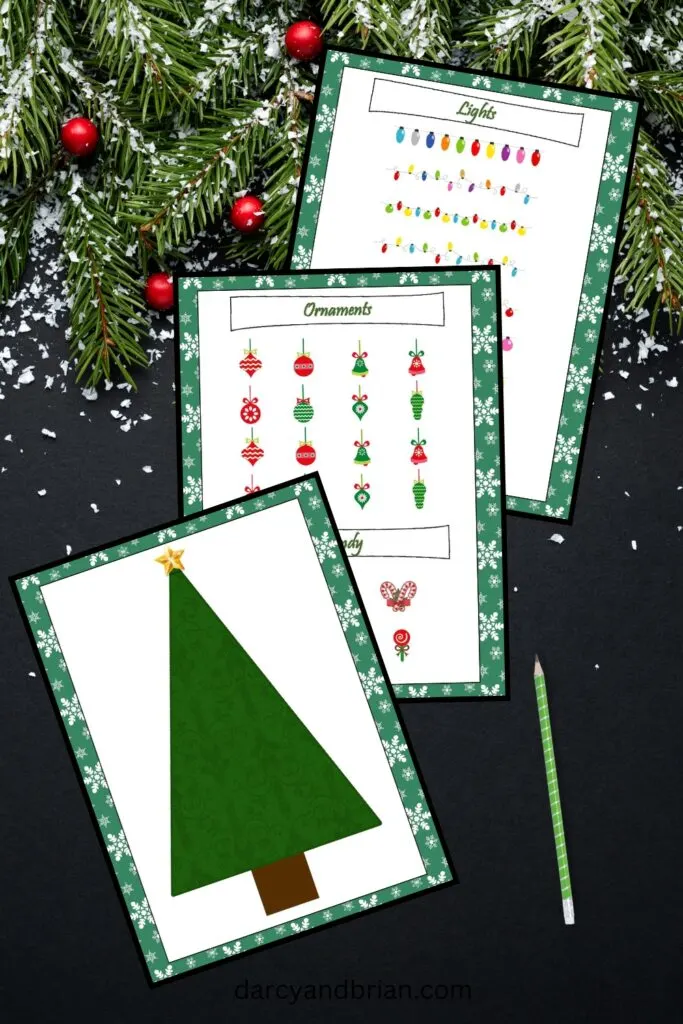 How to Play the Decorate a Christmas Tree Game
Once you have the printable roll and decorate a Christmas tree game for kids, it needs to be printed out. I highly recommend printing everything out on white card stock paper or laminating it for better durability.
Print as many tree cards as needed. If multiple children will be playing together at the same time, each one needs a tree card and everyone can share the decoration embellishment cards.
If you want each student to have their own set, then print out the complete game set for each child.
Cut out the decoration cards and set them aside.
Roll the die and match the number to the dice key and follow the directions for which embellishment to add!
See who can roll one of each type first and share your decorated Christmas trees with each other. Then slide the cards off and start rolling to decorate again!
More Christmas Learning Activities for Kids
Expand your holiday learning unit with a variety of fun, educational Christmas activities. One excellent option is our Christmas Tree Size Sorting activity. This game helps children understand the concept of size and improves their categorization skills by having them arrange Christmas trees in order of size.
Another wonderful addition to your themed unit could be a Christmas color matching game, where children match festive items like gingerbread men, stockings, or candy canes with their appropriate colors.
Don't forget to incorporate the Christmas Memory Game into your festive educational activities. It's a captivating exercise that enhances children's concentration and cognitive abilities as they attempt to match pairs of Christmas-themed cards from memory.
Lastly, consider including a Christmas Alphabet Hunt. In this exciting game, kids search for letters hidden in a Christmas scene, honing their letter recognition skills in the process.
These activities are not only perfect for a school setting, but can also keep little ones entertained and learning at home during the winter break.
Christmas Books for Kids
Incorporating Christmas-themed books into your holiday learning unit is a fantastic way to immerse children in the festive spirit. It not only reinforces the themes they're exploring through games and crafts but also enhances their language skills and expands their understanding of holiday traditions.
Engaging stories like "The Snowy Day" by Ezra Jack Keats or "How the Grinch Stole Christmas" by Dr. Seuss can ignite their creativity and curiosity.
Remember, story time isn't just for quiet, individual reading – it can also be a communal activity where children share their thoughts, ask questions, and learn from each other.
Coupling reading with hands-on activities such as games and crafts makes for a holistic, enjoyable, and enriching learning experience.
The Snowy Day Board Book
How the Grinch Stole Christmas!: Full Color Jacketed Edition (Classic Seuss)
How to Catch a Reindeer
Frosty the Snowman (Frosty the Snowman) (Little Golden Book)
Pete the Cat: Snow Daze: A Winter and Holiday Book for Kids (My First I Can Read)
The Littlest Elf
Easy Christmas Crafts for Kids
These Christmas craft ideas, designed for young learners, blend festive fun with artistic exploration, providing excellent opportunities to develop fine motor skills. Imagine the wonder on their faces as they construct a jolly Santa from cotton balls, or the excitement as they create their very own unique Christmas ornaments.
What's more, these Christmas crafts for kids can beautifully complement the Christmas-themed games, book reading sessions, and other educational activities, making the learning journey all the more enriching and enjoyable!
So there you have it! The Decorate a Christmas Tree game is a fun way of promoting early math skills among young learners. This engaging holiday activity, perfect for both individual and group play, blends the joy of the holiday season with the thrill of learning. It's an ideal way to make holiday parties or Christmas-themed math centers entertaining and educational.