This Roll A Christmas Tree printable game is a fun and easy Christmas game for kids to play.
It's perfect for kids of all ages, can be played solo or with multiple people, and it's easy to set up. All of which makes it a great low prep classroom activity for a math center or school holiday party.
Want more fun Christmas activities for kids? Don't miss our printable Christmas tree size sorting activity and Christmas workbook with coloring pages and learning activities.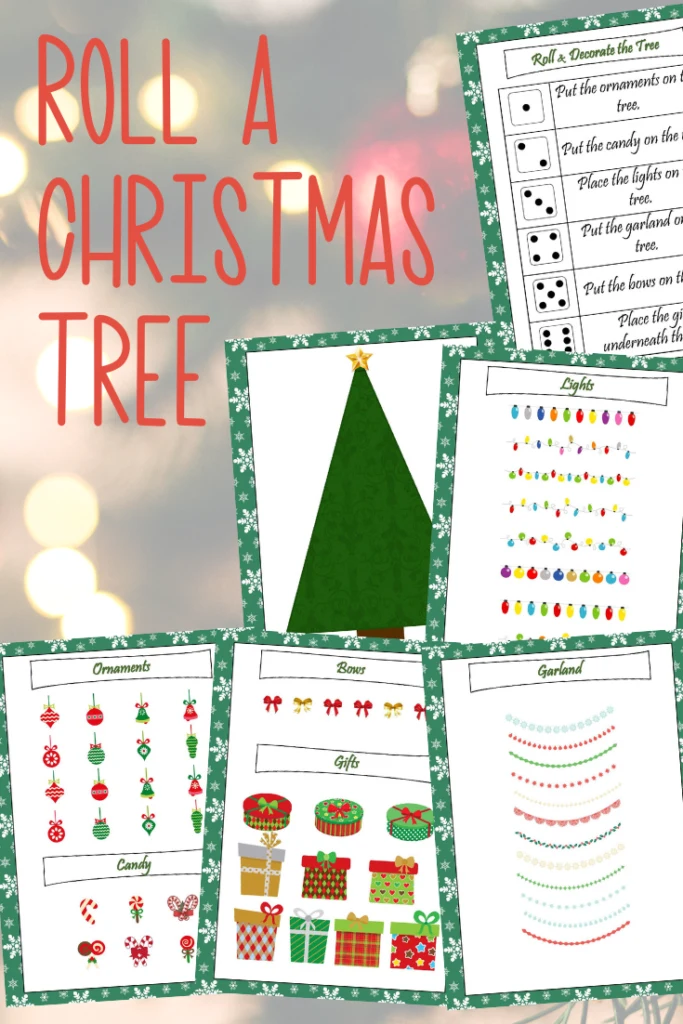 This post contains affiliate links. As an Amazon Associate and a participant in other affiliate programs, we earn a commission on qualifying purchases.
Roll A Christmas Tree Printable Dice Game
My favorite way to keep my kids engaged in learning is by playing board games. Playing games helps reinforce concepts while keeping learning fun.
Repetition is also important in the learning process, which is why I love changing things up using seasonal and holiday themes. December is an excellent time to pull out holiday activities like this one.
This game is simple to play and can help preschool and kindergarten children work on number recognition and subitizing when rolling the die and following the directions.
For older children, you could adjust the dice key and incorporate addition, subtraction, or multiplication facts based on rolling two dice.
What You Need to Play Roll A Christmas Tree
Christmas Tree card and decoration cards – The printable set (available below) includes a Christmas tree card, decoration pieces such as garland, ornaments, and presents, and a dice key.
Dice – Each player needs one die or can take turns using one. This red, green, and white set of dice would be perfect!
One or more players – You can decide to add an element of competition to the game if you wish, or keep it as a simple activity.
How to Play Roll a Christmas Tree Game
Once you have the printable Roll a Christmas Tree game for kids, it needs to be printed out. I highly recommend printing everything out on white card stock paper and laminating it for better durability.
Print as many tree cards as needed. If multiple children will be playing together at the same time, each one needs a tree card and everyone can share the decoration embellishment cards.
If you want each student to have their own set, then print out the complete game set for each child.
Cut out the decoration cards and set them aside.
Roll the die and match the number to the dice key and follow the directions for which embellishment to add!
See who can roll one of each type first and share your decorated Christmas trees with each other. Then slide the cards off and start rolling to decorate again!
Download Roll a Christmas Tree Game Printable
Click the Get Printable button below to download and save the Roll a Christmas Tree Game.
You can print this activity out at home or at a local printing shop. It is for your own personal or classroom use only.

More Christmas Printables:
More Printable Games for Kids: