These printable Halloween Would You Rather question cards are one of our most popular printable games for kids because they love answering this or that questions!
It's also a lot of fun to see who else picks the same answer as you! Plus, it's the perfect game to play that's not competitive since the focus is on social interaction.
Not only do they make a great family game to play at home, but you can also use these as conversation starters during dinner, in the car, or even in the classroom.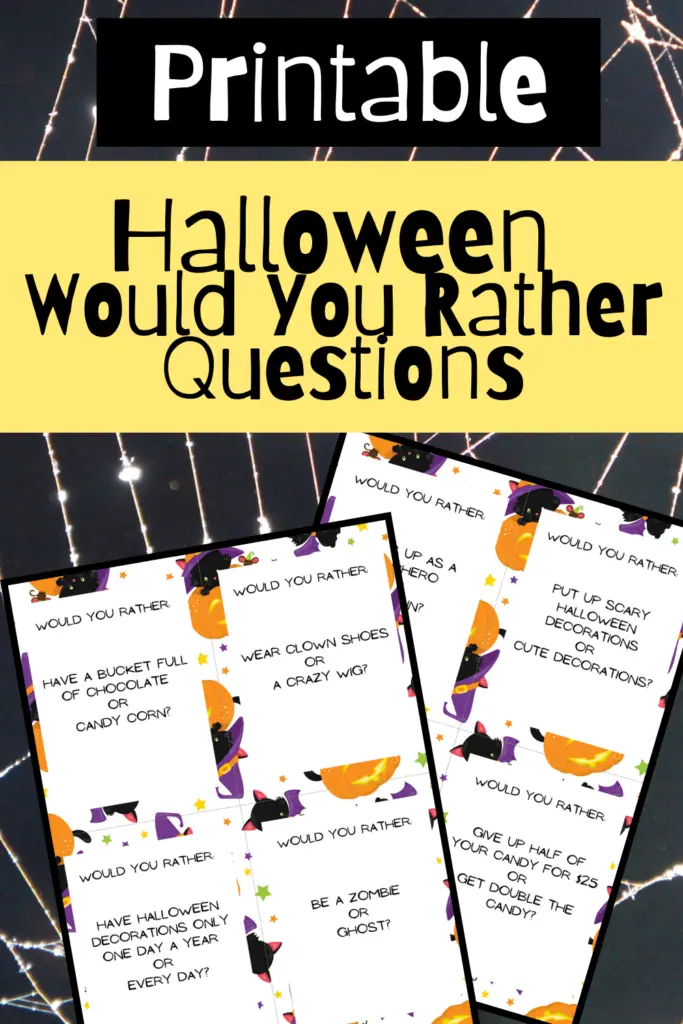 Would You Rather questions for kids are a great conversation starter and can provide interesting insight into what your child likes and how they consider their options.
These would make a great addition to a Halloween party too!
More Fun Games for Kids
Games are an excellent tool for honing social skills in children. They encourage cooperation, communication, and understanding as kids team up, express themselves, and learn to consider other perspectives.
Moreover, games provide a wonderful respite from the everyday routine, allowing kids to unwind, enjoy, and create memorable experiences.
If you love playing games with your kids as much as I do, then you must check out this list of board games for family game night too.
This post contains affiliate links. As an Amazon Associate and a participant in other affiliate programs, we earn a commission on qualifying purchases.
SUSSED The Wacky 'Would You Rather' Card Game – Cool Blue Deck: 200 Conversation Questions About Life – Travel Gift for Teens, Kids & Adults – All Ages 10 and Up
Do You Really Know Your Family? A Fun Family Game Filled with Conversation Starters and Challenges – Great for Kids, Teens and Adults
Pick Your Poison Card Game: The "What Would You Rather Do?" Game for All Ages – Family Edition
Skillmatics Card Game – Train of Thought, Family Connection & Conversation Starters, Gifts for Ages 6 and Up
SUSSED The Wacky 'Would You Rather' Card Game – Family Fun for 2+ Players – Gift for Kids & Adults – Travel Size – Yellow Deck, All Ages 6 and Up
200 Family Conversation Cards – Questions to Get Everyone Talking & Building Relationships – Fun Family Games for Kids and Adults – Get to Know Each Other Better for Family Game Night or Road Trip
What Can Kids Learn With Would You Rather Questions?
Would You Rather questions for kids are a great way to get your child thinking outside the box and considering multiple perspectives. It can also be an effective way of introducing them to some of life's moral dilemmas, such as choosing between what is right and wrong.
Moreover, they can help children sharpen their problem-solving skills and hone their decision-making abilities. Kids can learn to think critically, weigh the pros and cons of each situation, and come up with the best possible answers.
Ultimately, Halloween Would You Rather questions for kids are an entertaining way to help your child develop important life skills!
Free printable available at the end of this post.
What's Included in This Printable Set?
This printable set features 20 Halloween-themed "Would You Rather" question cards along with instructions on how to play. Some sample questions include:
Would you rather be a vampire or a werewolf?
Live inside a jack-o'-lantern or a haunted house?
Have bat wings or fangs?
Tell ghost stories or watch Halloween movies?
Make your own costume or buy one?
Please note that this set is intended for personal or classroom use only.
Feel free to share this post with a friend or teacher who would enjoy playing this game with their kids and obtaining their own printable set.
By filling out the form at the end of the post, you can receive your free copy.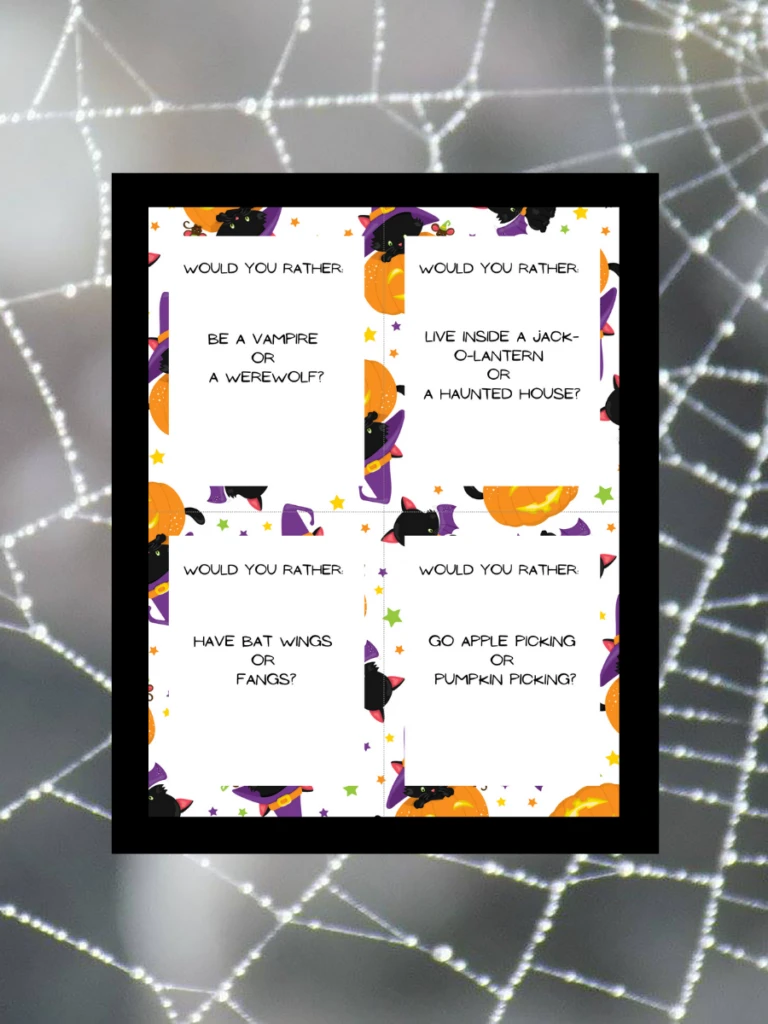 Recommended Items for Using Halloween Would You Rather Questions for Kids
This no-prep activity is perfect for those on the go! All you need is a printer, like our favorite Epson EcoTank printer, and a paper cutter for easy separation of the question cards.
For optimal durability, I recommend printing the cards on cardstock instead of regular printer paper.
If you plan to use them multiple times or in a classroom setting, laminating them is highly recommended.
You can use a laminating machine or self-adhesive laminating sheets that don't require a machine.
Once the question cards are laminated, simply use a hole punch and book rings to make it portable.
If you prefer not to print, you can save the file and access it on your phone or tablet. It's a convenient print-and-go activity!
Epson EcoTank ET-3830 Wireless Color All-in-One Cartridge-Free Supertank Printer with Scan, Copy, Auto 2-Sided Printing and Ethernet – The Perfect Printer Productive Families,White
Astrobrights/Neenah Bright White Cardstock, 8.5
Firbon A4 Paper Cutter 12 Inch Titanium Paper Trimmer Scrapbooking Tool with Automatic Security Safeguard and Side Ruler for Craft Paper, Coupon, Label and Cardstock (Black)
Classroom Timers for Teachers Kids Large Magnetic Digital Timer 2 Pack
TIHOOD 24PCS Sand Timer Assortment Plastic Sand Clock Timer 30s / 1min / 2mins / 3mins / 5mins / 10mins for Adult Kids in Classroom Kitchen Games Office
Charles Leonard Dry Erase Lapboard Class Pack, Includes 12 each of Whiteboards, 2 Inch Felt Erasers and Black Dry Erase Markers (35036)
How to Play Halloween Would You Rather Questions Game
The main objective is for all participants to take turns reading question cards and sharing their answers.
However, they must choose only one option; selecting "both" is not permissible.
Although, in the case of written answers, participants may provide reasons for both choices if they wish.
In general, this game is intended to be a casual social activity without keeping score.
However, you can easily modify it to introduce a competitive aspect. One way to do this is by keeping track of the number of shared answers between participants.
Once your group has discussed all the questions, you can tally up the points and declare a winner!
It's always enjoyable to see which Halloween-themed option proves most popular among players.
Different Ways to Use the Halloween Would You Rather Question Printable Cards
This printable game is portable, making it a perfect option to keep kids busy on a road trip or on a flight.
Simply print and cut the cards before you go, and even the driver can join in by answering the questions.
In addition to using them on trips, you can also use these questions to keep kids engaged while waiting at restaurants.
Another idea you can try, is to use these printable "would you rather" Halloween questions as creative this or that writing prompts, encouraging kids to explain their chosen answers.
Looking for more unique ideas? How about using these questions as icebreakers at parties or as conversation starters during family game nights?
You can also incorporate them into classroom activities or use them for group discussions to promote critical thinking and decision-making skills. The possibilities are endless!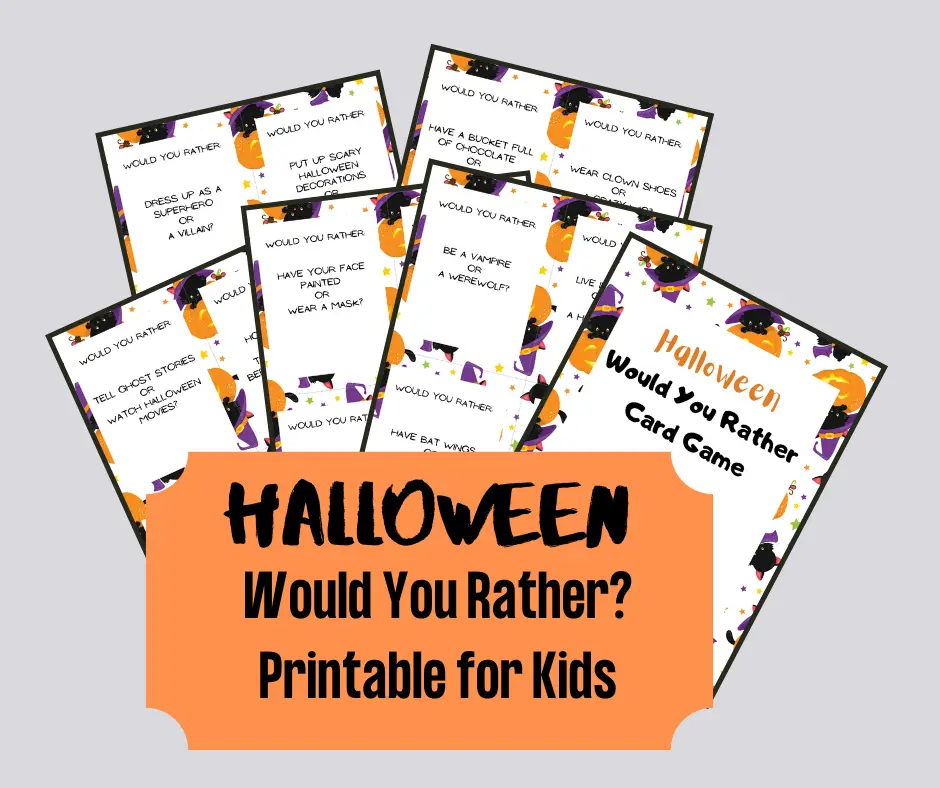 Halloween Party Ideas for Kids
Playing the Halloween Would You Rather? questions game is perfect for a kids' Halloween party. Another fun party activity would be to set up a treasure hunt with our printable Halloween scavenger hunt clues.
In addition to these fantastic activities, be sure to check out our all-encompassing collection of free Halloween printables for even more spooky fun. They are a great way to add a touch of creativity and excitement to your Halloween party.
For those with a sweet tooth, we recommend trying out these Zombie Halloween Treats or our Vampire Cupcakes. They're just the right blend of tasty and terrifying that will have your guests coming back for more.
But don't stop there! Explore our extensive list of Halloween party food ideas that are sure to delight everyone.
Looking for a craftivity that's both fun and practical? Our Popsicle Stick Monster Bookmarks are the answer. They're simple to make and will add a Halloween twist to your reading.
When it comes to costumes, we've got you covered. Take a look at our DIY Hades costume from Descendants 3 – it's a surefire hit!
For those who prefer something a bit simpler, our super easy DIY Dalmatian Halloween costume is a great choice. These costumes are not only fun to make, but they also add an extra layer of excitement to any Halloween event.
In conclusion, Halloween is a time of fun, creativity, and just a little bit of spookiness.
Whether you're celebrating at home or in a classroom, these activities are sure to provide laughter, engagement, and memorable moments.