These printable Disney themed Would You Rather questions for kids make a fun family game that you can play anytime and anywhere.
Would You Rather? questions about Disney make an excellent icebreaker activity too. Use them at family get togethers, school, or extracurricular activities. It's a fun way to get to know each other better!
Want more kids' activity ideas? Don't miss all of our fun printable games for kids!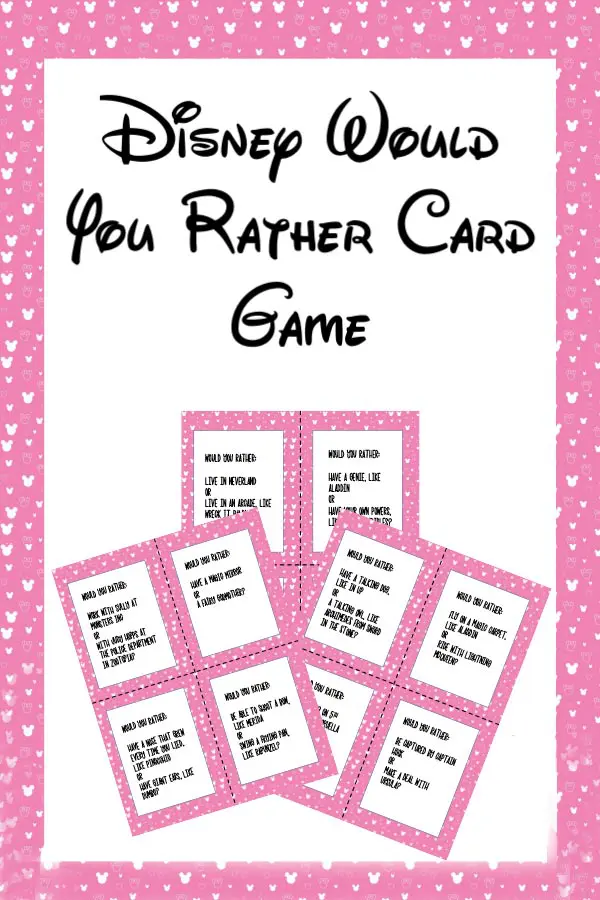 Looking for more Disney printable games? Don't miss our Disney themed charades and Disney themed Pictionary printable word lists.
This post contains affiliate links. As an Amazon Associate and a participant in other affiliate programs, we earn a commission on qualifying purchases.
Would You Rather? Disney Questions Game
Have you ever wondered what it would be like to live in an arcade game like Wreck-It Ralph? Or in Neverland, like Peter Pan and Tinker Bell?
If you said yes, then you'll have fun playing this printable game. What's even more interesting is finding out who else would pick the same thing as you, which makes it the perfect icebreaker game.
So how do you play Would You Rather? It's a super easy game to play and is focused purely on fun social interaction (there are no points).
Everyone takes turns reading the question cards and sharing their answers. You can only pick one though, so no, BOTH is not an option!
Older children and adults can also share why they choose their answer. In fact, that is a great way to use these as a learning activity or as writing prompts.
This game travels well and is the perfect printable Disney road trip game or on an airplane if you are flying.
All you need is to print and cut the cards before you go. Even the driver can play along by answering the questions.
When printing the game cards out, I recommend using cardstock because it is more durable than regular printer paper. If they'll be used multiple times or in a classroom setting, I highly suggest laminating them.
After laminating the question cards, use a hole punch and a book rings to take this game on the go. Besides using on trips, you could ask these questions and keep kids busy while waiting when out to dinner.
If you love playing games with your kids as much as I do, then you must check out this list of board games for family game night.
Disney Would You Rather Cards Printable
Click to download and save this Disney themed Would You Rather printable PDF. It includes directions and 20 Would You Rather questions based on Disney movies.
Just print it out at home, cut out the clues you want to use, and have fun!
This printable game is for your personal use or your classroom use only. Share this post with a friend or teacher who'd love to play this game with their kids and download their own copy.

More Disney Activities for Kids:
Did you enjoy doing this activity with your kids or students?